NATO raid: Pak military sounds warning, says regret not enough
Last updated on: November 28, 2011 14:14 IST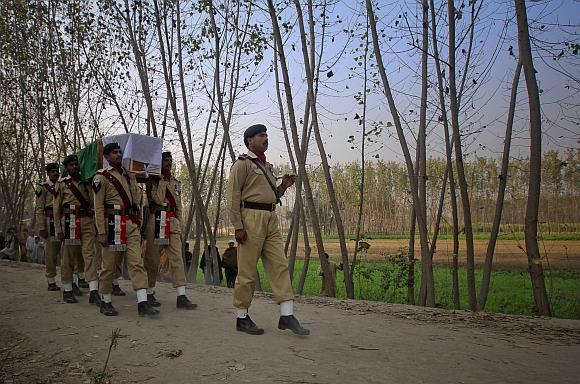 The Pakistani military on Monday rejected the regret expressed by the North Atlantic Treaty Organisation chief for a cross-border air strike that killed 24 Pakistani soldiers and warned that the action could have "grave consequences".
The regret expressed by NATO over the killing of the Pakistani soldiers is "not enough", chief military spokesman Maj Gen Athar Abbas said. "The NATO strike can have grave consequences," he said.
NATO Secretary General Anders Fogh Rasmussen on Sunday said he had written to Pakistan Prime Minister Yousuf Raza Gilani to express regret over the "tragic unintended incident".
In a statement, he said, "I have written... to make it clear that the deaths of Pakistani personnel are as unacceptable and deplorable as the deaths of Afghan and international personnel."

'NATO air strike unacceptable'
Last updated on: November 28, 2011 14:14 IST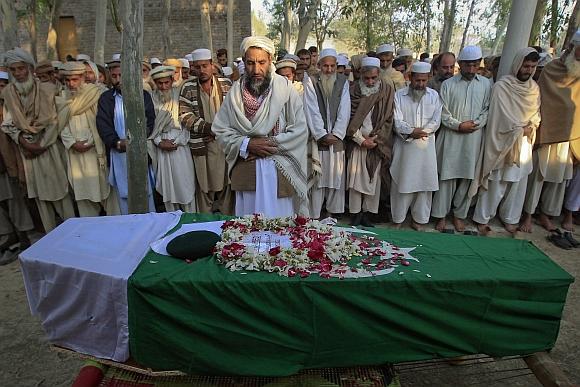 Pakistan has reacted angrily to the killing of two-dozen soldiers, including two officers, in the NATO air strike in Mohmand tribal region on the border with Afghanistan.
It has closed all NATO supply routes and asked the US to vacate Shamsi airbase, believed to be used by Centrtal Investigation Agency-operated drones. However, Abbas said NATO's expression of regret was inadequate.
"We think this is not enough and we do not accept it. Such raids have also been conducted in the past. Such attacks are unacceptable," Abbas told BBC Urdu.
Pointing out that 72 Pakistani soldiers were killed and nearly 250 injured in NATO strikes in three years, Abbas said the Pakistani leadership will decide whether more steps would be taken in reaction to the NATO strikes.
'Ridiculous to find justification for NATO's attack'
Last updated on: November 28, 2011 14:14 IST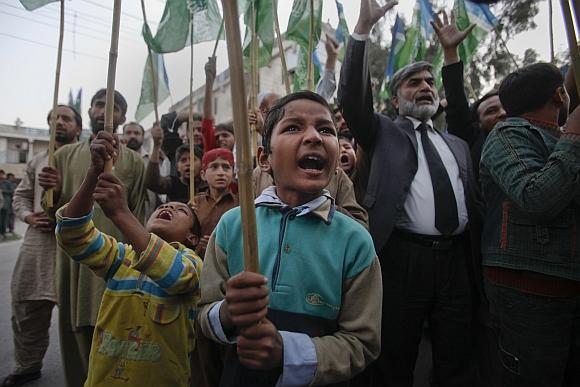 Pakistan says that NATO fighter planes and helicopters struck its border post in Mohmand trial region on Friday night and killed 24 soldiers and injured 13 others.
NATO sources have claimed that the air strike was carried out after its special mission was attacked from Pakistani soil.
But Abbas rejected this claim and said NATO would have to clarify if any its personnel died due to an attack from the Pakistani side. "It is ridiculous to find justification for NATO's unprovoked attack through such notions," Abbas said.
'NATO continued firing even after being told to stop'
Last updated on: November 28, 2011 14:14 IST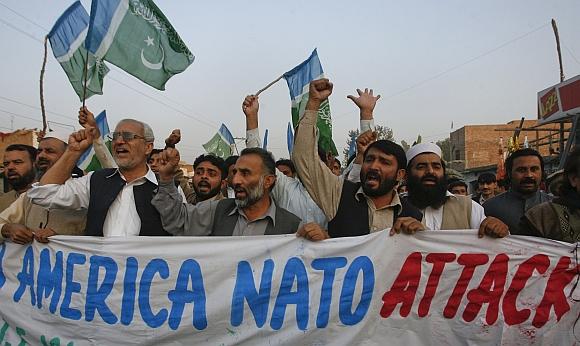 When his attention was drawn to the NATO Secretary General's statement that the strike was an accident, Abbas said this could be proved only after an investigation is completed.
He said NATO representatives were informed when they started firing.
"The NATO representatives were told to immediately stop firing but the attacks continued," he said. "When our people were martyred and NATO continued more firing, then the Pakistani troops had the right to respond to stop the NATO attacks," he said.
The US, which depends on Pakistani supply routes for transporting about half the supplies needed by 130,000 foreign troops in Afghanistan, has been trying to salvage the alliance by backing a full inquiry into the incident.
The crisis has further strained US-Pakistan relations, which have been reeling since the killing of Osama bin Laden in May.
© Copyright 2023 PTI. All rights reserved. Republication or redistribution of PTI content, including by framing or similar means, is expressly prohibited without the prior written consent.