'Narasimha Rao connived at demolition of Babri Masjid'
Last updated on: July 5, 2012 14:21 IST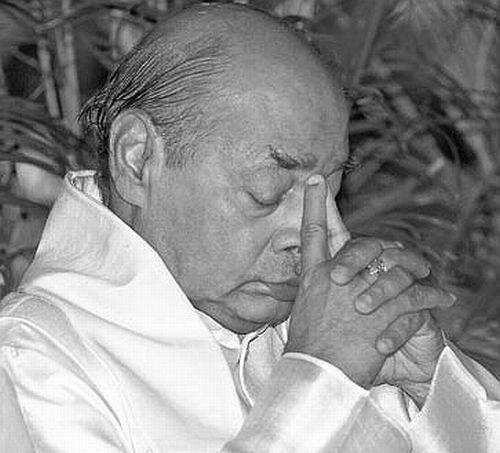 Yet another book has levelled an allegation that P V Narasimha Rao had connived at the demolition of Babri Masjid claiming that the late prime minister had sat in a puja when the kar sevaks began pulling it down and rose only when it was over.
The charge relating to the demolition on December 6, 1992, has been made by eminent journalist Kuldip Nayar in his soon-to-be released autobiography "Beyond the Lines" being brought out by Roli Books.
"My information was that Rao had connived at the demolition. He sat at puja when the kar sevaks began pulling down the mosque and rose only when the last stone had been removed."
"Madhu Limaye (late socialist leader) later told me that during the puja, Rao's aide whispered in his ears that the masjid had been demolished. Within seconds, the puja was over," he said in a chapter on "Narasimha Rao's Government" in the book.
Click NEXT to read further...
'Betrayed by UP Chief Minister Kalyan Singh'
Last updated on: July 5, 2012 14:21 IST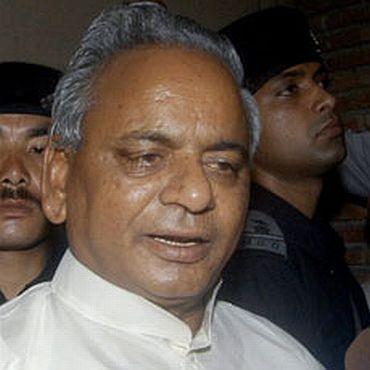 P V Ranga Rao, son of the late prime minister, however strongly dismissed the claim as "unbelievable and untenable".
"It is unbelievable and untenable...There is no way father would have done so. He was in anguish when the Babri structure was demolished, for he loved Muslims for years and was their ardent supporter. He told us many times that it should not have happened," Rao said reacting to the reported claim of the late socialist leader Madhu Limaye.
Regretting that an eminent journalist like Nayar could write such tings, Ranga Rao said "vested interests" were trying to spew venom at his father, who is no more to defend himself.
Nayar said that when there were riots in the wake of the demolition, Rao invited some senior journalists to his house.
"He was at pains to explain to us how his government had made every arrangement to stop the demolition. Rao said he was betrayed by UP Chief Minister Kalyan Singh".
When asked how a small temple could have been erected overnight at the site when the Centre was at the helm of affairs having dismissed the Kalyan Singh government, Rao said he had attempted to send a contingent of CRPF by plane to Lucknow but they were unable to land because of bad weather.
Besides, Nayar said Rao did not explain the "inaction" of Central forces in Ayodhya, but assured him that the temple would not be there "for long".
"Rao's government will always be held responsible for the demolition of the Babri Masjid. The curious thing was that he was conscious of such an eventuality but did virtually nothing to avert it", Nayar said.
Click NEXT to read further...
'It was daylight murder of secularism'
Last updated on: July 5, 2012 14:21 IST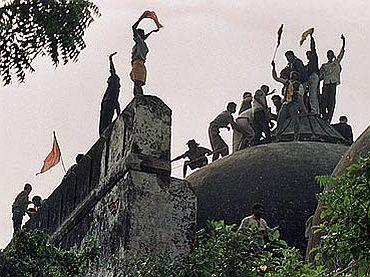 Once earlier Rao invited senior journalists to acquaint them with the efforts his government was making to reach a settlement. When Nayar asked him which stage they had reached, Rao replied "somewhere," but "there was no serious edge to his voice".
Nayar recalled that soon after, he witnessed the gathering of the storm with thousands of kar sevaks descending upon Ayodhya and the Rashtriya Swayamsevak Sangh and the Bharatiya Janata Party leaders converging on the city.
Kalyan Singh, who was heading the BJP government in UP, made statements which indicated that he had no intention of protecting the Masjid, although the Supreme Court had ordered maintenance of status quo and his government had given an undertaking that it would do so.
The climax came when the Masjid was demolished to the last stone on that fateful day by thousands of kar sevaks egged on by the BJP and RSS leadership. "It was daylight murder of secularism," Nayar writes.
He also says that the Congress cauldron was boiling not because of the Masjid demolition, but because of internal conflicts. Sonia Gandhi never liked Narasimha Rao, particularly when he assumed leadership of both the Congress party and its government, Nayar says.
She did not want to join issue with him, preferring to remain aloof from party matters. Even so, the infighting with the Congress and its shrinking space in the country bothered her.
Many Congress leaders from the Centre and the states met her individually to appeal to her to lead the party. To them, she seemed the only person who represented the consensus in the party.
Her gravest concern was that communal forces representing the BJP were claiming the political space. "The only occasion I spoke to her, she came across as a committed secularist, who firmly believed that pluralism was the bedrock of Indian society".
Nayar says he could gauge that she was coming around to the view that she would have to join politics if she wanted to fight against communalism and that the only instrument she had for this was the Congress.
TOP photo features of the week
Last updated on: July 5, 2012 14:21 IST
Click on MORE to see another set of PHOTO features...
© Copyright 2021 PTI. All rights reserved. Republication or redistribution of PTI content, including by framing or similar means, is expressly prohibited without the prior written consent.