My rendezvous with the Japanese royals
December 01, 2013 20:09 IST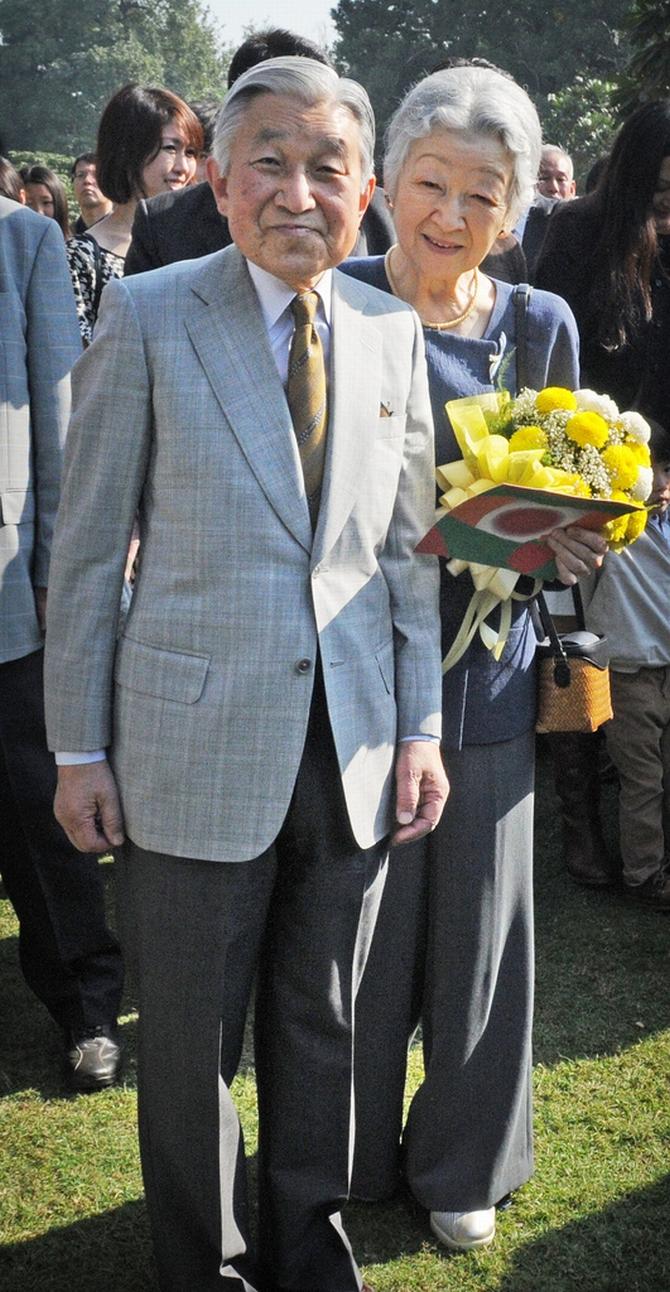 'Back in Japan, we never get to see them.'
'Their Majesties are seen as high priests.'
For the Japanese living in India it was like a dream come true when they took a walk in Delhi's Lodhi Gardens along with Emperor Akihito and Empress Michiko. Rediff.com's Vipin Vijayan captures the euphoria
"He is here. I can't see him, can you? ... I can't believe this is really happening," the until-now ghettoised crowd murmured, as the royals came around the corner of the stone-paved track at the Lodhi Gardens in the heart of New Delhi.
More "oohs" and "aahs" followed as Japanese Emperor Akihito and Empress Michiko set foot on the lush lawns near the magnificent Bada Gumbad monument built by Sikandar Lodhi in 1494.
The Japanese royals, who arrived in New Delhi on a six-day trip on Saturday, decided to begin their trip with a walk in the winter sun, probably reminiscing their last visit to India 53 years ago.
Back then as the newly-married (they got married in April 1959) crown prince and princess in their mid-twenties, the couple were given a warm welcome by the then Prime Minister Jawaharlal Nehru and President Rajendra Prasad.
Now about to turn 80 on December 23, Emperor Akihito is much loved by the Indian political class. Also, respected in equal measure is Empress Michiko who warms up hearts with her radiant smile and soft-spoken nature.

Click NEXT to read further…
My rendezvous with the Japanese royals
December 01, 2013 20:09 IST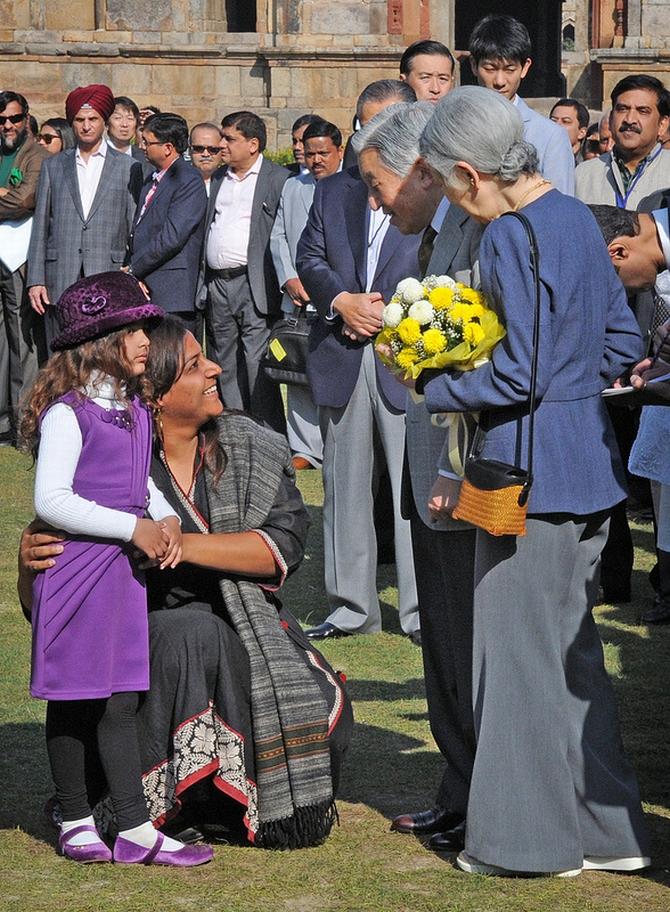 The royals were greeted at the venue by a girl, who was handed instructions on the protocols involved in receiving the dignitaries, including the posture while presenting the bouquet. She obliged.
Two batches of children from Sarvodaya School and the Japanese embassy-run school in south Delhi were next to be showered with the Japanese royals' affection. The couple was in no hurry; they spoke to most of the children.
Also waiting in queue were Delhi University students, former diplomats and bureaucrats.
Once done with the Indian delegation, the royals proceeded to the Japanese gathering on the lawns, who were thrilled to meet their beloved emperor and empress.
Click NEXT to read further…
My rendezvous with the Japanese royals
December 01, 2013 20:09 IST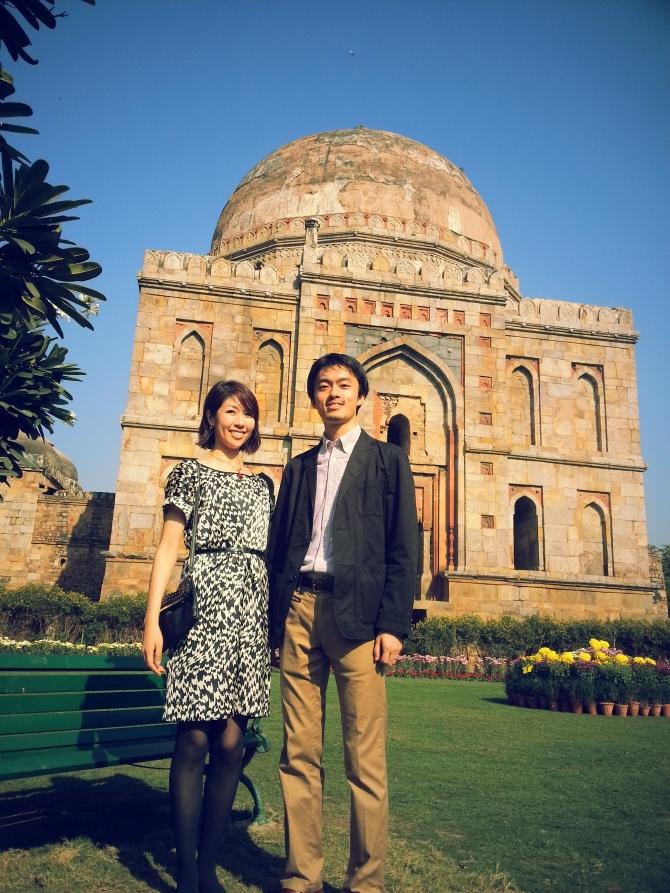 Reiko and Daisuke Hanawa, a Japanese couple who has been residing in Gurgaon for the last five months, told rediff.com, "It is such an honour to finally meet the emperor and the empress in such close proximity. We are really happy."
"Back in Japan, we never get to see them. Even on New Year, when the royal couple makes an appearance, there are thousands of people around; we can never get to see them up close and personal. This was a memorable moment. We can now tell our grandparents that we met Emperor Akihito and Empress Michiko."
"We were worried about the emperor's health during his trip to India. The water in Japan and what is available here (in India) is different. That, at times, causes problems. But, the emperor looks fit as ever. We are relieved," said Daisuke, who works in an accounting firm in Gurgaon.
There were others who seemed upbeat about the whole lot of goodwill this visit will bring to India-Japan ties.
Said Ryoichi Sasho, CEO of Tokyo-based Going Green Inc "Back in Japan, Their Majesties are seen as high priests -- or to put it simply -- torch-bearers of our country's culture, language and ethos. To see them in person is quite a memorable moment."
"As for India and Japan ties, this visit is sure to bring the two countries even closer."

Click NEXT to read further...
My rendezvous with the Japanese royals
December 01, 2013 20:09 IST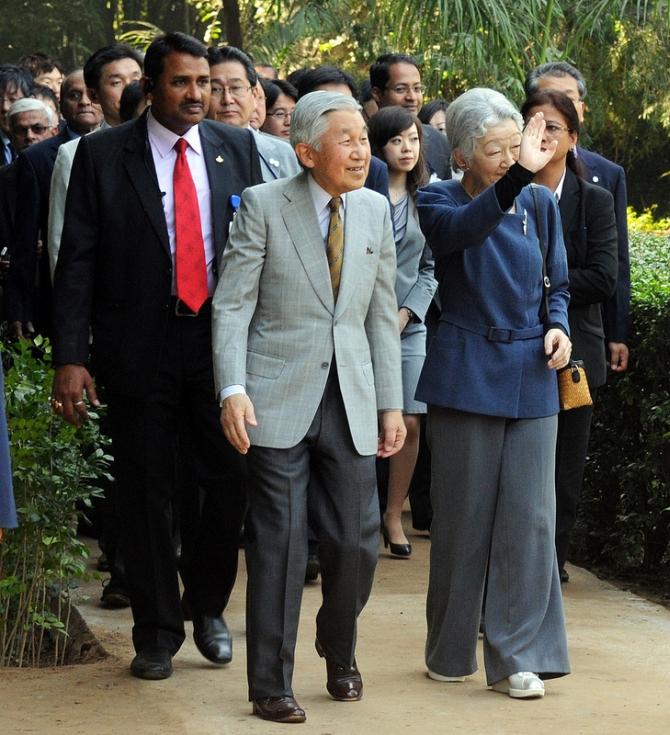 Meanwhile, many of those who had gathered, especially the Japanese, wondered why the royal couple had chosen Lodhi Gardens as the first pit stop of their six-day India tour.
A senior Japanese embassy official told rediff.com that the venue was the safest location they could think of taking the royal couple to. Also, the historical significance of the monument was something that could not be ignored, he added.
Lodhi Gardens houses the tomb of (Sultan of Delhi between 1489 to 1517) Sikandar Lodhi and Mughal emperor Muhammad Shah Sayyid besides bara gumbad, sheesh gumbad, athpula, turret (a tower) among other remains of Mughal monuments dating back to the 15th and 16th century.

Click NEXT to read further...
My rendezvous with the Japanese royals
December 01, 2013 20:09 IST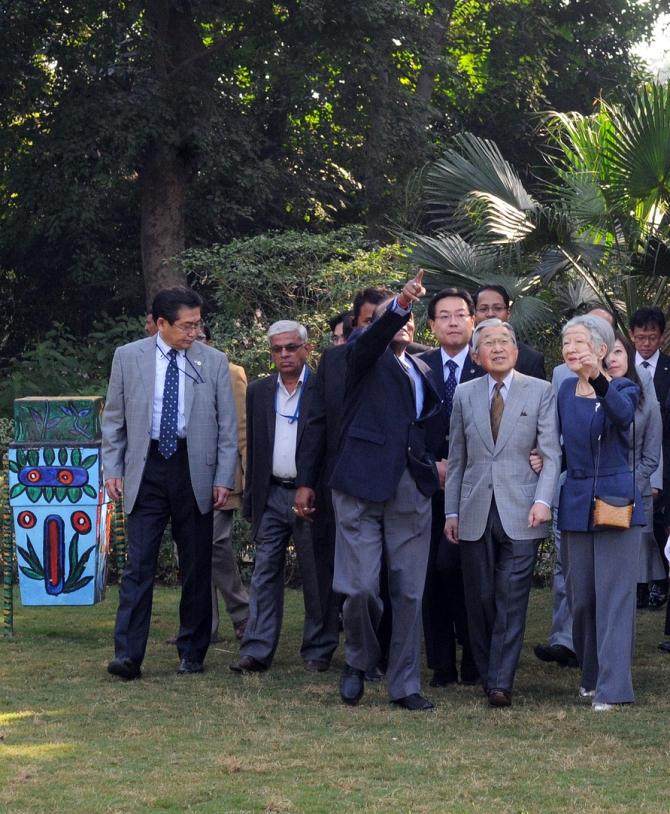 Overall, the royal guests and the visitors seemed to enjoy being in the midst of history and greenery.
"While taking a stroll at the Lodhi Gardens, Emperor Akihito expressed his desire to take back home saplings of the Buddha coconut and Neem trees. He was curious to know about the species of flora and fauna that we have here," S K Mathur, advisor in the floriculture division of the New Delhi Municipal Corporation, who gave the royal couple a guided tour, told mediapesons gathered at the venue.
There are no political gains to be achieved from the royal couple's visit; there are no agreements to be signed; no promises to be made. Yet the Manmohan Singh government has rolled out the red carpet for the royals, bringing back memories from five decades ago.
Click NEXT for more photo features...
TOP photo features you missed last week
December 01, 2013 20:09 IST
Click on MORE to see another PHOTO features...