MUST READ: Modi's dos and don'ts to debutant party MPs
June 06, 2014 20:30 IST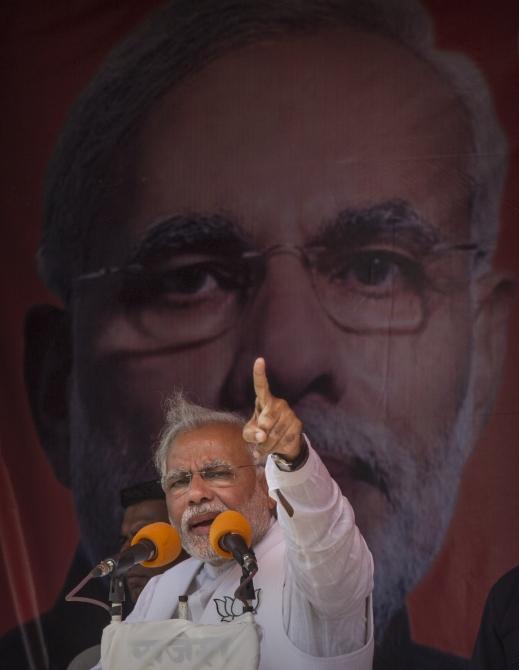 From avoiding speaking unnecessarily to the media, to avoid power brokers in the capital, to barring them from touching his feet -- headmaster Modi doled out advice to the Bharatiya Janata Party's class of 2014 – the first-time party members of Parliament who are yet to find their feet in the national capital, writes Rediff.com contributor Anita Katyal
The newly-elected MPs got a glimpse of Prime Minister Narendra Modi's style of functioning and his expectations at the BJP's parliamentary party meeting on Friday when they were issued directions, similar to those given to students by their school principal on the first day of the academic session.
The class was addressed by Prime Minister Modi, Home Minister Rajnath Singh, Parliamentary Affairs Minister Venkaiah Naidu and veteran BJP leader L K Advani.
If the BJP parliamentarians were expecting the party leadership to unveil its broad vision on key policy issues in this meeting, they must have been sorely disappointed. What they got instead was directions like don't indulge in cross-talk during parliamentary proceedings, do not sublet your official accommodation, spend your free time in the library and do not hang around Delhi when the parliament session is not on.
Click NEXT to read some of the instructions issued by Modi...
MUST READ: Modi's dos and don'ts to debutant party MPs
June 06, 2014 20:30 IST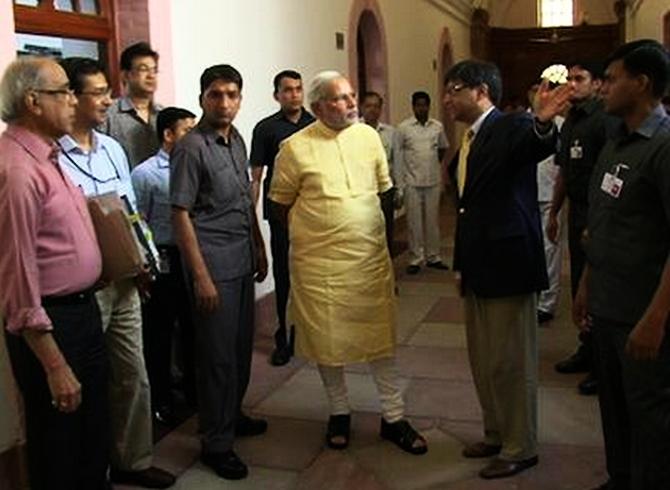 D

o not sign any papers without reading them first. You will often be presented with documents for your signatures by people, but be careful, don't rush to sign them even if you know the person.
Do not sublet your official accommodation, not even the garage or the servant quarters. There have been several instances in the past when MPs have let out their garage to run beauty parlours or for laundry services.
Do not waste time chit-chatting in the Central Hall in your spare time. Instead of gossiping, catch up on your reading in the library.
Do not indulge in cross talk or roam around the House during the course of a debate. If you do have to speak to a colleague, you should conduct this conversation in the lobbies. Make it a point to sit and speak from your allotted seats.
You should stay in Delhi and attend Parliament regularly when a session is on. However, you should not stay in the Capital when there is no session. Spend time in your respective constituencies instead.
Click NEXT to read Modi's instructions to MPs about speaking out on issues...
MUST READ: Modi's dos and don'ts to debutant party MPs
June 06, 2014 20:30 IST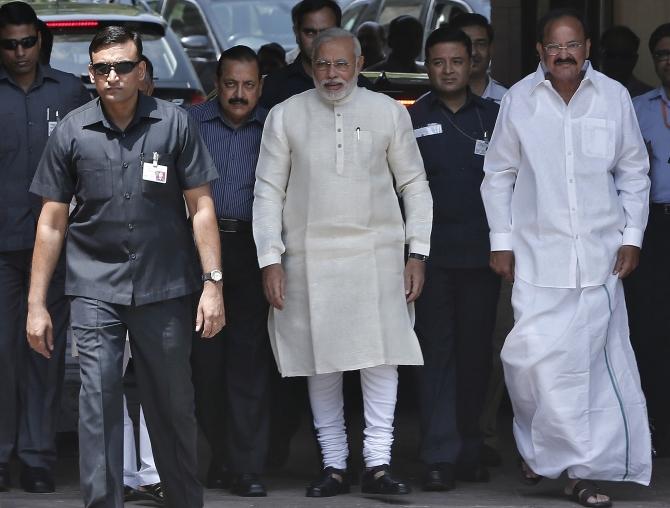 I

f you have booked a train ticket but are unable to travel, inform the railways so that the seat can be released for the general quota.
Do not fail to take phone calls from your party workers and others from your constituency when you are in Delhi. If you are unresponsive, it will end up widening the gap between you and the grassroots workers. In other words, stay in touch with your workers and constituency even when you are in Delhi.
Avoid speaking to the media. There is no need to "address the nation" unnecessarily. This is particularly so on issues on which you have no information or knowledge. For instance, there is no need for an MP from Andhra to speak on a violent incident or a rape case being reported from Uttar Pradesh.
Beware of power brokers. New MPs to the capital are invariably approached by people who profess to have cracked the Delhi system. You can get into trouble if you use their services without a background check as it becomes difficult to get rid of them later.
Click NEXT to read Modi's instructions to MPs about innovative ideas...
MUST READ: Modi's dos and don'ts to debutant party MPs
June 06, 2014 20:30 IST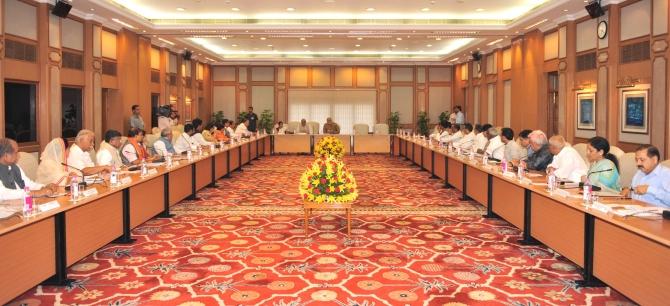 Y

ou will soon have to start working for the coming assembly elections in Haryana and Maharashtra. Those given responsibilities in the poll-bound states should work hard as they will be held accountable for the results.
Coming on the heels of his earlier direction that ministers and MPs should not keep relatives on their personal staff, Modi further asked his party MPs not to touch his feet as a show of respect as this caused him immense pain. In fact, Modi told them not to touch the feet of any senior party leader.
Ever since he took over, Modi has held a series of meetings with his ministers and officials to convey his views and expectations to them. He had asked ministers to prepare a 100-day agenda for implementation at his first Cabinet meeting.
In addition, Modi has also asked his ministers and MPs to come up with innovative ideas and to also use social media by getting on to Twitter and Facebook.
In his three-hour-long meeting on Wednesday with secretaries of all ministries and government departments, Modi exhorted bureaucrats to take decisions fearlessly as he would stand by them. He stressed the urgency of quick decision-making so that projects and policies do not get stuck because of unnecessary red tape.
The prime minister further urged bureaucrats to get in touch with him directly in case any thorny issue had to be sorted out. He had also asked the officials to drop him an email or call him directly with their ideas and proposals.