Music, mistrust and a maestro's love for Kashmir
Last updated on: September 08, 2013 11:03 IST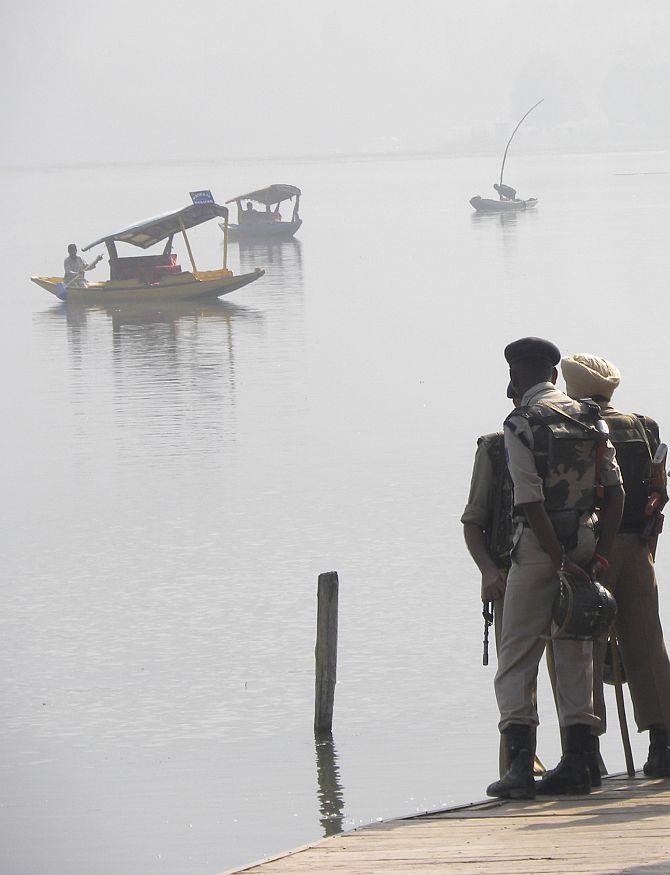 Like everything in Kashmir, there are a hundred hues of views and many controversies, reports Vaihayasi Pande Daniel, who is in Srinagar for the Zubin Mehta concert.
Srinagar's folks woke up on Saturday morning to an all too familiar scene. Silence cloaked the Jammu and Kashmir capital.
Posses of heavily-armed police and Central Reserve Police Force were fanning the centre of the city, closing it down.

Checkpoints had been set up on arterial roads, where every citizen travelling in a car or on a motorcycle was pulled aside and had to show his identity papers. Buses and trucks were not plying.
Portions of Dal Lake have been cleared of their shikaras and there is limited access to houseboats. An area of eight-nine kilometres around the lush Shalimar Bagh has been locked down, sealed off.
This scene has, fortunately, of late, gotten rarer, as militant attacks have decreased.
But Saturday's shutdown was for a brand new, not totally fathomable reason.

Kashmir was hosting -- whether it liked it or not -- its first international concert of Western classical music.
It has taken some time, spent in puzzlement, for the average Kashmiri on the road to wrap his head around the meaning of having a Parsi man named Maestro Zubin Mehta arrive in Srinagar with a crew of Bavarians, to play perhaps a piece of Johann Strauss or a dash of Haydn, Beethoven and Tchaikovsky for them.

But live on television, because hardly any of them will get a chance to go anywhere near the venue.

Click on NEXT to read further...
Music, mistrust and a maestro's love for Kashmir
Last updated on: September 08, 2013 11:03 IST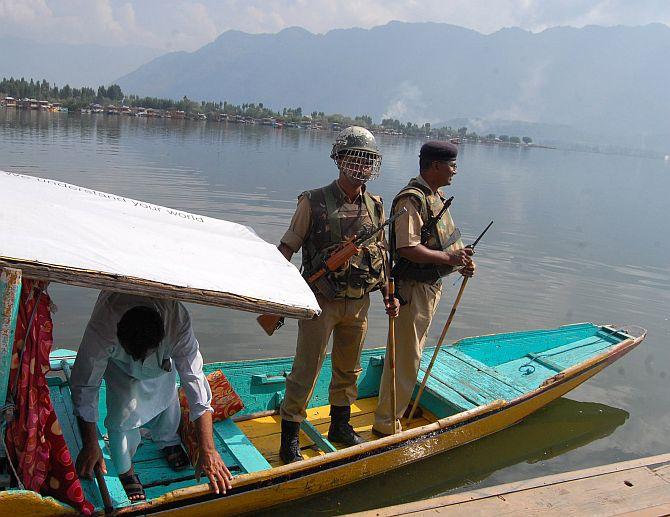 Although one of the pieces, conductor Mehta told television channels, 'is a composition by Abhay Rustom Sopori -- son of Kashmiri music legend Pt Bhajan Soporim'.
"Pehli baar Doordarshan high definition camera par shoot karenge yeh concert (for the first time national broadcaster Doordarshan will shoot on high definition cameras)," muses a shikara man, in a mixture of Hindi and passable English.

"Facebook main dekha ki Baramulla and Kashmir University main protest ho raha hai. Zubin Mehta kehte hain: I did not choose Kashmir. Kashmir ne unhe choose kiya (On Facebook I read there are protests at Baramulla and Kashmir University. But Zubin Mehta says he did not choose Kashmir but Kashmir chose him…)."

For shikara operators, although they rue the loss of today's business, anything that promotes the cause of tourism, is likely to be beneficial in the future.

Same goes for the handicraft workers and shop-owners -- selling carpets, pashmina shawls, papier mache knick-knacks, embroidered pillow covers and duvets.
But as true Kashmiris they still need to ponder over why there are objections. Even a shikara-wallah or handicraftsman, who lives off the business that Indian tourists now give him plentifully during season, nurtures somewhere in his soul a dream/reality of Azaad Kashmir.
Says one of the organisers connected with the German embassy, "All the tour operators and taxi people we spoke to were very happy this concert was happening because it gave them extra business."

Click on NEXT to read further...
Music, mistrust and a maestro's love for Kashmir
Last updated on: September 08, 2013 11:03 IST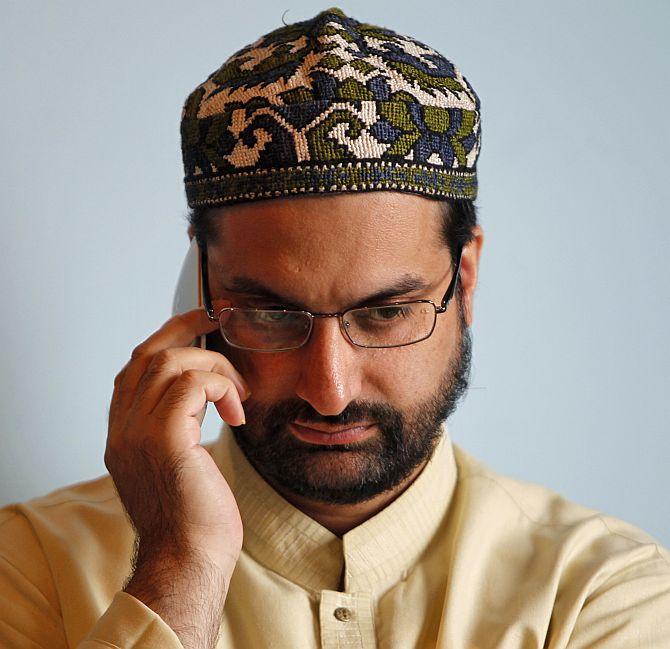 Like everything in Kashmir, there are a hundred hues of views and many controversies. Sane. Calm. Apoplectic. Emotional. Practical.
"He is a Zionist. He plays in Israel. Against it…"
"Kashmir is too troubled to have such a concert."
"The involvement of an EU country with this concert has complicated the issue."
"Music should happen. Music should not be politicised."
"It is because Mehta came in 1974 as a tourist that he comes again. We need tourists!"
"How can a concert by Zubin Mehta bring happiness to the people of Kashmir?"
Says Mirwaiz Umar Farooq, the well respected Kashmiri hereditary religious and political leader: "Kashmir is sort of a flashpoint. Active conflict (is going on). You have a situation where India-Pakistan are (facing each other) on the border on the LOC. You have a situation where still 7,000 people are missing and you have unmarked graves and so in a sense, (the concert) does not appeal much to a common man.
"Who are the people who are going to be there? It's a concert for the elite, by the elite and of the elite. But the Kashmiris are not going to be there (laughs)! We have the Indian corporate sector. The Ambanis. The Bollywood kings, the others coming in their private jets. If it was for the local Kashmiri and really for Kashmir then it should have been an open thing and I am sure Kashmir would have welcomed it… The fact is that such things thrive in an environment of peace. You don't have that environment. We don't have that luxury.

"The whole of the area of Shalimar has been barricaded and no Kashmiri is allowed there. Imagine if you could ask this question to the German ambassador. Imagine having the same thing in Germany and not letting the people go there (laughs). I am sure next year the government would be ousted by the people."
The Mirwaiz vocalised his objections. Others like separatist leader Syed Ali Shah Geelani of the Tehreek-e-Hurriyat called for a bandh.

Click on NEXT to read further...
Music, mistrust and a maestro's love for Kashmir
Last updated on: September 08, 2013 11:03 IST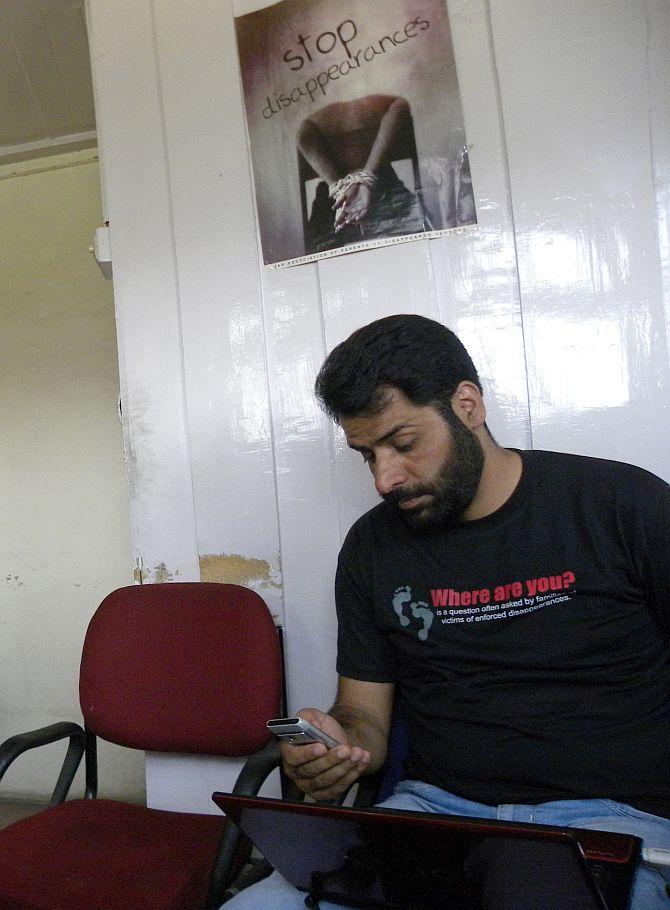 Khurram Parvez, programme coordinator for the Jammu and Kashmir Coalition of Civil Society, initially dashed off a letter of appeal to the German ambassador, Michael Steiner, asking him to cancel the event.

When that did not get the required response he believed the best answer was to organise an alternate concert where all Kashmiris were welcome and more than 2,000 were expected.

And he invited the German ambassador, who asked for an invite, although no one needs a gilt-edged invite for the people's concert where poets, singers, theatre persons will perform and tell the story of Kashmir along with photographs.
Parvez, till late Friday evening, had not received permission to go ahead with the concert. But that did not perturb him. He said he just needed two hours and Rs 50,000 to organise the concert and he had a large selection of volunteers to choose from -- members of the families of the missing, whose cause he has been vigorously promoting.

But in the polite Kashmiri way, Parvez planned the concert to start at noon so even members of the other concert could attend. But he has been allotted a slot that coincides with Ehsaas-e-Kashmir, hosted by the Steiner.

The parallel concert is being held in a local park near the city centre Lal Chowk and is open to the public.
Says Parvez: "This concert will have huge political ramifications. We believe -- and most of the Kashmiris feel -- that Kashmir is a disputed territory. And the UN resolutions are testimony to that and also the bilateral agreements between India and Pakistan…

"Many other things are suggestive of the fact that Kashmir is disputed and has not been resolved. And that's why the Government of India talks to Pakistan and that's why the Government of India has been wishing to talk to the Hurriyat leadership. If you are talking, want to talk and have talked in the past, it means that it is an unresolved dispute.
"If it is a disputed territory how can India have the right to collaborate with any foreign organisation or a government, that is more worrying for us. A government having a programme with a government which is not legitimate here.

"Also, India's hands are drenched with the blood of Kashmiris. India has been responsible for killing or disappearing not just common Kashmiris but also our poets and our singers. So when they talk about promoting culture it is just a joke for us.
"We therefore had an opposition that Germany should not collaborate with them. Let them do it but Germany should not collaborate with them. If they want to do it that's their problem but Germany is investing too much money, money coming from the corporate sector and they are telecasting this in 125 countries. What is the message that they are giving out? One, that Germany is endorsing India's position in Kashmir and it considers India to have a legitimate rule here, also that everything is hunky-dory, everything is normal and peace/normalcy has been achieved..."

Click on NEXT to read further...
Music, mistrust and a maestro's love for Kashmir
Last updated on: September 08, 2013 11:03 IST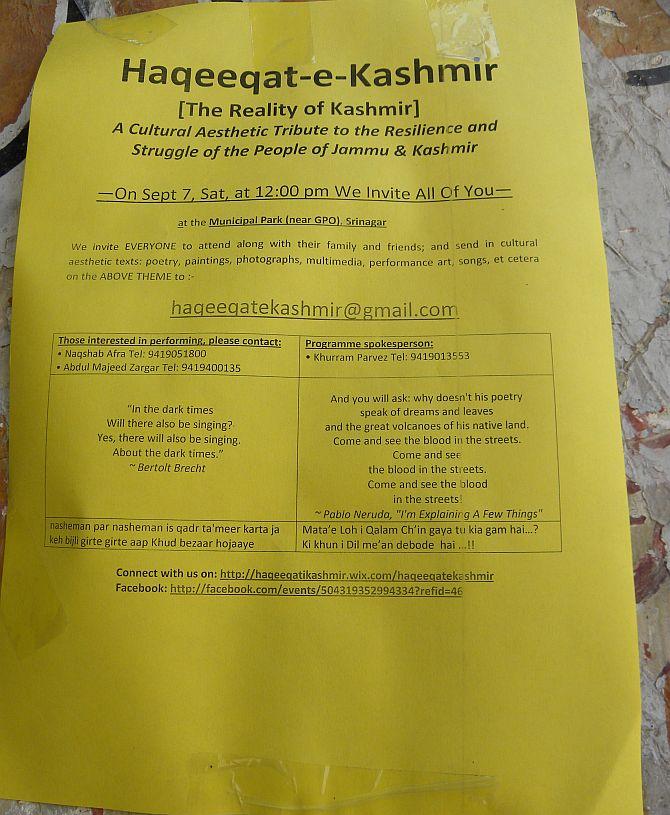 Now a very popular doctrine is being discussed internationally... They are using that in Syria… They say that human rights of people are not the sovereign responsibility of a government. They say it is a global responsibility. If it is a global responsibility, why is it not the global responsibility of Germany to protect the rights of the Kashmiri people?"
"It is fine that they are promoting a concert. But if tomorrow Russia and China organise a concert in Syria, what would the US say? What would Germany say Zubin Mehta is not a concern for us. For example, people have asked me: Is his religion a concern for us? Even if this concert was organised by Saudi Arabia we would have opposed it. For example if tomorrow we get someone else. Some pop singer from the US, we will still oppose. If we get some Islamic figure from some Islamic country we will still oppose."
So if Mehta had come without the backing of the German government would they have welcomed him warmly? Says Parvez: "Maybe we would have invited him. We are small for him. He has huge expenditure. They have sponsored a chartered flight for him."
The expenditure involved in organising the German-sponsored concert is also a matter of bitter contention and an issue that is not comprehensible.

Local leaders wonder about the investment of such an enormous sum of money in a state where they say basic infrastructure is lacking.

Says Hurriyat advocate and press advisor Shahid-ul-Islam: "The Hurriyat's policy is that we had made a request to the German ambassador that you are investing Rs 200 to 300 crore for 90 minutes. It would be better if this money was invested in health and education sector because we are lacking those facilities. We are far behind. We had made a passionate appeal last week to the embassy. No response. That is the problem with the Indian media and with Indians.
"Whenever they see an issue like this they just politicise the issue. If it was purely a musical concert Kashmiris would love to come. You will watch the TV channels in the evening, the concert will (run) for 90 minutes, there were 500 VVIPs, it is peaceful it is normal and Kashmir is ours."

Click on NEXT to read further...
Music, mistrust and a maestro's love for Kashmir
Last updated on: September 08, 2013 11:03 IST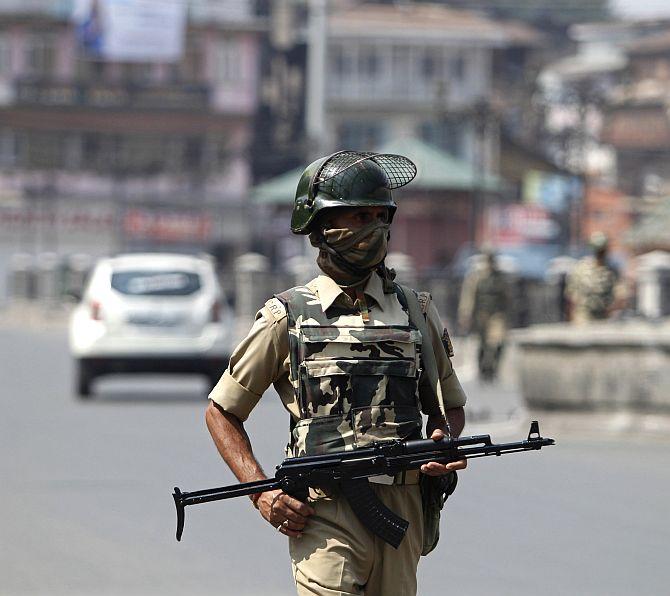 The Mirwaiz also voices queries about the need to spend so much.

"The fact is that it is a troubled society and that millions of rupees are going to be spent on this. If they really care about these things they could have invested in healthcare. They could have given us a hospital here. Maybe a Kashmir-German friendship hospital. That would have been a great gesture. We have mental issues.

"The Dal lake is dying. Maybe the Germans can come and help us with our Dal lake environment. That would have been something more, that would have been appreciated rather than a concert which is going to be something very alien to the Kashmiris."
Meanwhile Srinagar's poshest hotels are filling up with guests and VIPs the likes of which Srinagar has not ever seen in one go. The Bavarian State Orchestra arrived on Friday in a flood of suitcases and equipment. Actor Amitabh Bachchan is expected to be there. The Ambanis and other top business tycoons are reportedly flying in, as are cricketer Sachin Tendulkar and actress Katrina Kaif.
Organising the concert has been a super challenge as the plans went ahead amidst a security blanket.
Says one organizer: "It was so hard to find
1,500 chairs in Kashmir?!"

The printing of everything from badges to press tags had to be done outside Kashmir and brought in since this kind of capabilities does not exist locally apparently or were not available.

Click on NEXT to read further...
Music, mistrust and a maestro's love for Kashmir
Last updated on: September 08, 2013 11:03 IST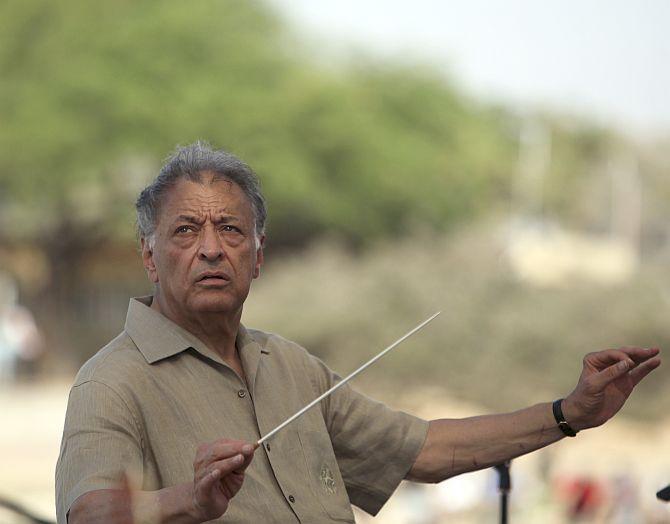 Yusuf Hamied, chairman of pharmaceutical major Cipla and a childhood friend of Zubin Mehta's, is delighted to be in Kashmir but dismayed by the Kashmiri response to his friend.
"He has been telling me for years: 'I would love to come to Kashmir. I was last here in 1974.'. There was a very touching scene at the hotel today (Saturday) when he embraced the person whose houseboat he lived in in 1974. And all the Kashmiris he had met in 1974 were there to receive him with tears in their eyes. Tears in their eyes, please believe me. So it was a very touching scene. I was there with him."
"He told me last year when he got the award (Commander's Cross of the Order of Merit of the Federal Republic of Germany) that the German embassy had nothing to do with him wanting to play here. But when he suggested it and said it in his talk (after receiving the award), that's when Michael Steiner said why don't we have a concert?.
"And Zubin Said: I would put everything aside to do that; which he has done by the way. 'I will do a concert for unity'. Do you know how often Zubin goes from Tel Aviv to Palestine to Ramallah. Zionist? Kya baat kar rahe ho? And Danny Barenboim (Israeli Argentine-born musician), come on? He runs a divan orchestra for Arab children!
"One man on TV was very clear. He said music is music. So let's take the Indian film industry. They come here. Shah Rukh Khan comes here. Bollywood comes here. So this is a music festival. If tomorrow (singers) Begum Akhtar or Lata Mangeshkar came here to sing, would you do the same thing?
"It is not German involvement. They are putting the money to put the thing together. Do you think Kashmiris can foot a bill of two-three million dollars to put up this show?
"I am not saying that what is happening in Kashmir is right or wrong, please. To hold a music concert that lasts two hours is not the be all and end all of the world. It is like having an exhibition match between McEnroe and Borg in Srinagar. Would they boycott it?
"So what's the big deal? I think it has all been blown out of proportion. If you want to voice your discontent on other issues I don't think this is the forum for it. It is a peaceful forum. People have come from far and wide. Treat them as guests. Treat them with hospitality. Show magnanimity."