His father is critical, but he doesn't know
Last updated on: July 15, 2011 18:27 IST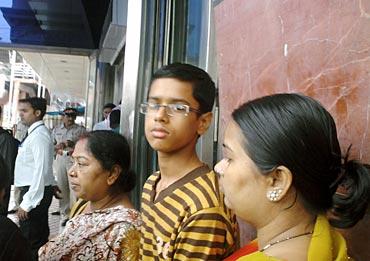 Prasanna Zore narrates the stories of four families whose lives have just been torn apart by the serial bomb blasts that also shattered Mumbai's calm on a balmy evening in July two days ago. There's a 14-year-old boy who thinks his father is doing well, when in reality his prognosis is uncertain. And a brother who was charged a whopping Rs 25,000 when his elder brother was admitted to a local hospital, despite the state government's assurances that medical treatment would be pro bono. There's a brother who is hoping the ongoing operation on his elder brother will save his life, especially since he has a family to support. And two siblings, 14 and 17, who are deliriously happy that their father will be discharged from the hospital he was admitted to, in the next two days
Abhishek Das is only 14. But the way he speaks shows just how stoic he is. Perhaps this courage comes from the fact that he doesn't yet know the fate that awaits his father. A Class IX student from Bhayander, a distant northern suburb in Maharashtra's Thane district, Abhishek has been told by his relatives that his father is in fine shape. But he has not been told when he will be discharged.
Hospital sources, though, are not so sanguine. According to them, Baburam Das, who was admitted to Saifee Hospital, with severe injuries to his leg, back and skull is critical and is on a ventilator in one of the hospital's intensive care units.

Baburam's wife Pronoti Das betrays worry. She too, like her son has been told by Baburam's brother that her husband is recuperating satisfactorily. "He is doing well," says Pronoti with a grim expression. She seems not that convinced by her brother-in-law's assurances and knows something is amiss. She leaves it to her son to answer most of the questions.

At 7.30 pm one of Baburam's pals called to inform her that her husband was injured in the Zaveri Bazaar bomb blast. "My father's friend called to say that my father was grievously injured," says Abhishek.
"We don't know how long he will take to recuperate but he is in the ICU and on a ventilator," he says before he is asked by the hospital's security staff to get back indoors.

Click on NEXT to read further...


'Doctors at Saifee asked us to deposit Rs 25,000'
Last updated on: July 15, 2011 18:27 IST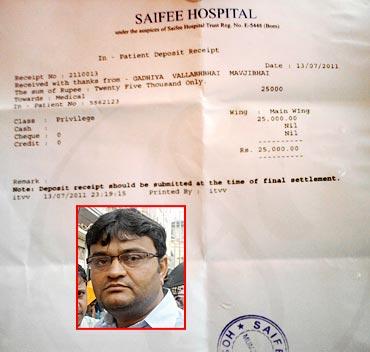 Rameshbhai Gadhiya is distraught. His elder brother Vallabhbhai, 48, a diamond broker who had gone on work to Opera House, was admitted to Saifee Hospital with fractures in the tibia and fibula bones of his lower leg. He was also put on a ventilator. He was returning home on the evening of July 13 when fate struck its blow.

Not originally from Mumbai, Vallabhbhai, a Vadodara resident, was staying in Malad, a north Mumbai suburb, with his younger brother Ramesh.

"We wanted the best treatment for our brother. So when the doctors at Saifee asked us to deposit Rs 25,000, my friends and family immediately chipped in," he says, recounting what happened on the evening of July 13 when one of Vallabhbhai's friends brought him to the hospital.

"Nobody forced us to make the payment but they asked for the deposit and we paid the amount immediately," he says, showing the Saifee Hospital receipt.

An acquaintance of Ramesh and Vallabhbhai happened to see Vallabh lying in a pool of blood a few metres away from the scene of the blast at Opera House. Within an hour Ramesh, along with a group of friends, reached Saifee and took charge of the situation.

"The doctors are not so positive about Vallabhbhai's legs," says Ramesh. They were battered by innumerable metallic splinters from the bomb that exploded near him. He explains that one of the doctors in the hospital told them that his brother needs multiple operations and anywhere between Rs 5,00,000 to Rs 7,00,000 to get him back on his feet.
Attempts to get an update from the hospital's management on his condition were unsuccessful. Hospital security prevented reporters from speaking with the management, citing an order to not allow the media inside the hospital precincts.
Though money is not a worry yet for the Ghadiya family, they are praying for their brother's speedy recovery. Vallabh has two sons and one daughter to support.


'Why does this have to happen again and again to our city'
Last updated on: July 15, 2011 18:27 IST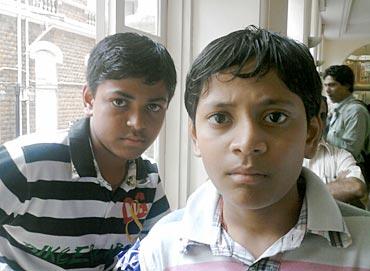 It feels wonderful to see a few happy faces amid a sea of gloom.
Ruchit Patel, 14, and Vishrut Patel, 17, are two such faces. Their father, Khodabhai Patel, 42, according to doctors at the Harkisondas Hospital, will be discharged July 15. Khodabhai, a diamond broker with "not so serious injuries" to his hands and legs, was admitted there two days ago.
"When we saw the news on television we immediately called our father as we knew he works out of that area. Thankfully, he himself answered the phone and assured us and my mother that though he was injured it was nothing serious," says Vishrut who studies commerce at Lord's College in the northern Mumbai suburb of Malad.
Their mother is with Khodabhai, by his bedside, while the two children along with their aunts and uncle await his early discharge.
"Though we are glad that our father was spared any kind of serious injuries, we feel disgusted that this had to happen again and again to our city," says Ruchit. Some of this anger, he says, was passed on to him by his father, who would often tell them about numerous bomb blasts that the city has witnessed since the serial bomb blasts of March 12, 1993.
"We can only hope that one day such attacks on Mumbai will stop," says elder brother Vishrut. Does he contemplate leaving this city, considering how dangerous it has become? He says: "What's the guarantee this (bomb blasts/terror attacks) will not happen in any other city in India?"
Right now they are waiting for tomorrow, when they can return to their Mira Road residence with their father.


'My brother's in a coma and Kasab is still alive'
Last updated on: July 15, 2011 18:27 IST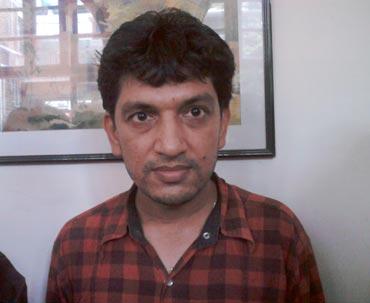 Chetan Mujhapura is not as lucky as the Patel siblings. His brother, Shripal, 30, is undergoing an operation in his skull at Harkisondas Hospital.

"Doctors say his chances of survival are 50-50," says a shaken Chetan, who a few minutes before was frantically calling up friends to make arrangements for blood.

His brother's skull was ripped open outside Opera House on the evening of July 13. Bleeding from the head injury was only stemmed by midnight. A mutual friend called Chetan to tell him about the tragedy that hit his brother.

Like the Ghadiya family, Chetan too is consumed by worry. What if his brother fails to make it through. "It will be very difficult if my brother.." he stops mid-sentence. "His wife, daughter and son are all here.." He again does not succeed in completing his sentence as signs of moistness around his eyes become clearly visible.

"Shripal's family is under depression." Chetan's friend Ashish completes the sentence, trying to comfort his distraught friend.
"Please pray for my brother," Chetan pleads. "We are not interested in the money doled out by the chief minister and the prime minister. We want our brother like he was when he left home yesterday morning," he says angrily pointing towards a television flashing the PM's announcement of Rs 2 lakhs to be given to the family of the deceased and Rs 1 lakh to the family of injured.
"My brother's in a coma and Kasab is still alive," he fumes trying to convey that Indians continue to die, even while dreaded terrorists like Mohammed Ajmal Kasab continue to breathe.