13/7 blasts: ATS and Delhi police in a tug of war
Last updated on: January 17, 2012 20:19 IST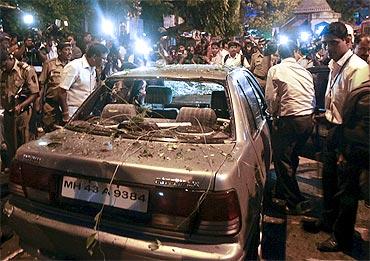 Toral Varia Deshpande brings you the details of how rivalry between India's two of the most recognised agencies, the Maharashtra Anti Terrorism Squad and the special cell of the Delhi Police, has cost India one it's most wanted terrorist and 13/7 Mumbai serial blasts mastermind -- Yasin Ahmad Siddibappa alias Yasin Bhatkal.
It is for the second time that one of India's most wanted -- Yasin Bhatkal -- has managed to evade arrest. And this time, this top Indian Mujahideen fugitive has managed to take advantage of rivalry between India's two of the most competitive investigating agencies -- the special cell of the Delhi police and Maharashtra's Anti-Terrorism Squad.
It all started with the arrival of a team from the special cell of the Delhi police on December 12, 2011. Armed with credible information Delhi police was operating covertly in Mumbai's Byculla suburb for well over a fortnight.
The Maharashtra ATS, already under pressure and criticism for not being able to secure a solid breakthrough, first in the German Bakery blast, and now in the 13/7 triple blasts of Mumbai, was getting edgy. As a result, instead of joining hands with the Delhi police, it started operating independently.
"What's worse, is that it scuttled the Delhi police's operation. As a result, we lost a golden opportunity to arrest Yasin," says a source from one of the investigating agency. Highly-placed source in the special cell alleged, "Not only did the ATS not co-operate; but they ruined the operation by arresting our baits, thus alerting the culprits."
Click NEXT to read further...
Connecting the dots
Last updated on: January 17, 2012 20:19 IST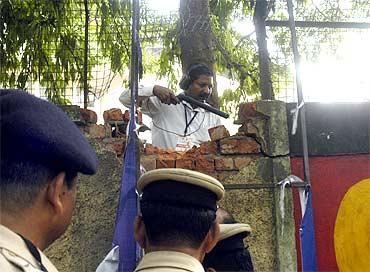 The special cell secured its first ever credible information about Yasin from Gayur Ahmad Jamil, one of the seven Indian Mujahideen operatives recently arrested in a pan India operation. Gayyur, who is mainly suspected of playing a key role in Bangalore's Chinnaswamy Stadium blast, is said to have led the special cell to one Mohammad Naqi.
According to sources, it was Gayyur who introduced Naqi to the Bhatkals -- Riyaz, Iqbal and Yasin.
"During his interrogation, Gayyur said that Naqi was in touch with all the Bhatkals and knew them closely," said a source. While Naqi, a resident of Delhi, owns a leather business in the Shaheen Bagh area, his brother Mohammad Washi owns a shoe business in Mumbai.
Soon, Naqi was picked up by the special cell sleuths. It is learnt that Naqi was first introduced to the Bhatkal brothers around 2008 sometime soon after the Batla House encounter in Delhi. Back then the elusive Bhatkal brothers were still staying in Delhi. While Riyaz and Iqbal soon left the country, Yasin and Naqi's equations continued to improve.
On questioning Naqi, the special cell learnt that sometime in February 2011 Naqi had come to visit his brother Washi in Mumbai. Around the same time Yasin also happened to come to Mumbai and contacted Naqi. Yasin sought Naqi's help in looking for an accommodation in Mumbai.
Click NEXT to read further...
The birds have flown, but to where?
Last updated on: January 17, 2012 20:19 IST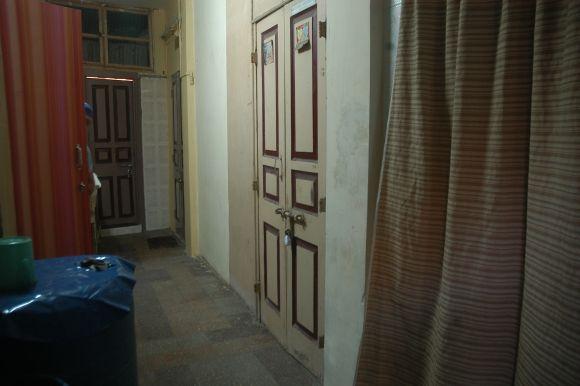 Naqi then introduced Yasin Bhatkal to his friend Aslam Qureshi (a resident of Madanpura, a locality in south Mumbai) who in turn connected Yasin Bhatkal with a real estate broker named Sultan Khan.
"They were three of them. They came here some 11 months ago through Aslam, so I introduced them to Rubina who wanted to rent her apartment. A deal was struck for Rs 8,000 a month, and a deposit of Rs 1 lakh," Sultan Khan told rediff.com.
Around mid-February of 2011, an agreement was signed between Rubina and Yasin and his two Pakistani associates. Sultan is also a resident of the same Habib building in Byculla where Yasin and two of his Pakistani associates -- Barkas and Tabrez -- stayed before and after the 13/7 bombings.
Naqi, who was constantly in touch with Yasin throughout the planning of 13/7 and Delhi high court blasts, told the police that Yasin stayed away from the rented apartment till July. He went to Mumbai on July 12, and along with Tabrez and Barkas stole two vehicles which were used to execute the triple blasts on July 13, 2011. Around July 14, 2011 Yasin left Mumbai, while Tabrez and Barkas continued to live in the rented room in the Habib building.
Based on this specific information from Naqi, the special cell decided to further investigate the matter and came to Mumbai on December 12. None were aware that the Pakistanis had abandoned the room and escaped. On arrival, they found the room locked.
Click NEXT to read further...
Trial and error
Last updated on: January 17, 2012 20:19 IST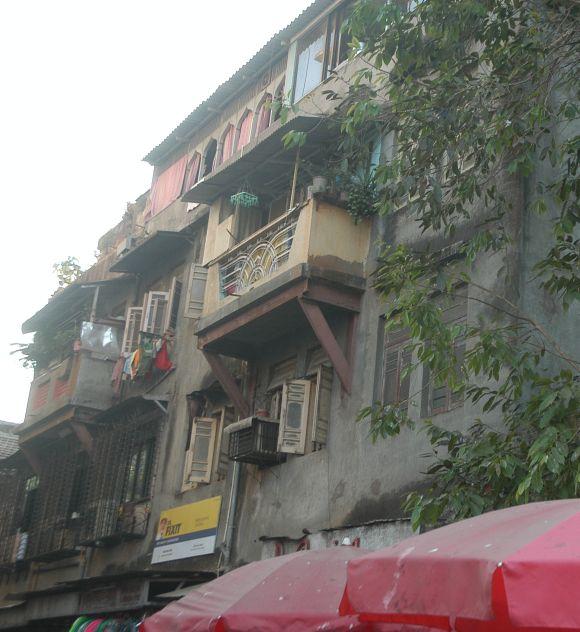 However, the Delhi police continued to operate covertly. They questioned Rubina, Sultan and other residents of the building. From questioning with the neighbours, it was clear that the terrorists had abandoned their safe house just a few weeks ago. However, the Delhi police was hopeful something will work out.
Meanwhile, the ATS, which was already lagging behind in investigations, knew that the special cell team was in Mumbai. However, the ATS had little or no idea on what the team was working on. Ironically the safe house used by the terrorists is less than 500 metres away from the ATS HQ in Byculla.
Finally on January 1, 2012, a call was traced to Rubina, the landlady's phone, from Yasin Bhatkal asking her when he could collect the refund of the deposit. Rubina, who was being monitored closely by the special cell officers, could not answer properly.
Sensing something wrong, Yasin is reported to have told Rubina that he would come to Mumbai after 10 to 15 days to collect the money.
Simultaneously, the ATS was also trying to gather independent information from its sources. On Janurary 6, the ATS picked up Rubina for questioning. The ATS only managed to get basic information about Yasin from her. Sultan Khan's detention and questioning also wasn't very fruitful.
Click NEXT to read further...
The final shocker
Last updated on: January 17, 2012 20:19 IST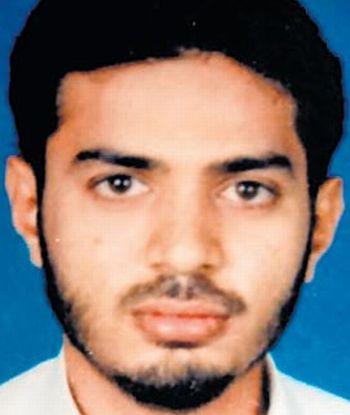 Eventually, the ATS went about questioning everyone who could have possibly interacted with Yasin, Tabrez and Barkas using 'connect-the-chain-in reverse-strategy', thus sending signals to the perpetrators and their sympathisers.
Meanwhile, on January 7, the special cell decided to get Naqi to Mumbai and let him move around under their observation in the hope that he will lead them to Yasin or someone important. ATS who was also keeping a close watch on the special cell's movements started tracking Naqi.
Last Friday, under Delhi police's watch, Naqi was allowed to visit his brother and relatives. But what happened next shocked the special cell officers -- the ATS arrested Naqi in a mobile theft case. In an attempt to salvage the operation, the special cell officers tried to reason out with the ATS to release Naqi on bail.
However, according to sources, the request was denied. The ATS proceeded and also picked up Naqi's brother, his employees and sons for questioning. Naqi's arrest was the final nail in the coffin.
While the Delhi police is still in Mumbai, they are now concentrating their efforts on trying to secure Naqi's bail.
Sources have informed rediff.com that the cold war between ATS officers and officers from the special cell had reached a stage of a very public duel on the issue of who will vacate the Habib building premises first.
What the neighbours say:
Residents of Habib building are shocked that the trio they saw walking in and out of the building was involved in ghastly blasts of Mumbai and Delhi. Sultan Khan, a resident and the broker who introduced Yasin to the landlady, is equally shocked.
"I had no idea who they were. I trusted them because I they came through someone I know and trust. That is why I introduced them to Rubina." He adds that the two boys -- Tabrez and Barkas -- said that they were from Bihar and "had come to Mumbai to work in a call centre for a better future. One guy who was very fair (Yasin) used to come to visit them once in a month or so. Then one day they said that their mother as not keeping well, and vacated the room."
Mallick Khan, another neighbour, said, "The boys used to leave the building and come back very quietly without interacting with anyone. Their room was always locked. Even during the festivals they neither greeted anyone nor mingled with anyone."
Check out our other TOP photo features
Last updated on: January 17, 2012 20:19 IST
Click on MORE to see another set of PHOTO features...