Mulayam believes UP has lowest number of rapes
July 19, 2014 19:37 IST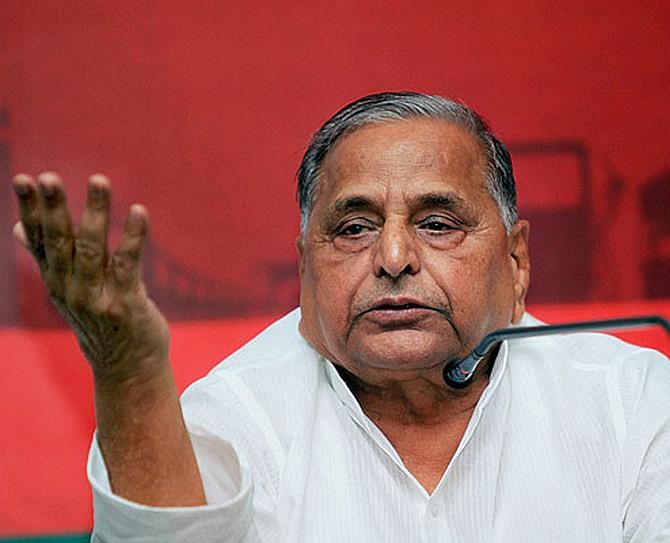 While the Samajwadi Party government in Uttar Pradesh is under attack over a string of rape incidents, party chief Mulayam Singh Yadav is drawing flak for saying that the state has the lowest number of such cases in the country despite a population of 21 crore.
"You are talking about UP. It has a population of 21 crore. If there is any place which has the lowest number of such (rape) cases, it is UP," Yadav said replying to queries from reporters in Delhi on the rape and murder of a young woman in Mohanlalganj area of Lucknow.
The remarks by the SP supremo were latched on to by the Opposition which said they had exposed the "insensitivity" of the SP government.
The SP chief had earlier also sparked controversy when he questioned the death penalty for rape, saying "Ladke, ladke hain; Galti ho jaati hai (Boys are boys. Mistakes happen sometimes)".
Union Minister and BJP leader Smriti Irani said it was unfortunate that such remarks had come from a prominent leader like Yadav and asked the state government to take strict action to check crimes.
"The state government had come to power promising to combat crime but instead it has been rising. It is unfortunate.... Law and order is a state subject. I can only say that the state government should ensure that the laws are not restricted to books but are implemented on ground so that the people of the state get some relief," she said in Amethi.
UPCC president Nirmal Khatri said Yadav's statement only highlights his insensitivity toward crimes, specially those against women.
"Such crimes take place during the Samajwadi Party government because it gives shelter to those involved in wrong deeds.
"The incidents in Badaun and Mohanlalganj have taken place because of the insensitivity of the government," he said in Lucknow and alleged that "upright" officials were being harassed and transferred from one district to another.
Congress leader Rashid Alvi said that even one such case was shameful. "The state government should try that not even one case occurs as it sends a wrong message in the country," he said.
National Commission for Women member Shamina Shafiq said Uttar Pradesh leaders "just have to read newspapers" and they will know the number of rape cases in the state. She said while only a few are highlighted, may are reported from the districts.
A number of rape incidents have been reported in the state in recent months including the rape and murder of two cousins whose bodies were found hanging from a tree in Badaun.
Opposition BJP, too, slammed Mulayam saying he was making illogical claims to save his son and chief minister Akhilesh Yadav.
"If we look at national statistics, cases of rape, dowry death and other crimes in Uttar Pradesh are very high as compared to other states," said BJP spokesman Vijay Pathak.

The BSP condemned what it described as the deteriorating law and order situation in Uttar Pradesh and also flayed Mulayam for his comment that cases of rape in the state were not that high if one took into account its large population.
"Mulayam's statement is irresponsible and indicates he has taken the case of gangrape and murder in Lucknow very lightly," said senior BSP leader RK Chaudhary
"The incident is most gruesome... similar to the Nirbhaya case in Delhi. Making such an irresponsible statement on it is unbecoming of Mulayam and I condemn it. We expect him, his party and the government to be more serious on such sensitive issues," he added.
© Copyright 2022 PTI. All rights reserved. Republication or redistribution of PTI content, including by framing or similar means, is expressly prohibited without the prior written consent.