Mubarak dismisses deadline, Egypt enraged
Last updated on: February 4, 2011 19:01 IST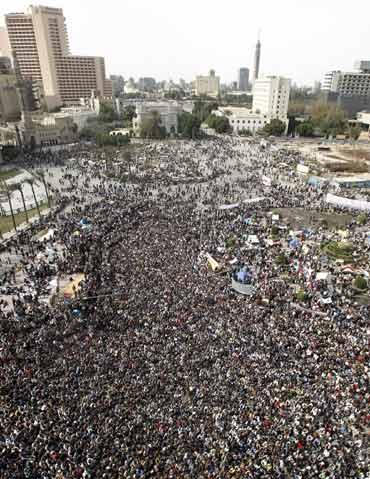 Thousands of Egyptians converged in Cairo on Friday to stage a 'day of departure' for embattled President Hosni Mubarak, who ignored the global clamour for him to step down immediately, saying that such a move will plunge the Arab state into 'chaos'.
The protesters gathered at the Tahrir (Liberation) Square -- the hub of the 11-day protests against Mubarak's 30-year reign -- for a massive rally seeking ouster of the 82-year-old President.
Egyptian Defence Minister Hussein Tantawi, who is also deputy premier, visited the Square to assess the situation, state TV reported.
Protest organisers had set Friday as the deadline for the President to quit, but he refused to bow to pressure.
I have had enough: Mubarak
Last updated on: February 4, 2011 19:01 IST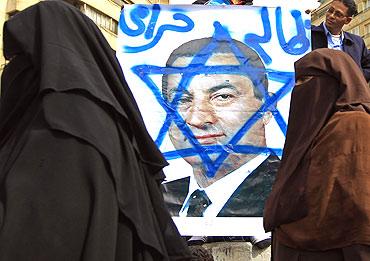 In an interview to ABC News, his first since the revolt began last week, Mubarak said he is 'fed up' and wants to quit but fears that the nation will 'sink in chaos' if he steps down at this stage.
"I am fed up. After 62 years in public service, I have had enough. I want to go," said Mubarak.
"If I resign today, there will be chaos. I don't care what people say about me. Right now I care about my country," he said when asked about the deadline set by protesters.
New Vice President Omar Suleiman demanded late on Thursday night that the protests should come to an end but promised the army would 'not use any violence'.
'Last nail in the regime's coffin'
Last updated on: February 4, 2011 19:01 IST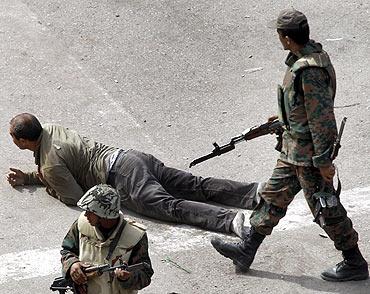 The protesters, who have pledged to put the "last nail in the regime's coffin", were expecting a larger turnout of people than Tuesday when over a million demonstrators had marched against the regime.
They have been angered further by the emergence in recent days of pro-Mubarak gangs -- many suspected to be plain-clothes policemen -- who have attacked anti-government demonstrators.
Mubarak blamed opposition Muslim Brotherhood for the violence in Cairo and said, "I was very unhappy (about violence). I do not want to see Egyptians fighting each other."
'I will die on this soil'
Last updated on: February 4, 2011 19:01 IST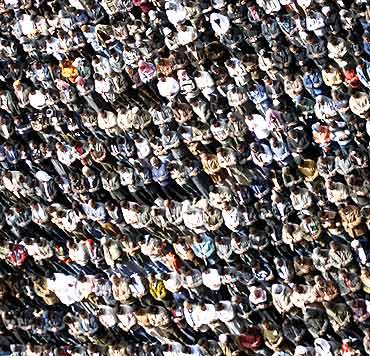 On US President Barack Obama's apparent calls for his resignation, he said he told his American counterpart, "You don't understand the Egyptian culture and what would happen if I step down now."
Mubarak dismissed speculation about his intentions to anoint his son Gamal when he relinquishes power. He had earlier announced that he would quit in September when the presidential polls are scheduled.
"I would never run away... I will die on this soil," he said.
Journalists attacked by Mubarak's supporters
Last updated on: February 4, 2011 19:01 IST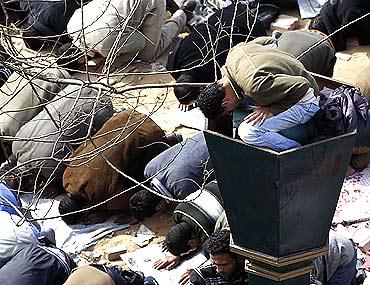 As the turmoil deepened, foreign journalists become targets of rampaging mobs, mostly those aligned with the embattled President. Journalists were beaten, bloodied, harassed and detained by raging men.
News channels reported that several journalists had been detained or forcibly confined to their hotels.
Egypt's new Prime Minister Ahmed Shafiq has said Interior Minister Habib al-Adly will not obstruct Friday's peaceful marches and apologised for Thursday's violence.
'We demand the formation of a national unity government'
Last updated on: February 4, 2011 19:01 IST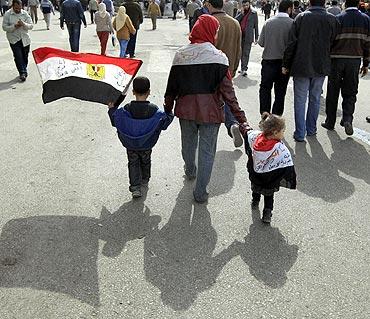 Opposition leaders, including the Muslim Brotherhood and Nobel Laureate Mohamed ElBaradei, have said Mubarak must step down before they start negotiating with the government.
"We demand that this regime is overthrown and we demand the formation of a national unity government for all the factions," the Muslim Brotherhood said in a statement.
ElBaradei said Mubarak "should hear the clear voice coming from the people and leave in dignity."
Over 300 people killed in protests
Last updated on: February 4, 2011 19:01 IST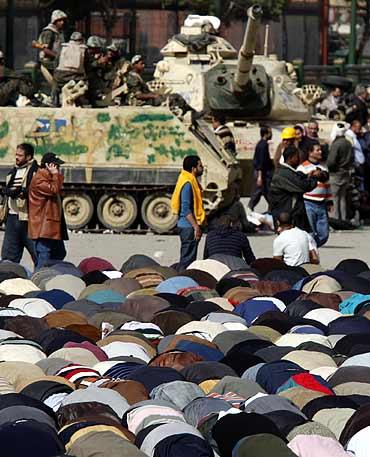 Describing as 'piecemeal' the concessions offered by Mubarak so far, he said, "It's a question of trust, and the trust is gone."
There should be a year-long transition to democracy under a temporary Constitution with a presidential council of several people, including a military representative, he was quoted as saying by the media.
On Thursday night, Egypt's Vice President Suleiman offered more concessions to calm the uprising, which has claimed over 300 lives so far.
US talks tough to Mubarak
Last updated on: February 4, 2011 19:01 IST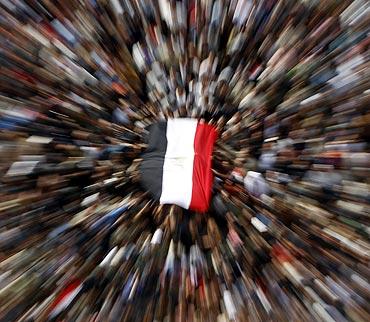 Appearing on state TV, he promised that neither Mubarak nor his son Gamal, who was widely seen as a possible successor, will run in the presidential elections in September. He pledged to punish all those involved in violence and release innocent youths detained in anti-government protests. He also said that violence against protesters at Tahrir Square could have been the result of a conspiracy.
The state public prosecutor said officials, including the much-hated interior minister al-Adly, have been banned from travelling and their accounts frozen, pending investigations.
Toughening its stand, the US also asked Mubarak to immediately start taking meaningful steps towards transition.
'The time for transition is NOW'
Last updated on: February 4, 2011 19:01 IST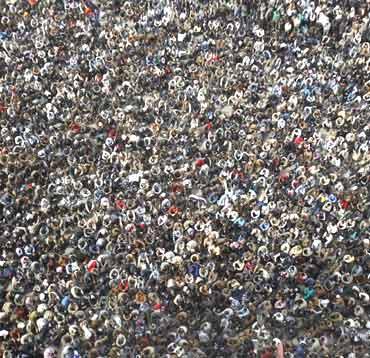 "The time for transition is now. It's important that the world see some concrete steps towards meaningful change," White House Press Secretary Robert Gibbs told reporters.
Egyptian Prime Minister Shafiq dismissed the US demand, saying, "'Now' should not be given as an order to Egypt."
"President Mubarak should leave the presidency in an honourable way. He is leaving anyways within the coming few months, so there is no meaning of the 'now' orders," he told reporters.