Modi's meteoric rise from RSS pracharak to BJP PM nominee
September 13, 2013 19:37 IST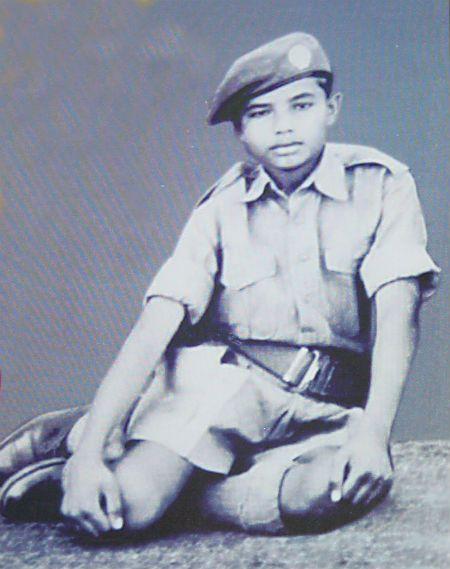 Narendra Modi's anointment as BJP's prime ministerial nominee catapults to the national scene the Hindutva poster boy who is seen by his critics as a "polarising" and "divisive" figure after the 2002 Gujarat riots.
A three-time chief minister, Modi, a former RSS pracharak (preacher) who will turn 63 on September 17, has battled all odds and stiff opposition from within the party to emerge as the face of BJP for the 2014 Lok Sabha elections.
It is said about Modi that you may love him or hate him but you cannot ignore him.
By declaring him as its candidate, BJP, backed by RSS, pipped party veteran L K Advani and long-time aspirant for the top post. In fact, Advani, once a mentor of Modi, strongly opposed the projection of the Gujarat strongman.
Modi, who was a low profile BJP office-bearer till he was made chief minister of Gujarat to replace Keshubhai Patel in October 2001, controversially came into limelight in the wake of 2002 riots triggered after 59 Kar Sewaks were killed in Sabarmati Express fire on February 27.
Click NEXT to read further...
Blot of 2002 Godhra riots continues to haunt Modi
September 13, 2013 19:37 IST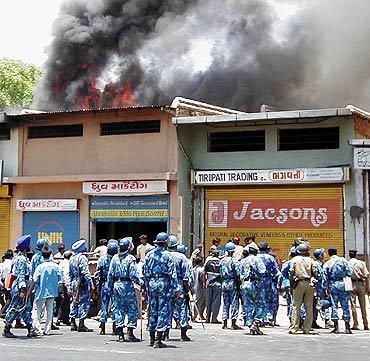 Modi was accused of inaction during the riots in which around 1000 people were killed, most of them Muslims, and is finding it difficult to shed the taint.
The then Prime Minister Atal Bihari Vajpayee had reminded him of his "raj dharma" but L K Advani and the late Pramod Mahajan helped Modi to survive as the chief minister.
The blot still haunts him, with critics calling him a "polarising" and "divisive" Hindutva hardliner under whose rule Muslims would not be safe. Modi has also been under sustained attack over alleged fake encounters and his close aide Amit Shah is under a cloud in a few of these.
Click NEXT to read further...
'Sole leader in the saffron fold who can take on UPA'
September 13, 2013 19:37 IST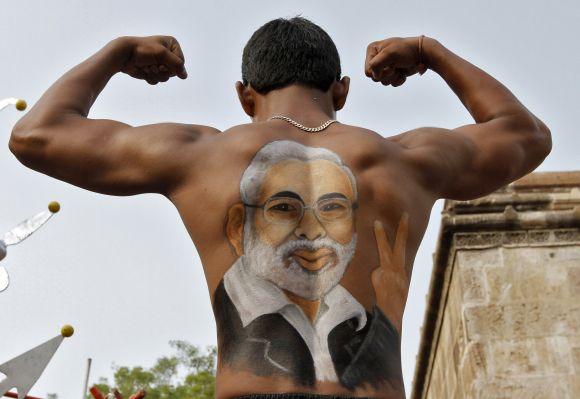 Notwithstanding difficulties on these counts, Modi has fought on and led BJP to three consecutive elections in Gujarat and virtually decimating the Congress in the state.
This achievement was the main factor that tilted the balance in his favour among the host of BJP leaders, including patriarch Advani, as far as consideration of a face for the next elections was concerned.
Some call him BJP's compulsion, but the party as also its mentor RSS are of the view that he is the sole leader in the saffron fold who can successfully take on the UPA in the Lok Sabha polls.
While having the image of a hardliner, Modi is also seen by many, including business leaders, as a chief minister who has led Gujarat to the path of sustained development.
His supporters argue that he is a decisive leader who would be useful in countering UPA, when the ruling coalition is seen by its detractors as an indecisive dispensation that has led to the country's economic mess.
Click NEXT to read further...
Modi's critics see him as a dictatorial personality
September 13, 2013 19:37 IST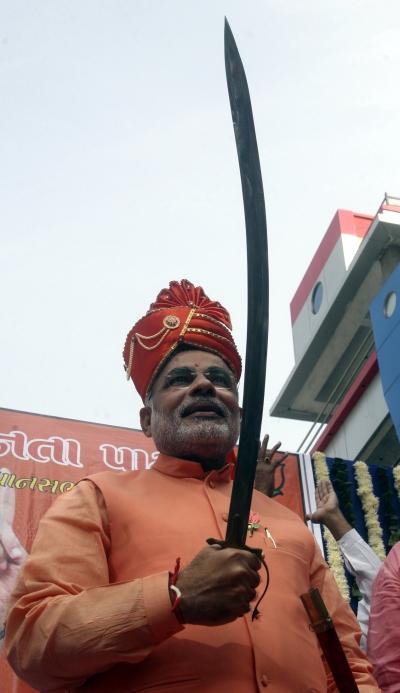 At the same time, Modi's critics see him as a dictatorial personality who does not tolerate dissent and discourages growth of any other leader.
The stage for declaring Modi as the BJP's prime ministerial candidate was set in Goa in June last when he was made the party's Election Campaign Committee chief at the National Executive.
The decision was taken despite stiff opposition by Advani, who even resigned from all the three party posts, only to retract later after intervention by RSS chief Mohan Bhagwat.
The naming of Modi as Campaign Committee chief, the virtual face of the party for the polls, had led Janata Dal-United to break its 17-year-old alliance with BJP as it feared impact on its Muslim votes.
The possibility of Modi being pitchforked as the prime ministerial candidate of BJP gained ground in December last year when he spearheaded the party to a resounding victory in Gujarat in the Assembly elections for a third consecutive term.
The election was different for Modi as it was for the first time that elderly Keshubhai, whom he had replaced as the chief minister in 2001, parted ways with the BJP and floated his Gujarat Parivartan Party to rid the state of an 'emergency like situation'.
Click NEXT to read further...
Modi attempts to build bridges with the minorities
September 13, 2013 19:37 IST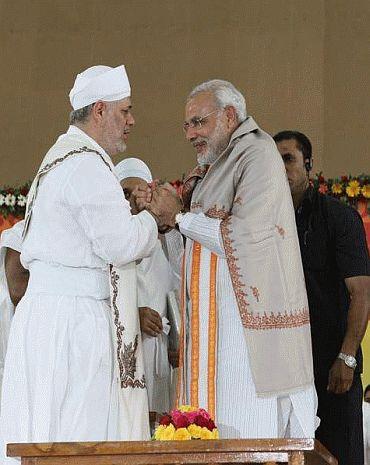 Given the bitter parting of ways, the 2012 polls was the litmus test for Modi, who had consciously tried to build bridges with the minorities by holding Sadbhavana fasts all over the state.
At the same time, he did not give ticket to a single Muslim in a bid not to ruffle the feathers in the Hindutva camp.
Modi also had reached out to his core constituency by organising state-wide yatra by projecting Swamy Vivekananda as his ideal on his 150th birth anniversary.
After that there was no looking back for the RSS pracharak who had moved to the BJP long back, first as organising secretary of the party in Gujarat and later an office-bearer at its headquarters in Delhi.
TOP photo features you missed last week
September 13, 2013 19:37 IST
Click on MORE to see another PHOTO features...
© Copyright 2020 PTI. All rights reserved. Republication or redistribution of PTI content, including by framing or similar means, is expressly prohibited without the prior written consent.