Modi's Mahatma act in Mumbai: Vote for India
December 22, 2013 19:23 IST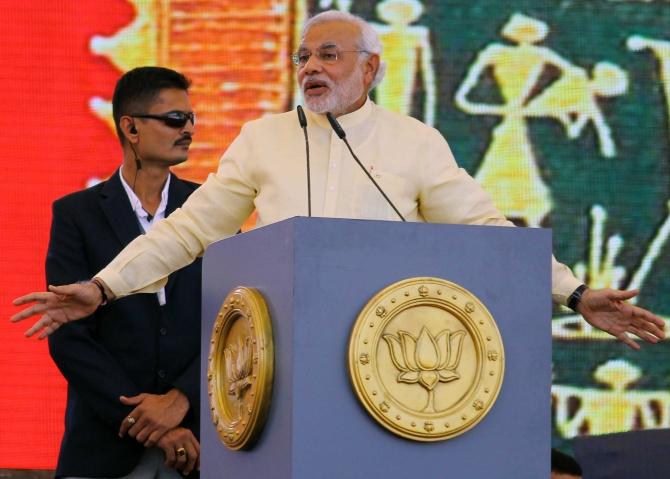 Comparing Congress's rule since Independence with that of the British Raj's divide and rule policy, projecting the Bharatiya Janata Party as the only answer to the ills of corruption, bad governance, high inflation and unemployment plaguing India since 2004, Gujarat chief minister and BJP's candidate for the post of prime minister, made a strong pitch to project himself as a great visionary. Prasanna D Zore reports.
Just as Mahatma Gandhi electrified Indians on August 8, 1942 from Mumbai's historic August Kranti Maidan to oust the British Raj from India by giving the clarion call of 'Quit India', Narendra Modi, in his own inimitable style, exhorted lakhs of his supporters at a Mumbai rally to 'Vote For India' and pledge for a 'Congress-free-and-hence-corruption-free-India'.
Ironically, Modi, who also hails from the land of Gandhi, invoked his call without even once uttering the Mahatma's name.
When Modi's 55-minute long speech was just about concluding, he made a fervent plea to the people, who had gathered to listen to him at the MMRDA grounds at Bandra Kurla Complex ground in Mumbai and to all those who were watching him on TV, not to vote for any particular party but to vote for India.
With his call, in a simple masterstroke, Modi, not only succeeded in projecting him as the messiah of the masses, and a visionary statesman, but also managed to equate the BJP with India and the Manmohan Singh-led United Progressive Alliance-II with the 'tyranny of the British rule' indirectly taking a dig at Congress President Sonia Gandhi's Italian roots.
Click NEXT to read further...
Modi's Mahatma act in Mumbai: Vote for India
December 22, 2013 19:23 IST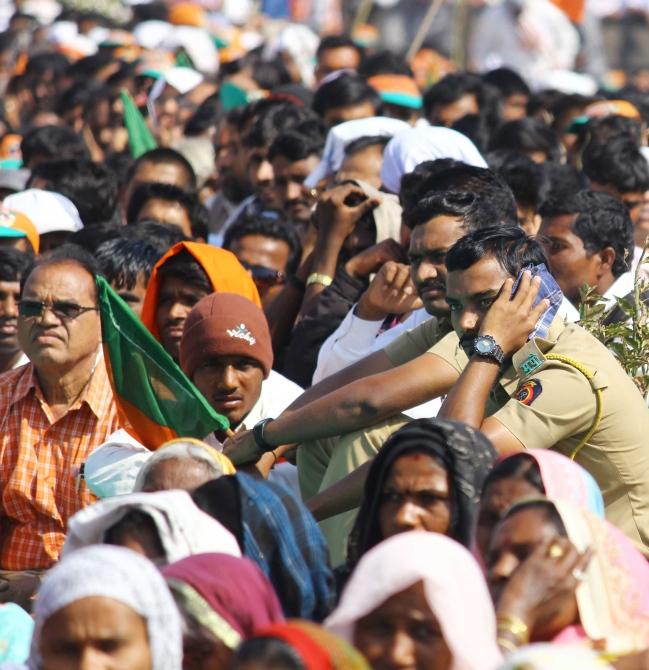 "Bharat should be freed from Congress's reign. We will have to turn our dream of 'Congress-free India' into a reality," he said.
"India's geography is not our problem; India's people are not our problem; the country's history and natural resources are not our problem," Modi said addressing a huge rally which according to BJP office bearers was as strong as 10 lakh (one million).
"Congress-ruled states and the Congress-ruled Centre are the root causes of all the ills afflicting India," he said, once again emphasising that the ousting Congress in the forthcoming general elections was the only way to save India from the curse of corruption, economic paralysis and bad governance, all of which, he said, have become the hallmark of the incumbent UPA-II government.
The Gujarat chief minister, who won a resounding hat-trick victory in the Gujarat state elections last November, began his speech in Marathi by invoking Chhatrapati Shivaji Maharaj, Dr Babasaheb Ambedkar, Mahatma Jyotiba Phule and Chattrapatu Shahu Maharaj.
"To make India Congress-free, Maharashtra will play a decisive role," he said in Marathi to a cheering crowd.
Interestingly, Modi's speech, which was the centre-piece of the BJP's Maha Garjana rally, was bereft of any reference to 'Shehhzada' and 'Dilli ki Sultanat', two of his pet phrases he uses to criticise Congress vice president Rahul Gandhi and the 'pseudo secularism' of the Congress party and Manmohan Singh government.
Click NEXT to read further...
Modi's Mahatma act in Mumbai: Vote for India
December 22, 2013 19:23 IST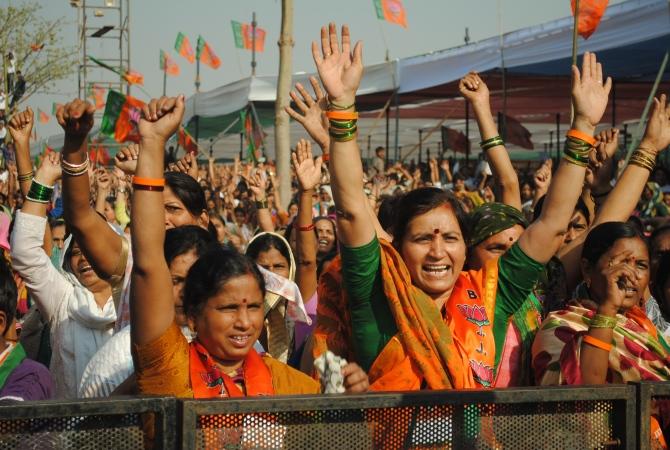 Without using his oft-used pointed barbs, Modi did attack Congress's politics of vote bank. The focus once again was to liken the Congress to the British Raj.
"Just like the British, 'divide and rule' has become a Congress specialty," he said. "Since independence, the Congress divided Indians using religion, caste, geography and water resources."
Requesting India's Muslims to not succumb to Congress's policy of divide and rule, Modi said that the Congress makes only tall promises and does not care a fig about the development of India's biggest minority.
Proving his point, Modi pointed out that the committee appointed by the prime minister to develop 90 districts in India with sizeable Muslim population has not even spent a penny in the last three years of its existence.
"When India got Independence, she was divided into on religious lines. Later, the Congress divided the nation on linguistic basis by forming various states of India on the basis of language. The Congress sowed the seeds of regional imbalances, urban-rural divide, sectarianism and communalism. All these divides have been the hallmarks of Congress rule since Independence," he said.
Click NEXT to read further...
Modi's Mahatma act in Mumbai: Vote for India
December 22, 2013 19:23 IST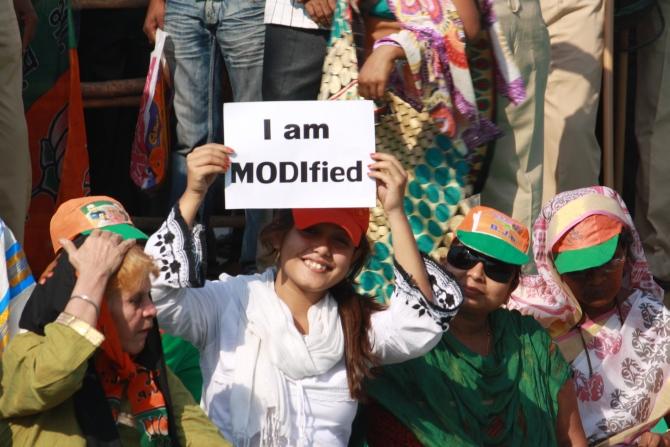 Launching a scathing attack on Rahul for projecting himself as somebody who has taken the lead in purging corruption in public life by crediting the Congress with the passage of Right to Information Act and more recently the Lokpal Act, Modi said, "One needs a lot of guts to speak about weeding out corruption when his party and colleagues are embroiled in various cases of corruption. Nobody can manage to pull off such a daring feat," Modi said.
"The irony," Modi pointed out, " is just as this leader was talking big about creating a framework to fight corruption, his chief minister in Maharashtra (Prithviraj Chavan) was saving those indicted in the Adarsh Housing Scam."
"Should such a leader lecture us on how to fight corruption?" he asked his supporters.
Making a strong pitch for BJP's development agenda, Modi, referred to the economic progress made in BJP-ruled states of Madhya Pradesh and Chhattisgarh.
Praising chief ministers Shivraj Chouhan and Raman Singh, Modi asked why farmers don't commit suicides in these two states.
"Why are MP and Chhattisgarh fast emerging as the food granaries of India?" he said referring to agriculture and farmer-friendly policies adopted by these two states for their economic benefit.
Click NEXT to read further...
Modi's Mahatma act in Mumbai: Vote for India
December 22, 2013 19:23 IST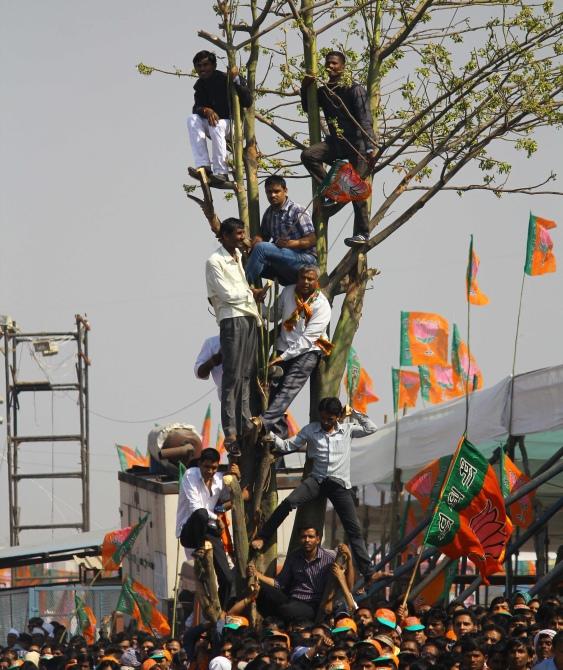 "The Congress has no confidence in the politics of development," he said. "The Congress does not want the youth of this nation to earn their livelihoods with respect and participate in nation building," he added.
"The Congress is only interested in appointing committees. Manmohan Singh's government in Delhi is not interested in India's youth," he said.
Observing that 65 per cent of India's population is under the age of 35, making India the youngest nation in the world, Modi said if his party comes to power they will focus on skill development of the youth, create jobs for them which they can claim only on the basis of merit and not influence.
Pointing towards the large presence of young Indians at his Mumbai rally -- earlier BJP Maharashtra President Devendra Phadnavis had estimated it to be 80 per cent of all present -- Modi said, "This is the wind of change."