'Modi ideologically hawkish, but opportunistic'
June 10, 2013 17:30 IST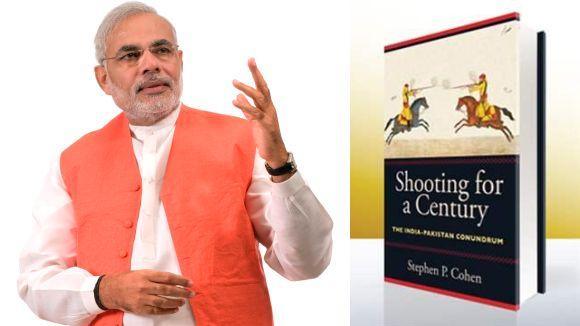 Gujarat Chief Minister Narendra Modi is "ideologically hawkish, but economically opportunistic", a noted American scholar writes in a new book.
In his latest book, Shooting a Century, which hit book stores this week, Stephen P Cohen says that Modi epitomises certain ambivalence toward Pakistan, which is the also case with Congress President Sonia Gandhi and her son Rahul Gandhi.
Cohen is currently a senior fellow in Foreign Policy at the Brookings Institute, a Washington-based eminent think-tank.
"Ideologically hawkish, but economically opportunistic, Modi was associated with "several communal atrocities", yet he is one of the most effective of India's politicians, at least in his home state, which borders Pakistan," Cohen writes in his book, which is mostly focused on the India-Pakistan relationship.

Click on NEXT to read further...
'Modi ideologically hawkish, but opportunistic'
June 10, 2013 17:30 IST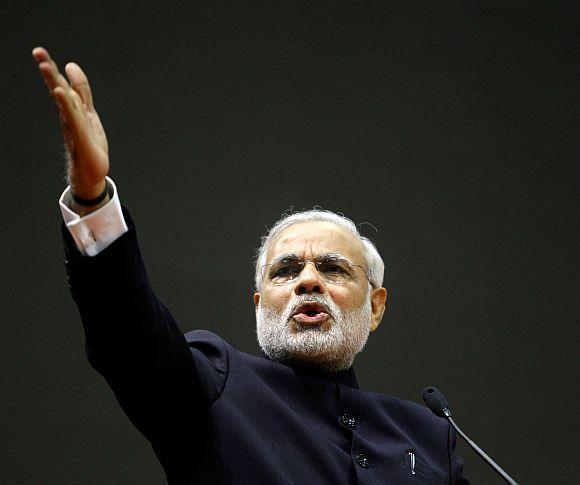 "On the one hand, he (Modi) regularly excoriates it (Pakistan) for supporting terrorism and has been vehement regarding other states, notably America, for the lack of clarity on their stand on Pakistan-based terrorism. His strong views here may reflect America's refusal to give him a visa, but his attacks on Pakistan please the RSS component of the BJP establishment," Cohen wrote.
"During a trip to China -- seeking Chinese investment -- Modi took an appropriately hard line on the role of Chinese troops in Pakistan-occupied Kashmir. But undoubtedly the Chinese told Modi that they favoured good India-Pakistan relations, and Gujarat, bordering Pakistan, would benefit enormously from trade with that country," he said.
"His requests for Chinese investment balance out his concern for Pakistani-based extremism, so he has not come out directly or strongly on the India-Pakistan normalisation process, except to criticise the Congress and Prime Minister Manmohan Singh for softness," the author wrote.

Click on NEXT to read further...
'Modi ideologically hawkish, but opportunistic'
June 10, 2013 17:30 IST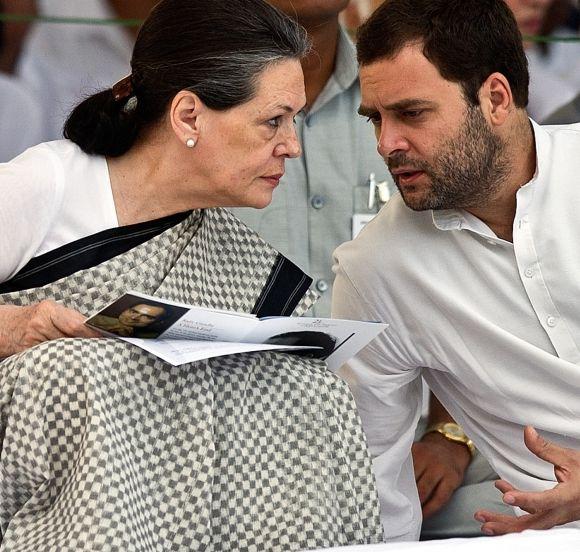 According to Cohen, the views of Sonia Gandhi are conspicuous for their blandness.
"While publicly supporting the initiatives of Prime Minister Singh, she does not seem to hold very strong views on Pakistan one way or another. Sonia speaks publicly of giving a "fitting reply" to any Pakistani aggression, but that is conventional Indian obfuscation," he wrote.
"Meanwhile, Rahul seems to hold standard Indian liberal views toward Pakistan. In August 2012 he publicly accepted an invitation to visit Pakistan from Bilawal Bhutto, the Pakistani President's son and co-leader of the Pakistan Peoples Party," Cohen says.

Click on NEXT to go further...
Top PHOTO features of the week
June 10, 2013 17:30 IST
Click on MORE to see another set of PHOTO features...