'Modi has a secular image now'
Last updated on: January 08, 2014 16:17 IST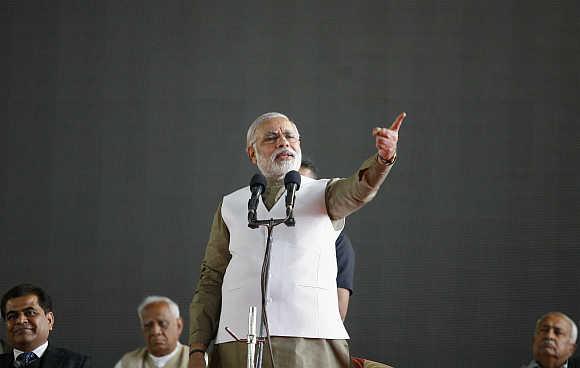 'Otherwise, the minorities would not have acknowledged his leadership quality. I am happy the BJP is working towards achieving a secular image,' Vellappally Natesan, the OBC leader in Kerala who has created a controversy by supporting Narendra Modi, tells Rediff.com's Shobha Warrier.
Vellappally Natesan is the general secretary of the Sree Narayana Dharmaparipalana Yogam, a social organisation of the Ezhava community of Kerala. The Ezhavas are an Other Backward Classes community in South Kerala, who are the most numerous among the state's Hindus.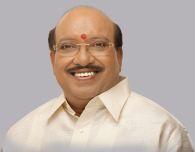 In this exclusive interview from Kerala to Rediff.com's Shobha Warrier, Natesan, left, reveals why he supports Modi, who also belongs to an OBC community, as India's next PM.
The other day you said the country would not go to dogs if Narendra Modi became prime minister. Prime Minister Manmohan Singh has said it would be disastrous if Modi were to become the PM.
What can he, the prime minister from the Congress party, say, except such things about Modi? After all, he is also a politician.
There is no doubt that there is a Modi wave all over the country.
I am sure under Modi, the BJP will become the single largest party in the 2014 Lok Sabha election though it may not get a majority of its own.
Let me ask you, why does the Congress have to suffer such a steep fall?
With corruption in high places, the party's image has taken such a bad beating.
To top it all, the life of ordinary people has become so difficult with price rise and inflation.
When things look so bad at the Centre, people see a bright spot in Modi.
Was it because Modi spoke about development that he was accepted by many voters in the states that went to polls recently?
The miracle he has achieved in Gujarat is there for all to see.
Though the Opposition party used the 2002 riots against him in the elections that came later, he won in grand style, not once but twice.
What should we understand from his unprecedented victory? That, the people of Gujarat, irrespective of their castes and religions, voted for him in large numbers, and he won with a bigger margin.
Though the Congress had been consistently campaigning against Modi not only in Gujarat but all over India that there were riots in Gujarat, thousands died in the state, and Modi was communal, their smear campaign did not have the desired effect on Modi.
With each test, with each election, he is coming back with more and more strength and shining brighter.
It shows the people of Gujarat are extremely satisfied with his administration, and the development work he is doing for them.
Kindly click NEXT to read further...
'Modi will not influence Kerala voters'
Last updated on: January 08, 2014 16:17 IST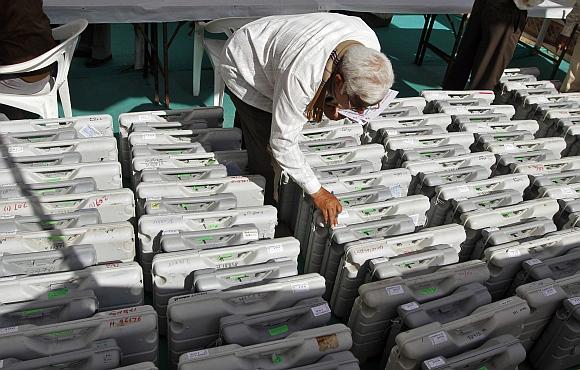 Kerala is one state that has only been experimenting with the Left Democratic Front and the United Democratic Front for many years. The BJP has not been able to make any inroads here.
Will Modi be able to make any impact here this time?
The political atmosphere in Kerala is totally different from what you see in other parts of the country.
Here, only these two fronts have any chance of coming to power; there is no Third Front here and so, the chances of the BJP winning seats are very, very bleak.
Though it is true that Modi is extremely good and he could influence voters in other parts of the country, he will not be able to create a vote bank here and influence Kerala voters.
That is because even those who appreciate and support Modi know very well that even if they voted for a BJP candidate, the chances of the candidate winning are not good at all. So, they do not vote for the BJP and waste their votes.
It is not because they do not support Modi, but only because there is no space for anyone other than the two political fronts here.
The biggest tragedy of the BJP is that it has not been able to have a single MP from Kerala so far.
The reason, according to me, is the party has not been able to bring in any new face; you see the same old faces and those faces have not been giving any confidence to the people.
The party needs dynamic young people and a new working style.
Do you feel even if Modi tries the BJP will not succeed in Kerala?
Yes. As things stand, I don't think the BJP will be able to win even one seat.
You have spoken in support of Modi. Will it have an impact on the Ezhava community? Will the Ezhavas vote for the BJP because of your support?
I was not airing my views as general secretary of the SNDP.
What I said was, if you analyse what Modi has done so far, it has been praise-worthy.
I said, because of his very good record as the chief minister of a state, he has all the credentials to be the prime minister and lead the country.
My views have no political angle to it.
Kindly click NEXT to read further...
'AAP can make an impact in Kerala if they project a very good leader'
Last updated on: January 08, 2014 16:17 IST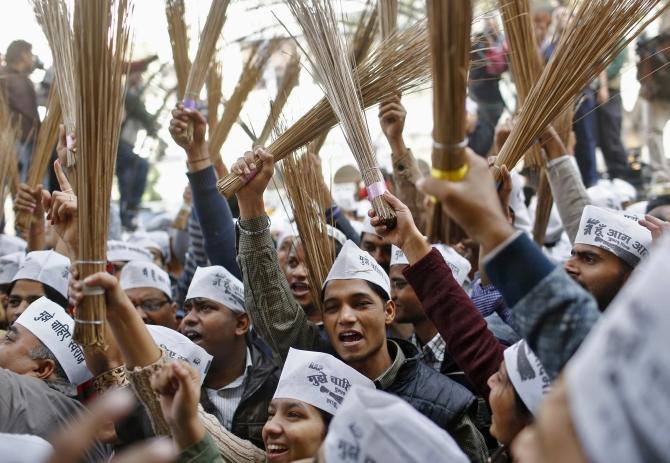 What I meant was, as you are the leader of the SNDP, will your views be heard by your community?
It is highly unlikely that my views will have an impact on the community.
The people of Kerala do not take a decision based on somebody else's opinion.
Even if I appreciate what Modi has been doing, the people of Kerala have certain preconceived notions about the BJP, and the same old faces of the BJP would reinforce those notions.
Unless they have new leaders with new ideas and perspectives, it is tough for the party to change what the people of Kerala think about it.
Yes, it is true that the BJP has been slowly shedding its communal image, and the evidence of that is the recent pronouncement by the bishop of the Orthodox Church in Kerala (saying he has no problems with Modi as PM).It clearly shows Modi has a secular image now. Otherwise, the minorities would not have acknowledged his leadership quality.
I am happy that the party is working towards achieving a secular image but that image is not enough to win any seats from Kerala.
Did you speak to Modi about the image the BJP has in Kerala when you met him at the Sivagiri Mutt?
No, we didn't speak about this issue at all.
You saw the kind of success the Aam Aadmi Party had in Delhi. Do you think it will influence Kerala's voters?
I feel the party will be able to make some impact in Kerala, only if they project a very good leader.
I am sure they will not be able to win the kind of success they did in Delhi, but they may be able to create an impression in some constituencies.
It all depends on the kind of leaders they project.
You mean, what the BJP had not been able to do all these years, the AAP could achieve?
Yes. Even if the BJP gets a few new faces, they will not be able to make an impact in the 2014 election unless they work really hard.
Kindly click NEXT to read further...
'The OBC card will help Modi in other states'
Last updated on: January 08, 2014 16:17 IST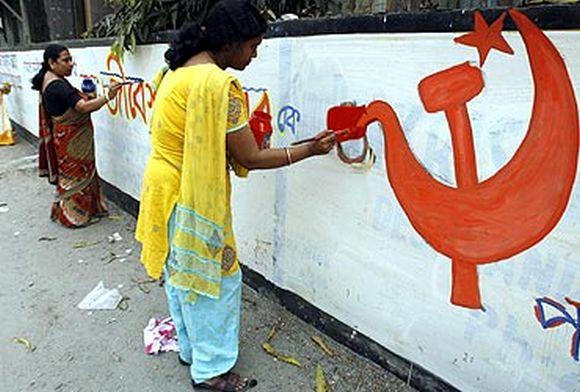 In just a few months, the AAP was able to make such a huge impact in Delhi...
Kerala politics is very different from Delhi politics.
It is extremely difficult to create a space for a Third Front in Kerala.
Even when Modi comes to Kerala, there will be a huge crowd here, but the BJP does not have the infrastructure to convert it into votes.
This state is extremely political and unless someone works really hard, it is not possible to change the political thinking of the people of Kerala.
Last year when Modi was invited as chief guest at the Sivagiri Mutt, there was a furore in Kerala. When you praised Modi now, how did the people react?
Surprisingly, many people told me that what I had said was 100 percent correct.
They may have agreed with me, but that may not convert to votes for the BJP.
For the first time, the BJP is using the backward community card to garner support for Modi. They are also projecting the image of him as a man who rose from selling tea to be the chief minister of a state.
How much will the OBC card help him?
It may not help him in Kerala, but it will help him get support and votes in other states.
In Kerala, those from the backward community are already very politically active. Even Modi will not be able to change them.
But I see him as the next prime minister and I also see the BJP as the single largest party.
I also want to say once again that nothing untoward would happen to this country if Modi were to rule India as he knows how to administer well.