Modi woos Mamata on her turf; trains guns at Manmohan
Last updated on: April 9, 2013 14:26 IST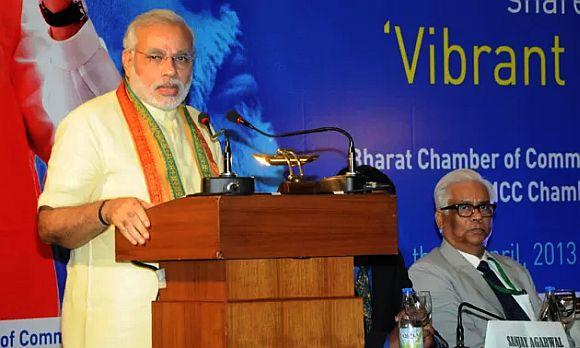 Gujarat Chief Minister Narendra Modi on Tuesday said the central government was engulfed by policy paralysis and it was on "borrowed time".
"They (UPA government) are not watching the calendar, but the clock. It is on borrowed time," Modi said at a programme jointly organised in Kolkata by three city-based chambers of commerce.
Modi, who is widely being perceived as the BJP's prime ministerial candidate, accused the Centre of policy paralysis and claimed it had floundered on several issues including that of Italian marines, Bangladesh and Pakistani troops beheading Indian soldiers.
"It is astonishing that the Italian marines, accused of killing Indian fishermen, were allowed to go to their native country to vote, while even if the mother of an Indian accused dies, he is not allowed to go to her funeral," he said.

Click on NEXT to read further...
Modi woos Mamata on her turf; trains guns at Manmohan
Last updated on: April 9, 2013 14:26 IST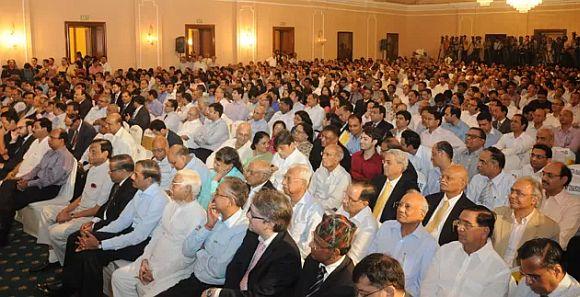 The chief minister said the country's interest should be considered first while framing foreign policy.
"Despite India having played a key role in the birth of Bangladesh, no one is giving importance to Delhi in that country during the present crisis there," he claimed.
The government was being soft with Pakistan even after beheading of Indian soldiers, he said.

Echoing his West Bengal counterpart Mamata Banerjee's charge that the Centre has been discriminating against non-Congress states, Modi said the UPA government's approach was detrimental to the country's federal structure
When Atal Bihari Vajpayee was heading the NDA government, there was never the cry from Bengal that it was being discriminated against, but now this is happening, Modi said.
"The UPA government has no right to discriminate against any state. There are now charges of discrimination among Congress and non-Congress states," he said.

Click on NEXT to read further...
Modi woos Mamata on her turf; trains guns at Manmohan
Last updated on: April 9, 2013 14:26 IST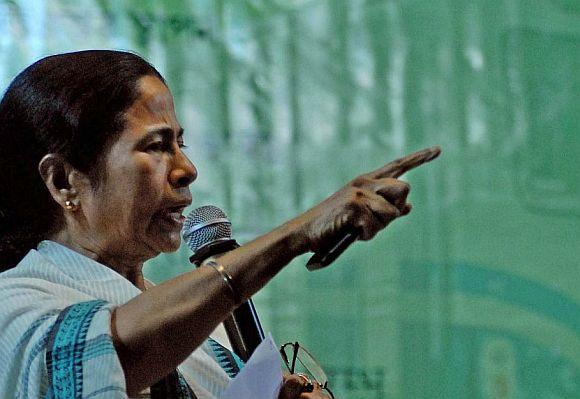 Modi's remarks came in the backdrop of West Bengal Chief Minister Mamata Banerjee's charge on Monday that the Centre had imposed an "economic blockade" against her state.
The Gujarat chief minister slammed the previous Left Front government in West Bengal, alleging that it had left a lot of potholes during its 32-year rule.
"The situation that Congress left Gujarat in, it took me 10 years to correct and fill the potholes," Modi claimed.
"In Bengal, the potholes left by 32 years of misrule will need several years to be filled. I am sure whatever is being done by the present government is in the direction of filling these potholes," he said while praising the efforts of the Trinamool Congress government, which came to power in mid-2011.
In a lighter vein, he said the media was more interested in Mamata-Modi comparison than the economic growth witnessed in Gujarat.
"I have not come to Bengal to compare achievements," he said while praising Bengal for having produced stalwarts who led the country in education and social change in the 18th and 19th century.

Click on NEXT to read further...
Modi woos Mamata on her turf; trains guns at Manmohan
Last updated on: April 9, 2013 14:26 IST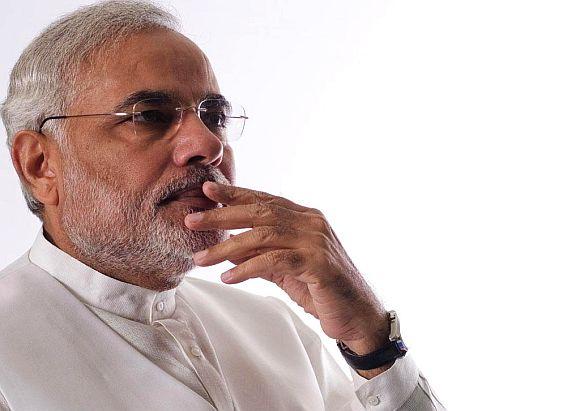 Listing achievements of his government, he said, "Gujarat has become a hub of automobile industry and solar power and has clocked a 10 per cent growth in agriculture."  


Later, talking to media persons, Modi side-stepped questions on his prime ministerial ambitions, saying he is an "apolitical person".
"I am not a politician," he said, when asked by a questioner at a programme about the desire of politicians to aim for the top political post and what was his attitude about it.
"A politician may have (the desire to become Prime Minister) but I am not a politician. I am an apolitical person," he said to a round of applause from the gathering of businessmen at the Merchants Chamber of Commerce.
© Copyright 2020 PTI. All rights reserved. Republication or redistribution of PTI content, including by framing or similar means, is expressly prohibited without the prior written consent.