Mayawati's parks, elephants and a Rs 40,000-crore scam
Last updated on: May 16, 2012 22:02 IST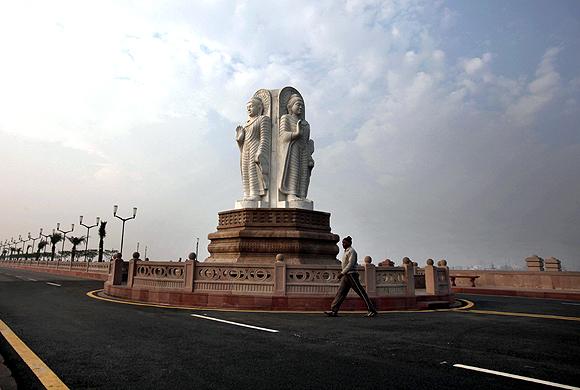 Bahujan Samaj Party president Mayawati's fad for building memorials and parks with umpteen statues of Dalit icons and elephants, the party symbol, has a dark side too. Clearly, there appears to be a huge scam behind every dream project of the former Uttar Pradesh chief minister.
Her whopping expenditure of about Rs 7,000 crore on memorials, parks and statues has now come under the scanner of the new government headed by Akhilesh Yadav.
Be it the purchase of sandstone or granite or payments to sculptors for carving out elephants or the statues of various Dalit icons, including herself, Mayawati is accused of taking huge kickbacks, which took the costs sky high.
Close on the heels of the allegations of large-scale pilferage of funds in construction works, the Mayawati regime was now being charged of heavy over-invoicing of trees purchased for being planted in each of the monuments.

Click on NEXT to read further... 
Mayawati's parks, elephants and a Rs 40,000-crore scam
Last updated on: May 16, 2012 22:02 IST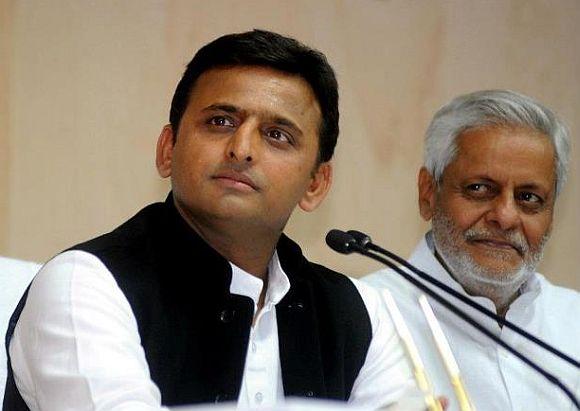 Akhilesh might have made a public declaration not to indulge in witch-hunting. However, large scale suspected pilferage of funds officially earmarked for Mayawati's dream projects have prompted the new chief minister to expose his predecessor to the hilt.

"After taking a closer look, we could see a huge can of worms; preliminary estimates suggest a scam of nearly Rs 40,000 crore," observed Akhilesh Yadav on being confronted with queries in this regard at the sidelines of an official  function in Lucknow.

Asked how the estimation of the scam had suddenly shot up to such a whopping figure, when the funds officially released for these parks, memorials and statues were of the order of Rs 7000 crore, he shot back, "Well, you have to also take into account the cost of land acquired to build these memorials and parks; besides you cannot ignore the cost that has gone into the demolition of buildings that existed on those plots of land."

Among the buildings erased to provide place for Mayawati's projects were a huge prison, a sports stadium and as many as 153 residential apartments forming a colony for state irrigation department officials.

Click on NEXT to read further...
Mayawati's parks, elephants and a Rs 40,000-crore scam
Last updated on: May 16, 2012 22:02 IST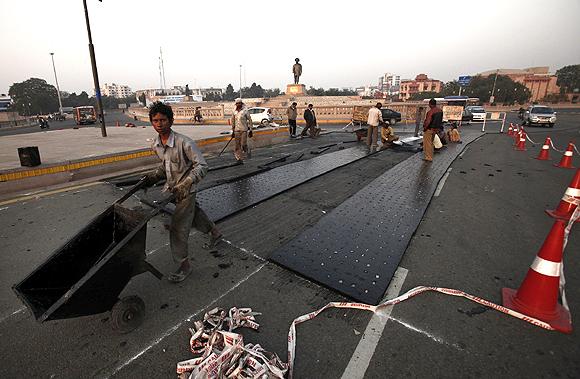 Akhilesh sought to make it loud and clear, "Now that the police has initiated a probe, I am sure it will open the Pandora's box to show how much of the tax-payer's money was swindled in the name of these parks and memorials."
The scam came to light with the lodging of a complaint by a sub-contractor who accused the state's key construction agency -- Uttar Pradesh Nirman Nigam -- of withholding bulk of his payment against sculpturing of stone elephants, which are a key component of each of the parks and memorials.
"As against our deal for payment of Rs 48 lakh towards each elephant, we were paid only Rs 7.5 lakh, and when I demanded the remaining payment, I was threatened with dire consequences by both the contractor and UPRNN officials; therefore I decided to lodge a FIR with the police, which has now moved into action," says sub-contractor Madan Lal.

Click on NEXT to go further...
Mayawati's parks, elephants and a Rs 40,000-crore scam
Last updated on: May 16, 2012 22:02 IST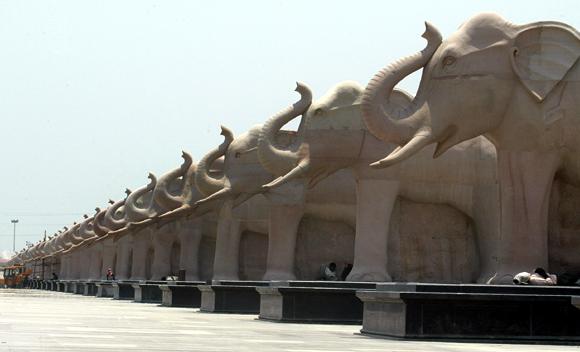 Lal alleged, "UPRNN contractor Aditya Agarwal gave me a contract to carve out elephant statues that were 196 inches in length, 170 inches tall and 72 inch in width and the official rate for this was Rs 48 lakh per elephant. But when it came to payments, he paid me only 7.5 lakh while swallowing the rest of the money."
The Lucknow police arrested Agarwal who admitted that he could not make the full payment to the sub-contractor simply because his own payments from UPRNN had been held up. He claimed that that an order for 60 elephants had been placed for a park in Noida, near Delhi, but when controversy erupted over the park, the former chief minister Mayawati hurriedly inaugurated the Noida Park with just 20 elephant statues.
Lucknow district police chief Ashutosh Pandey said, "The police were investigating the credentials of firms that were entrusted with the contract for carving out stone elephants. Action will follow against all those who have violated the law and indulged in cheating or fraud."

Click on NEXT to read further...
Mayawati's parks, elephants and a Rs 40,000-crore scam
Last updated on: May 16, 2012 22:02 IST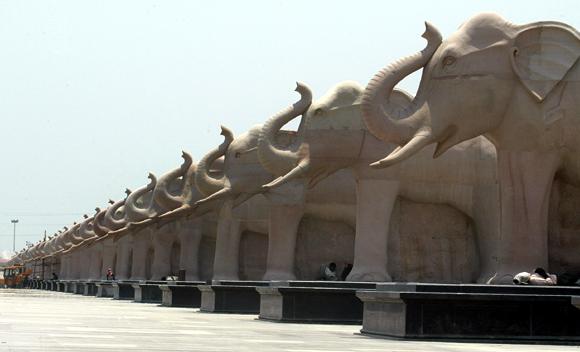 Apart from the on-going investigation into what was being termed as the "stone elephant scam," Pandey had begun to probe the purchase of palm trees at prices ranging between Rs 7,000 and Rs 15,000 per plant.

"We have learnt that some of these palms were imported all the way from Dubai at an even higher price," he pointed out. "But what we have found now that hundreds of these trees were lying abandoned," he lamented.
While confirming that payment of Rs 62 crore was shown in official records towards purchase and installation of elephants in just three of the nearly dozen parks and memorials built, state minister for public works Shivpal Yadav (younger brother of Samajwadi Party chief Mulayam Singh Yadav) told rediff.com in Lucknow, "This is just the tip of the iceberg ."
He goes on to add, "I have reason to believe that Mayawati too has pocketed lots of money out of the funds released from the state exchequer in the name of these projects. Once the investigations are completed, we will initiate proceedings to recover all that money."

Click on NEXT to go further...
Top photo features of the week
Last updated on: May 16, 2012 22:02 IST
Click on MORE to see another set of PHOTO features...