Maharashtra's Rs 60,000 crore watershed failure
Last updated on: March 21, 2013 10:54 IST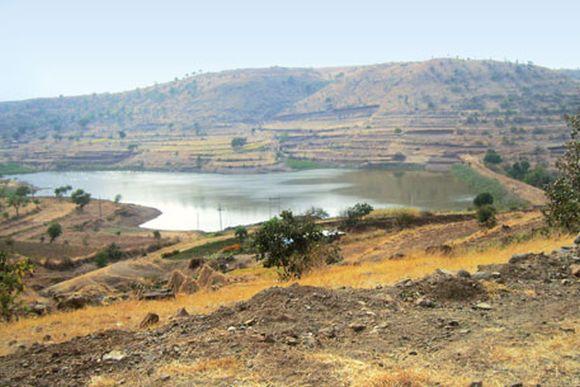 A large part of Maharashtra has been declared drought-hit. The government has failed to deal with the crisis, report Aparna Pallavi and Akshay Deshmane. In the past 10 years Rs 60,000 crore has been spent on watershed development
Maharashtra is a pioneering state in watershed development. It has conserved, regenerated and judiciously managed its water resources in 12.6 million hectares (ha) of the state's 24.1 million ha that have 43,000 micro-watersheds. Development work has been done in 42 per cent of Marathwada region, the worst affected by drought.
Umakant Dangat, state agriculture commissioner, says Rs 60,000 crore has been spent on watershed development in the past 10 years. But these are all government data. Ground reality is quite different. Water-starved, poverty-stricken and migration-prone Gourwadi village in Beed district shows how the state government has failed in watershed development work despite making huge expenditures.
Gourwadi has two tanks to meet its water requirements. The first is a five-minute walk from where people live, and the second is 200 metres down a steep, dangerous slope. People take the difficult 2.5-km track to fetch drinking water from the second tank because the first one is damaged and has been empty for years. "We have been asking government officials to repair the damaged tank so that drinking water is close by, and for a mechanism to irrigate farms from the second tank," says former panchayat member Aba Dadarao Gadge.
But in January this year, the agriculture department began work to set up a drinking water pipeline at the second tank instead of repairing the damaged tank. Longer pipeline also means more expenditure. "There is enough water in the second tank for two crops, but now we are not able to get even one decent crop," he says. The ambitious drinking water pipeline project has now been abandoned.
Gadge gives another instance of government's callousness. Some six years ago, the agriculture department built contour trenches on the hills surrounding Gourwadi. It improved moisture in the soil, which helped agriculture. It also gave employment to people. However, the department did not care for its maintenance and now the trenches have silted.
"Watershed development demands an integrated approach based on geo-hydrological characteristic of the watershed," says S B Varade, retired director of Water and Land Management Institute, Aurangabad. "It requires multiple treatments, including contour and compartment bunding, creation of vegetation to conserve moisture and construction of water-harvesting structures in the right sequence from ridge to valley in a time-bound manner."
If watershed development work is properly carried out and groundwater recharge is effective, water storage for irrigation is the byproduct, says M N Khadse of non-profit Dharamitra, which has played a key role in implementation of watershed programmes in Vidarbha. But government's watershed programmes concentrate mostly on construction of water-harvesting structures. It is seen as an irrigation tool.
"Government's faulty approach creates false hopes and destroys people's faith in the effectiveness of watershed work," says Khadse, who is also member of Maharashtra State Water Conservation Advisory Council and Vidarbha Statutory Development Board.
In absence of work many farmers take up watershed work under Mahatma Gandhi National Rural Employment Guarantee Scheme. But most projects under the scheme do not get completed, says Vijay Anna Borade, former member of the state Water Conservation Advisory Council and engineer of the highly successful Kadwanchi watershed in Jalna district. Instances of Hiware Bazar in Ahmednagar where people used the employment guarantee programme for water revival are rare.
Source: Down To Earth
Poor people's participation
Last updated on: March 21, 2013 10:54 IST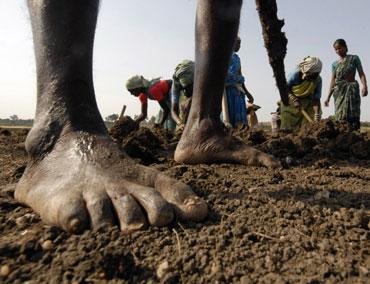 The first concerted endeavour to involve people in decision-making was in 1989 through the Indo-German Watershed Development programme. The programme introduced innovative mechanisms to ensure sustained community participation and transparency. It was implemented entirely through non-profits in coordination with gram sabhas. A village watershed committee, selected by the gram sabha, was in-charge of implementation and control of funds. A fund was created for maintenance of structures.
The programme was a success and in 1995, the government of India introduced guidelines for watershed development under the Drought Prone Area Programme on similar lines. Non-profits were roped in as implementing agencies under the supervision of District Rural Development Agencies. But the programme fizzled out because of DRDAs' lack of experience with either watershed work or participatory approach. "Many people's representatives, ministers among them, grabbed contracts by floating their own non-profits," says Khadse.
In 2003, the guidelines for Hariyali, a watershed project, replaced non-profits with panchayat samitis as the implementation agencies and village watershed committees with gram panchayats. Gram sabhas now had little say in watershed work. In 2008, the National Rainfed Area Authority again gave gram sabha the power to constitute village watershed committees and nominate or elect office-bearers. Village watershed committees got the power to sanction funds. However, the post of the committee's secretary was a paid post.
In 2009, the department of land resources launched Integrated Watershed Management Programme. It was welcomed for its integrated and participatory approach and its renewed emphasis on capacity building. However, an order by the Maharashtra government in September 2012 brought things to square one. It vested the post of village watershed committee with the village sarpanch. The order was challenged in the Nagpur and Aurangabad Benches of Bombay High Court. The Nagpur Bench has dismissed the petition, while the Aurangabad bench has stayed the decision.
"Now, contractors are always competing to head village watershed committees and grab watershed contracts," says Popatrao Pawar, water expert and sarpanch, Hiware Bazar. Deputy sarpanch Govardhan Bhosale of Vida village in Beed district says he was nominated as secretary of village watershed committee in 2012. In the same breath he says that the last gram sabha meeting was held in 2010.
Click NEXT to read further...
No participation, no result
Last updated on: March 21, 2013 10:54 IST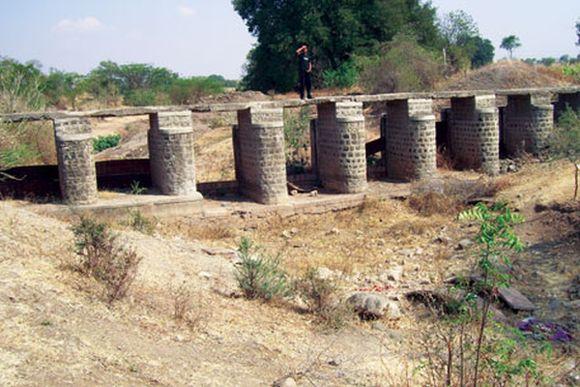 "We are constantly exhorted to make the watershed programme a success, but we do not know how to do it," says Uttam Gaikwad, resident of Vida in Beed district. "Office-bearers of the village watershed committee ignore our demand for training," he says.
Because of lack of people's participation in decision-making, a lot of work is duplicated. In Hastapokhari village in Jalna bunds constructed between 2004 and 2007 were removed by farmers due to waterlogging. But fresh bunds are being constructed under MGNREGS.
Five years ago in Ahmednagar's Chicholi village, two new check dams worth Rs 10 lakh failed due to poor construction. Now, the government is constructing two check dams, says deputy sarpanch Rohidas Patil.
"Unless farmers are taken into confidence and their knowledge taken into account, work turns out faulty and they get rid of it as soon as possible," says watershed expert Dwarkanath Lohia of Beed-based non-profit Manavlok.
"This apart, machines have been permitted under the plea that they speed up work. But they actually remove the community from the work scene and allow contractors and officials a free hand," says Khadse.
Without community consultation the bulk of watershed work carried out in the state is inferior, technically flawed, riddled with corruption and the number of incomplete work is high. Of the 1,609 projects undertaken since 1999 under Drought Prone Area Programme in Maharashtra, not one is complete despite 81 per cent of funds being released, data with the Department of Land Resources reveal. Under Integrated Watershed Management Programme, only two out of 84 projects have been completed since 1999 after 83 per cent release of funds. Andhra Pradesh, Tamil Nadu, Gujarat and Madhya Pradesh have fared much better on this front.
Following complaints of shoddy work, in 2011 the divisional commissioner of Amravati set up a committee to evaluate watershed projects in the region. Fifty projects under various schemes in five districts were randomly selected. All but four projects were inferior and technically unsound. Costs were unrealistically escalated in all projects, while most were incomplete. The committee's report, which had Khadse as a member, states that 90 per cent of the check dams and 80 per cent of farm ponds were at incorrect locations. Measurements of all bunds were faulty and compacting was not done. Drainage channels were not constructed though contractors were paid for it. Drainage channels ensure that bunds do not break or cause waterlogging when it rains.
Significantly, despite orders from the divisional commissioner, the agriculture department has not produced any important project-related report, says Khadse. In Osmanabad, 960 Kolhapuri weirs were constructed. None is working. Residents of Antarwali village told Down To Earth that the weir fails to store water due to faulty location. "Mammoth amounts are spent on watershed development work, but the quantum of bad work has not been evaluated properly," says Varade.
Click NEXT to read further...
Meagre funds
Last updated on: March 21, 2013 10:54 IST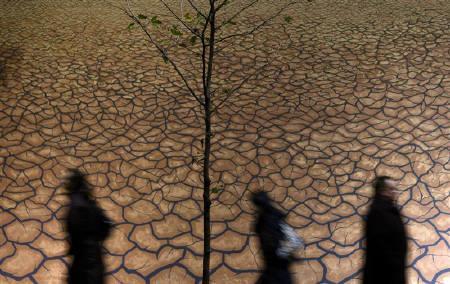 "Government policy has never really recognised the importance of watershed work," says Vishwambhar Chaudhari, Pune-based water activist. The stress is on surface irrigation from dams. Merely Rs 12,000 per ha is allocated for watershed development compared to Rs 3.5 lakh per ha for dam irrigation. "Even if water of all the dams in the state was used up, it would irrigate 27 per cent of the agricultural area," he says.
The allocation is not enough for proper completion of work, says Varade. This apart, flow of funds is irregular, which slows down work. Varade is among several watershed experts who have written to the government to hike fund to Rs 25,000 per ha.
Diversion of the fund to purchase equipment that has nothing to do with watershed development worsens the situation. Residents of Vida got solar lamps, gym and library equipment from this fund. "Half of the solar lamps are now out of order. Other equipment are locked inside the deputy sarpanch's house," says Gaikwad. At Ambhi in Osmanabad, 200 cycle-mounted hoes are rusting with the panchayat. "Nobody needs them," says Padmasinha Gatkal, head of village watershed committee.
What lies ahead
This year's drought is, no doubt, man-made, caused by deliberate neglect and failure of the way we manage water and land. Within a few years, the Krishna and Godavari basins will have substantially less water owing to climate change. Most irrigation projects are incomplete. With rapid urbanisation, water demand will go up. Groundwater recharge is a must even as cities and industries need to become water prudent. But we are going all wrong in our strategies. We have made drought perpetual -- rain or no rain, money or no money.
Click NEXT to read further...
What ails rural job scheme
Last updated on: March 21, 2013 10:54 IST

The Employment Guarantee Scheme has been in effect in Maharashtra since 1978. Work for water and soil conservation is being undertaken under it ever since. The severe drought this year has exposed the failure of the scheme in the state.
The Mahatma Gandhi National Rural Employment Guarantee Scheme, launched in 2006, has failed because its focus is on providing employment, says Vijay Anna Borade, former member of state Water Conservation Advisory Council. There is no emphasis on completion of work.
"People look at the scheme as a wage earner. They take up jobs during lean time, but drop it when better jobs come their way. There is no compulsion from either the implementing agency or the people to complete work," says Borade.
Data states the rate of asset creation has been poor. Nitin Raut, state minister for employment guarantee scheme, admits that completion rate is poor but says job at the time of need is itself helpful.
The number of people willing to work under       has also dropped. According to officials of the department of rural development, during the 1972 statewide drought, 1.5 million people had worked under the employment guarantee scheme. In 2012, the number dropped to 0.25 million. This is because of low wages and delay in payments, says Borade. The approved wage of Rs 140 is much lower than the Rs 200-250 per day that labourers can earn elsewhere.
Experts recommend
Watershed work traditionally being a civil society domain, key implementation components like capacity-building of office-brearers, barefoot technologists and community itself should be carried out through non-profits with proven watershed development expertise and integrity.
Power to constitute village water committees should be restored to the gram sabha.
Entry point activities, livelihood-related activities and other components of Integrated Water Management Programme should be focused on watershed work to prevent funds from being diverted to other sectors
Projects should be completed in a time-bound manner with full community participation
Transparent and comprehensive evaluation of watershed works should be carried out by third party evaluators in a time-bound manner
Evaluation reports should be displayed in the public domain
TOP photo features of the week
Last updated on: March 21, 2013 10:54 IST
Click on MORE to see another set of PHOTO features...