What it is like to attend a Modi rally
Last updated on: May 02, 2014 13:57 IST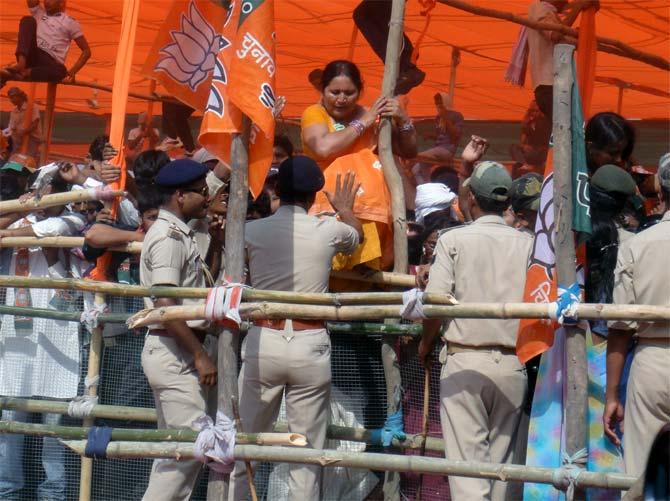 Under a blazing sun, Narendra Modi attacks the Ma-Beta and Lalu Yadav; invokes his tea boy's journey; and asks the youth for a mauka...
A stolen mobile, a man who faints, women fleeing the bamboo enclosure to save themselves from being crushed by men -- and a government employee who flouts rules to attend a poll rally because she's a fan of Modi.
Archana Masih/Rediff.com reports from Narendra Modi's first-ever rally in Chhapra, Bihar.
"Yuck, Rahul Gandhi is not leader material. He is better looking than Narendra Modi, but Modi is dynamic," says Iva Pratap Singh, 13.
"I wanted to see him, so I came with mummy."
The teenager is sitting beside me in the press enclosure at Narendra Modi's first-ever rally in Chhapra, Bihar. Her mother Ranjita Singh, a member of the Bharatiya Janata Party, is among those who welcome Modi as he hops off his helicopter at the Chhapra aerodrome, which has served only one purpose -- a helipad for visiting netas.
Ranjita Singh is supposed to be up on stage along with the BJP candidate in Chhapra Rajiv Pratap Rudy and other state and local netas, but thanks to some last minute confusion she can't and has to settle for a seat in the front row of the press enclosure.
On stage are Rudy's two daughters, capturing the scene on a video camera.
In Chhapra town, 80 kilometres across the Ganga from Patna, there are no banners about Modi's sabha -- in fact, there are no poll banners or posters of any political party between Patna and Chhapra -- but all of Chhapra's narrow roads seemed to lead to the aerodrome, at the edge of the city.
People with BJP flags make their way in autorickshaws, but a majority -- almost entirely male -- just walk to the venue on one of the hottest days of the north Bihar summer.
A canopy of thin saffron cloth, held by bamboo poles from which hang ceiling fans, provides a meagre cover from the blazing afternoon sun at the short air-strip, referred to in these parts by the rather old-style word 'aerodrome'.
Please click NEXT to read more...
What it is like to attend a Modi rally
Last updated on: May 02, 2014 13:57 IST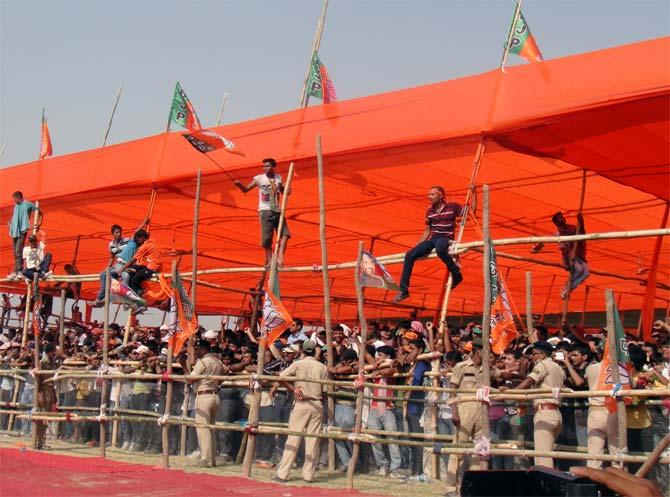 Modi is late. The crowd, impatient.
As speech after speech is made by an assortment of BJP netas, suddenly some chairs are flung out of the public enclosure to make more space.
"Kursi ko utha ke mat phekiye. Sipahiji dekhiye zara? (Don't throw chairs. Mr Policeman, can you please check?)", one speaker asks from the stage, but no one is listening.
Soon, some women are seen escaping the enclosure, climbing the bamboo poles in panic to get away from the men who are crushing them from behind.
"Bannacchar aadmi log tha. Agar chitkabra police hota toh muaa hi deta un logon ko (These shameless, unruly men. If the commandos would have been there, they would have killed them)," says a woman who had come in a jeep organised by the BJP from Sheetalpur, 40 kms away.
Wiping the sweat that left large wet patches on her sari, she is referring to the personnel in camouflage (chitkabra) uniforms conducting the checks at the entrance to the venue.
Men climb on to the bamboo poles, waving flags and shouting aloud. Forcing even Modi to interrupt his speech to ask them, "You've climbed on to the poles, hope you will not fall. You are the ones climbing poles, and they call me a polariser," he tries his shot at some wan humour, which goes unnoticed by the crowd.
While the public has a thin veil of saffron above their heads against the merciless sun, the policemen stand guard for hours without any sort of shelter.
Word doing the rounds in Chhapra is that some constables seek medical certificates that declare them medically unfit because they can't cope with the pressures of endless hours of campaigning with the netas!
Please click NEXT to read more...
What it is like to attend a Modi rally
Last updated on: May 02, 2014 13:57 IST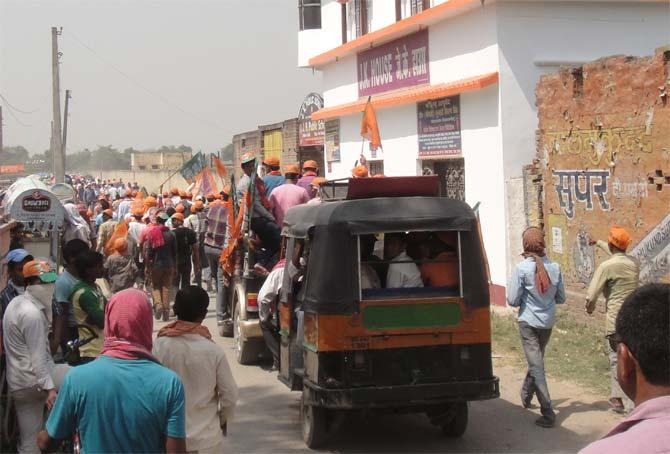 Ja ke keh do sholo se aur chingari se
Kamal khiley hai taiyaari se...
(Go spread the word that the lotus will bloom would be a poor translation of that couplet.)
Bharat Kumar Yadav, an avowed supporter of Rashtriya Janata Dal chief Lalu Yadav, is among the crowd. Astutely aware of politics, he says he has attended a few meetings addresses by Lalu Yadav, but this is the first time he has come to a BJP rally.
"Only because of Modi. I wanted to see what he is like, what his thoughts are because it seems quite certain he will be the next PM," says Bharat Yadav, who will vote for the RJD.
Lalu Yadav, barred from contesting this election because of his conviction in the fodder scam, has won Chhapra four times. Since he can't contest, in the family tradition of musical chairs he has perfected so assiduously in the state, his seat has been given to his wife, Rabri Devi.
"We changed Lalu's jungle raj. Lalu has brought infamy to the land of Chhapra. You have to save this land," says MLA Nitin Navin while the BJP candidate, Rajiv Pratap Rudy, sits on stage in cool whites.
Rudy, the BJP's national spokesperson and a off-and-on airline pilot, has won Chhapra twice. He lost the 2009 election by 52,500 votes to Lalu and hopes to ride on the Modi wave this time.
Seen as a city-slicker in Chhapra, Rudy speaks in Bhojpuri. "I have been travelling in villages and people say they want Modiji to become PM," he says.
"If you vote for Rabriji, will she become PM?" he asks.
"No!" shouts the crowd.
"But if you vote for me, Modiji will become PM," says Rudy, looking at Modi who sits at the centre of the stage.
The crowd roars.
Please click NEXT to read more...
What it is like to attend a Modi rally
Last updated on: May 02, 2014 13:57 IST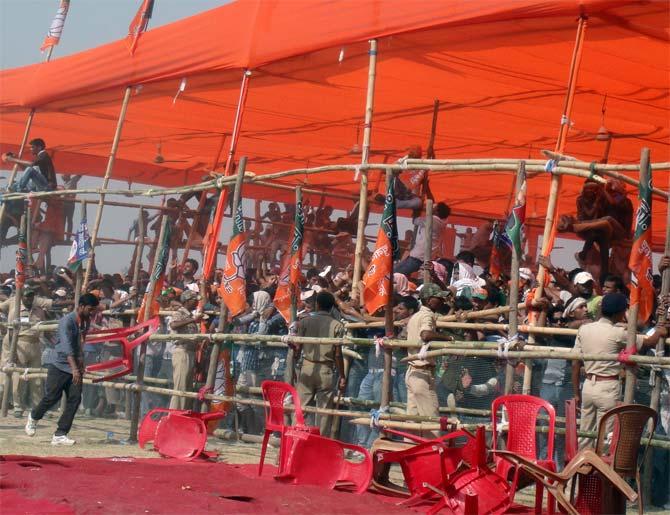 It's time for Modi, who has flown to Chhapra after voting in Gandhinagar, to take to the speaker's lectern. But for him, the lectern is carried to where he sits.
In his signature white vest-kurta-pyjama-lotus (brandishing which, he got into trouble with the Election Commission that morning), he takes to the stage and thanks his audience for coming to see him on such a hot day.
"Political pundits sit in their air-conditioned rooms and talk about 1 per cent swing here and 2 per cent swing there. They should come to Chhapra and see the direction of the wind."
"It is clear that the Congress is not going to open its account in many states. It will not cross more than 9 seats in any state," says Modi, who has addressed 23 rallies in Bihar.
His attack is against the Ma-Beta (Sonia Gandhi-Rahul Gandhi) and Lalu-Rabri.
Bihar Chief Minister Nitish Kumar, who broke a 17-year-alliance with the BJP last year and has borne the brunt of Modi's attacks in the state, is not mentioned once -- indicating that the fight in Bihar is now between a resurgent Lalu and the BJP.
He takes a sarcastic swipe at the RJD-Congress alliance, saying that the fact that Sonia or Rahul haven't shared a stage with Lalu-Rabri in the state proves their double standards.
"What are they ashamed of that this alliance remains shrouded behind a veil?" he asks, before firing a salvo at the Congress, Ma-Beta and Manmohan Singh who denies a 'Modi wave'.
"For someone who couldn't see price rise, unemployment, farmers suicides, jawans' killings... how can you expect him to see a Modi wave?"
A burst of people rushes to the left barricade of the ground, but are held at bay by the cops.
Not one to let this opportunity go by, Modi improvises, "There may not be enough room for you at this ground, but you have room in Modi's heart."
Please click NEXT to read more...
What it is like to attend a Modi rally
Last updated on: May 02, 2014 13:57 IST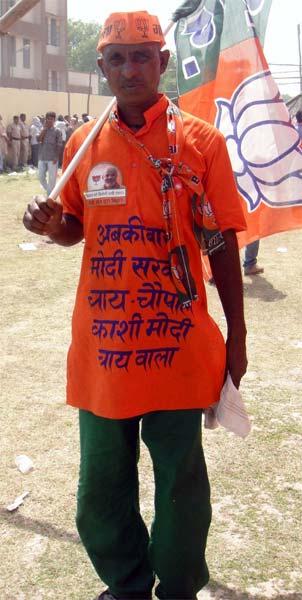 Someone has fainted in the crowd. The police carry him away to a shaded area in the shade. There is an ambulance parked at the venue.
"Even if all the prisoners in India's jails are released, they will not be able to save the Ma-Bete ki sarkar. You are laying the foundation stone of the next government," says Modi who has traveled tirelessly in this election campaign.
It is now time to make a pitch to the first-timer voter and young voters, many of whom are precariously perched on the poles.
He cautions them to not vote in a "nikammi (useless)" government that will ruin the five best years of their life.
"Forget who becomes your MP. Forget what becomes of Modi, but think of what will happen to you," he says, pointing towards the crowd.
"Modi! Modi! Modi!"
"Give me a chance to fulfil your dreams. You have given 60 years to the shasak (ruler), now give 60 months to a sevak (one who serves). I have come this far by selling tea. I want to live to serve the poor."
The speech lasts 24 minutes.
Modi does not mention Rudy once.
Soon after, he dashes back to his waiting chopper, parked 100 odd metres away. The crowds try to get as close as possible to see the chopper take off. A cloud of dust momentarily clouds the blazing sun.
Please click NEXT to read more...
What it is like to attend a Modi rally
Last updated on: May 02, 2014 13:57 IST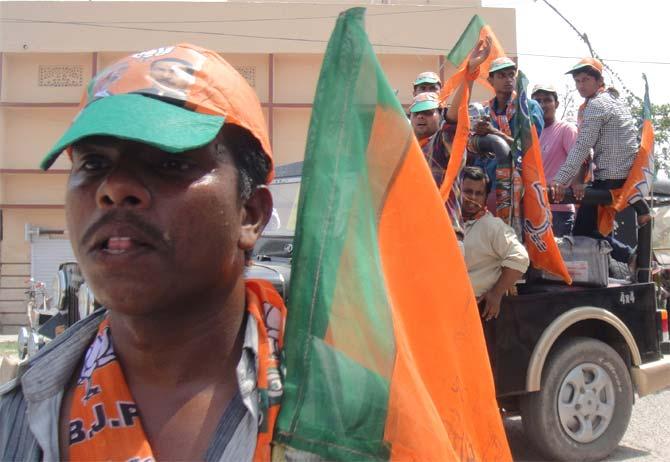 I have made my way to the rally, riding pillion on a local journalist's motorbike and wait for the crowds to thin by the welcome shade of a tent. Someone passes around small cups of mishti doi from Sudha, Bihar's milk cooperative movement.
The lady next to me is a government employee whose phone was stolen from her bag.
Since it is a sarkari mobile, she isn't too worried about the loss as much as her contacts list. "It had all the numbers of those I need to be in touch about poll duty. I'll have to get those numbers now," she says.
We talk about the BJP's chances in Bihar and she feels Ramdev and Giriraj Kishore's remarks could damage the BJP.
She doesn't want to reveal her name because as a government employee she shouldn't be openly showing support, more so attending a Modi rally.
"But I am a long-time fan of Modiji," she says. "How could I not be here?"