'Politics is teaching me to think beyond myself'
Last updated on: April 01, 2014 15:54 IST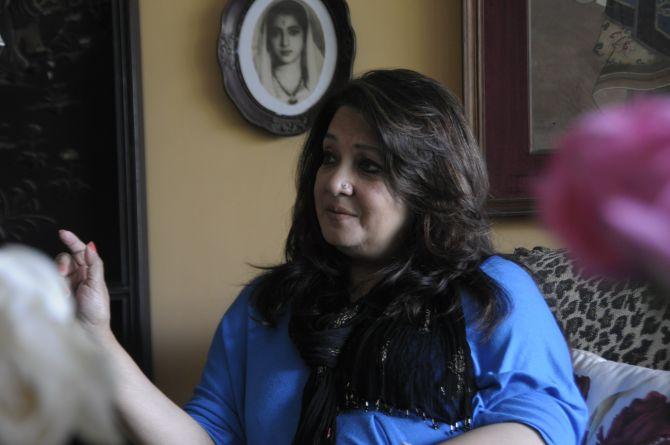 'One afternoon while I was shopping for curtains, a friend called up to say, "Congratulations, you have been named the TMC candidate from Bankura." I was stupefied.'
'I finished my shopping and on my return home, called up Mamata.'
'"Eta tumi ki korle? (What have you done?)",' I asked her. She just kept laughing,' Moon Moon Sen, the TMC candidate from Bankura, tells Rediff.com's Indrani Roy in this exclusive interview.
Summer may not be as unbearable as it usually is for the residents of Bankura in West Bengal this year.
Though the mercury is soaring past a record 43 degrees Celsius already, the parliamentary constituency is all set to receive Moon Moon Sen when the glamorous Trinamool Congress candidate starts campaigning there full steam from this month.
Pitted against the formidable Communist Party of India-Marxist candidate Basudeb Acharya, who has retained this Lok Sabha seat for nine consecutive terms, Moon Moon Sen, the late movie legend Suchitra Sen's only child, is brimming with confidence, her trademark good cheer and enthusiasm.
In an exclusive interview to Rediff.com's Indrani Roy at her south Kolkata home, Moon Moon Sen spoke about the circumstances that brought her into politics, her impression of West Bengal Chief Minister Mamata Banerjee and what plans she has for the people of Bankura.
You told the media that even in your wildest dreams, you had never thought of joining politics. How did it happen?
True. After Ma passed away, Mamata (Banerjee) visited us several times. We used to have long conversations.
One evening she told me she was thinking of picking someone from our family as a candidate for the Lok Sabha elections. She even took my husband Bharat (Dev Varma, a scion of the royal family of Cooch-Behar and the legendary Maharani Gayatri Devi's nephew)'s name. But I mentioned to her that he hasn't been keeping well.
Thereafter, my name cropped up.
'You should think about it deeply once you reach home. I, too, would,' I told the chief minister.
Days of silence followed.
One afternoon while I was shopping for curtains, a friend called up to say, 'Congratulations, you have been named the TMC candidate from Bankura.' I was stupefied. (Laughs.)
I finished my shopping and on my return home, called up Mamata.
'Eta tumi ki korle? (What have you done?),' I asked her. She just kept laughing.
How would have your mother reacted to your joining politics?
We had often discussed film personalities joining the political fray.
Ma was never in favour of it.
'Our world is so very different,' she always said, 'it's better to keep a distance from politics.'
She was very kind-hearted and generous.
If she knew the dire state of the people of Bankura, she might have supported my move and, perhaps, have told me, 'Oi lokgulor jonnyo bhalo kicchu koro (do some good for these people).'
Who said Ma is no more? I can feel her presence every minute.
When I address the voters in my constituency, I begin my speech with 'I am Suchitra Sen's daughter.'
'The one you all know and love, I am her daughter.'
Kindly click NEXT to read further...
'You don't expect such compassion from a person of her stature'
Last updated on: April 01, 2014 15:54 IST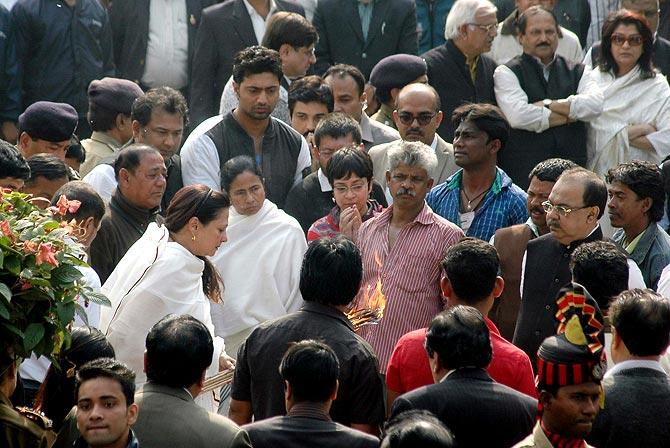 What about your husband and daughters? Are they happy to see you wearing a politician's hat?
Of course! My husband had always wanted me to join politics.
He is an avid reader of history and current affairs.
'Being in politics will change your perception, it will open your eyes,' he has told me so many times.
My daughters, Raima and Riya, have agreed to join a few of my campaign rallies.
My family, like always, is being my pillar of strength.
Mamata Banerjee paid you many visits during Suchitra Sen's illness. Now that you have been named a TMC candidate, her detractors are saying that her visits had a political motive...
Detractors have only one job -- that of finding fault.
We were floored by the kindness that our honourable chief minister showered upon us in those dark hours.
After Ma was gone, she would take time off her overtly busy schedule and drop in just to find out how we all were doing.
You don't expect such compassion from a person of her stature.
How difficult would the shift be from films to politics?
It is a new field for me and I would have to learn to unlearn so many things.
The shift would be challenging, but I am ready to take the challenge.
A career in films is not a cakewalk as many would think. An actor's life doesn't consist only of glitz and money, it is full of hardships. One has to shoot under the scorching sun and in sub-zero temperatures.
An actor, like a politician, is judged by the people, though their expectations vary.
As an actor, I am expected to think of the film and its producer whereas as a politician, I have to think of the electorate.
You have Basudev Acharya as your contender. He has won from Bankura no less than nine times...
I am aware of this fact.
But I have also been told that he did not do anything for the people of Bankura.
I wonder how he won so many times. Maybe the people did not have a good alternative. I am quite certain that the residents of Bankura would vote for poriborton (change) this time.
I know that there is a substantial Adivasi population in my constituency and since my husband belongs to a Scheduled Tribe, they would identify better with me.
Kindly click NEXT to read further...
'I would like to tell the media that I am no thief or a liar'
Last updated on: April 01, 2014 15:54 IST
You attended a few TMC meetings in Bankura recently. What was the experience like?
The schedule was hectic, but it was a wonderful experience. I did not know I had so many fans in Bankura. People were queuing up for hours just to touch my hand or to catch a glimpse. It was such a humbling experience.
I hope once the election gets over I get a chance to reciprocate the people's gestures.
Do you think this exuberance is for the actress Moon Moon Sen or for the TMC candidate?
I think the people welcomed me as a new political face. Else, why did they put forth so many grievances in the first meeting?
'Didi, there is no water in this area, the roads are in a terrible state.'
'Please do something,' they urged me.
Isn't it obvious that they were making these appeals to a politician?
A section of the media has been portraying you as a 'delicate darling' who has loads of money and glamour and who would never return to her constituency if she wins...
I know.
I would like to tell the media that I am no thief or a liar.
It needs a certain passion to drive one out of the comfort of one's home to venture into the complicated field of politics.
I belong to a family that values commitment as the highest form of virtue. Time alone can answer if I would stand by my words.
The political situation at present has become too vicious, the media and the detractors too unkind.
I have seen politicians like former Bengal chief ministers Jyoti Basu and Buddhadev Bhattacharjee. They were such wonderful human beings. They were never spiteful of their political competitors.
Alas, their ideologies are seldom followed now.
Kindly click NEXT to read further...
'People should give me a chance before passing lopsided judgements'
Last updated on: April 01, 2014 15:54 IST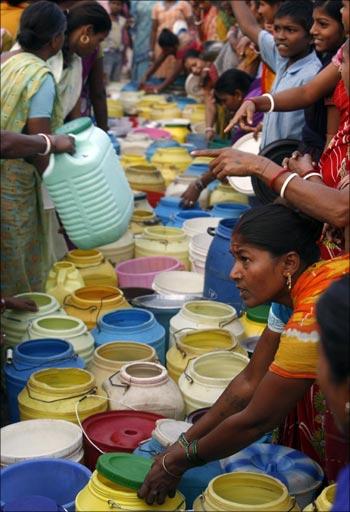 There have been allegations against the Trinamool Congress's celebrity candidates of neglecting their constituencies...
I don't believe in comparisons. Every individual is unique.
If other celebrity candidates of the TMC have neglected their constituencies, it does not mean I, too, would repeat the act.
People should give me a chance before passing lopsided judgements.
Mamata Banerjee has deputed two of her most trusted hands -- Mukul Roy and Subrata Mukherjee -- to look after your campaign...
I am grateful to Mamata for that. Subrata is a dear friend. I call him my 'campaign manager' (laughs).
There is so much to learn from him.
When we move around in Bankura, he points at water pipes and exclaim, 'Those are done by us.' He takes such pride in the work he does.
If you win, what are the key areas that you would like to focus on in Bankura?
There is an acute scarcity of water in the area. People have to walk for hours to buy potable water.
I have been talking with Subrata about this and we would definitely do something to counter the crisis.
Also, if I win, I would sincerely try and make Bankura more accessible from different corners of Bengal.
Every morning when I brush my teeth these days, I don't forget to turn the tap off to prevent any wastage of water.
I can't afford to waste water when some of my fellow citizens are spending a bulk of their earnings to buy water.
Politics is teaching me to think beyond myself.
Kindly click Next to see more features...
TOP photo features you missed last week
Last updated on: April 01, 2014 15:54 IST
Click on MORE to see another PHOTO feature...