Look who's trying to keep Lalu Yadav alive!
Last updated on: September 25, 2013 08:42 IST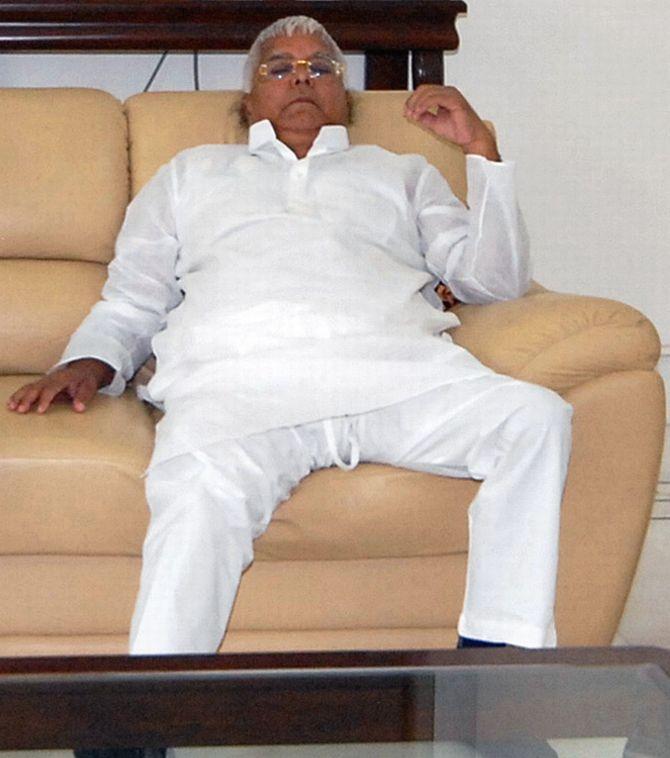 The United Progressive Alliance government's decision to go ahead with an ordinance allowing convicted MPs and MLAs to continue in office and contest elections is a clear move to help out beleaguered Rashtriya Janata Dal chief Lalu Prasad Yadav.
The government's move is also being seen as an indication that the Congress would prefer Lalu Yadav over Bihar Chief Minister and Janata Dal-U leader Nitish Kumar as its alliance partner in next year's Lok Sabha elections.

The Congress has kept its options open, stating that it is still too early to take a decision on alliances in Bihar.
Lalu has been a worried man for the past several months as a Ranchi court is expected to give its verdict in the long-pending fodder case by this month-end.

As an accused in this case, the RJD chief would lose his Lok Sabha membership and would not be able to contest the 2014 general elections if the verdict goes against him.
Consequently, Lalu had lobbied hard with all political parties during the recently-concluded monsoon session of Parliament for the passage of the Bill which would negate the Supreme Court ruling disqualifying convicted MPs and MLAs.

Click on NEXT to read further...
Look who's trying to keep Lalu Yadav alive!
Last updated on: September 25, 2013 08:42 IST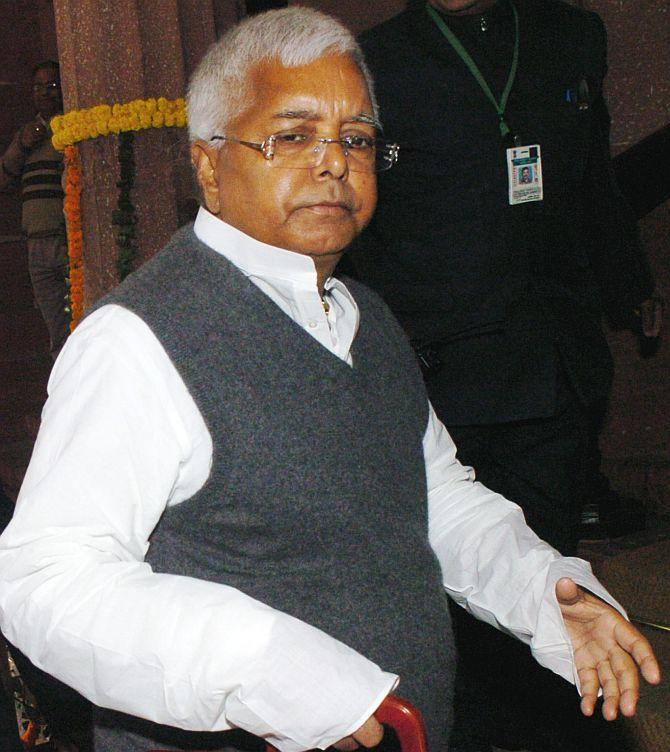 The ordinance will allow convicted legislators to continue in office if the appeal against the conviction is admitted by a higher court within 90 days.
It also lays down that if a MP or MLA appeals his conviction or the sentence is stayed by a higher court, he will be allowed to attend Parliament or the state assembly but will not be entitled to draw his salaries or vote.
Congress President Sonia Gandhi is known to have soft corner for Lalu who was the first leader to declare that her foreign origins should not come in the way of her appointment as the country's Prime Minister.

He has been a loyal Congress ally although the two parties fell out in the 2009 elections and contested separately for which he paid a heavy price.
Union Law Minister Kapil Sibal's proximity to the RJD chief is no secret. He owes his political career to the latter. He was Lalu's lawyer and as a token of thanks, he nominated Sibal to the Rajya Sabha on his party ticket.

Click on NEXT to read further...
Look who's trying to keep Lalu Yadav alive!
Last updated on: September 25, 2013 08:42 IST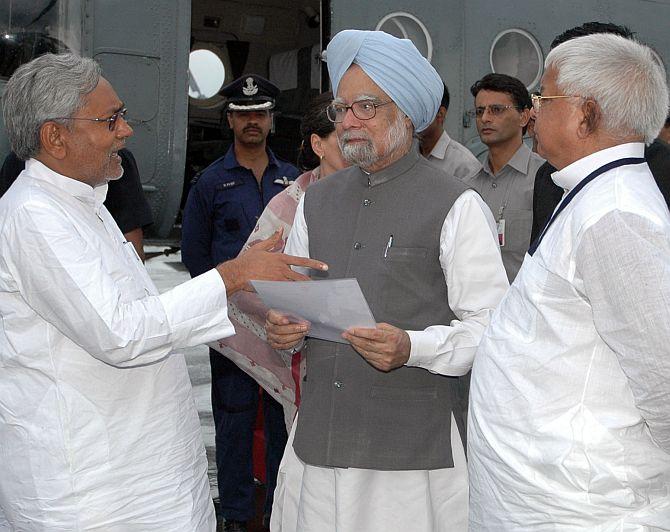 The Bill could not be passed in the monsoon session for lack of time and also because the Bharatiya Janata Party backtracked on its support after endorsing it initially.

While Lalu had urged the Congress-led UPA government to push through the Bill, his political rival, Bihar Chief Minister and Janata Dal-United leader Nitish Kumar had also lobbied hard with political leaders to see that the Bill did not get Parliamentary nod.
If Lalu needed the protection of the Bill to guard against a possible adverse court order, Nitish was keen that the legislation was put on the backburner as it would have meant the RJD chief's exit from the electoral fray, clearing the way for the consolidation of the minorities in favour of the JD-U.
Ever since he snapped ties with the BJP, the Bihar chief minister has been wooing the minorities in his state with an eye on next year's elections. However, he also realizes that Lalu remains their first preference, especially now when the RJD is on a comeback trail.

Click on NEXT to read further...
Look who's trying to keep Lalu Yadav alive!
Last updated on: September 25, 2013 08:42 IST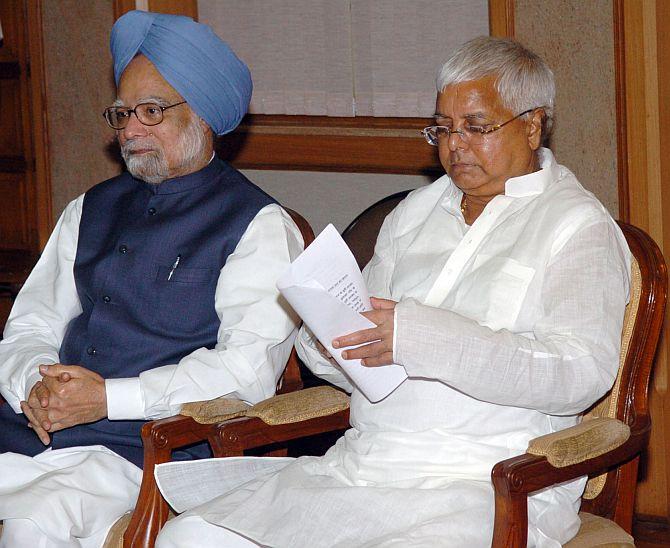 Besides its loyalty to the RJD chief, the Congress has its own compulsions in ensuring that his political life is not cut short.

As BJP's Prime Ministerial candidate Narendra Modi is gaining popularity across states, it has become imperative for the Congress to contain the saffron march. Since the grand old party has lost much of its support base over the past two decades, it has to prop up regional parties in the states so that they are in a position to take on the BJP.
"Since the Congress has lost its identity in Uttar Pradesh and Bihar and is incapable of fighting the BJP it has to necessarily support other secular forces in these states so that the BJP does not gain ground," remarked a senior Congress leader.
As political parties gradually get into election mode, it is being speculated that the Congress is set to lose heavily in next year's polls. Consequently, the Congress strategy is to contain the BJP to about 160-odd seats by propping up regional forces.

It is the Congress endeavour that the BJP should not win 180 seats as it would then make it easier for it to get support from potential allies which are currently keeping away from it.

Click on MORE to read another feature...