LIVE: Day 2 of the Jaipur Literature Festival
Last updated on: January 25, 2013 20:14 IST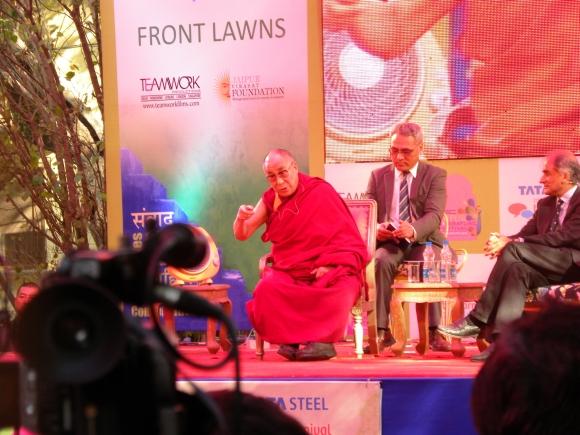 Rediff.com's Vaihayasi Pande Daniel is at the Jaipur Literature Festival. Follow her updates right here!
The Jaipur Literature Festival 2013 is underway and Rediff.com's Editorial director (Features) Vaihayasi Pande Daniel is in the capital of India's desert state taking in the colourful atmosphere.
Click here to read her fascinating account from Day One of the largest literature festival in Asia.
Here is a quick round-up of the live updates from Day Two of the Jaipur Literature Festival
---
Javed Akhtar
in conversation with
Rachel Dwyer
says now the story has no villains because now we worship our villians.
Javed Akhtar: There is shortage of stories for films in India. Because a producer wants a 'brand new' story each time!
Javed: Salman Rushdie -- I think i can at least mention his name -- said each story is diff depending on the light bathed in.
Javed: producers are looking for a story that has limited parameters. There has to be a little bit of bhagra
There has never been as little socialism in films as 2day in a house with a certain large hall and the father must be wearing a certain type of night clothes.
Our new films are sophisticated. But I don't see a Mother India or a Pyasa. Audiences want a story that will not spoil their eve.
Javed: In the old days so few of us had fridges that we displayed them in our drawing rooms.
Javed: Young ppl of 35 have less vocabulary than their parents. how many ppl can use a proverb. Fot the middle class to have a car was a dream. We have come a long way. But while trying to catch the gravy train
Javed: In these modern days we can't hear sound of rivers or badals or kali. So where can the lyrics of songs come from? we left some baggage on the platform which art, poetry, lyrics. How many ppl even own the books of poetry.
Javed: Our children go to convent schools and no longer know their own language. Our language is only being spoken by poor.
Javed: our films are now aesthetic. But skin in deep with no intellectual depth.
Javed: Films are a manifestation of what is happening in the society. Cinema is a pulse of sty.
Javed Akhtar was at his best at JLF!!! On lyrics, bollywood narratives, ghazals!
---
Nandan Nilekani in conversation with Ruchir Sharma, author of Breakout Nations.
Ruchir assessing an economy is the price of luxury hotels. If they are very high and not competitive it is a bad sign.
Ruchir says India has 50-50 chance of becoming a break out nation. Other nations that star on that list are Nigeria and Philippines says Ruchir
Ruchir: US is a new breakout nation. One third of all research is still done in the US which is an imp indicator
Ruchir: I have been told not to go back to Russia after he gave it a thumbs down.
Ruchir: India was flashing red he says in 2010 on that count Nandan quips: I will take that message back (to the higher ups)
Ruchir: Reform is the only way a country can grow. if too much tourist dollars does not not follow investment dollars. Another thumb rule Ruchir uses to figure out if an emerging country would finally do well
Ruchir feels others countries that were successful for very long & then began sink, he feels its growth rate is constant.
Ruchir says he gave India a 50-50 chance last year when he launched his book.
Last yr Ruchir says ppl said 50 was too optimistic. But this yr they are asking him if is he not too pessimistic.
Ruchir is worried abt India's poor standing in world ranking.
Ruchir: Another good sign is the competitive nature of India;s chief ministers and six cm's have been re-elected 3 times. Ruchir says he is very conflicted abt India because he is too close to India.
---
This session has Prasoon Joshi and Shabana Azmi in conversation with Sanjoy Roy. As a country that's more successful its corruption should recede says Ruchir.
Azmi: Hindi films have reflected the change in attitude of woman frm being Sita like characters to insaaf ki aurat. (Cont.)
Azmi : All art has an ability to change the sensitivity of the way in which an issue is handled. This session is about what measures the film industry needs to do correct itself in the context of portrayal of woman.
Azmi: Women are being commodified. And actresses need to make informed choices and choose how they are portrayed. A women can be portrayed beautifully nude and vulgarly fully dressed. And he adds that there is such a desire to dumb down the portrayal of the individuality of a woman and quickly. First you had rambos and then you had rambulinas.
Parsoon: intent is very important. These days films/tv intension in its portrayal of women is not right.
Sanjoy Roy introduces Shabana Azmi Meryl Strieep.
Prasoon: item numbers are disguised and called folk numbers. He says we dnt need these folk numbers. Lots of applause.
Parsoon: he says he has made a study of the Indian galis. Instead of saying fk you they talk about fking your mother. He says that he has quibble with mythology and that Krishna in the scene with gopis is nothing more than an eve teaser. We need question our culture. Lots of cheers and claps from the audience.
Sanjoy quickly intervenes : plz dont say fk. I have already been sued once. Just say dot dot dot dot.
Azmi: courtship is very imp but why does courtship in films begin at the navel. Shabana on how to bring change : women should examine carefully the roles they are going to do. Why should they not act as a working women rather than dance in yellow chiffon saris in the alp.
Azmi: doesnt feel the number of women directors but we need to balance the views of all directors. Parsoon : We are reflecting society as much as borrowing from society. We as film makers are not just mirroring but also shaping it.
---
Next session: Sharmila Tagore and Nasreen Munni Kabir.
Sharmila on how Satyajit Ray found Sharmila for Devi. She says he had scouts who went to schools. Ans someone spotted her & came to her home. He found me rather than me finding him. She remebers him coming to her home & taking to her dad She says he had a booming voice and was tall but she was not scared of him.
Sharmila on what she learned from Ray : he was a great communicator. Hardly any rehearsals and they were ( Contt..) on a shoe string budget and he was so organised with every singles craft of the cinema and came totally prepared to a shoot. Rooted in both east and west though he was so much of a Calcutta man. He was so tune in both the home audiences as well as international.
Sharmila on how she came to Hindi films : Shammi Kapoor was looking for new faces and she had become popular in Ray's films. She says it was huge challenge. Lip syncing for Hindi film songs and working with a Hindi scripts was tough.
Sharmila says in the old days people were even more star crazy than today because stars were not very accessible ( Contt..) and there was a mystique about them.
Sharmila says her father was happy that she had an opp to act in a Ray film but Ms Das the principal of her Bengali (Contt.)medium school asked her to leave the school. Working women were frowned upon and woman working in films more so. She was transferred to as English medium school ans it was traumatic: i had no english.But thought she was acting in films she was not allowed to see films. That was no no.
Sharmila says the clothes have changed. Bit decision are not informed still for women stars, ( Contt..)Still catering to a patriarchal system.
Sharmila: We must critique every image not just in item songs but anywhere in cinema. She asks why does a women have to uphold morality. Advertising also sexiest. Why is it women in saris selling washing machines from kitchens and it is the men selling motorcycles.
Sharmila relates a story abt shooting with Helen. & that they needed to use a bathroom & requested permission...at someone's home. The home owners said Sharmila was welcome to use their bathroom but not Helen.
On the book on Tiger Pataudi: It is a collection of essays on the cricketer. I wrote the foreward ....It was difficult to find the right voice for writing that foreward but she hopes she has achieved that.
On her censor board role: Directions were ambiguous but the flakes comes to the censor board. The guide lines need to b...updated & made clearer. My stance was never to ban anything. Films are a huge economic engine & you cant allow loss but a dialogue is imp.
Sharmila asked if today's films are not as good as films of the 50s and 60s. She answers that we shd not hung up on...nostalgia and lose to energy of the present.You have to look at the influence of family and society on individuals. Bollywood cannot have a higher influence then your family.Bollywood cannot be made a scapegoat. You need to bring your daughters and sons equally.
A man in the audience asks that India has given a special status to women,by elevating their status because they have such an imp role as a ma, worshiping her for that why shd we change that. Lot of boos and in the audience responds and says you are right but I spoke to God the other days and he said he has changed his mind.
---
Finally, we have Diana Eck and David Shulman in conversation with Devdutt Pattanaik.
Shulman: Spent much of mu life moving from temple to temple in South India but have not found peace. Don't find temples of India restful...places. These temples are almost always an organic entity and are growing unfinished quality. They have a restless movement.
Devdutt: Scared geography, when you are growing up in India, is to meet the Gods. Some people go to Disneyland but we go....to see our Gods. At our places you hear Bollywood music and so much noise and you think the Gods are deaf. Our knowledge of Gods is ...very personal. We know wht they like to eat and wht flowers they like. You come to know them so well.
Devdutt: there is a tension between the tangible and the non tangible. You have to make the journey withing also.Shulman: The real geography of India is its sacred geography that is evolving and is quite diff from Google Maps!
Diana: stories of the origin of temples are always about how a temple came up on a humble spot where devotion was shown..so the most transient becomes the most powerful. So the story is always evolving.Diana: Kumbh is the best example of charged geography.
Devdutt describes a visit to Jagannath temple Puri, When you are finally in front of Jagannath you are looking at eyes......that are six feet large. And there is water and smell of rotten flowers and fruits and suddenly you see a cockroach and are horrified....But the priest turns to you and says do you think God is only for you or what?
Thank you for joining us for live updates from Jaipur Literature Festival
---