How magic is made at political meetings
October 08, 2013 14:10 IST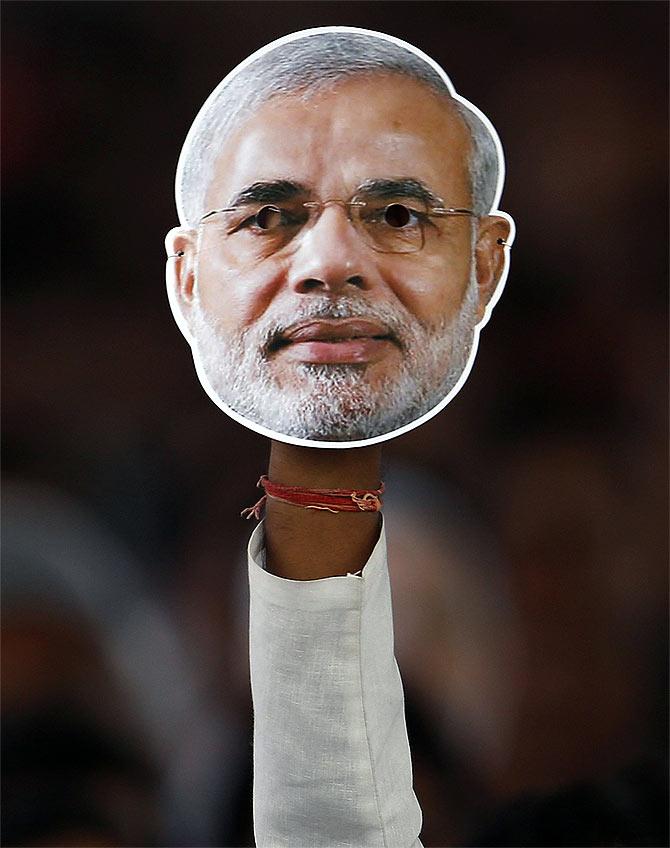 A political meeting can make or break political careers. Aditi Phadnis explores how politicians plan and execute these meetings
The year was 2007.
Narendra Modi had completed one term as Gujarat chief minister and was fighting the assembly election to secure a second term. Public meetings were being held all over the state, but it was Modi's meetings that would get the largest attendance.
And these were sheer drama.
Modi would arrive at the venue. A hydraulic lift was installed there. He would stand in the lift. The lift would take him up slowly. People could spot him. Slowly, it would rise, slowing down even more when it reached the stage. The roof would open, and lo and behold, Modi would be standing there smiling, his arms locked in a kind of salute above his head, triumphant, commandeering… and the crowd would go crazy.
Those who can capture the attention of the crowd are masters of the public meeting or rally, as it is called in India. The people are just observers of a phenomenon, a drama that is being staged for their benefit. They have no idea how much organisation, money and thinking goes into creating a successful public meeting.
It has to be like a brand campaign: you need to have something to sell, someone who will sell it for you, the aura, legend and the need for that commodity to rule your life must be indisputably established; but at the same time, it shouldn't be too slick -- the brand must be within easy reach of those who want it. All this goes into the organisation of a public meeting. But the central element is emotion.
Click on NEXT for more…
How magic is made at political meetings
October 08, 2013 14:10 IST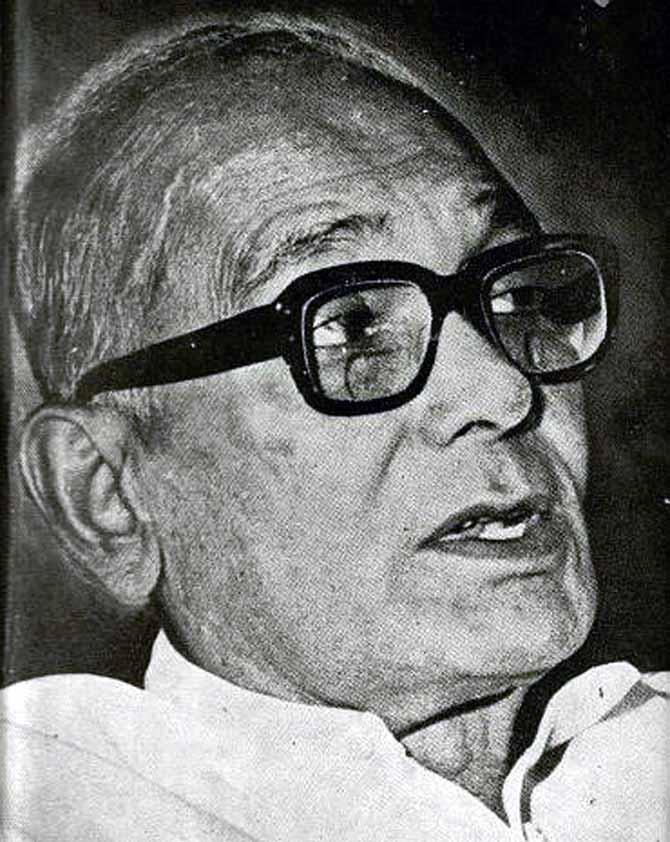 It isn't that all public meetings in India have been about smoke and mirrors. When Jaya Prakash Narayan addressed a public meeting at Patna's Gandhi Maidan on 18 November 1974 and announced -- amid student agitations that were wracking India at the time, the international oil shock, high prices and Indira Gandhi's increasing desperation to get some order back into public life -- that the Janata Party would fight the rising trend towards authoritarianism, he had no recourse to social media or mobile phones.
The message that he would be holding a public meeting in Gandhi Maidan that cold November day went out like drums beating in an African jungle. It was a public meeting to beat all public meetings.
Janata Dal - United President Sharad Yadav, who was a young firebrand socialist at the time, says his hair still stands on end when he recalls that congregation. There was JP on the stage, openly defying, challenging Indira Gandhi; and there were the people, roaring.
Another great public meeting that JP addressed was on June 26, 1975 at the Ram Lila Maidan in Delhi. It was at this meeting that JP quoted Ramdhari Singh Dinkar's poem: 'Sinhasan khali karo ki janata aati hai' (Vacate the throne, the people are here).
BJP leader Arun Jaitley's recollection of that meeting is strong and fresh, as if it had happened yesterday.
"Indira Gandhi struck back by imposing Emergency at midnight. All of us were arrested. Civil liberties were suspended. But we heard JP -- and what a meeting that was! The unity of purpose bound India from Kashmir to Kanyakumari: that we had to fight fascism. I recall one Akali Dal gathering being addressed by JP where the Akalis invoked support for him: 'Patna Sahib to aayi awaz, Hind da neta Jaya Prakash'," says Jaitley.
Brand JP became the symbol of freedom, the fight against fascism of a kind that independent India has not seen. JP was not a particularly stirring speaker; but young people were ready to die for a frail old man who represented idealism. So he needed no marketing, just the knowledge that he was saying the right thing at the right time.
The post-Emergency era and the 1980s had their share of famous public meetings, whether it was Indira Gandhi's election meetings where, angered at the shenanigans of the Janata Party and betrayal by its leaders, people attended in large numbers and eventually voted her to the Lok Sabha by a huge margin.
Click on NEXT for more…
How magic is made at political meetings
October 08, 2013 14:10 IST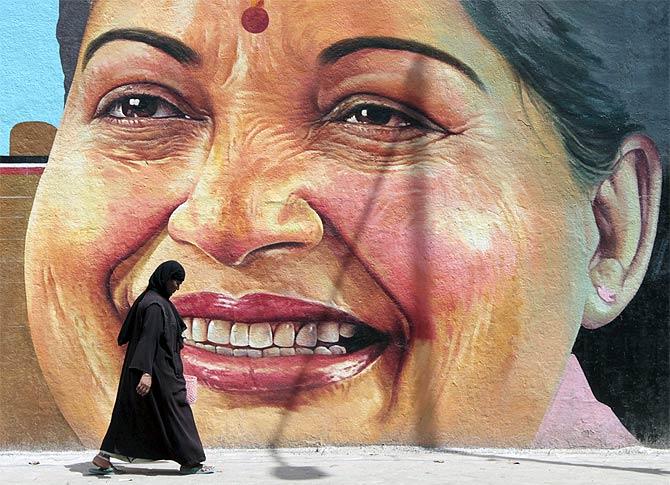 The decade of the 1980s was the era of the cut-out: enormous, larger-than-life images of political leaders popularised by cinema. The rise of NT Rama Rao in Andhra Pradesh was scripted in part by media house Eenadu which largely organised the campaign for him, leading to wildly successful public meetings. It was hard to say who got more out of the campaign: NTR or Eenadu.
After a series of public meetings that led to NTR's Telugu Desam Party sweeping the assembly elections, the headline in the newspaper the morning after counting was: 'NTR Super Hit' with a picture of a cut-out of NTR gesturing as if saying 'throw them (the Congress) out'.
Journalist Vaasanthi recalls the politics of the public meeting and cut-outs in Tamil Nadu through the eyes of a most unlikely observer: Mother Teresa, who, when she saw the Madras skyline dominated by cardboard figures, asked her interlocutor innocently what they were. "Oh, those are cut-outs," said the official lightly, "cut-outs of our chief minister." (Jayalalithaa was in power at the time.)
"Good heavens," the Mother exclaimed. "They're so big! I have never seen such a thing anywhere in the world."
The official tried to explain: "It is a way of showing your respect to the leader. The size of the cut-out is very important. It is regarded as a measure of your loyalty to the leader."
Mother Teresa was slightly shocked to hear how much each cut-out cost -- ironically this conversation took place when she was on her way to attend a function with Jayalalithaa, and officials hoped she wouldn't tell the chief minister what she thought of the cut-outs.
Of course, the Mother was too canny for that!
Click on NEXT for more…
How magic is made at political meetings
October 08, 2013 14:10 IST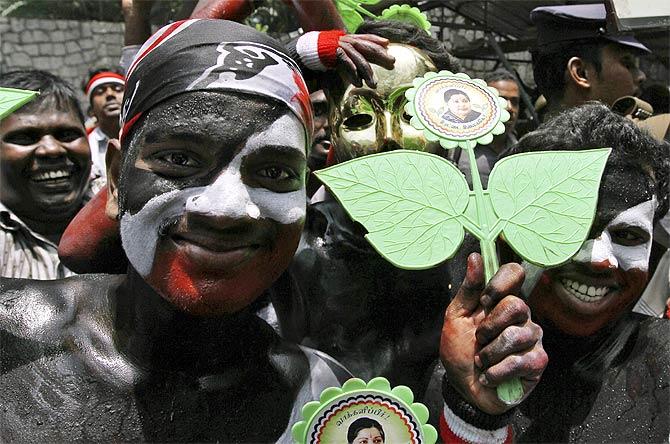 The personification of political parties in Tamil Nadu has extended to public meetings as well. Jayalalithaa's public meetings are curious, to say the least. She arrives. The stage is ready. She trots up to the stage, introduces the candidate, says everyone should vote for him, gets off the stage and drives off.
A political activist in Tamil Nadu says in an assembly election in the 1990s, the All India Anna Dravida Munnetra Kazhagam fielded a candidate whose papers were rejected. The backup candidate's papers did not reach on time. As a result, AIADMK had no candidate.
So the party 'adopted' an independent already in the fray as its candidate. His election symbol was the banana. ADMK's election symbol is two leaves. At the only public meeting Jayalalithaa addressed, she simply said: "He is our candidate. In this constituency, the banana is the two-leaf."
The man won by a thumping majority.
Click on NEXT for more…
How magic is made at political meetings
October 08, 2013 14:10 IST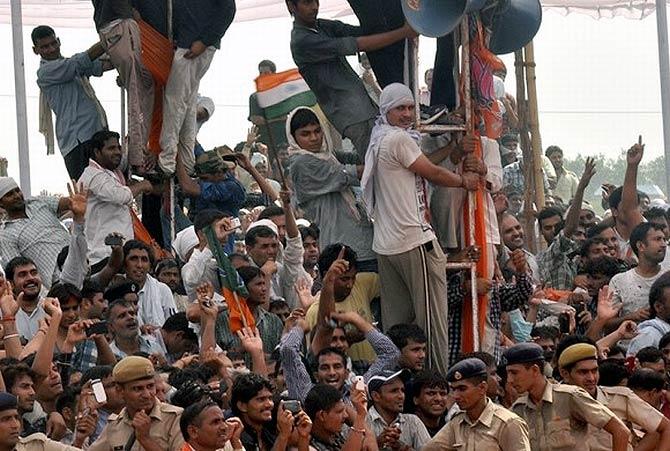 Today, things are not so simple. Narendra Modi's public meeting in Delhi on September 29 was a triumph of organisation, technology and brand-creation. Ajay Singh, the founder of Spicejet (he sold the airline to the Marans), is proud to have been part of a team that he believes will help the young people of India get an alternate leadership.
"The last two or three years have been disappointing for us as Indians. As businesspeople say, the current government has diluted Brand India. Like me, many Indians hope to get a strong leader in power. I became part of the team to bring Modi to power."
Sudhanshu Mittal, whose family firm, Delhi Tents and Decorators, took charge of organising the Modi rally, drafted several including Ajay Singh on the team.
"There are many factors that spell a successful public meeting today: how you can leverage technology so that the effect of the meeting reaches the drawing rooms of people; how you can transport people into the rally without them being physically present there; and how you hold the people who are present at the venue, ensure they are comfortable where they are sitting," Mittal says.
Click on NEXT for more…
How magic is made at political meetings
October 08, 2013 14:10 IST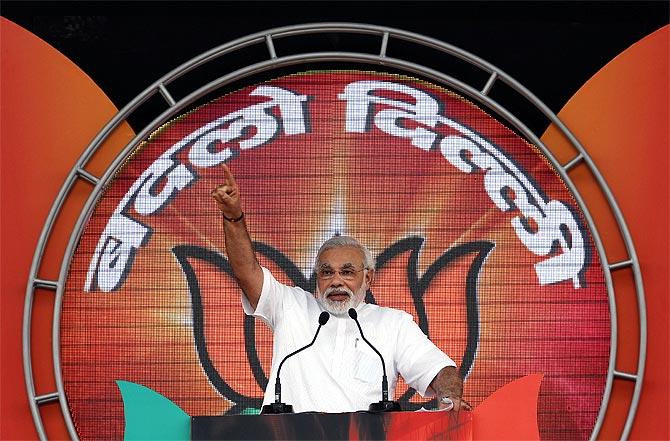 Ajit Singh of Delhi Tents and Decorators was responsible for the physical infrastructure at the Japanese Garden in Rohini where the rally was held.
"The biggest challenge for us was the weather. We needed to allow 5 square feet for each person and ensure a covered rainproof area that amounted to 400,000 square feet. The tenting for such a large space, a stage that was at least 35 feet high and had a span of 80 feet, along with a holding area where leaders could rest, be interviewed -- it wasn't easy." Mittal says what can make or break a rally is the sound system. They studied several options before installing the line array system in an arc so that the audio output was faultless.
Ajay Singh studied the campaigns of several US presidents and adapted some of those techniques for Modi's rally.
"We figured out that several lakh people would be at the rally but we needed to use TV as a force multiplier to tap into people who would watch the event at home. So we needed to give seamless TV feed to channels which was so high-quality that they would not be able to match it."
So rather than have 100 TV channels jostling for space, with shaky cameras and dodgy sound system, Singh captured the entire rally on TV, using the best equipment, the best possible frames.
"The reaction of the crowd was important. For instance, when Modi was speaking, there was a man jumping up and down wearing, then taking off, a Modi mask," he adds.
"We focused the camera on Modi and then on this man… so the TV viewers had a sense of the excitement, vigour and enthusiasm of the crowd almost as if they were physically there themselves".
Click on NEXT for more…
How magic is made at political meetings
October 08, 2013 14:10 IST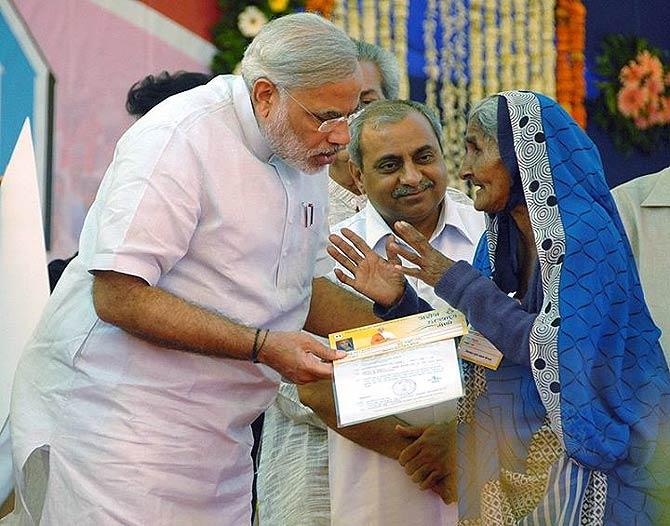 The LED screens at various big markets had the effect of capturing more eyeballs. "We also showed the rally live on YouTube. We organised a phone number where people abroad could dial in and hear the speech. And many people did, although it wasn't cheap for them," he says.
Rajshekhar Malaviya, CEO of Promodone Communications, an ad agency which undertook the creative part of the campaign, says the objective was to create a wave of excitement in Delhi about the rally.
"I got the idea during the Rewari rally (of Modi): the crowd was chanting 'dekho dekho kaun aaya, Bharat maa ka sher aaya' (India's lion is here). People wanted to see Modi as a fearless lion. So we adapted that here: 'Dilli me garjega Bharat maa ka sher' (India's lion will roar in Delhi)."
The radio campaign was particularly emphatic; recognising that young people needed to be reached, radio was the best way of doing this.
"We decided to do nothing, just let Modi promote himself. So we played clips of his speeches and left it to those who were hearing to vow this was an event they should not miss. The way we calculated it, even if they didn't come to the rally, they were introduced to the idea of Modi through the radio campaign."
Click on NEXT for more…
How magic is made at political meetings
October 08, 2013 14:10 IST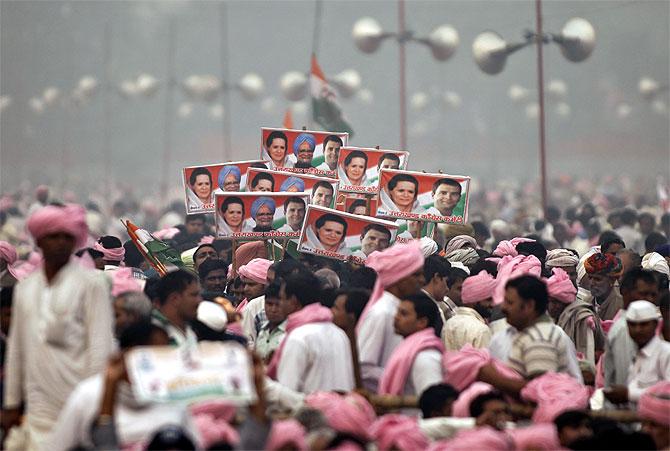 Of course, at the end of the day, the product had to be as good as the promise. Modi, his supporters say, did not disappoint.
Rather than organisation, the Congress icons, Rahul and Priyanka Gandhi, have a more evolved style. It was Priyanka who launched the style of catching the eye of a person in the crowd and making him or her the point of reference. Priyanka did this first at the Bellary campaign of her mother: TV channels had to create another window on the screen for Priyanka who was conducting her own conversation with people in the crowd as her mother was speaking.
Rahul has perfected the technique of referring to a person in the crowd and making it interactive. "You, in the yellow shirt, are you happy with the government? If not, raise both your hands," he would say during the assembly election rallies in Uttar Pradesh.
Rallies and public meetings don't always mean votes. They create, to use a political term, hawa and mahaul. They are about brand creation. And they could teach industry a thing or two!
Click on NEXT for more…
TOP photo features you missed last week
October 08, 2013 14:10 IST
Click on MORE to see another PHOTO features...
Source: