Last Lokpal meet ends with no consensus on Bill
Last updated on: June 21, 2011 17:55 IST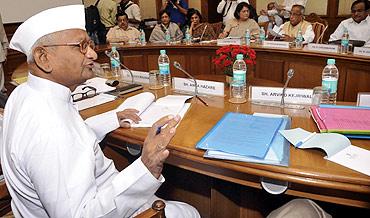 The joint drafting committee on the Lokpal Bill met in New Delhi on Tuesday for the last time amid "fresh and serious" differences between the government and Anna Hazare team.
The ninth and final meeting was held at the office of Finance Minister Pranab Mukherjee, chairman of the drafting committee. Except for Home Minister P Chidambaram, who is in Jammu and Kashmir, all the other nine members attended the meeting.
Click NEXT to read further...
Contention over bringing PM under purview continues
Last updated on: June 21, 2011 17:55 IST
Ahead of the meeting, the activists said they will hand over their draft to the committee as per the decision taken in Monday's meeting to exchange versions of both sides for further consultations.
Both the versions will be merged into one document with differences listed for a final decision to be taken by the Union cabinet after political parties give their views on the issue.
Fresh differences were added to the already existing list of six over the constitution of selection panel and who can approach the Supreme Court for removal at the meeting on Monday.
The differences between the two sides remain on inclusion of the prime minister within the ambit of the Bill as also the higher judiciary and conduct of MPs inside the House, funding model, the Central Bureau of Investigation under Lokpal and Lokayuktas in state.
'Earlier had six differences with govt, 2 more added'
Last updated on: June 21, 2011 17:55 IST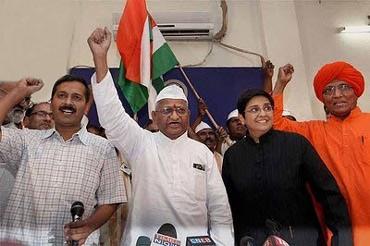 We have differences over six issues earlier. Now two more added to the list," said activist Arvind Kejriwal. Both the camps had termed Monday's meeting as "very cordial" but added differences remained on contentious issues.
Asked about the previous meetings of the Lokpal drafting committee, he said they had a feeling that the decisions of the government side were "pre-decided". However, he said the silver lining was that they were able to hold a country-wide discussion about Lokpal.
Civil society draft seeks jurisdiction over CBI, state Lokayuktas
Last updated on: June 21, 2011 17:55 IST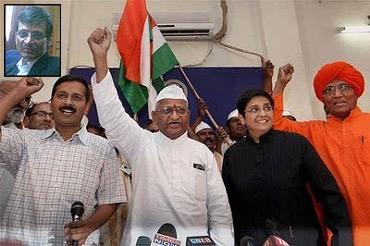 Sources said the civil society draft on contained contentious proposals like inclusion of prime minister, higher judiciary and conduct of MPs inside Parliament within the ambit of the Lokpal.
It also seeks jurisdiction over the CBI and state Lokayuktas.The civil society draft has a provision relating to the panel for selection of Lokpal and his removal in which a citizen has the right to move the Supreme Court.
© Copyright 2022 PTI. All rights reserved. Republication or redistribution of PTI content, including by framing or similar means, is expressly prohibited without the prior written consent.