Lankan Tamils issue: DMK threatens to walk out of UPA
Last updated on: March 17, 2013 19:04 IST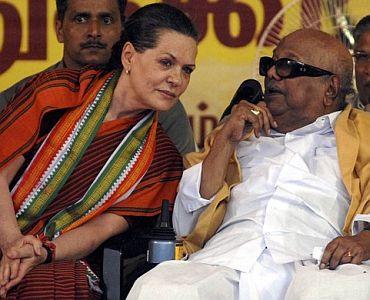 Hardening its stand on the Sri Lankan Tamils issue, Dravida Munnetra Kazhagam President M Karunanidhi has directed his party's Union ministers to stop attending their official responsibilities and parliamentary assignments from Monday. Following this directive, DMK ministers MK Alagiri, S S Palanimanickam, D Napoleon, Jagathrakshakan and Gandhiselvan will not attend their offices from Monday, said sources.
Karunanidhi threatened to walk out of the ruling alliance if the government failed to move amendments to the United States-sponsored resolution at the United Nations Human Rights Council meeting at Geneva on Thursday.
"If our demands are not met, it is doubtful whether our ties with the alliance will continue...It won't continue is sure," DMK President M Karunanidhi told reporters in Chennai on Sunday even as he shot off a letter to Prime Minister Manmohan Singh.
DMK sources say if the Centre does not vote against Sri Lanka at the Geneva UNHRC which meets on Thursday for final discussions on the resolution, or even dilutes the emphasis on the international investigation team, the DMK will pull out of the United Progressive Alliance government.
If such a situation arises, the DMK will submit a letter to President Pranab Mukherjee on Thursday withdrawing the support of its 18 MPs to the UPA.
Click NEXT to read further...
DMK threatens to walk out of UPA
Last updated on: March 17, 2013 19:04 IST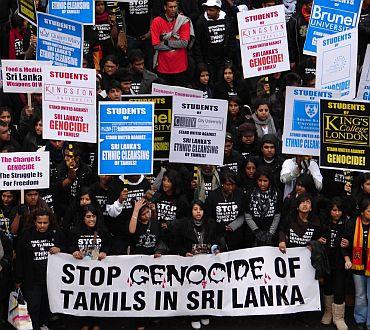 Addressing a hurriedly convened press meet in Chennai, the 88-year-old leader said irrespective of the US accepting India's amendments or not, New Delhi should move them at the UN human rights body.
To a question, he said none from the Centre had contacted him after he had warned of his party quitting the government.
DMK, an ally of UPA since 2004, has 18 members in the Lok Sabha with one cabinet minister and four junior ministers.
In identical letters to Singh and UPA Chairperson Sonia Gandhi, the DMK chief insisted that the government should bring in amendments to declare that "genocide and war crimes had been committed and inflicted on Eelam Tamils by Sri Lankan Army and the Administrators" and seek a credible and independent international commission to probe human rights violations.
In his letters to Singh and Gandhi, faxed on Saturday night, Karunanidhi said he was constrained to write them in view of the "volatile situation" prevailing in the state.
He said there was a feeling of "injustice" among the Tamils in the context of the "lukewarm response of the Government of India to the entreaties made by the various sections of Tamil community in general and students' community in particular across the state."
Finance Minister P Chidambaram's attempt to pacify the DMK did not yield tangible results.
Chidambaram was greeted with black flags in his constituency Sivaganga by pro Sri Lankan-Tamil parties.

Click NEXT to read further...
DMK threatens to walk out of UPA
Last updated on: March 17, 2013 19:04 IST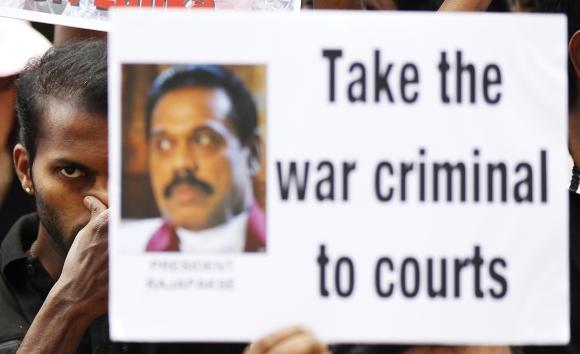 "I am writing this letter with immense mental agony and feeling of having been let down by the Government of India," Karunanidhi said and hoped the Centre would take immediate steps to assuage the feelings of entire Tamil community by getting the amendments incorporation in the resolution.
To a question on a Buddhist priest being roughed up in Thanjavur by some pro-Tamil groups, he said it was not proper.
Finance Minister P Chidambaram had said on Saturday that India should support the US resolution provided if it called for an independent and reliable probe into the alleged war crimes in Sri Lanka during 2009.
"There will be good news, good news. Maintain patience till then. I am confident and I am giving you this positive feeling, continue spreading this among all till March 22," he had said at a meeting organised by local Congress in Karaikudi in his native Sivaganga district.
The DMK has been focusing on the Sri Lankan Tamils issue ever since it revived last year the Tamil Eelam Supporters Organisation, floated by Karunanidhi in the 1980s, and has stepped up pressure on the Centre to act against Sri Lanka.
The Lankan Tamils issue was also vociferously raised in Parliament last week by MPs from Tamil Nadu who demanded that India should support the US resolution at the UNHRC.
DMK also organised a conference of TESO in Delhi recently which was attended by Congress leader and Union Health Minister Ghulam Nabi Azad.
TOP photo features of the week
Last updated on: March 17, 2013 19:04 IST
Click on MORE to see another set of PHOTO features...