Lahore, Amritsar: Once sisters, now strangers
Last updated on: October 26, 2012 12:17 IST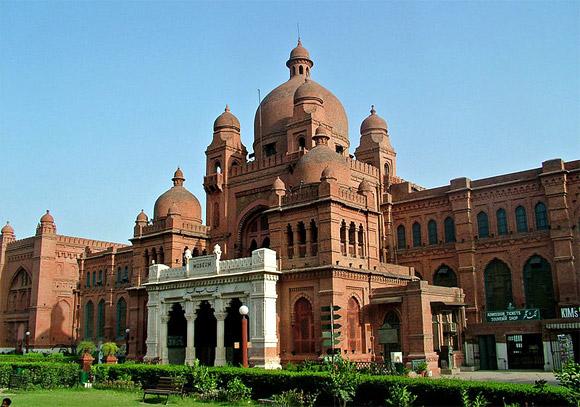 The umbilical cord between Lahore and Amritsar was shattered after 1965 Indo-Pak war, after which both countries restricted cross-border movement. Since then, the soul of the two cities has changed drastically, says Amir Mateen in the second of his four-part series that gives a Pakistani perspective on India's politics, society and economy.
Don't miss Part I of the series!
Lahore and Amritsar have a strange umbilical relationship; a common history binds them together in more ways than one.

The biggest influence on Lahore's contemporary culture and cuisine are the Kashmiris who migrated from Amritsar in 1947.
A quintessential Lahori, goes the joke, loves food more than his wife and pronounces the city as Lhorh. In nine cases out of 10, Amritsari Kashmiris will meet this criterion.
Muslim migrants from Jalandhar, Ludhiana, Ambala, Patiala and the rest of Indian Punjab have generally done well -- at least in Lahore. They took over most of the property and businesses left by the much wealthier Hindus and Sikhs, who comprised roughly 50 per cent of Lahore's population at Partition.
But this was nothing compared to the rise of the Amritsari Kashmiris who happened to be just 30 miles away, and hence better placed because of their stronger family, cultural and business relations in Lahore.
They virtually run the city now.
Actually, their political influence goes much beyond Punjab -- the biggest example being former Pakistan prime minister Nawaz Sharif's family.
The Ittefaq Brothers, as they were called then, moved from Amritsar's suburbs of Jati Umra to Lahore a little before Partition.
They have now created a seven-star replica of their humble abode in Lahore's suburbs.
The Sharif brothers, as they are called now, have encouraged pockets of Amritsari Kashmiri power in every major city of central Punjab.
Click on NEXT to read more...
The Amritsari brigade of poets
Last updated on: October 26, 2012 12:17 IST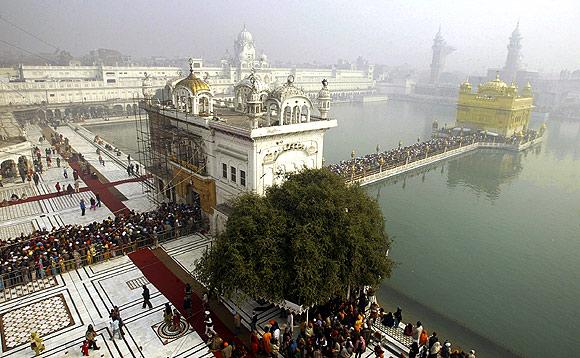 Amritsar's dominance in Lahore's cuisine is even more apparent. You will find shops of Amritsari sweets, harissa and chole in every locality of old Lahore.
Much of Lahore's literary elite have an Amritsari connection.
The poet Faiz Ahmed Faiz lived in Amritsar as an English teacher; Sadat Hasan Manto's ancestral house is also there in Wakeelaan Waali Gali.
A whole generation of poets and writers, including Saif-ud-Din Saif, Arif Abdul Mateen, Zabt Qureshi, Zaheer Kashmiri, Ahmed Rahi, Hassan Tariq and Muazaffar Ali Syed -- affectionately called the Amritsari brigade -- were either born or raised in Amritsar.
Even writer Majeed Lahori, it turns out, was from Amritsar.
Amritsar also retains traces of this common heritage.
Lahore has a Hall Road, Amritsar has a Hall Bazaar -- both sell electric appliances.
Lahore has a Landa Bazaar close to its railway station, so does Amritsar.
Both cities have katras or areas of specialised artisans like jewellers, cobblers, even horse riders (koocha sawaraan).
Click on NEXT to read more...
Lahore remains the epitome of the Sikhs' political glory
Last updated on: October 26, 2012 12:17 IST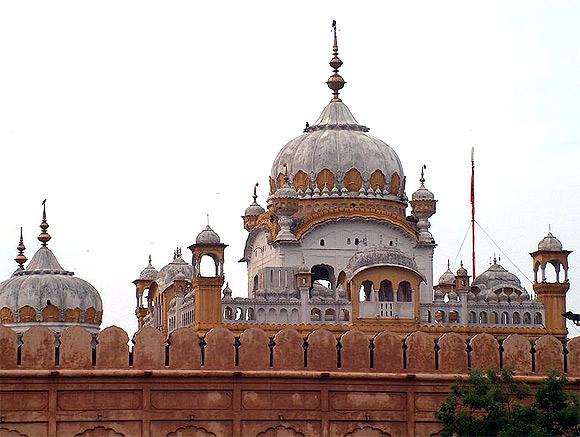 Amritsar's life revolves around the Golden Temple. Its foundation brick was laid by Lahore's patron saint, Mian Mir, at the request of Guru Arjun Dev.
The samadhis of Guru Arjun Dev and his father Guru Ram Das are in Lahore.
Amritsar may be the spiritual centre of Sikhism but Lahore, as the capital of Maharaja Ranjit Singh's empire, remains the epitome of Sikhs' political glory.
We grew up reading the late A Hameed's writings about wholesome life in Amritsar. He wrote extensively about how the twin cities competed in wrestling contests.
Amritsar's Jahangir Band was invited to perform at Lahore weddings at exorbitant rates. Jahangir's son, Alamgir, later competed with Lahore's clarinet maestro Master Sohni's band.
There was also a Kashmiri band from Amritsar which specialised in playing the shehnai. Its members wore silk shirts, long coats and Jinnah caps.
A Hameed said, 'Amritsar is my lost Jerusalem and I am its wailing wall.'
Click on NEXT to read more...
The shalwar-kameez became the Pathani kurta
Last updated on: October 26, 2012 12:17 IST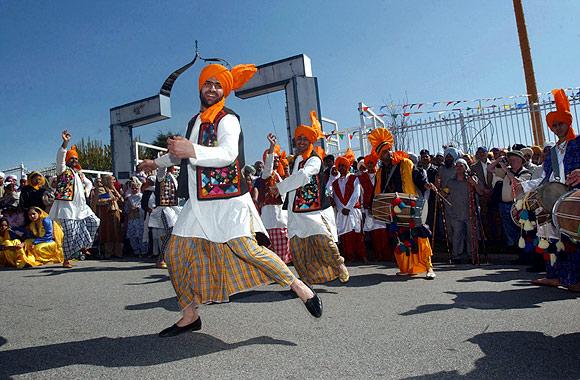 A train called the 'Babu train' ran between the twin cities, ferrying workers from one side to the other.
People went to Amritsar to watch Indian movies and returned the same day.
That life came to an end not in 1947, but after the 1965 Indo-Pak war when both countries restricted cross-border movement.
Much has changed in the last 65 years: first, the disparate size of the twin cities.
Lahore was always bigger than Amritsar, but now it is 10 times the size of Amritsar, with its population touching 11 million.
Amritsar is a peripheral city in India, except for its tourist and religious value for Sikhs.
Lahore is the second largest city in Pakistan and, in political terms, it has the power to make or break central governments.
The language has changed a lot.
I noticed an old woman in Amritsar bazaar laughing while I was talking in Punjabi. I asked her the reason and she said she found my accent funny.
We also find a tinge of humour in the way Sikhs speak. Obviously, the change of script has had an impact.
The official language of Ranjit Singh's court was Persian and Sikhs were equally well versed in the Arabic script. Few people in the twin cities can now read each other's script.
Even the clothing has changed. The Pakistani shalwar kameez is called the Pathani kurta.
Click on NEXT to read more...
'Amritsar circulates in my blood'
Last updated on: October 26, 2012 12:17 IST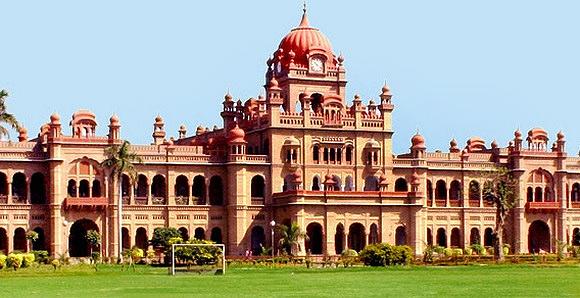 Sadly, it is the soul of the two cities that has changed drastically.
Lahore's social fibre has been irreparably bruised. It has lost its multi-cultural, multi-religious and multi-lingual ethos. The natural corollary of such social engineering is that various sects are cutting each other's throats.
After we threw out Sikhs and Hindus, the Parsis and Jains left quietly.
Ahmadis fear for their lives and Shias are beginning to feel insecure. Even the mainstream Sunni factions are targeting each other to the extent that Lahore's most revered shrine, the Data Sahib, was bombed recently.
Amritsar may not be violent at all but it too has become largely a Sikh and Hindu town. There are very few Muslims to be seen.
Here, too, the centuries-old history of religious co-existence has been disturbed.
Only a few people in Amritsar will have any memory of the dynamic and true zinda dillaan Amritsari Kashmiri Muslims. That generation is dying out in Lahore as well.
But those who live still reminisce about Amritsar.
A Hameed, a little before he died, wrote, 'Amritsar circulates in my blood. I go to sleep after looking at Amritsar and it is the first thing I see after waking up in the morning.'
An Amritsar-bound friend asked him what he should bring for him.
He told him. 'Get me a flower from the Company Bagh'.
Don't miss Part III of this rivetting feature...