K'taka: Yeddy's threats fail; no change of guard, says BJP
Last updated on: February 24, 2012 15:21 IST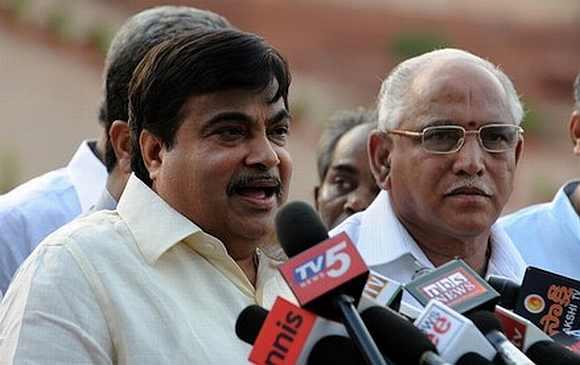 After a meeting with B S Yeddyurappa on Thursday morning, Bharatiya Janata Party President Nitin Gadkari said that Sadananda Gowda will continue as Karnataka's chief minister.

Former Karnataka chief minister B S Yeddyurappa, has given an ultimatum to Bharatiya Janata Party president Nitin Gadkari demanding that by February 27 he be reinstated as CM or be given a senior post. But the party high command appears to be unfazed. After meeting Yeddyurappa on Friday morning in Bengaluru, the BJP chief has ruled out a change in guard.

And as the drama continues to unfold in Karnataka, the former CM is flexing some muscle. Leading around 60 members of Legislative Assembly, Yeddyurappa went to meet Gadkari. And proving that he has enough influence he forced the forced the BJP to cancel Day 2 of a 'state chintan baithak' called to discuss the party's Karnataka strategy following a series of scandals that have seriously dented its image. Clearly, those issues took a backseat and it was all about Yeddyurappa.

Click NEXT to read further...

For Rediff Realtime News click here

K'taka: Yeddy's threats fail; no change of guard, says BJP
Last updated on: February 24, 2012 15:21 IST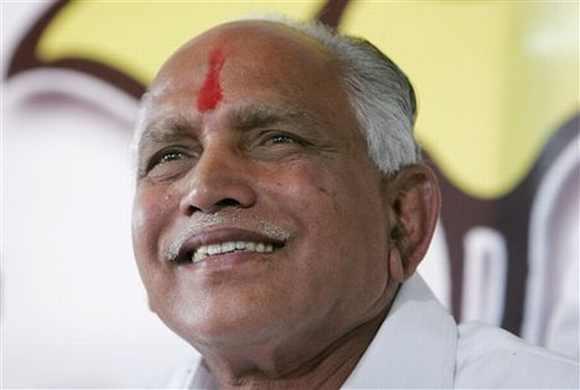 In Karnataka for that meeting, Gadkari is now trying to strike a balance in the warring state unit. But Yeddyurappa's followers are in no mood to budge. They told Gadkari at the meeting that there was none better than the former CM to lead the government in the state and that he be reinstated.

Moreover, they also listed out a long list of complaints against Chief Minister D V Sadananda Gowda and said that he has been ineffective. Gowda appears to be more in favour of the Janata Dal-Secular, which did not field any candidate against him during the legislative council elections, they complained.
In a show of strength, Yeddyurappa had called a meeting at his residence on Thursday and more than 50 MLAs of the ruling BJP turned up.
However, Gadkari too was adamant and maintained that there was no chance that Yeddyurappa would be reinstated.
K'taka: Yeddy's threats fail; no change of guard, says BJP
Last updated on: February 24, 2012 15:21 IST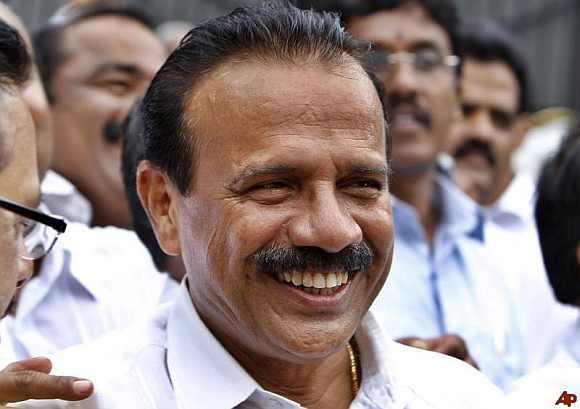 But the former CM is not the one to give up. While he is clearly upset that his demands are being turned down he is busy chalking his next move.
Yeddyurappa turns 69 on February 27 and he has set this date as a deadline for the BJP to reinstate him as CM or give him a senior position in the party. He has extended invitation to all his supporting legislators to attend a lunch hosted by him on that day.
Ahead of Monday's deadline, the BJP central leadership finds itself in a Catch 22 situation. They cannot reinstate Yeddyurappa as CM because of the number of cases pending against him. He was forced to step down from the CM's post last September mainly because the Lokayukta report indicted him on illegal mining in the state. If the BJP gives in to his demands they would be sending out a wrong signal.

K'taka: Yeddy's threats fail; no change of guard, says BJP
Last updated on: February 24, 2012 15:21 IST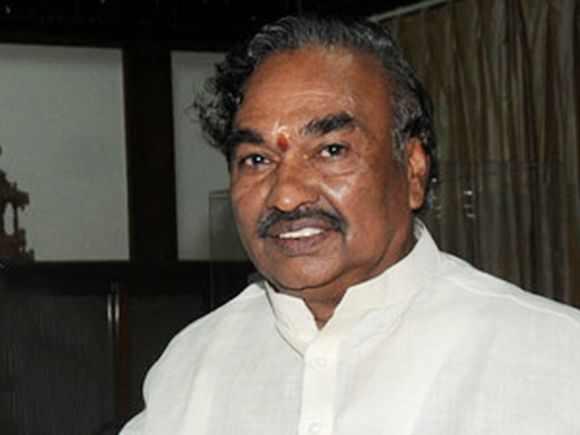 The other option is to give him a senior post in the party. However, the post of the state BJP president lies with K S Eshwarappa, who is Yeddyurappa's biggest rival in the party.  
The BJP is in a fix and Yeddyurappa is playing his cards carefully. It is unlikely that he will walk out of the party keeping in mind the numerous cases against him. He may make several threats, but the decision to quit may come only when elections are nearing next year. He is expected to stay out of the party's affairs and stage a boycott with the support of its MLAs, say insiders. 
For now, Gadkari is trying to broker peace. He has asked the former CM to have some patience, say party sources.
Gadkari's visit was scheduled for two days, but following the fiasco he has cut short his stay in Bengaluru. He is aware that staying back will mean only more trouble from Yeddyurappa and his supporters.

Other TOP photo features
Last updated on: February 24, 2012 15:21 IST
Click on MORE to see another set of PHOTO features...