'Communist parties don't survive just by winning polls'
Last updated on: April 15, 2011 10:44 IST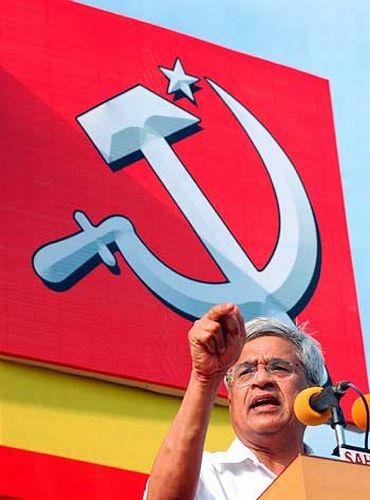 Prakash Karat, the head (general secretary) of the country's premier Left party, the Communist Party of India -Marxist, tells Saubhadra Chatterji it won't be doomsday if they lose power in West Bengal. 
What makes you think the Left parties can retain power in Kerala and West Bengal?
In Kerala, the polling is over and our assessment is the Left Democratic Front is poised to do well, contrary to the perception during the campaign that we are going to lose.
Complete Coverage: Assembly Elections 2011
Our assessment is that the LDF government's performance during the past five years shows there is no anti-incumbency factor. Therefore, we are confident of retaining power, breaking the state's so-called 'five-year cyclical pattern.'
In West Bengal, it will be a harder fight because we had lost some ground in the earlier Lok Sabha and local body elections. But during the last one year, we have worked hard to regain the confidence of those sections of people who have been alienated from us.
In Bengal, it is the work put in by the Left Front government during the past three decades that stands us in good state. We are confident of defeating the Trinamool Congress-led combine.
Please click NEXT to read more..
'There's no anti-incumbency factor in Kerala'
Last updated on: April 15, 2011 10:44 IST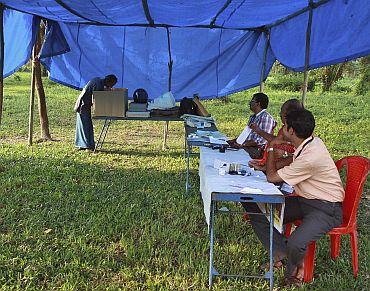 Prime Minister Manmohan Singh and Congress president Sonia Gandhi accuse your party for lack of development in Kerala and Bengal.
This is the usual argument of the Congress leadership against non-Congress state governments. Whenever they campaign, they say these states have not developed properly as these didn't have a Congress government here; if it were a Congress government, we would have helped it in better development.
This is a very short-sighted argument. It goes against the federal principle as well.
In Kerala, the charge made was that the state government didn't co-operate with the Centre although it received huge funds from Delhi. This is self-serving.
In Kerala, we are in power for five years after the five-year Congress rule. You can compare the two regimes. People can see our path of development is infinitely better than what was the Congress' pattern. That's why there is no anti-incumbency factor.
But these two states have huge debt burden. Also, the Bengal government spends more than 90 per cent of its revenue in statutory payments, leaving meagre fund for development.
Yes, there is a problem of states having growing debts. But this is a problem of the structural imbalance in Centre-state relations and the devolution mechanism.
In fact, the Left governments are in the forefront of arguing that 50 per cent of the taxes and other incomes should be devolved to the states. But even in Bengal, the last budget shows substantial increase in revenue. If this trend continues, it will help to meet some of the problems.
'Despite setback, investments are coming in Bengal'
Last updated on: April 15, 2011 10:44 IST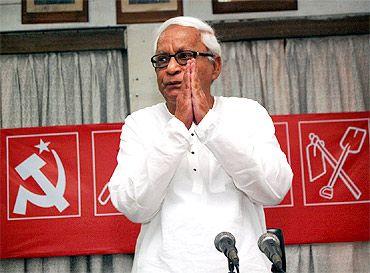 In its last tenure, your government in Bengal had announced a slew of mega projects such as Special Economic Zones or the Salim group's infrastructure projects. As you go to polls, what is your message for industry, as well as the farmers?
Despite the setback at Singur, investments are coming in Bengal. It's not true that all industries and investments have ceased. In fact, there has been substantial increase in investment in the past five years.
Yes, some big projects were planned but we have grown wiser from experience on land acquisition. Bengal doesn't have much non-agricultural land and we have revised our approach. We are saying land can be given or acquired only if the farmers are willing and there is a suitable rehabilitation programme.


We have also looked for land that is less fertile and not yielding double or triple crops.
After your defeat in (the) Lok Sabha (elections of 2009), you launched a rectification campaign. What has been the result?
It was not directly linked with the Lok Sabha results. It was planned in our (earlier) party congress but we didn't get time.
We started that work a year ago and it is ongoing. Rectification is not going to be a one-stop affair but an ongoing process. Rectification reports have been prepared by all state committees. Now it has gone down to the level of district committees. The process will take another two-three months.
'I think it is easier to deal with us'
Last updated on: April 15, 2011 10:44 IST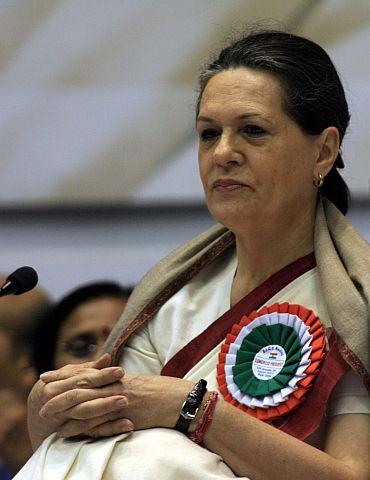 You continue to attack the Congress for 'neo-liberal' policies. But it won the 2009 Lok Sabha elections with a record margin.
Elections are not decided only on economic policies. There are political factors as well. Even then, it is ironical that what actually helped the Congress was the rural employment scheme, the farm loan waiver, etc.
These measures actually go against the neo-liberal policies and helped the Congress. And, in most of these issues, the Left played a role.
Wikileaks said Sonia Gandhi was more comfortable with the Left than the regional allies.
I don't think she had said it. They are quoting from an unknown US Congress source. Basically, the issue is that when the CPI-M and the Left deals with other political parties, everybody knows we stand for certain policies and programmes.
I think it is easier to deal with us because everybody knows what we stand for and we normally do what we say.
'None can claim to represent the society in the name of civil society'
Last updated on: April 15, 2011 10:44 IST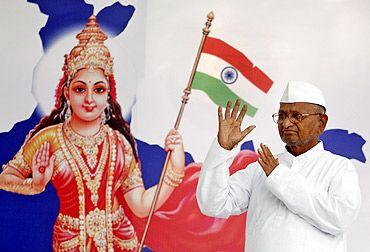 After the latest Anna Hazare episode, as a politician, are you afraid that civil society is intruding in the political space of policy making?
I don't accept this definition of civil society as touted now. As if political forces are not part of the civil society.
Yes, there is an area where voluntary citizens' efforts are important. On the issue of corruption and failure of the ruling establishment to curb it, I think genuine concern was expressed by the hunger strike led by Anna Hazare.
At the same time, we are also of the view that nobody can claim to represent the society in general in the name of civil society. In a democracy, the government should ensure widest consultation in law-making and in that consultation, the political establishment is most important. This will be proven once the Lokpal bill goes to Parliament for its endorsement.
But what the agitation showed was that people are not willing to accept any dilution in the anti-corruption bill.
What would be the CPI-M future if you lose both Kerala and Bengal?
I don't think such an eventuality will arise. But even if you assume it, well, it will not be the end of the world. We are a communist party. We don't survive only by winning elections or staying in governments.
Communist parties work constantly to organise and mobilise the working people of the country. The way you people project is as if after the elections, it will be doomsday. It is not correct.
Source: