Kejriwal quits; recommends Delhi assembly dissolution, fresh polls
Last updated on: February 14, 2014 23:33 IST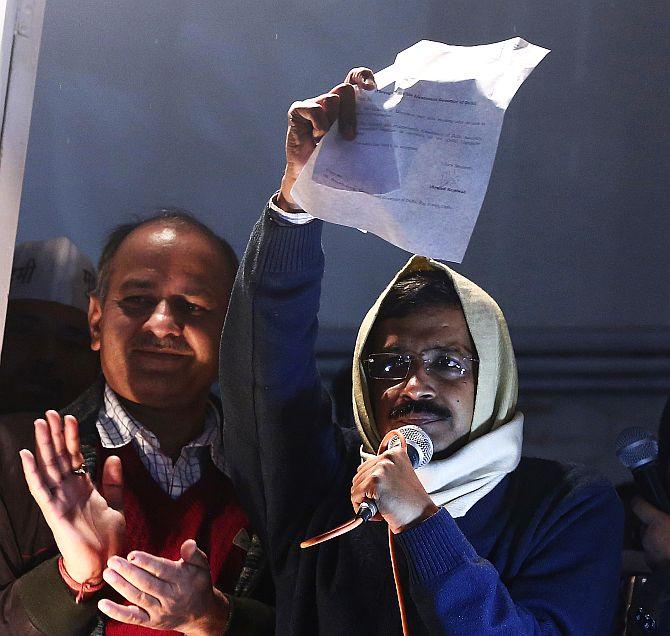 Delhi Chief Minister Arvind Kejriwal resigned on Friday after suffering a defeat in the assembly on the Jan Lokpal Bill and in a political gamble he recommended dissolution of the assembly and holding of fresh polls.
Click here to read Kejriwal's resignation letter to Delhi LG
Bringing to an end a 49-day roller coaster ride in power, during which he received bouquets and brickbats in equal measure, the chief minister and his cabinet met for one last time when it decided to resign and make the recommendation to Lt Governor Najeeb Jung whose advice against the anti-graft bill he had defied in the assembly.
The two shared a good equation all along but on Friday he attacked Jung, saying he acts like a viceroy of the central government which thinks it is still a British Government.
Earlier in the day, Jung had advised the assembly against transacting the Jan Lokpal Bill which he said should have prior clearance of central government.
Kejriwal later met Lt Governor Najeeb Jung and handed over the resignation of his cabinet and its recommendations to dissolve the assembly and hold fresh polls.
Accompanied by his cabinet colleague Manish Sisodia, Kejriwal drove to Raj Niwas in North Delhi straight from AAP headquarters where he announced his decision to quit to his party workers.
Jung is expected to give his report to the Centre on Saturday on the follow up action in the wake of resignation of the Aam Aadmi Party government.
Sources said he would give his report on the situation to the President through the Union home ministry for final decision on whether to bring the national capital under a spell of central rule or dissolve the House for holding elections along with Lok Sabha polls as recommended by the outgoing Cabinet.
The Lt Governor will send a "factual report" along with resignation of the Government and the Cabinet's recommendation.
Meanwhile, the LG has requested the Delhi government to function for another five days starting on Friday, AAP leader Manish Sisodia said.
The Union Home Ministry is expected to forward the resignation letter for acceptance to the President on Saturday when it will receive it from the LG Jung.
As Home Minister Sushilkumar Shinde is in his constituency Solapur in Maharashtra, Home Ministry officials will despatch the document to him by fax for his approval.
After Shinde's nod, the letter will be sent to Prime Minister Manmohan Singh who in turn will forward it to President Pranab Mukherjee for acceptance of Kejriwal's resignation.
As Delhi enjoys a special status being a Union Territory, it is the President who finally accepts the resignation letter of the Chief Minister. In case of other states, the Governor is the final authority.
Please click NEXT to read further...
Kejriwal quits; recommends Delhi assembly dissolution, fresh polls
Last updated on: February 14, 2014 23:33 IST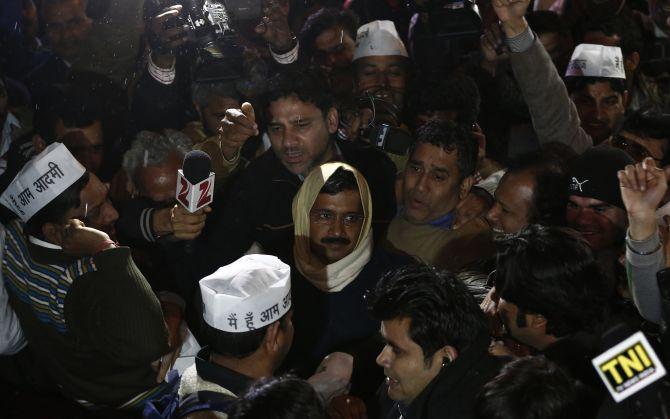 Straight from the cabinet meeting, 45-year-old Kejriwal, who came to power riding tghe crest of an anti-graft movement and was called an anarchist for his street protest as CM, drove to the AAP headquarters in Central Delhi, three kilometres away from the Secretariat and addressed his supporters in pouring rain when he announced his resignation.
"The Cabinet has decided to resign. We have recommended to the Lt Governor to dissolve the assembly and hold fresh elections," he told a cheering audience wearing AAP's trademark cap which welcomed his speech with a thunderous clapping.
Launching a blistering attack on Congress, on whose support he came to power, and the BJP accusing them of "colluding" with Reliance chairman Mukesh Ambani to bring down the government two days after he filed an FIR against him on the gas pricing issue.
"The real face of BJP and Congress has been exposed. They did not allow the Bill (Janlokpal) to be introduced in the House. They defeated the Bill because three days back because we lodged an FIR against Mukesh Ambani," he said.
Kejriwal said Ambani was running the Congress government for the last 10 years, saying "Congress is his shop and he can buy anything whenever he wants".
He also did not spare Narendra Modi saying Ambani has been behind him for last one year. "Where are Modi's riches coming from? He is flying by helicopter criss crossing the country. He is addressing huge and expensive rallies. From where does he get money for all this?"
Kindly click NEXT to read further…
Kejriwal quits; recommends Delhi assembly dissolution, fresh polls
Last updated on: February 14, 2014 23:33 IST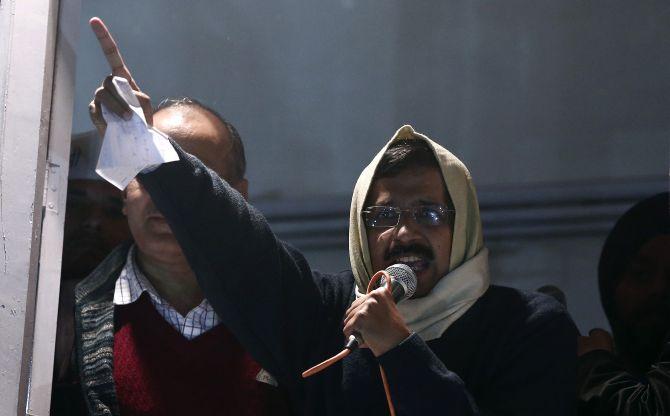 Meanwhile, BJP leader Harsh Vardhan has told CNN IBN that their party won't form the government in the national capital as they don't have the required numbers.
High drama was witnessed in the assembly when Kejriwal defied Jung's advice and tabled the Bill which the BJP and Congress opposed stiffly.
After uproarious scenes and two adjournments, the resolution seeking leave for introduction of the Bill was put to vote and was defeated by 42 to 27 in a House of 70.
The defeat forced Kejriwal and his Cabinet colleagues into executing the threat he has been issuing last one week about his preparedness to quit if Lokpal is defeated.
A reluctant politician, Kejriwal implemented some of the promises like slashing power tariff and free water and appeared on a confrontation with Congress by taking decisions that deliberately needled the outside supporter.
The 49-day tenure was also marked by controversies when his ministerial colleague Somnath Bharti went on a vigilante style raid on an alleged drug and prostitution racket that earned the government adverse publicity.
Kejriwal told his party supporters that Congress opposed the Jan Lokpal Bill because he had acted against the corruption of Sheila Dikshit by filing cases against her, Union Minister M Veerappa Moily and Ambani.
"They were ridiculing me saying I have only Anti-Corruption Branch but had Jan Lokpal Bill been passed half of them would have gone to jail. They conspired to defeat the government.
"After Ambani and Moily, (Sharad) Pawar's turn will come and then Kamal Nath. Because of this, Kejriwal has been removed. I am a small man. What is my status? I am not here for power," he said.
Click NEXT to read further...
Kejriwal quits; recommends Delhi assembly dissolution, fresh polls
Last updated on: February 14, 2014 23:33 IST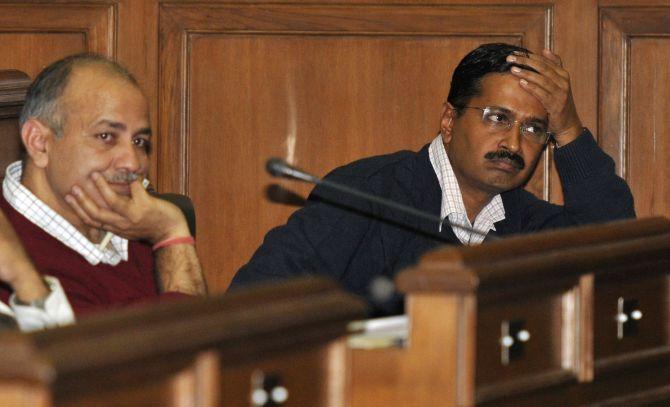 Kejriwal said his government brought down power rates and gave free water and drastically reduced corruption.
"We tried to work honestly but we are also human. People say we cannot govern. In 40 days, we brought corruption down and acted against Sheila Dikshit's corruption. They say govern, I want to say bringing corruption down is also governance," he said.
He told the crowd that his government was resigning and was proud to say that for Lokpal he would resign 100 times and sacrifice the CM's post. I will be fortunate to do it in the interest of the country.
The chief minister attacked the behaviour of MPs in Parliament yesterday when pepper was sprayed and mikes were broken. Similar things happened in Delhi assembly too. What BJP and Congress members did in the assembly was a shame on democracy.
"They say the Bill is not constitutional. Is breaking mikes constitutional? We are fighting for the nation, constitution and the people of the country. We will teach them a lesson. I am ready to sacrifice my life for the constitution. We will abide by the constitution that was made by people like Ambedkar.
"They say Parliament is a temple. Do you go to temple and break idols? Do you go to church and destroy the Bible", he said.
Before concluding his speech, he said "I pray to God. We are small people. Kindly bless us and guide us. Give us an opportunity to sacrifice for the country".