Joyous Ralegan dances to 'It Happens Only in India'
Last updated on: August 28, 2011 13:27 IST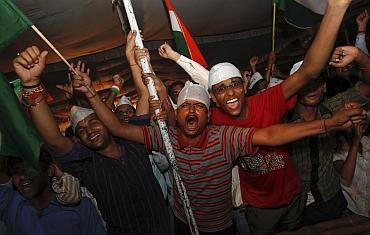 Victory flags were put up in almost every house in Anna Hazare's village where celebrations erupted as the Gandhian broke his fast in Delhi on Sunday.
People, who assembled outside the Yadavbaba temple where Hazare lives after hoisting
gudhi
-- traditional flag erected on Maharashtrian New Year which symbolises victory -- in their houses, said they were eagerly waiting for their "hero" to return.
Click NEXT to read further...
'This is victory of the people, democracy'
Last updated on: August 28, 2011 13:27 IST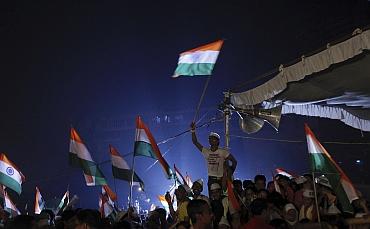 "This is the victory of the people and the democracy," said Sarpanch Jaysingh Mapari.
Women and children, who were glued to television sets for the last 13 days to get an update on Hazare's fast, broke into frenzied festivities.
Patriotic songs such as 'Jai Ho' were played and people also danced to the tune of Bollywood number 'It happens only in India', which, perhaps, sums up Hazare's phenomenal agitation.
'We want to give Anna a hero's welcome'
Last updated on: August 28, 2011 13:27 IST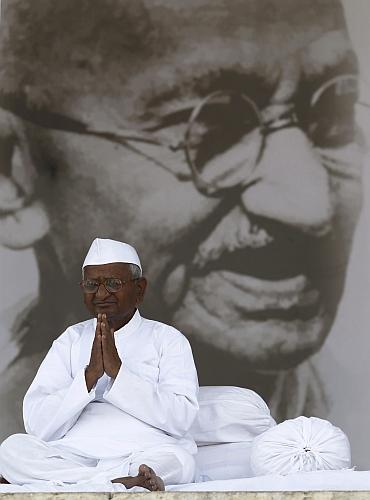 Asked when Hazare was expected to return to the village, his close aide Datta Awari told PTI that it would take at least 10 to 12 days.
"We are also eagerly awaiting his return. He is our hero and we want to give him a hero's welcome," he said.
© Copyright 2021 PTI. All rights reserved. Republication or redistribution of PTI content, including by framing or similar means, is expressly prohibited without the prior written consent.