'It was cool'
Last updated on: May 26, 2012 17:19 IST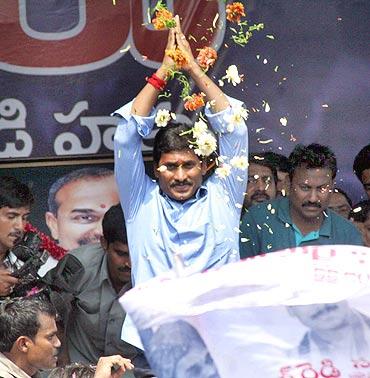 'The Lord is on my side : I will not fear,' is one of the many Biblical quotes that adorn the walls of Y S R Congress chief Jagan Mohan Reddy's residence in Hyderabad. Another constant factor are his father late Andhra Pradesh chief minister YSR Reddy's portraits.
On Saturday morning, before the second round of his interrogation by the Central Bureau of Investigation in connection with a disproportionate assets case, Jagan spoke to T S Sudhir on why he thinks this is a conspiracy hatched jointly by the Congress and the Telugu Desam Party to eliminate his political party.
How was the interrogation yesterday?
 It was cool.
Was it only you who was questioned or were you interrogated along with the three others who have been arrested in connection with the case?
No, only me. There were only four officers of the CBI and me.
What was the line of questioning taken up by the CBI? Did they question you about the VANPIC project (related to ports and shipyard)?
VANPIC was hardly covered. It was more about valuations. I did not understand why they asked me about the investments I made before dad became the chief minister.
Click on NEXT for more...
'A lot of Telangana Congressmen will shift'
Last updated on: May 26, 2012 17:19 IST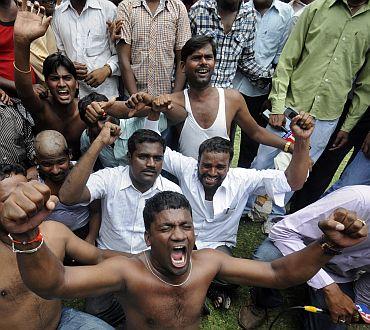 Do you fear arrest?
Fear of arrest is never there. It is very difficult to gauge. All I know is that there is a tremendous amount of pressure on them. As I have already gone public about the conspiracy hatched to arrest me, I suppose they may change their plan now just to show that I was wrong. But then you cannot say for sure.
Yesterday, a Congress member of Parliament and member of legislative assembly accompanied you to the CBI's office. Former Telugu Desam Party MP Mysoora Reddy joined your party. Are you actively encouraging leaders from other parties to join you?
It is an emotional chord that has been touched. People are wondering about what kind of a political situation is this where two political parties -- the Congress and the TDP -- are coming together to eliminate the third party. Their gameplan is to ensure a third force does not emerge because if it does, one of the two parties will be eliminated. In fact, today's situation is such that both parties fear elimination.
There are many Congressmen and leaders from TDP who are in touch with us. Very good names too. But I am very picky and choosy. Any leader who wants to join us will be taken strictly on merit.
Including leaders from Telangana?
A lot of Telangana Congressmen will shift (to my party) but towards the end. At the moment, the fear of Sonia Gandhi is looming large over them.
Click on NEXT for more...
'Only Jagan gets fixed'
Last updated on: May 26, 2012 17:19 IST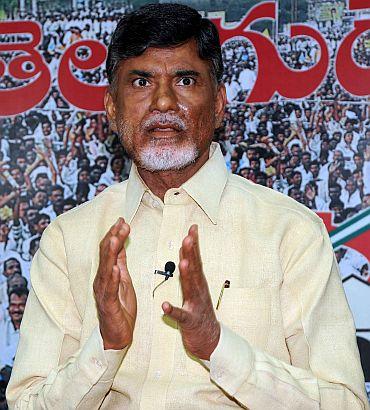 If such an exodus indeed happens, do you foresee the fall of the Congress government in Andhra Pradesh?
No, that is unlikely to happen because (TDP chief) Chandrababu Naidu supports this government. In fact, why do you think I went public with the information that the CBI will arrest me? I had inside information about (Congress leader) Vayalar Ravi speaking to Naidu, (Chief Minister) Kiran Kumar Reddy, the CBI and the director general of police.
It is all a conspiracy. For nine months, the CBI did not issue summons to me. On May 22, I spoke out against this conspiracy to arrest me and the same night, they decide to summon me. The same CBI does an investigation where Naidu gets away, only Jagan gets fixed.
How will it impact the by-polls to one Lok Sabha and 18 assembly seats on June 12?
People are hearing both sides and I am sure they will vote against this injustice. They are fully aware of what is happening here. My only interest is to see that by-polls are conducted in the state. I have appealed to all YSR supporters to be patient and restrained. They wanted to arrest me 15 days before the by-polls, provoke violence and use that as an excuse to postpone the elections.
Is there a line of communication still open with the Congress leadership in Delhi?
(Shakes his head) No.
Click on NEXT for more...
'I don't know why she is taking it so personally'
Last updated on: May 26, 2012 17:19 IST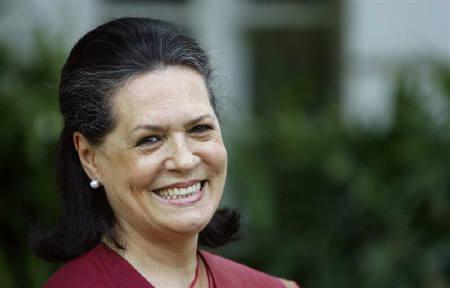 What do you think Sonia Gandhi thinks of you? Has it now become a matter of ego?
I don't know why she is taking it so personally. She must be thinking -- this boy, according to her -- was in the Congress, split the party and is now sustaining it as well and showing this to the whole world. What she is doing is not right.
What's for breakfast now before you go to the CBI office?
Just a glass of juice
And how was lunch with the CBI yesterday?
It was chappati with two, three dishes. I don't know if it came from my home or the CBI. I just ate what was given to me.
Did you sleep well last night?
I did. I get to sleep so little anyway. I can hardly sleep in the moving vehicle because the lights from the opposite direction hit my eyes.
I also note that you have discarded your usual striped shirts for solid pastels.
(Laughs) You know, by evening those striped shirts become so dirty that they no longer look like a shirt. Since I am going to be indoors, I thought this was an occasion to take out some of my old shirts.
Click on NEXT for more...
TOP photo features of the week
Last updated on: May 26, 2012 17:19 IST
Click on MORE to see another set of PHOTO features...