Narendra Modi is BJP's PM candidate
Last updated on: September 13, 2013 22:16 IST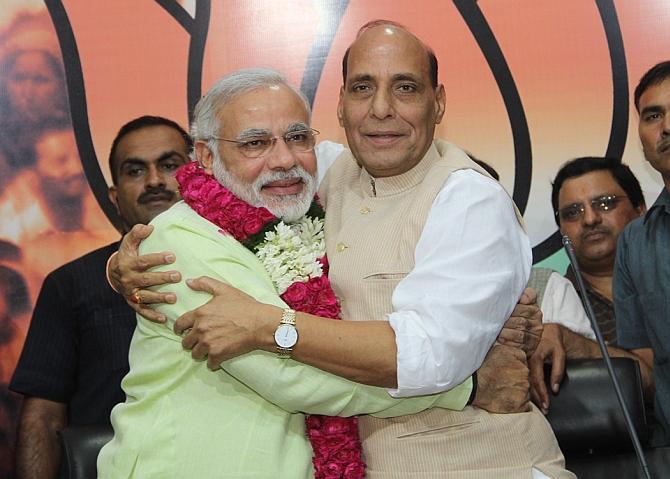 Narendra Modi, strong but controversial Gujarat Chief Minister, was on Friday named Bharatiya Janata Party's prime ministerial candidate for the 2014 Lok Sabha polls despite stiff opposition from party patriarch L K Advani.
The self-avowed Hindu nationalist, four days short of his turning 63 years, was anointed at a meeting here of the 12-member BJP Parliamentary Board which a sulking Advani skipped.
The announcement was made by BJP chief Rajnath Singh the meeting which was attended by Murli Manohar Joshi and Sushma Swaraj, who too were said to be opposed to Modi's project at this juncture but finally toed the majority line.
Accepting the party decision, Modi gave a slogan "nayi soch, nayi ummeed" (new thinking, new hope) and said the BJP will go the 2014 polls with the plank of good governance and development while fighting against corruption and price rise.
He said the country is going through a "crisis" and BJP would require blessings of people from Kashmir to Kanyakumari and Attock to Cuttack so that this situation ends.
Click on NEXT for more…
Narendra Modi is BJP's PM candidate
Last updated on: September 13, 2013 22:16 IST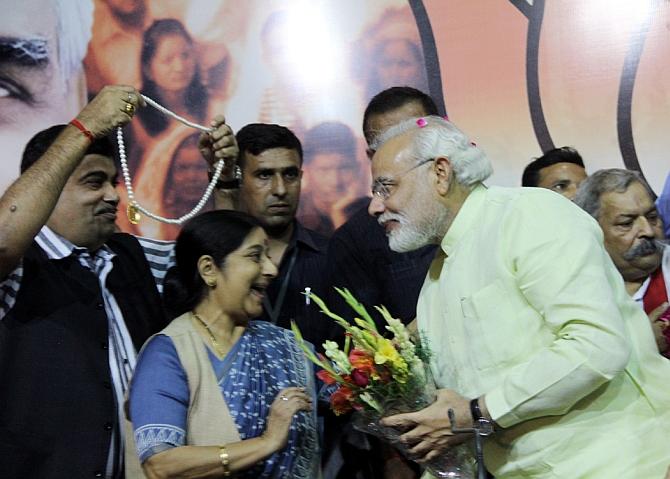 Thanking party leaders and NDA allies for their support, the three-time Gujarat Chief Minister said will work tirelessly to ensure that BJP wins the 2014 elections.
However, Advani touched a sour note by releasing an angry letter written by him to the party chief almost at the same time when announcement about Modi was made.
"This afternoon when you had come to my residence to inform me about the Parliamentary Board meeting, I had said something about my anguish as also my disappointment over your style of functioning," he said in the two-para letter.
"I had told you that I will think whether I should share my thoughts with other Board members or not. Now I have decided that it is better that I do not attend today's meeting," he wrote.
Soon after the announcement, Modi met Advani to seek his blessings. During the 30-minute meeting, Advani obliged him but also asked him about the letter written by suspended IPS officer D G Vanzara who quit service while attacking Modi.
Advani initially appeared willing to attend the Board meeting but changed his mind at the last minute.
Click on NEXT for more...
Narendra Modi is BJP's PM candidate
Last updated on: September 13, 2013 22:16 IST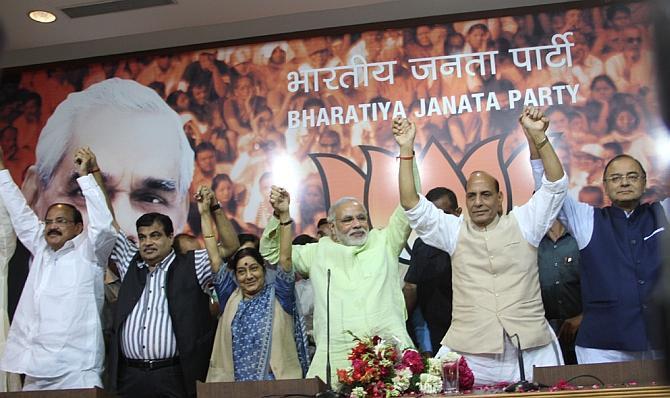 Rajnath Singh, who made the announcement after hectic back-to-back meetings, said the decision was "unanimous" and taken keeping in view the popular mood and aspirations.
He said it was done as per the party's tradition where the Parliamentary Board, the highest decision-making body of the party, takes the decision.
Modi thanked party leadership and workers for reposing faith in him. He also expressed gratitude to NDA allies for supporting him through telephone calls.
Wishing to rise to the people's expectations, Modi expressed confidence that the people of the country will also repose faith in his leadership and the "new hope" it has provided.
Rajnath Singh said the decision was taken keeping in view the mood and aspirations of the people. He said the decision was taken "unanimously".
On Advani's protest, he said he is a respected leader and will continue to be respected. "We will keep seeking his guidance," he said.
Before the Parliamentary Board meeting, Gadkari met Advani to persuade him on Modi's name. Swaraj and Ananth Kumar also joined the meeting.
Advani had conveyed his reservations about announcing Modi's name at this juncture. He had suggested that the BJP chief ministers should be consulted on the issue and the party should wait till the forthcoming Assembly elections to Madhya Pradesh, Chhattisgarh, Rajasthan and Delhi are over.
Advani was of the view that making Modi the prime ministerial candidate will put issues like price rise and corruption- on which the BJP has attacked the Congress- on the backburner and make the controversial leader the issue.
Joshi and Swaraj, who too were said to be having reservations to Modi's projection at this juncture, changed their stand to join the majority.
Click on NEXT for more…
TOP photo features you missed last week
Last updated on: September 13, 2013 22:16 IST
Click on MORE to see another PHOTO features...
AGENCIES