It's eat, sleep and no work for Sanjay Dutt in Yerwada jail
Last updated on: May 25, 2013 13:25 IST
The high rise walls of Yerwada central jail in Pune maintain a stony silence but curious passers-by in this suburban area have been taking a momentary pause to look at the imposing gates behind which Bollywood actor Sanjay Dutt has started his 42-month sentence.
The 53-year-old filmstar was shifted to the historic jail, where Mahatma Gandhi was incarcerated during the freedom struggle, in a hush-hush pre-dawn operation on May 22 to serve his remaining sentence in the 1993 Mumbai serial blasts case.
After swiftly moving him to Yerwada jail from Mumbai's Arthur Road prison in the wee hours to avoid media glare that had marked Dutt's earlier arrival at Yerawada in 2007, the jail authorities are yet to take a decision on the mandatory manual work the actor is supposed to undertake as an inmate.
"He is being kept in a separate cell for security reasons. We will decide on the work to be given to him as per the prison manual," said a jail official.

Click NEXT to read further...
It's eat, sleep and no work for Sanjay Dutt in Yerwada jail
Last updated on: May 25, 2013 13:25 IST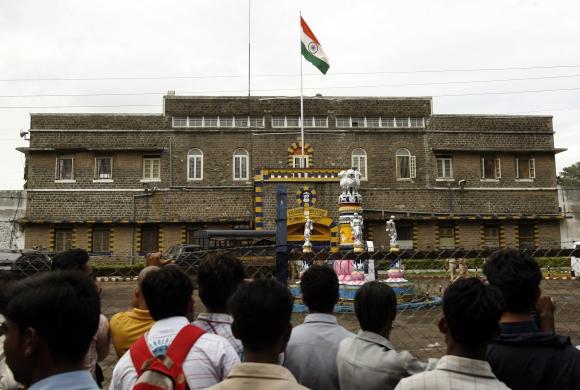 Now sporting a badge that declares him 'Qaidi No 16656', Dutt, who has landed at Yerawada jail for the third time, kept to himself and followed the prescribed routine which includes breakfast at 7.30 am, lunch at 11.30 am and an early dinner at 6.30 pm, sources said.
He had spent six nights at Aurther Road jail since his surrender on May 16.
Additional Director General of Police (prisons) Meeran Borwankar said Dutt's jail routine, which will include specific work, will be decided shortly.
He will be treated like a normal convict and would be granted only those concessions granted to him by the court for a period of one month, the official said.

Click NEXT to read further...
It's eat, sleep and no work for Sanjay Dutt in Yerwada jail
Last updated on: May 25, 2013 13:25 IST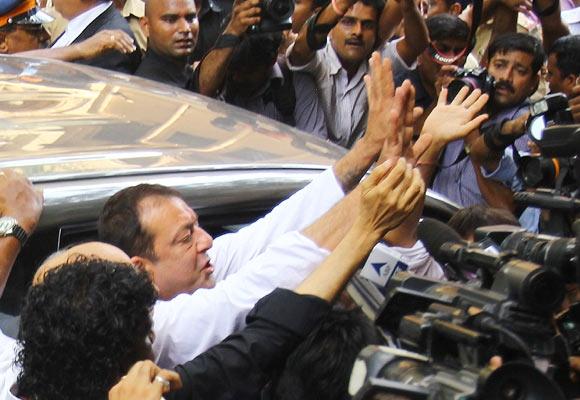 The last time when he was in Yerawada, Dutt had been given the work of knitting cane chairs in prison where the carpentry section produces a good volume of wooden furniture that is sold outside. Dutt, who also made baskets under supervision of an instructor, was paid Rs 12.50 per day, equivalent to the wages paid to an unskilled worker in jail.
The "Munnabhai" of the tinsel town will have to spend in the jail, where he was lodged twice in 2007, the remainder of his five-year sentence confirmed by the Supreme Court for illegal possession of arms in a 1993 Mumbai serial blasts case.
Barrack No 3, where Dutt's cell is located, looks on a spacious area dotted with trees, said an official. Yusuf Nulwala, Dutt's friend and co-convict, too is kept in the same barrack in a separate cell.

TOP photo features of the week
Last updated on: May 25, 2013 13:25 IST
Click on MORE to see another set of PHOTO features...
© Copyright 2022 PTI. All rights reserved. Republication or redistribution of PTI content, including by framing or similar means, is expressly prohibited without the prior written consent.