Italy PM 'parties hard'
Last updated on: December 3, 2010 13:34 IST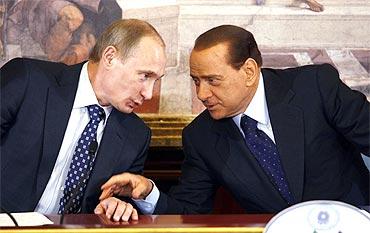 Italy Prime Minister Silvio Berlusconi has been accused of 'profiting handsomely' from his relationship with Russian premier Vladimir Putin, in the latest WikiLeaks scandal.
According to the documents, Berlusconi accepted a cut from lucrative energy deals between Italy and Russia. They even reveal that his health is a 'complete mess' as a result of his wild partying.
The communications were written by former US ambassador Ronald Spogli and his successor in Rome, David Thorne.
In January last year, Spogli revealed that his contacts in the Italian government "believe that Berlusconi and his cronies are profiting handsomely from many of the energy deals between Italy and Russia."
The US cable says, "The Georgian ambassador in Rome has told us that the government of Georgia believes Putin has promised Berlusconi a percentage of profits from any pipelines developed by Gazprom [the Russian energy giant]," reports the Daily Mail.
Reporting that the premier had fainted three times in public and been told his medical tests were 'a complete mess', Thorne wrote, "Berlusconi's frequent late nights and penchant for partying hard means he does not get sufficient rest."
Brown's 'abysmal track record'
Last updated on: December 3, 2010 13:34 IST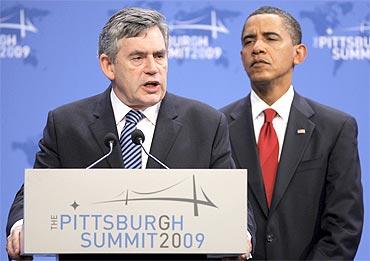 Gordon Brown had an 'abysmal track record' and he went from 'from political disaster to disaster', believed US officials, according to US cables revealed by WikiLeaks.
According to the leaked cables published by Britain's Guardian daily, US officials said Brown was trying to resurrect the 'rudderless' Labour Party.
"As Gordon Brown lurches from political disaster to disaster, Westminster (the home of Britain's parliament) is abuzz with speculation about whether he will be replaced," stated a memo sent by US ambassador to UK Robert Tuttle on July 31, 2008.
He also wondered if other labour leaders will try to oust Brown, given his 'abysmal track record'.
Tuttle was effusive in his praise of Labour leader David Miliband, saying in the cable, "He provided rare moments of star power for a party that seems increasingly to miss Tony Blair's charisma. In an otherwise low key conference, the frisson of excitement whenever Miliband appeared was palpable."
Clinton starts damage control
Last updated on: December 3, 2010 13:34 IST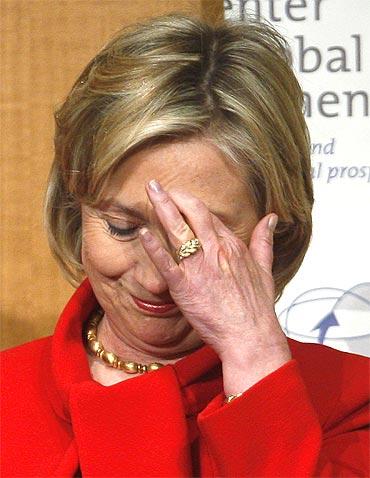 US Secretary of State Hillary Clinton has spoken with 12 world leaders, including the presidents of Afghanistan and Pakistan, in the past one week to express her regret over the embarrassing release of secret diplomatic cables by WikiLeaks.
On Thursday, Clinton spoke to Pakistan President Asif Ali Zardari and President Fernandez de Kirchner of Argentina.
"They did talk about the importance of our relationship in both cases. She did express regret to both presidents for the release of classified documents," State Department spokesman P J Crowley said.
According to the list provided by the State Department, Clinton has also called President Ellen Johnson Sirlef of Liberia, China State Councilor Dai Bingguo, Canada Foreign Minister Lawrence Cannon, Chinese Foreign Minister Yang Jiechi, German Foreign Minister Guido Westerwelle, new French Foreign Minister Michelle Alliot-Marie, British Foreign Secretary William Hague and Saudi Foreign Minister Saud Al-Faisal.
Osama not dead, hiding in Pakistan: Musharraf told US
Last updated on: December 3, 2010 13:34 IST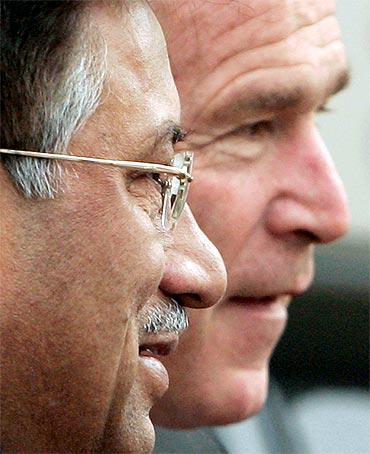 Former Pakistan President Pervez Musharraf told United States Senator John McCain about the possibility of the presence of Al Qaeda leadership -- Osama bin Laden and Ayman Al Zawahiri -- in Pakistan's tribal region, a diplomatic cable unveiled by whistle-blower website WikiLeaks has revealed.
The US embassy cable quoted Musharraf as saying that although he had no direct evidence, he thought that bin Laden and Zawahiri were hiding in Pakistan's Bajaur Agency bordering Afghanistan's Konar province, where US forces were not deployed, Geo Pakistan reported.
Musharraf, however, added that Taliban leader Mullah Omar was not present in Balochistan.
Karzai erratic and emotional
Last updated on: December 3, 2010 13:34 IST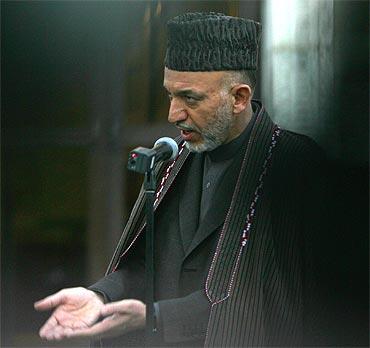 Afghanistan President Hamid Karzai is regularly described by diplomats and foreign statesmen as erratic, emotional and prone to believing paranoid conspiracy theories, according to classified US diplomatic cables released by whistleblower website Wikileaks.
In memos back to Washington, US Ambassador to Afghanistan Karl Eikenberry adopted a particularly weary tone when describing bizarre meetings with Karzai.
In one in 2009, Karzai argued that the US intended to "divide Pakistan and weaken Afghanistan in order to pursue its fight against terrorist groups".
He also believed that the US and Iran were working together to support his main political rival in the presidential elections.
Eikenberry concluded that it was unlikely that Karzai would ever break his habit of blaming the US and its allies for Afghanistan's troubles and not addressing his own shortcomings.