'It is a frightening time in Pakistan'
Last updated on: February 7, 2011 07:59 IST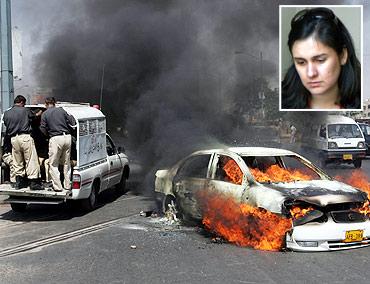 Unlike many diasporic authors,
Kamila Shamsie
takes the concept of home very casually. The writer who was for the longest time based in Pakistan but would travel for large parts of the year to the West says that she's never felt rootless. Shamsie has now settled in London.
Speaking during a session called 'Imaginary Homelands' at the recently concluded Jaipur Literature Festival, Shamsie suggested that to her the Rushdian phrase meant the lands she would travel to as a child reading books that 'were always set in places that wasn't Karachi'.
In an interview to rediff.com's Abhishek Mande, the author also spoke extensively about what it means to be a writer in Pakistan, the state of her country and how the post-Salman Taseer society is throwing up some rather unusual icons, icons like Veena Malik.

I was quite fascinated with your definition of 'imaginary homelands' in the session the other day. Could you for the benefit of our readers repeat it for us please?
I said several things actually so let's see which ones I can catch on. There is a tendency to overstate whether people live in one place or whether they are diasporic. And there's a need to place people in one category or the other. To start off with I grew up in Karachi lived there my whole life.
I was reading fiction set in England and America so my imagination was always in some other country. This may be a difficult experience for someone sitting in Karachi and only thinking and imagining Karachi. Later when I was getting published, I was based in and writing in Karachi but would travel a lot. I went to America and London for parts of the year and I'd do a lot of public events there.
So a lot of people assumed that I lived there and a lot of people labelled me a 'diasporic writer' and talked about the 'sense of displacement' in my work that comes through because that's my experience when in fact it wasn't!
Now all of it made me very cynical about this whole thing and I'd feel people just want to label you one thing or the other and that there was perhaps no room for someone like me who was living and writing in one place but was spending a lot of time somewhere else.
Click on NEXT to read further...
'I have never felt rootless'
Last updated on: February 7, 2011 07:59 IST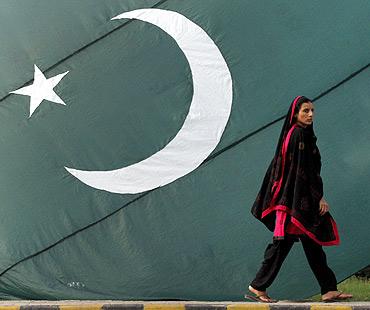 Do you believe that there is a little too much being made out of the whole 'imaginary homelands' concept since the idea of multiple identities and rootlessness seems more like a given in today's globalised times?

In some ways that is a vast presumption. Even in Jaipur you may see a lot of people who have lived in multiple places but it's still not the norm. Most people still die within 15 miles from where they're born. And this is one of those statistics that gets tossed around
I also think this is a class issue. If you're born into a class where you cannot afford to move around then you're settled in one place or the other.
But for people who are relatively affluent -- not even very affluent -- there is still movement
Then again there is the distinction between people who travel a lot and those who have moved somewhere and are trying to make a new life within a totally new context.  I think there is still a lot to be said about that piece of Rushdie and there is still a lot of truth there.

You've said that you're not very reflective about the relationship between your lived experiences and your writing. So this question is more to you as a person than as a writer: Have you ever felt rootless?

I have never felt rootless. If you spend 18 years of your life it not just becomes the soil in which your roots are planted.
I regard myself as Karachiwaali who travels and now lives in London. And it is possible to be a Karachiwaali and a Londoner. Because a large part of the nature of London -- or any other cosmopolitan city in the world -- has to do with it being a city of people from somewhere else. So it's not contradictory to be from London and from somewhere else.
So I feel Karachi formed me and that Karachi version went into the world.
Sorry to come back to Salman Rushdie but there's an essay in which he's mentioned that home (for diasporics) is everywhere and anywhere except the place from where we started. Would you agree?

(Laughs) For me the place where it started will always be a home and the first home I ever had. It might not be the last home I have. But (having said that) I do have a certain sense of casualness with the idea of home. Some people take it very deeply
To me if I am comfortable in a place where I have people I can really count on, people you can call at four in the morning and say I need to come over. If there is a place where there is more than one person like that, then you are home.
'Post 26/11, everyone feels Pakistan is a terrible state'
Last updated on: February 7, 2011 07:59 IST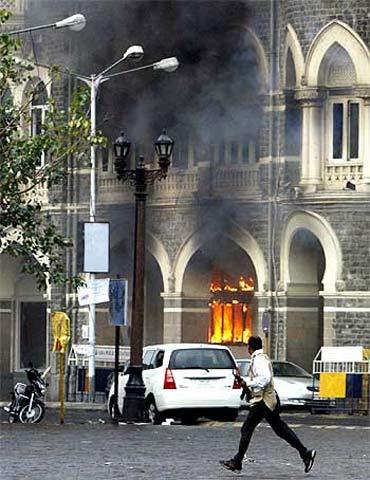 There was an article you wrote for Tehelka magazine a few years ago where you mentioned that you felt a lot more at ease telling people here that you were a Pakistani during your second visit? Have things changed after 26/11?
It's funny you mention this because I was in a car from Delhi to Jaipur and we stopped for tea. The chaiwallah asked me where I was from and I instinctively said 'Delhi'.

He looked at me and asked me (with some amount of disbelief) 'Aap Dilli mein rehti hain?' (Do you live in Delhi?')

It was late at night and I didn't want to say right then that I was from Karachi. I'm sure it would've been fine and there was nothing at all threatening about the guy but it was weird that I said it.

But I did because I wasn't sure of what response I would get here and perhaps because it could lead to a conversation, which I was feeling exhausted about having.

This is the first time I've been to India after 26/11 and the weirdest thing is that actually of all my trips to India I found the least antagonism this time. But it isn't a post 26/11 scenario but rather post Salman Taseer assassination one.

Everyone here feels that Pakistan is in such a terrible state to say 'Why you're doing this to our nation?' There's this feeling of  'Oh my god your country! I am so sorry!' The animosity is much less but it is in some way because there is a profound sense of 'We're so glad were not in your nation'!
'Taseer's assassination has left a feeling of depression in Pakistan'
Last updated on: February 7, 2011 07:59 IST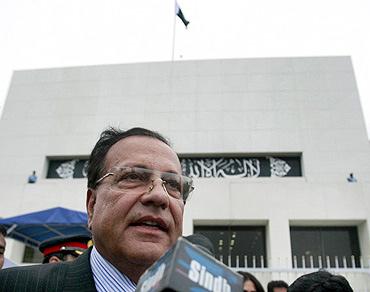 A lot of people following international news are kind of wary about how things are shaping up in Pakistan lately, especially after the events that followed Salman Taseer's assassination. Is there a side to this we aren't seeing or is there a genuine reason for us to be worried about how his killer Mumtaz Qadri is being worshipped as a hero?

I am not sure there is a side (that people are missing). Very few people in any position of power have been willing to speak against the blasphemy law. Some people may think everyone is for it when in fact there may be a lot of people who are scared (to speak out against it)
Even for us in Pakistan what just happened there -- with lawyers throwing petals -- was shocking! Even we cannot say what is going on.
What are your views on the current state of Pakistan?

The responses to Taseer's assassination have left people feeling depressed, or at least those people whose vision of Pakistan is for a place, which is not well crazy. And it seems like the space for any kind of liberal discourses is being hemmed in
But I do think it is possible that's beginning to open up.  Mohammed Hanif (because he works with the BBC Urdu service is more clued in) was telling me that people had started to speak out (only) three or four days (after the incident).
And then you find unlikely heroes like Veena Malik. She was on Pakistan television telling some maulavi to shut up and not to tell her how to she should dress and what she should do. And suddenly it was like 'Veena Malik you got us!'
It is extraordinary that someone like Veena Malik becomes this heroine, this national icon. But good for her!
I think when something's just happened it's possibly best to wait a few months to say what that moment was -- are more people willing to speak up (or not). But it is a frightening time in Pakistan.
It is telling that the guy who killed Taseer killer is 35. That means when Zia came to power, he was just one or two. He is the Zia generation and we are seeing the consequences of the jihad mentality that has been going on since the Zia years, what happened during the time and what was never rolled back.
You always hope that when things get really bad when you reach the brink there are only two ways -- you either go off the brink or you pull back. Pakistan seems to be approaching that point if it hasn't already.
I'm an optimist so I'd like to believe that some pulling back is possible.
'India, Pakistan need to give each other a chance'
Last updated on: February 7, 2011 07:59 IST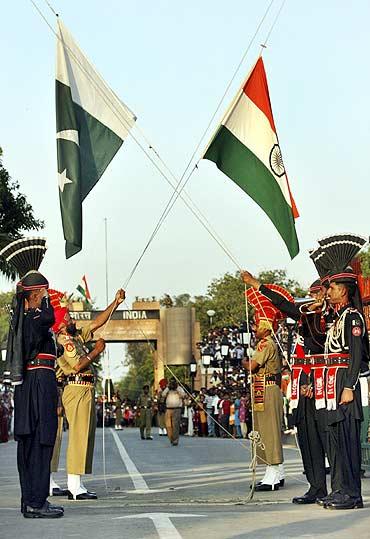 Do you see there being any hope for reconciliation of any sort between India and Pakistan?
There is always scope. I was talking to someone from Jordan and he told me that what Pakistan and India have in common with Israel and Palestine is that both sets of countries like to believe that there is something unique in their hatred; that theirs is their only hatred in the world that is irreconcilable.

All the hatred (between countries) that's ever existed in the world at some point gets sorted out.

What business do we have to say 'Hum nahi!' especially when there is so much common ground. We understand each other. If only we give each other the chance.

But in Pakistan with how bad things are we cannot afford defence budgets and the rhetoric of this kind.
We both have nuclear weapons so maybe it is time to cool down.
How would you describe your relationship with India?
It is a difficult question because I visited India only four to five times and only for festivals or conferences.
And the experience always starts with visa process that is designed to let you know you're a suspect and unwanted, which reminds you at the moment of applying and entry that you're Pakistani and your passport is marking you in some way that deserves scrutiny.

Even if you come in, you get a visa not for the country but a city. I've been to Delhi six times but I've never been able to go to see the Taj Mahal in Agra.

The visa process drags on, you have to be cleared by intelligence services and there's always a great amount of anxiety of whether you will you be let in. Once in India you don't necessarily feel foreign it all feels very familiar because the structures of the two countries are so familiar.
'Rushdie's Midnight's Children among the five books I like'
Last updated on: February 7, 2011 07:59 IST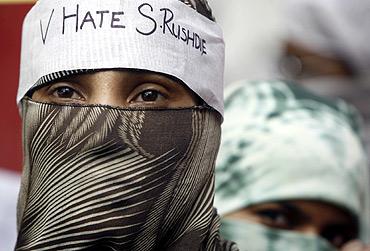 Do you read Indian authors? Can you name five Indian authors you love the most?
Rather than authors, I'd talk about the five books I liked. Salman Rushdie's Midnight's Children because it changed my idea of what was possible in a novel.
Rohinton Mistry's A Fine Balance because it is a fantastic read and you go through all these emotions; you are living with all these characters and you're torn at the end
Anita Desai's Clear Light of Day, which I believe is one of the most unheralded partition novels but one that is rarely discussed in that fashion so taut and brilliantly constructed.
The wild card I am going to throw in here is a book I was reading when my first novel was published. It's called The Gabriel Club written by this guy called Joydeep Bhattacharya, which is set in Eastern Europe. He has never written anything since and there's nothing that says 'India' but here's an Indian writer writing brilliantly about Eastern Europe.
Then there's Kiran Desai's The Inheritance of Loss which is beautifully written. I especially loved the section of the Indian in New York. In the 1980s we've had the migrant experience as a middle-class phenomenon but it is interesting to have the migrant who at the end of the day who says is better off back home. (The novel) is very sensitive about what it is to be disenfranchised in any nation.

What about the Pakistani authors you read and liked a lot?

While growing up there was Bapsi Sidhwa's Ice Candy Man which was a wonderful book and then there was Sara Suleri's memoir Meatless Days, which I was obsessed with in a way a teenager would be obsessed with a book and read it many times over.
In the last ten years there have been many authors -- Nadeem Aslam Mohsin Hamid, Mohammed Hanif (among many others) who I respect a lot and read.
'Terrorism is not a story I want to tell'
Last updated on: February 7, 2011 07:59 IST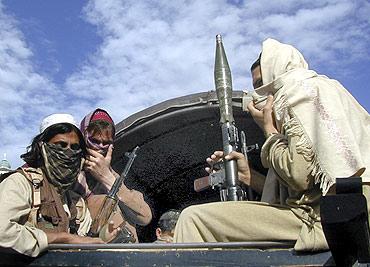 What is it like being an author in Pakistan?
For the longest time, Pakistan was the place where I would write. In the West, I would be a writer in a very public manner (attend book readings, festivals etc.)

When I was starting off there wasn't so much of a media explosion and publicity mechanism hadn't kicked in.
All that changed when Burnt Shadows came out. There was a sudden media blitz and within a week of me being in Pakistan I was attending book readings in Karachi, Lahore

It is interesting because Karachi is the place where I am most recognised as a writer.

Once I visited my sister used to teach in a school Karachi. She nudged me and when turned back and there was a line of girls walking behind us giggling.

One of them pulled a copy of one of my novels Kartography which has become particularly popular amongst adolescents and asked for my autograph. I said what a coincidence you have it right now and she said 'I always have it'.
I suppose also back then there was wasn't a lot of fiction coming out of Pakistan and people weren't seeing the fiction describing their surroundings. That I suppose is meaningful in some way.