Israel shells another UN school in Gaza! Toll hits 1,283
Last updated on: July 30, 2014 16:56 IST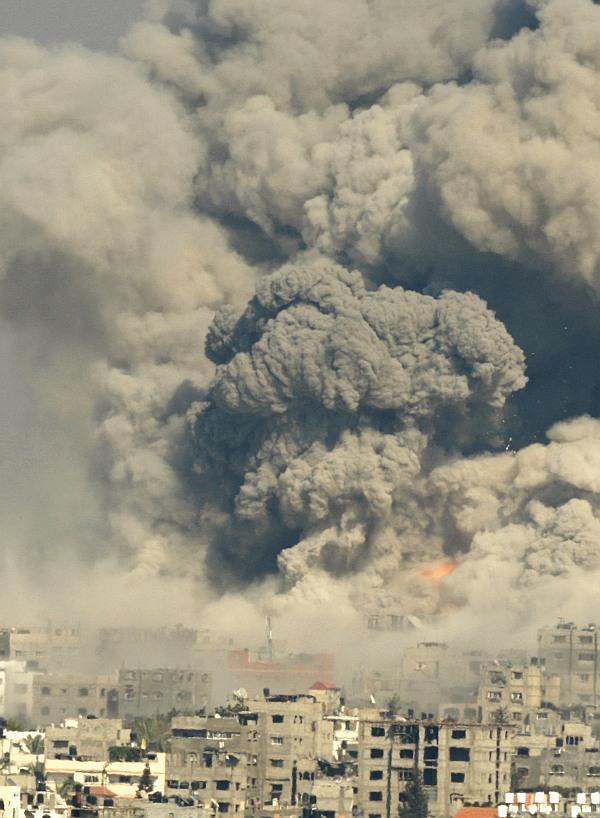 At least 50 Palestinians were killed on Thursday, including 20 at a United Nations school, in relentless Israeli bombardment in Gaza, a day after one of the bloodiest days in the fighting between Israel and Hamas, taking the death toll to 1,283.
Israeli military shelled the UN school based in Gaza's Jebaliya refugee camp early on Wednesday. At least 20 people killed in the attack, the Palestinian health ministry said.
The shell slammed into the school in northern Gaza as the conflict between Israel and Hamas entered its 23rd day. The school was being used as a shelter for those displaced by fighting, emergency services spokesman Ashraf al-Qudra said.
The incident occurred early morning, and a couple of hours after Israeli tanks had begun heavy shelling in the area.
It is the second time this month that a UN school in Gaza has come under attack. On Thursday, 16 people were killed and hundreds wounded when a UN-run school in northern Gaza was struck.
Please click NEXT to read further...
Israel shells another UN school in Gaza! Toll hits 1,283
Last updated on: July 30, 2014 16:56 IST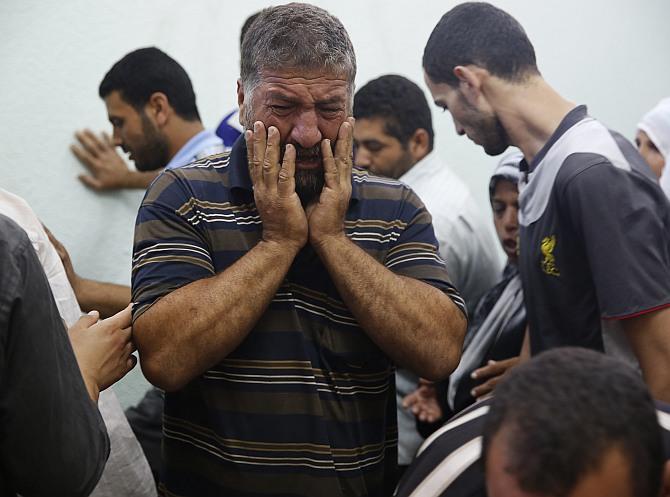 Bob Turner from the UN Relief and Works Agency told the BBC that the attack on the school in the Jabaliya refugee camp came without warning.
In a separate incident, nine members of the same family were killed when Israeli shelling struck the southern city of Khan Yunis. It came as a Palestinian delegation prepared for a trip to Cairo to discuss a temporary humanitarian ceasefire.
International efforts have so far failed to get Israel and Hamas to agree to a truce and start negotiations.
Hamas on Tuesday rejected a fresh ceasefire proposal put forward by the Palestinian Authority that called for a 24-hour truce that could be extended to 72 hours.
Israel stepped up the intensity of its strikes on Tuesday after a brief pause on Monday, saying it had hit a number of tunnels dug by militants to infiltrate and attack the country.
Prime Minister Benjamin Netanyahu also warned people to get ready for a prolonged war after rockets continued to land in Israel from Gaza.
Please click NEXT to read further...
Israel shells another UN school in Gaza! Toll hits 1,283
Last updated on: July 30, 2014 16:56 IST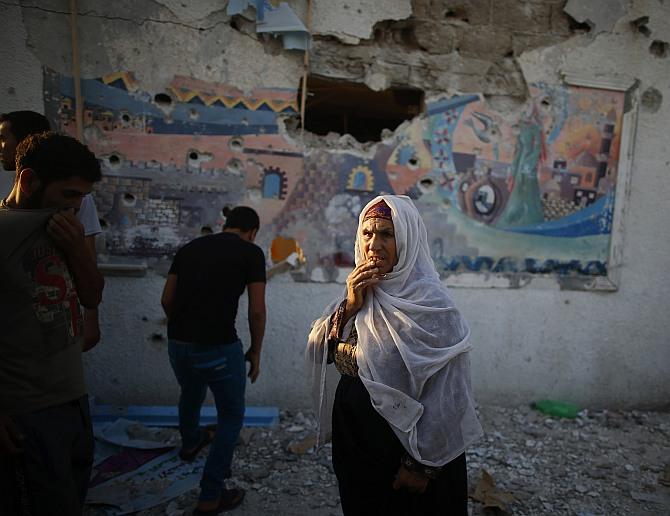 At least 10 Israeli soldiers were killed on Monday, five of them in an attempted infiltration by militants into Israel via a cross-border tunnel from Gaza, raising the number of Israeli soldiers killed to 53 since the start of Operation Protective Edge on July 8. Three Israeli civilians have also died.
Israel's aerial, naval and artillery shelling has killed some 1,283 Palestinians in the bloodiest conflict in six years, and the vast majority of Palestinian dead are civilians, Gaza officials said.
The region saw one of its bloodiest Eid days ever with 100 people killed in heavy Israeli bombardment of Gaza on Tuesday.
The Israeli offensive has killed mostly civilians, according to the UN. More than 7,000 people also injured in the conflict.
The fighting has forced over 215,000 Gazans to flee their homes in the overcrowded coastal strip, the World Health Organisation said.
The UN said that a cache of rockets had been found at one of its schools in Gaza -- the third case of its kind. But the organisation declined to give the location of the school or say who was responsible for the weapons.
In a statement, UNRWA said it was "yet another flagrant violation of the neutrality of our premises. We call on all the warring parties to respect the inviolability of UN property."
© Copyright 2021 PTI. All rights reserved. Republication or redistribution of PTI content, including by framing or similar means, is expressly prohibited without the prior written consent.