Is Cameron willing to take a risk with India?
Last updated on: July 27, 2010 12:55 IST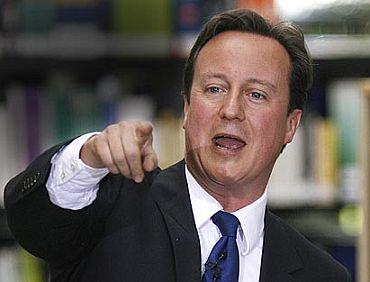 A new India-UK relationship would need to include an annual strategic dialogue, cooperation on counter terror and enlarging the role of the G-20, writes Rahul Roy-Chaudhury

Within three months of becoming Britain's prime minister, David Cameron will be undertaking his first official visit to India on Wednesday. To his credit, he has personally ensured that his Conservative-Liberal Democrat coalition government seeks a 'new special relationship' with India, following the relative neglect of bilateral relations during the previous Labour government.
The Queen's Speech to the new Parliament on May 25 announced an attempt to strive for "an enhanced partnership with India". But, such a relationship is unlikely to take place in the absence of a 'game-changing' development in the India-UK bilateral relationship.
There is a recent precedent for this in relation to the US. On October 10, 2008, India and the United States signed their landmark agreement on civil nuclear cooperation, which transformed their bilateral relations. This agreement essentially re-wrote global rules on civil nuclear commerce and trade.
It permits India to acquire fuel supplies and equipment for its civilian nuclear reactors in return for placing them under permanent IAEA safeguards, despite India not signing the NPT. On February 11, 2010, India and the UK also signed a civil nuclear cooperation agreement. Click on NEXT to read further....
UK has a window of opportunity
Last updated on: July 27, 2010 12:55 IST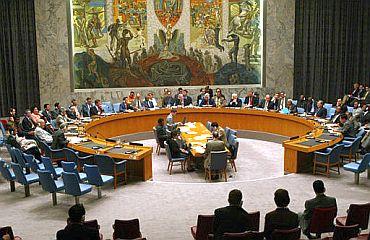 India today has formal strategic relations with 23 countries, ranging from all the P-5 members to those that have intrinsic and special value to India's regional and global interests, including Iran, Nigeria, Kazakhstan and Mongolia! Yet, the importance of the UK to India lies in its membership of the P-5 group of countries, with a veto in the UN Security Council, and in London being a global financial centre.

Most importantly, it is highly unlikely that another 'game-changing' event is likely to take place in India-US relations in the next few years, thereby providing the UK a 'window of opportunity' in this endeavour.

A new India-UK relationship would need to include: 

(i) The establishment of an annual Prime Ministerial-led strategic dialogue: Such a dialogue would provide political visibility to the bilateral relationship and could focus on a wide range of national (education and science and technology), regional and global (counter-terrorism and extremism and climate change) issues.

The most important regional issue would be a dialogue on Afghanistan, the top foreign policy priority for the UK, where Indian and UK interests appear to be diverging and India found itself marginalised in the London conference on Afghanistan last January.


The Afghanistan question
Last updated on: July 27, 2010 12:55 IST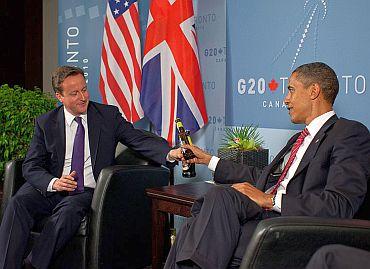 The two issues where this divergence is most clear is on the issue of 'reconciliation and reintegration' of the Taliban and Pakistan's growing influence in Afghanistan's political future.

With Cameron's government inclined to withdraw its troops from Helmand province in southern Afghanistan during this parliamentary term, the UK will continue to build on its attempts to negotiate a political settlement with the 'reconciliable' elements of the Taliban.

Earlier this month, Britain's most senior military commander in Southern Afghanistan made it clear that it was in Nato's interest to talk to the Taliban in the interests of peace. In contrast, India is suspicious of such an approach, which it sees as leading to the legitimisation of eventual Taliban rule in Afghanistan, even as its own policy has shifted.

From being a strong critic of a 'good/bad Taliban approach', it is now agreeable to a modicum of 'reintegration'.

Speaking at the International Institute of Strategic Studies (IISS) on February 22, Foreign Secretary Nirupama Rao made it clear that such a process should be "Afghan-led, and should include only those who abjure violence, give up armed struggle and terrorism and are willing to abide by the values of democracy, pluralism and human rights as enshrined in the Afghan Constitution".


UK and India have common agenda
Last updated on: July 27, 2010 12:55 IST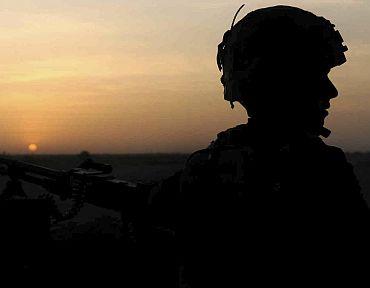 In addition, India is concerned over the growing influence of Pakistan in terms of its links with the Afghan Taliban, which has continued from the time of the Mujahideen operations against the Soviet occupation of Afghanistan in the 1980s.

Whereas the ISI's links with elements of the Afghan Taliban are seen by the UK as a prospective leverage for negotiations, India is especially concerned over a Pakistani role in bringing the Haqqani faction, held responsible for the two attacks on the Indian embassy in Kabul, to the negotiating table, which it will strongly oppose.

(ii) Boosting cooperation on counter terror and intelligence sharing: A primary security concern for India today is a spectacular terror attack in the run-up to the October 3-14, 2010 Delhi Commonwealth Games, which could result in some of the 70-plus countries reconsidering participation.

A specific threat to the Games was made in February 2010 by Pakistani militant Ilyas Kashmiri, commander of the Harkat-ul-Jihad al-Islami terror group.

Despite progress on this issue in the last few years, differences emerged in the investigation of one of the two June 2007 Glasgow bombers, Indian national Kafeel Ahmed.


India must step up to its new role as a responsible power
Last updated on: July 27, 2010 12:55 IST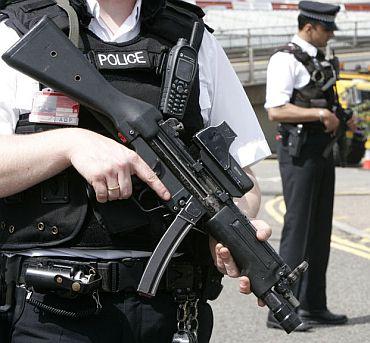 The last Joint Working Group on Counter Terrorism was held in December 2008. The newly established UK National Security Council and a National Security Adviser provides a unique opportunity to build relations with their Indian counterparts, in existence for the past decade.

(iii) Reforming global financial institutions and providing a greater role to the G-20: India's economic growth primarily drives its emergence as a strategic power with increasing global reach and importance in international affairs.

Yet, its emergence as a new economic power is not reflected in the leadership or decision-making structures of the International Monetary Fund or the World Bank (where it is the seventh largest shareholder).

The G-20, with India and the UK among its members, could also be further empowered. The UK is one of the few countries that publicly supports India's membership of a reformed United Nations Security Council, though there is no consensus on reform itself.

At the same time, India would need to reassure the international community of its growing legitimacy in international economic affairs and 'step up' to its new role as a responsible power.


Is Cameron willing to take a risk with India?
Last updated on: July 27, 2010 12:55 IST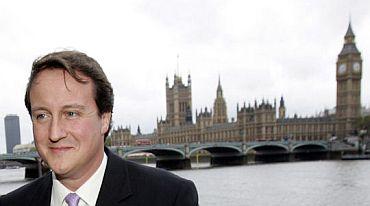 For the UK, the key question is whether it is willing to take a risk with India and work together on a 'game-changing' event; and also, whether the UK has the power and the influence to do such global facilitating.

Meanwhile, India remains concerned over the new British coalition government's formal intention to "...stand firm on human rights in all our bilateral relationships", if this is intended in relation to the Kashmir dispute, the tribal or the Dalit community.

Another problem is that India may not be able or willing to adequately reciprocate the UK's commitment to an 'enhanced partnership' in view of its varied priorities, and may therefore ultimately end up rebuffing it.


Source: