Is Pawar trying to attract Yeddyurappa into NCP?
Last updated on: December 16, 2011 14:42 IST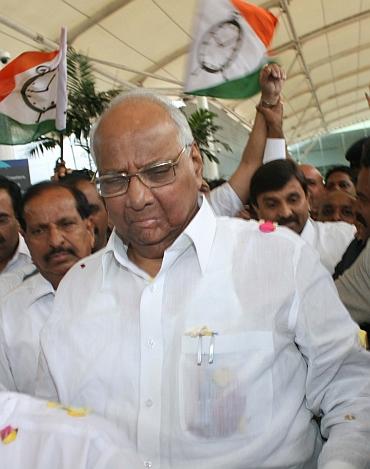 The Nationalist Congress Party has been sending out feelers to sidelined Bharatiya Janata Party leader B S Yeddyurappa and former Karnataka minister B Sriramulu to join the party. Vicky Nanjappa reports.
Former chief minister of Karnataka, B S Yeddyurappa, cozying up with the Nationalist Congress Party has set the cat among the pigeons in the Bharatiya Janata Party. The party's central leadership has a month to decide how to accommodate Yeddyurappa with a better position in the party.
This latest development in the BJP and also the dissidence within the Karnataka Congress has caught the notice of NCP chief Sharad Pawar, who will visit Karnataka after the winter session of Parliament and hold talks with the disgruntled leaders.
The NCP's first choice in Karnataka is former chief minister Yeddyurappa. It is felt that he is the only leader who can still win an election. The NCP has been looking for opportunities in other states to increase the number of MPs it has in Parliament.
Click NEXT to read more...
'Better to join existing party than float new one'
Last updated on: December 16, 2011 14:42 IST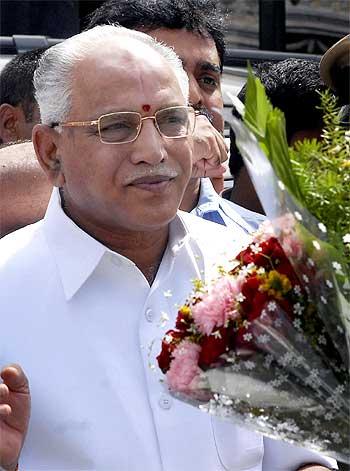 The Yeddyurappa camp, which has been in discussions for a powerful role for the leader, feels that it would be better to join an existing party than float a new one.
Moreover, the former CM also feels that if he joins an existing party and delivers the goods, he could become the undisputed leader, unlike within the BJP where there is always a tussle for power.
The NCP has sensed this urgency among various leaders in Karnataka and has sent out feelers to them. If Yeddyurappa decides to bite the bait, he would move out of the BJP with at least 18 members of legislative assembly. Although he enjoys the support of over 40 MLAs in the party, only half of them are likely follow him in case he decides to change his party.
The NCP is also aware of the fact that at present Yeddyurappa is the only leader in Karnataka who is capable of getting seats on his individual capacity. Pawar believes that he can get at least 10 Lok Sabha seats if he is able to rope in Yeddyurappa into his party.
Pawar, who is clearly eyeing the post of prime minister in the 2014 elections, will visit Karnataka in January. While Yeddyurappa joining Pawar is doubtful, the NCP chief will be meeting the 10 Congress MLAs, who are ready to switch loyalties.
Click NEXT to read more...
'Sidelining Yeddyurappa could prove fatal for BJP'
Last updated on: December 16, 2011 14:42 IST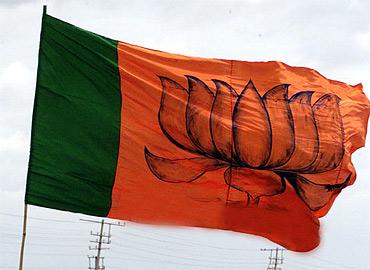 Another leader that Pawar is eyeing in Karnataka is former Karnataka minister B Sriramulu, who is now being wooed by the Janata Dal-United. Sriramulu met with state leaders of the JD-U following which he had said that Sharad Yadav and Nitish Kumar had expressed their desire to have him in the party. However, he would only decide once he holds talks with his supporters, Sriramulu had said.
Pawar, during his visit to the state, would also send out feelers to Sriramulu.
In the case of Yeddyurappa, Pawar would have to wait at least another month before he gets any signals. Yeddyurappa made a last ditch attempt to get a bigger post within the BJP when he sent 20 of his followers to meet party president Nitin Gadkari in Delhi on Thursday. His supporters told Gadkari that there was no point sidelining Yeddyurappa as it would prove fatal for the party.
Although Yeddyurappa is eyeing the post of chief minister once again, his party seniors are not open to the idea as it could send out a very wrong message. Gadkari, after the meeting, told his supporters to wait at least another month before they could do something for Yeddyurappa. Although the demand for being made chief minister has been made, Yeddyurappa could be convinced to stay back in the BJP if offered the post of state party president. This post would mean that he would get to become the CM once again in case he is able to lead his party to victory in the next elections.
Other Top Slide shows
Last updated on: December 16, 2011 14:42 IST