Man who 'booted' Bush released
Last updated on: September 15, 2009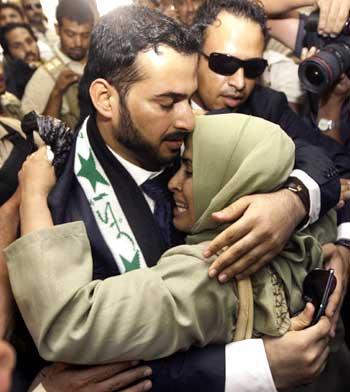 Iraqi television journalist Muntazer al-Zaidi, who threw his shoe at former US president George W Bush in Baghdad last year, has been released from prison.
Muntazer, 30, was initially sentenced to three years for assaulting a foreign head of state but had his jail time reduced to one year on appeal.
He is being freed early because of good behaviour.
Under Iraqi law, all prisoners jailed for one year without previous convictions, and who show good behaviour, automatically get out after serving three quarters of their sentence.
Man who 'booted' Bush released
Last updated on: September 15, 2009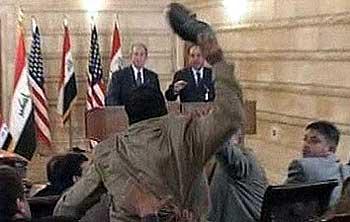 Zeidi, speaking after his release, called Bush a 'war criminal' who 'destroyed my country and after six years, he came to Baghdad, pretending the victory'.
"Somebody said, 'Why didn't you ask George Bush a question, embarrassing him with that'," he continued.

"They told us before the press conference, 'Don't embarrass Bush by questions'. This was the order before the press conference. I just tried to express what I was feeling."
Man who 'booted' Bush released
Last updated on: September 15, 2009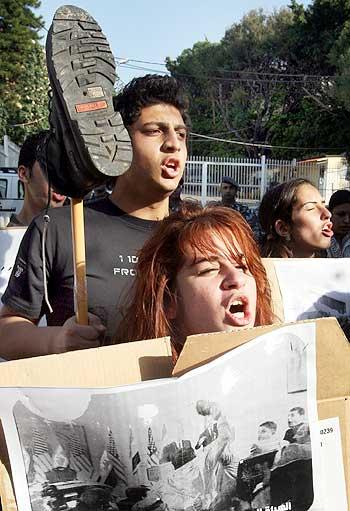 Muntazer shouted, "It is the farewell kiss, you dog," at Bush on December 14, 2008, seconds before hurling his size-10 shoes at the man who ordered Iraq be invaded and occupied six-and-a-half years ago.
Although Bush, who successfully ducked to avoid the footwear and laughed off the attack, the incident caused massive embarrassment to both him and Iraqi Prime Minister Nouri al-Maliki.
Muntazer faces the prospect of a very different life from his previous existence, as a journalist for Al-Baghdadia television -- a small, privately owned Cairo-based station, which has continued to pay his salary.
Man who 'booted' Bush released
Last updated on: September 15, 2009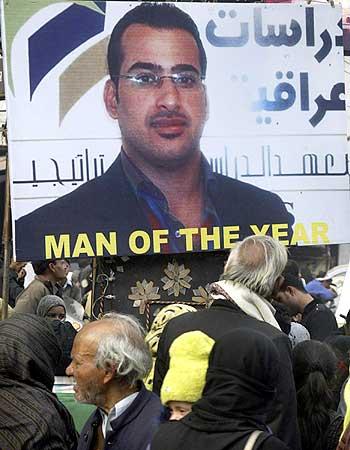 Muntazer's boss has promised the previously little-known reporter a new home as a reward for loyalty and the publicity that his actions, broadcast live across the world, generated for the station.
But there is talk of plum job offers from bigger Arab networks, lavish gifts such as sports cars from businessmen, a celebrity status, and reports that Arab women from Baghdad to the Gaza Strip want his hand in marriage.
"One Iraqi who lived in Morocco called to offer to send his daughter to be Muntazer's wife. Another called from Saudi offering $10 million for his shoes and another called from Morocco offering a gold-saddled horse," said Editor Abdul Hamid alSaij.
Man who 'booted' Bush released
Last updated on: September 15, 2009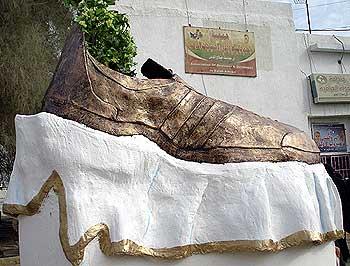 Earlier in the day, the family of the Iraqi journalist claimed that he was brutally tortured and repeatedly injected with "unknown substances" while in jail.
'They injected him with substances but he had no idea what they were. Every time he tried to refuse having the injections, the doctors would say, 'You don't know our job better than we do',' Times Online quoted Uday, the bother of al-Zaidi, as saying.
Uday said that his brother was burned with "cigarettes behind his ears, had his ribs and nose broken".
According to him, Al-Zaidi was tortured after he refused to write and sign a letter of apology to Bush and to the Iraqi Prime Minister, Nouri al-Maliki, who was standing next to the President during the incident.
Man who 'booted' Bush released
Last updated on: September 15, 2009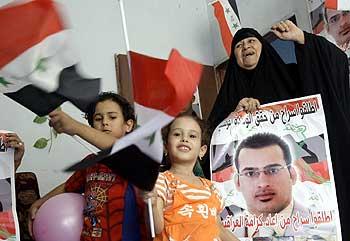 Al-Zaidi has no plans for returning to journalism or joining politics.
He will set up a human rights group, Uday says.
"He will not go into politics, contrary to what has been said in the past. He wants to do something to help the Iraqi people," he said, adding, "And he has done more to help Iraqi people with his defiance than any politician has."
"He doesn't want his work to be a circus. Every time he asked someone a difficult question they would have responded by asking whether he's going to throw his shoes at them," says Vergam.
AGENCIES