'Safety is not a priority in Indian Railways'
Last updated on: July 13, 2011 08:09 IST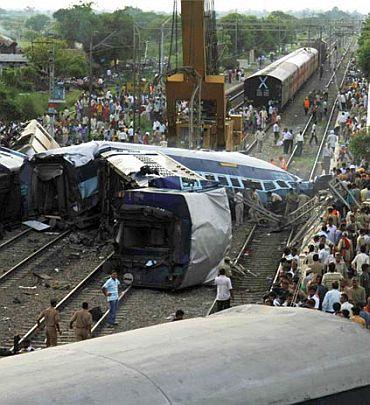 The Trichy-based Consumer Protection Council, a voluntary consumer rights organisation, was founded as a consumer movement in 1974 by Dr Rajiv Taranath, R Krishnamurthy, M Meeenakshi Sundaram and S Pushpavanam.

In an interview with rediff.com's Shobha Warrier, S Pushpavanam, who is the secretary of the CPC, talks about the spate of rail accidents in the last few days and what the civil society can do about this.
Three railway accidents in four days. Is this a mere coincidence or is there something seriously wrong with the Indian Railways?

It is a systemic failure. I wouldn't say it was because there was no minister that the accidents were happening. Minister or no minister, if the system is fine, everything will go fine.

Safety does not get its due place in the scheme of priorities in the Indian Railways. The Kalka Mail accident might have happened due to two reasons; one, the track failure and the other, mechanical failure.

Click on NEXT to read further...


'Mechanical failure means lack of maintenance'
Last updated on: July 13, 2011 08:09 IST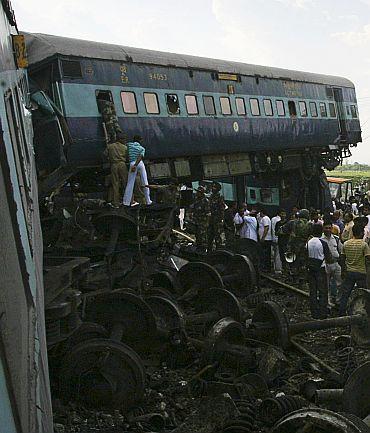 The British had introduced a beautiful system of track inspection.

This is how it works. A track inspector starts from station A and meets another track inspector from Station B half way.
They exchange information and tokens and return. This is done every hour at night and every four hours in the day.

Obviously, this has been stopped now. If it was there, they would have found out the problem.

Another reason could be the mechanical failure. The trains have air brakes and when the driver applies the brake, the effect goes to all coaches.

Mechanical failure means lack of maintenance.
'Brakes are meant to be applied suddenly'
Last updated on: July 13, 2011 08:09 IST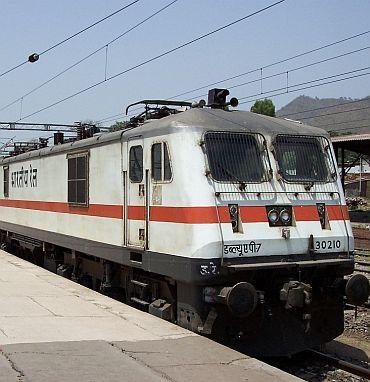 So, the talk of driver applying sudden brake while going at high speed is ridiculous.


See, the brakes are meant to be applied suddenly. You cannot say that you can apply brake only when you are going at 10km/hr. When you apply a sudden brake while travelling in a scooter, it may skid but not a train with so many coaches. It is the lack of maintenance that caused this accident.


It is not just lack of maintenance, look at the way they reacted to the accident.

In developed countries, even when a car accident takes place, helicopters are pressed into service to take the injured to the hospital at the earliest.

Here, the accident took place at 12.30 pm and the first helicopter reached only at 5 pm. If the railways did the post-mortem of everybody, then you will know how many of them died suddenly and how many later.
'It is unbelievable, Railways do not have even one helicopter'
Last updated on: July 13, 2011 08:09 IST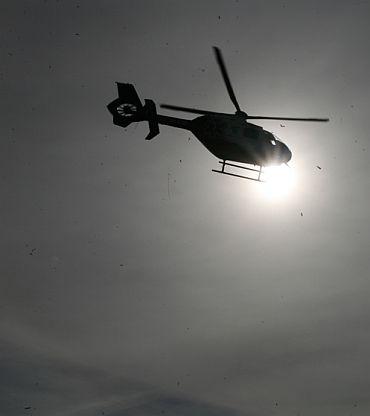 If the helicopter had reached there within an hour, many more lives could have been saved. Every industrialist has his own helicopter in India now. It is unbelievable that the railways do not have one. They are not even talking about this.

Lakhs and lakhs of people travel in trains every day in India...

Not lakhs. In India, 1.7 crore people travel by train every day.

You said the railways don't give importance to safety. Why is safety not in their priority?
Human lives are not important in India. In other countries, even if only one person is involved in an accident, they send helicopters for giving medical aid to the person.
Human lives are valuable there. Here, they don't bother. 
'There is no accountability in the railways'
Last updated on: July 13, 2011 08:09 IST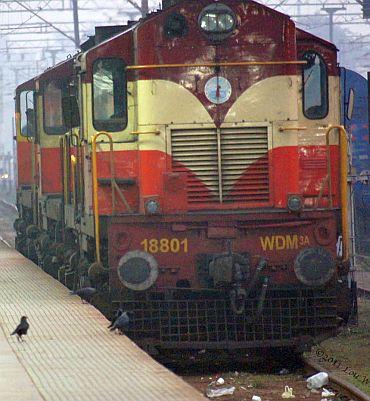 Is it because of the casual attitude?


Yes, it is the casual attitude. It is not that we are poor or we have no money. We have enough money now.
But there is no accountability in the railways. You see coaches roll, bogeys roll, wagons roll but no railway head rolls. No Divisional Manager or Divisional Railway Manager is suspended because of an accident.

Look at the drivers. We have 8th class, 10th class pass drivers. They must all be weeded out. The railways have started it by calling them as loco pilots and they have appointed a few diploma holders.

Why can't they do it in one stroke? You also need properly trained people. All this requires intention and seriousness.
'Railway authorities can do anything and get away with it'
Last updated on: July 13, 2011 08:09 IST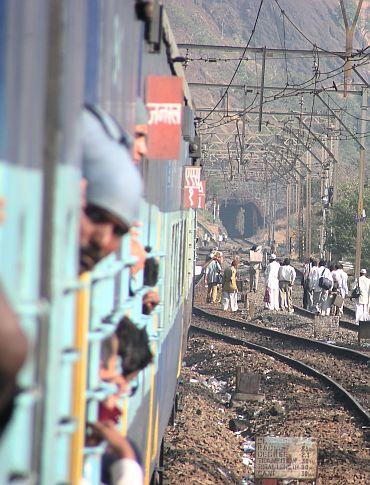 So, who can bell the cat?


People must demand and the railway minister must do it. We have every right to demand safety. We have every right to demand for a well-qualified driver.
How can an ordinary train traveller demand safety in trains?

Like (social activist) Anna Hazare has been demanding transparency and accountability, civil society must express our protest before the parliamentarians to do enough so that there is safety in train travel.

Railway as a transport system carries the maximum number of people in India. But why is it that the authorities are so callous about the safety of the passengers?

It is because the railways is a monopoly. There are private players in all the other areas like road and air and here; there is no competition at all.
Also, the railway authorities are so complacent; they can do anything and get away with it. Because there is no alternative, no matter how many trains derail, people travel on the Indian Railways. And even when no DM or DRM is suspended, we have to put up with that.
'Railways has always been a pocket for politicians to fill in their people'
Last updated on: July 13, 2011 08:09 IST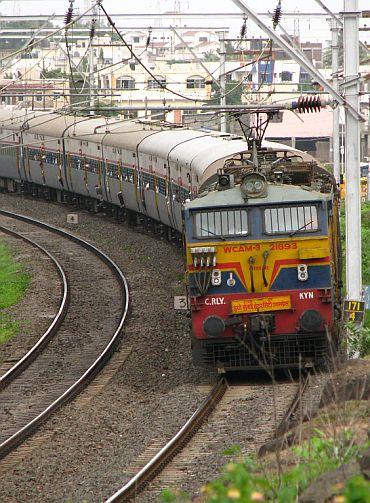 So, the monopoly of the railways must end and private players must be allowed to operate at least in a few sectors.

The bureaucracy will protest, as they will lose all power when private players come in.

What are the other ills that affect the Indian Railways?

One, the railways suffer from exceedingly high staff cost. Fifty five per cent of the budget cost goes to pay the salaries and pensions of the staff. No efficient organisation will function like this.
Railways has always been a pocket for politicians to fill in their people. In short, they use it for political patronage. This must stop.
In the railways, everything can be done by machines. Why do they need so many people?


'Why I should pay more to travel safe?'
Last updated on: July 13, 2011 08:09 IST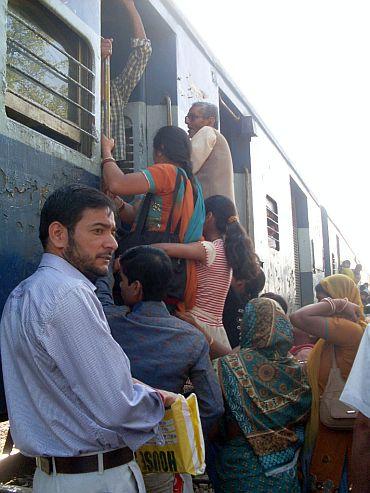 If you compare the Indian Railways with the railways of any other developed country, we have ten times more people per kilometre.

Because 55 per cent of the budget is spent on paying salaries and pensions, do you feel safety is neglected?

That is the tragedy. Nitish Kumar, in 2001, allotted Rs 17,000 crore to the railways -- Rs 10,000 crore from the budget and Rs 7,000 crore to be collected from the passengers.

All of us have paid Rs 20 as safety surcharge. They continue to collect it as development tax. And I protest.

It is like if you are travelling in a bus, and if you want to be carried safely, you pay more! It is ridiculous.

Travellers can protest in different ways; through several mediums. Internet is a powerful medium to spread awareness.


'They don't have the will to upgrade'
Last updated on: July 13, 2011 08:09 IST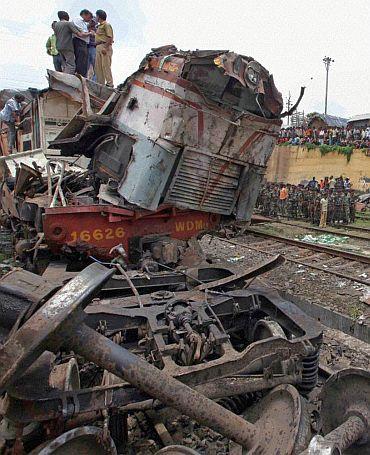 Do you think we are going to see more and more accidents?


I am sorry to say that we are likely to because the system has not been changed. We have the technology but we have to apply it at the right place.
Do you envisage any change in the system in the near future?

In every budget, they talk about system up-gradation, introduction of technology, safety etc. The railways also talks about it. But nothing much has come out of it. That is because they don't have the will to do it.
'More voices must be raised against the system'
Last updated on: July 13, 2011 08:09 IST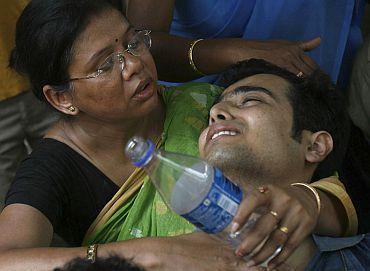 Ghani Khan Chowdhury (Congress leader) was called the minister of Malda, Mamata Banerjee was called the minister of Kolkata, CK Jaffer Sharif (Congress) was called the minister of Bengaluru -- that was the state of Indian Railways.

What has to be done is, we have to spread awareness and more and more voices should be raised against the system.
Unfortunately, our voices are not heard. 

Do you have hope?

Now that there is more activism in the society, and people like us have been called to talk on national channels on rail safety, I see hope.
Consumer Protection Council can be contacted at  consumerpc@rediffmail.com