'Delhi Metro is performing well because of systems in place'
Last updated on: December 9, 2011 17:31 IST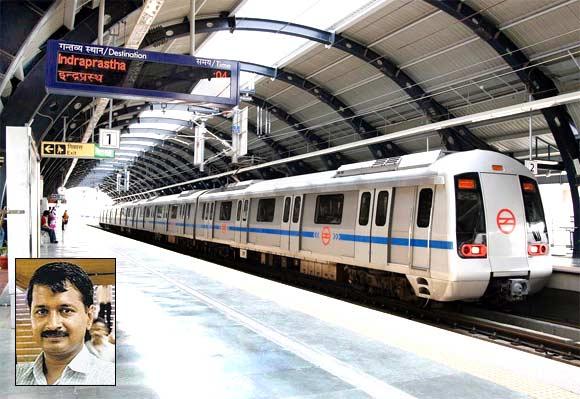 Last week Sheela Bhatt spoke to Team Anna member Arvind Kejriwal about the government's Lokpal bill in the first part of an interview. On Friday, as the parliamentary standing committee submitted its report to Parliament, we bring you the second part of the interview with Kejriwal.
 Part I: 'The government's Lokpal Bill will be an empty tin box'
Arvind Kejriwal on how the Lokpal will remain clean:
It is a wrong way of looking at things. It is incorrect when you ask me how are you ensuring the character of the army of 20,000 working under the Lokpal. Actually, no one is born honest or corrupt. It is the system that makes you honest or corrupt. The same set of people in one department is very corrupt but when they go to America they become very honest. When they go to a different system they behave in a very different manner. So, it is the environment and the system of that particular department that makes people honest or corrupt. 
Till now, in this country, we have not paid any attention to governance systems. For the first time we are talking of addressing this issue of governance system. For instance, there are very small departments in the government with less than even 200 people. And even some of them are corrupt. You have the Delhi Metro which has more than 7000 people but it is performing very well. Why? It is not that E Sreedharan sits on each and every person's head; it is because he has developed the right kind of systems. So anyone who comes there behaves in a particular manner. And many of these officers in Delhi Metro come on deputation from the railways. When they come to Delhi Metro they behave properly.
I think we need to talk of the right kind of systems and it is precisely these systems that we are attempting to put in place through the Janlokpal bill. So, whether you have 20,000 people or 200 people, it is the system that will govern the character and the performance of the people in that particular organisation.
The Lokpal will be not alone. It will be an 11-member body, hopefully. The power of the Lokpal will be dispersed among some 20,000 strong staff. The Lokpal will only investigate corruption. It will not announce punishment. For that the matter will go to the normal courts.
See, we have had an open mind. We made 14 drafts of the Janlokpal bill based on a huge amount of consultation and we got 3000 suggestions that we weighted and incorporated some of them.
Is India ready for a Lokpal who will have sweeping powers?
Which are the powers that you think are illegitimate that we are suggesting to the Lokpal? See, it is the Lokpal's job to investigate in any allegation of corruption. Now you are not even giving him the power of investigation, you are saying investigation will be done by a different body. So all that we are suggesting is that the Lokpal will have the duty to investigate any allegation of corruption, so the anti-corruption unit of the Central Bureau of Investigation has to go under the Lokpal or create a body under the Lokpal to investigate.
Also, the Lokpal is not keeping a "check" on the entire bureaucracy, it is just entertaining complaints of corruption. That's it. For instance, you have the income-tax department who has the job of keeping a check on the income of 120 crore people. They're just keeping a check on the income-tax affairs. You have the excise department, which is supposed to keep a check on the excise affairs of 120 crore people. Here you have a Lokpal which is supposed to keep a check only on corruption of just 60 lakh people. The government is confusing the people.
'They will defame the people who speak against corruption'
Last updated on: December 9, 2011 17:31 IST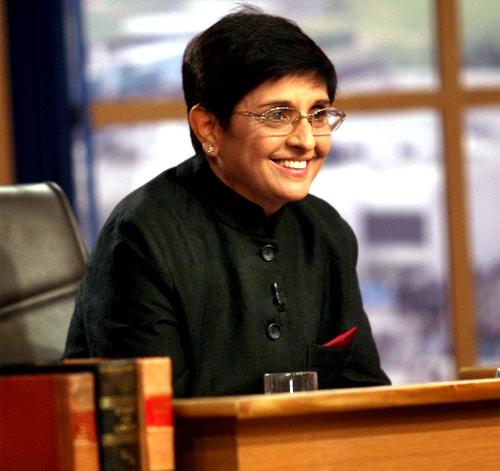 On his own and Kiran Bedi's personal controversies:
Let us assume there are a large number of wrong things in our lives. Is that the issue? The issue is the Lokpal bill. The issue is not Arvind Kejriwal, the issue is not Kiran Bedi. The issue is not Anna Hazare. The issue is the Lokpal Bill. We are fighting for the Lokpal Bill.
If we have done anything wrong, we are offering ourselves to any kind of scrutiny from any government agency... put all the government agencies against us. We are merely saying that we are citizens of India and we can see huge corruption that is taking place around us and we are against it. We will speak against it. You may keep throwing muck against us, we will keep raising our voice against corruption.
It is wrong to sum up that those who live in glass houses should not throw stones. We are saying you may throw muck at us, still we will raise our voice against corruption.
I know, people expect high moral standards from us. I have no idea what kind of answer you are expecting from me on the issue. But, I will say two things: whoever is opposing corruption in India, muck will be thrown at that person. And, they will use the same logic, that those who live in glass houses shouldn't throw stones at others. Instead of talking about the vital issue they will defame the people who speak against corruption.
I will keep repeating, that if you find me guilty of corruption then take the strictest action against me. But, I won't remain silent.
I humbly think, none of these charges which are being thrown at us are sticking. Just because they throw muck at you and if you start deserting the public movement, then you are giving in to their pressure tactics. I think, therefore, it cannot be decided whether I have done something wrong or not in an interview with Sheela Bhatt. It can only be decided through an independent agency.
If, we had avoided any kind of enquiry, you could have found fault with us. We are inviting all kinds of enquiries, we are even suggesting that, okay, all of you people ( who are pointing fingers at Team Anna) are very honest, that all Team Anna member are very dishonest. Please put a very strong Lokpal in place, get us investigated and give us the most stringent punishment.
But, I assure you, we will keep on fighting for a strong Lokpal. We have fire in the belly because so much corruption exists and so much injustice is prevailing in our society.
On charges of him being a megalomaniac:
As you say that I am a megalomaniac and you are claiming that some people say I am a megalomaniac, I would, it is very natural for me to do so, deny that it is wrong. But I would suggest that if you could point at specific incidents where I did something which I should not have done, it would help me in improving myself. And I can assure you that I will improve.
'Our movement has been political right from the beginning'
Last updated on: December 9, 2011 17:31 IST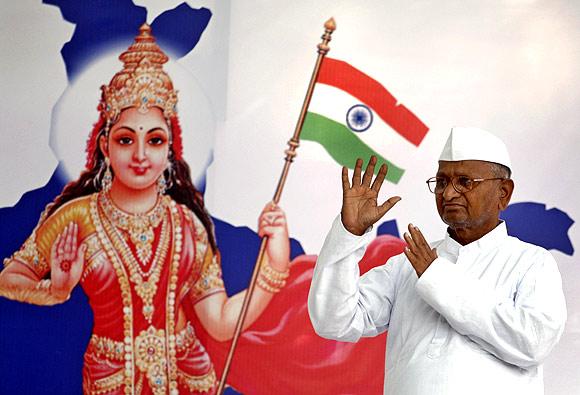 On his sending dues to the prime minister directly:
I am quite surprised that if an ordinary officer of the income-tax department writes a letter directly to the PM, then the (former) officer is termed as a megalomaniac because of that. I disagree with you. It is contrary to the spirit of democracy. It is a British legacy that we have such a strict hierarchy that we can't even write a letter to our PM. In a democracy an ordinary citizen, if he writes a letter to the PM, is termed as a megalomaniac! Don't you think we need to change these systems? Why should the PM be placed on such a high pedestal? That an ordinary citizen should not even have the guts to write a letter to the PM?
On him being a political animal:
Firstly, the fight against corruption cannot be apolitical. As soon as I say that Yeddyurappa is corrupt or if I say A Raja is corrupt, these are political statements. So our movement has been political right from the beginning. Though it is above party politics,  it is above electoral politics. It is people's politics that we are advocating. We want the power to flow to the people of this country. Just like Right to Information Act gave the power to the people to demand information, we want a strong Lokpal Bill which will give the power to the people to send any corrupt politician or bureaucrat to jail. So we are fighting for the people. That's it! I mean, it is a hardcore political battle but it is above party politics, it is above electoral politics.
On how the BJP gains by default:
I completely agree that if the ruling party does not do its job properly, the advantage goes to the Opposition. Though I disagree it is only the BJP which is benefiting out of it, it is all the opposition parties in the state, it is the regional opposition parties which are going to benefit out of it. But for that we are not to be blamed. It is the congress that is to be blamed. If the Congress brings a strong Lokpal Bill, they would benefit out of this campaign. It's absolutely wrong to say that I am close to Sushma Swaraj or Arun Jaitley. We have not met any RSS functionaries to request support for the movement. Does using Bharat Mata picture on the dais make one right-wing? Are you not losing substance for form?
On his action plan after the parliamentary standing committee's report:
Let's see. Wait and watch. We'll have to read the standing committee's report and the final draft. I think that's a hypothetical question. We'll have to see the report and the bill. But, if it is a bad bill, if it is an ineffective bill, obviously then there will be an andolan. We are sure people will support us a third time a swell. The number of people who came to Ramleela maidan was ten times more than at Janpath. You can trust this government to discredit us, again. They will repeat their old mistakes, again!
The government is not obliging us if they pass the Lokpal bill. They should have done it 40 years back. Whatever they are doing is incomplete. In fact, the kind of conspiracies that we have faced in the last six months I have not faced throughout my life. It has been quite a journey. And, it has been a memorable journey. Our energy is still the same that we had at Jantar Mantar in April because we are looking for a solution to corruption in India.
'Within a family there are disagreements'
Last updated on: December 9, 2011 17:31 IST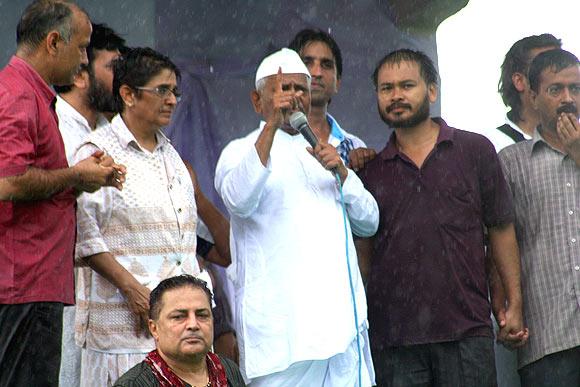 On the charge by Anna's aide about strains in Team Anna:
It is completely wrong that Anna has called him (Raju Parulekar) up to stop exposing him. Anna has not spoken to him at all. Anna has not spoken to him and this is mischievous to say that there is any kind of videos of Anna and the team. I can assure you there is no misunderstanding among us. These are completely mischievous reports and wrong reports. Surely, within a family there are disagreements but that can't be termed as some kind of the war among us. There is no mystery behind us.
Anna is our elder and he is THE leader. This entire movement is being done under his leadership. All of us are supporting him. That's it. It is just the case we have faith in each other and that's it. There is nothing so mysterious about us. It's a very plain and simple human relationship. We are not forming any political party. We have decided that we should remain ordinary citizens of this country and empower people. Once the Lokpal bill becomes a reality we will shift our attention to electoral reforms. Let us finish this first.
Right now, we are fighting for time-bound action against corruption. We want deterrence against corruption. We will see if it carried the Sense of the House or not as promised by the parliamentarians.
On whether an aged Anna can undertake a fast again:
You should ask him this question. Ask him why at this ripe age he is undertaking a fast. We think it is entirely Anna's choice. If he takes a decision to go on fast I will do my best to implement his decision. Don't you think that in such a mature democracy, it is high time we got rid of corruption? Any fast against the government is justified because the government is in power because it has the capacity to prepare the bill and get it passed.
The day the government becomes incapable to pass any bill its authority gets eroded.
I think the UPA government has the capacity to pass the Lokpal bill but doesn't have the willpower. Please pray for the Lokpal bill. If this opportunity goes to get a strong Lokpal bill I don't know when the new opportunity will come. I agree with you that the BJP, Congress and some other parties are in the same bracket on issue of the Lokpal. But, what should we do if they won't allow the Janlokpal bill? I am of the firm opinion that we should not accept blindly whatever the standing committee is proposing. We should not withdraw our movement by accepting a weak Lokpal bill saying that, 'Okay, let's accept. At least a beginning has been made'. It never happens that you accept a weak bill and then work for the stronger one. That will take the steam out of the Janlokpal movement.
Whenever any people's movement is at its peak the authority will throw some crumbs and say withdraw the movement, let this bill get on track and we will work on it later. That's just not done. People will get disappointed and will go home. As time passes by people will even forget about it. That will kill the movement. 
On his achievement so far:
In terms of the Lokpal Bill I feel there is pretty little that has been achieved. In terms of mass mobilisation, raising the consciousness of the people and uniting the people of this country against corruption, I think it's been a huge achievement.