'This is Indian hypocrisy'
Last updated on: November 3, 2010 11:08 IST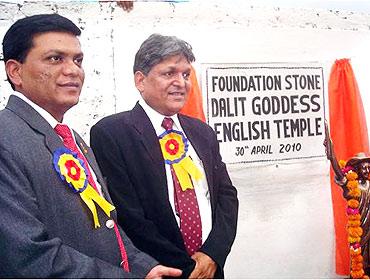 Why is a temple being built to the Goddess English in Uttar Pradesh? Rediff.com's Archana Masih speaks to the man behind this novel venture.
There couldn't be a greater champion of the English language than Chandrabhan Prasad.
Prasad, a Dalit thinker, celebrates Thomas Macaulay's birthday every year and was in the process of building a temple to Goddess English in a village in Uttar Pradesh until the construction was stopped by the district administration saying they did not have permission to do so.
Prasad was aiming to inaugurate the temple on October 25, Macaulay's birthday, and still hopes that the construction will resume soon.
He says people may think his belief in English is bizarre and snigger at him, but the same people move heaven and earth to ensure their children go to the best English schools.
Prasad -- who was introduced to the English language when he came to study at Delhi's Jawaharlal Nehru University from Azamgarh in Uttar Pradesh -- is persistent in the belief that by revering Goddess English, uneducated Dalit mothers will make sure that their children learn English
'It will be impossible to find a decent job if you don't know English'
Last updated on: November 3, 2010 11:08 IST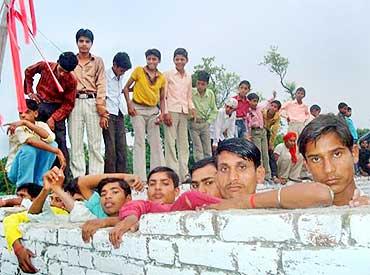 "Why should it remain the language of the privileged?" asks Prasad who remembers being discriminated by the upper castes when he was growing up in his village.
Dalits were made to sit separately at weddings and there was no Dalit child his age who did not eat roasted rats -- the only Dalit meat.
In an interview to Rediff.com's Archana Masih he explained why English was important for young Dalits to get decent jobs and stressed that new methods were needed in social movements for emancipation because old tricks won't do.
You say building a temple to Goddess English will help Dalits learn English. It certainly is not as simple as that.
If you advise people to teach English to their children, there is a chance it may not be taken. So I thought Dalit women could worship English as a goddess.
I tell them that you don't have a goddess, you have Lord Buddha but no goddess, so English is your goddess because English was the language of your emancipator Dr B R Ambedkar.
My assessment is that if women start worshipping English as mother goddess there's no way their kids will escape A B C D. So this can spread as a powerful phenomenon and have more effect than a campaign or writings.
It's not that every child will learn English but once it comes into fashion it will transform lives because in 10,15 years it will be impossible to find a decent job if you don't know English.
'In wedding vows they promise to teach English to their children'
Last updated on: November 3, 2010 11:08 IST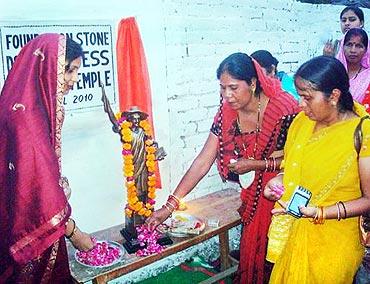 E
ven if mothers desire that their children learn English, their villages may not have the means to provide them that English education.
Once there is a demand there will be somebody to supply it. There are conflicts in the entire UP countryside.
The unemployed are opening schools with marginal fees of Rs 50 to Rs 100 a month. Parents prefer sending kids to private, rather than government, schools.
Now there is some government rule that if there are less than 20, 30, 50 children in a school, the school will be closed down so many schoolmasters are wary of private schools nearby because if parents realise that the private school is better they prefer paying Rs 50 as its fee than take Rs 100 as scholarship from the government school along with free meal, uniform etc.
There is a government school 100 yards from a private school where this temple is being built which has more kids than the government schools. If there is a demand private players will come or the government will start appointing English teachers -- like Mayawati has said English will be taught from the primary school onwards in UP.
There are so many English medium schools, but they don't really teach English. They are only just in name and children cannot speak English because most often the teachers can't. So that also is no solution.
Yes, but slowly what will happen is that some taste of English, some idea will inspire many kids to start learning English even if they cannot speak it.
Getting to know ABCD at age four is better than at 14. Not all kids will start learning, but at least 5 out of 100 will.
In Dalit marriage books containing the vows that the bride and groom say to each other, they are going to add a new vow -- that they will teach English to their children.
'I don't want this community to grow as a bitter community'
Last updated on: November 3, 2010 11:08 IST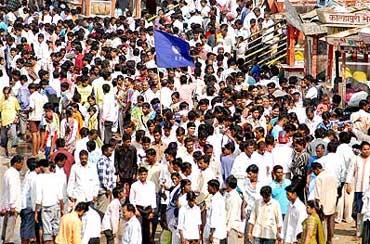 H
ow will you spread this message beyond where this temple is being built?
In Bijnor district near Meerut, they offered me free land and wanted me to guide them to build an English temple.
When the bride and groom make a vow that they will only have children when they can give them an English education there will be 100 people listening to them.
On the day of the wedding when the groom goes to the bride's house, he visits a temple with a deity, now we are trying to ensure that the groom should visit the Goddess English temple; women when they go to the temple they sing songs so they can sing the song to Goddess English. This is how the message will spread.
Once women accept it -- because language is always feminine -- nobody can stop them. So I am taking that route.
Already so many people are asking, upper caste people are asking whether our women can also worship in this temple.
Why is to so important to know English?
Is there any decent job in this country that can be done without the knowledge of English?
A child born today with no knowledge of English will not fit in the job market and will accuse the caste system or something else for his inability to get a job.
I don't want this community to grow as a bitter community, but prepare them in advance.
'The upper class will always be at an advantage'
Last updated on: November 3, 2010 11:08 IST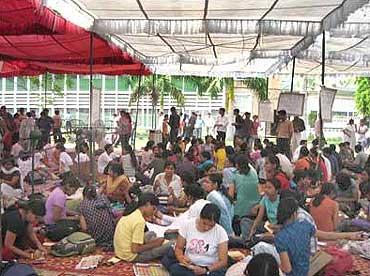 T
here are innumerable graduates coming out of universities, but only a small number are employable.
If this is the condition now, things are only going to be worse in the future because the job market will become more skilled and even a working knowledge of English may not be good enough.
This is a class problem because the upper class -- economically and culturally -- will always be at an advantage.
The number of skilled English speaking jobs that India will require in the next 20 years will be far more in number than the number of graduates belonging to the middle class.
Jobs will far exceed so there will still be vacancies for the under class. Like jobs in shopping malls etc.
At the Tata Motors factory in Pune they have a training school for people coming from different parts because the training they come with is not good, so for a year they train them extensively.
So OBCs (Other Backward Castes) and Non-OBC Shudras (Dalits) will be stuck in the countryside because they have land, their migration to cities will be slow.
Dalits with fewer land holdings and lesser stake in the countryside are willing migrants, so rural India will become OBC ruled India.
Dalits will come to the cities because they don't want to work for landlords and the cities provide better opportunities.
In a decade or so even jobs like taxi drivers will need English because cab services will become modern like the Meru cabs etc where you need some knowledge of English.
Dalits should not come and languish in the cities.
If English comes into fashion it will help them, but I am not saying this is the only way. This is my social service to the community.
'English speaking nations win more Nobels'
Last updated on: November 3, 2010 11:08 IST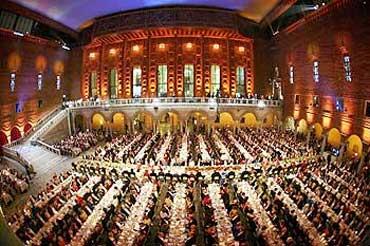 F
or Dalit youth how aspirational is the knowledge of English?
Dalit youth feel that because they don't know English they are unfit to get jobs in the city.
Northern India had this Socialist (Socialist leader Ram Manohar) Lohia-inspired Angrezi Hatao (Remove English) movement otherwise English was compulsory from Class VI, but then it was withdrawn.
English is still taught from Class VI, but is not compulsory in high school. So students irrespective of caste stopped learning English, otherwise North India with such a huge Brahmin population in UP and Bihar -- these two states should have been headquarters of the IT revolution.
When MP (Madhya Pradesh) was created the first cabinet decision taken was to remove English.
India handicapped itself and only now has English come back into fashion and the Dalits are the last to catch it.
Women activists have told me that they will tell their daughters not to marry men who don't know English.
See, new methods have to be applied in social movements, old tricks won't do.
Our regional languages are on the decline, should there not be a system that encourages both English and regional languages?
English speaking nations win more Nobels than non-English speaking countries.
Germany, France and Britain have the same race, climate, food habits, dress -- culturally they are the same. But Britons have won more Nobels than France and Germany together. Why?
I have a theory that may seem funny to you, but English is a language that handles science much better.
'The elite want to use English and keep it as the language of the privileged'
Last updated on: November 3, 2010 11:08 IST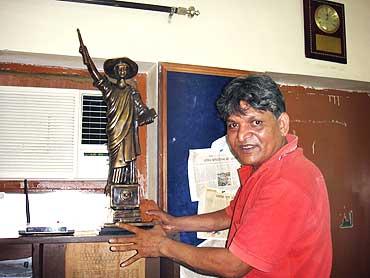 A
re you saying we cannot have two languages in school?
In education, occupation, governance, science we should have standard English all over India.
For practicing caste, riots and abusing each other we should use our local language (laughs).
Most states in India came into being on linguistic lines, they fought against each other -- what is the difference between Marathis and the rest of India barring language?
Bengalis thought Bangla is a superior language and what Bengalis think today India thinks tomorrow -- see how backward Bengal has been.
They went and changed their name to Kolkata, similarly Mumbai, Chennai, Bengaluru. Regional languages are asserting...
Asserting? The aggression comes from the political establishment.
Yes, it is more in politics. This is Indian hypocrisy that there are lobbyists that get you admission into public schools, people pay bribes for it.
If you ask them if English is better or Hindi, they will say Hindi, but will send their kids to English medium schools.
A mother will say that her daughter failed in Hindi with a sense of pride but if you ask them if English is better or Hindi, they will say Hindi -- this is Indian hypocrisy.
During the freedom struggle Ambedkar was the only national leader who argued that English should be made the national language.
And our Constitution was written in English.
The elite want to use English and keep it as the language of the privileged, but officially they won't accept English.
Savitribai Phule (the social reformer) said 158 years ago in a poem:
The rule of the Peshwa is gone
Mother English has come
In such a dismal time of ours
Come mother English, this is your hour
It is all for the good of the poor
Manu is dead at English's mother's door
Knowledge is a poor man's refuge and shade
It's akin to comfort mother made
She said that with the knowledge of English, Shudras can fight casteism. She said this in 1854 in response to Macaulay's dispatch on education.
'English is anti-caste by birth'
Last updated on: November 3, 2010 11:08 IST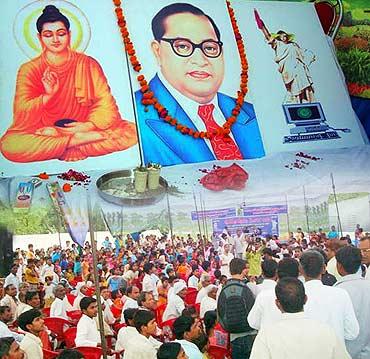 A
re you not using English as a weapon to attack caste?
English is anti-caste by birth. It is one of the weapons. Ambedkar wrote the first treatise against caste in English because he wanted everyone to read it.
Had he written it in Marathi the viceroy of India would not have invited him for talks. When he wore the suit, boot, hat -- that's how he could fit into the system.
What has really changed for the Dalit?
We picked one block in eastern UP and one in western UP with Dalit villages and asked them 80 questions on their food and dress as part of a survey. The system of measuring poverty in India is absolutely bogus.
The world over there are three food regimes -- rice-based, wheat-based, millet-based.
In India western UP, Haryana, Punjab is wheat-based. Central UP, eastern UP, western Bihar is wheat and rice-based.
The Bhojpuri region of Bihar till West Bengal, Assam is rice-based. Large parts of Maharashtra, Gujarat, Rajasthan is millet-based and South is rice-based.
Most Dalits lived on millet till the early 1990s. Now all millet items have become cattle feed and Dalits have moved into wheat or rice-based food regimes. As a consequence the calorie intake has gone down because most millet-based food is high on calorie but not on protein, vitamin.
One reason for (low calorie) could be there is drought and you are poor.
The other could be that there is prosperity in the region and people have moved to a better food regime but the Government of India said that since the calorie intake has gone down, everyone has become poor so give them mid day meal scheme, NREGA etc.
The National Family Health Survey has destroyed the sense of planning in India.
According to this survey, 47 per cent kids in the countryside are malnourished. This book divides rural India into five categories -- 18 per cent kids belonging to the richest area, two are malnourished.
The reason is Brahmins will not eat egg, in UP Thakur women cannot cook small fish because it is eaten by the lower castes, Dalits will not eat leafy field vegetables because they'll say it's associated with the under class etc.
More than access to food, it has more to do with food habits and lifestyle.
You dump rice and wheat in every household and kids will still be malnourished
'Caste is loosening its grip because of market reforms'
Last updated on: November 3, 2010 11:08 IST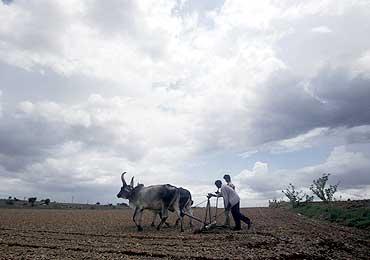 H
ow is India with 8.8 per cent growth helping the socially weak?
As far as economic reforms go, caste is loosening its grip because of market reforms.
Industrial expansion has enabled people to migrate to cities because of lack of labour in the countryside.
All systems of land-labour relationships have collapsed in the countryside.
Whenever you go to a village -- Dalit or non-Dalit, rich or poor -- there is a reward in understating your affluence and overstating your misery. The people lie to the census enumerators and census enumerators lie to the Government of India.
People who are influencing policy are so ignorant about things in the countryside. When I talk they say I want media attention because they have no idea of what is happening.
So you think things have improved for the poor Dalit.
Things have improved drastically on the ground. Today the same wheat is eaten by the landlord, lecturer, labourer.
Every village has lost about 77 people between 1990 to 2007 to non-farm work, creating a massive labour shortage that bullocks have disappeared near completely -- barring the cattle region area of western UP.
An upper caste person would not plough land because the Dalit would do that, but the whole system has disappeared.