INSIDE STORY: How this aam aadmi rose to power in Delhi
December 23, 2013 16:37 IST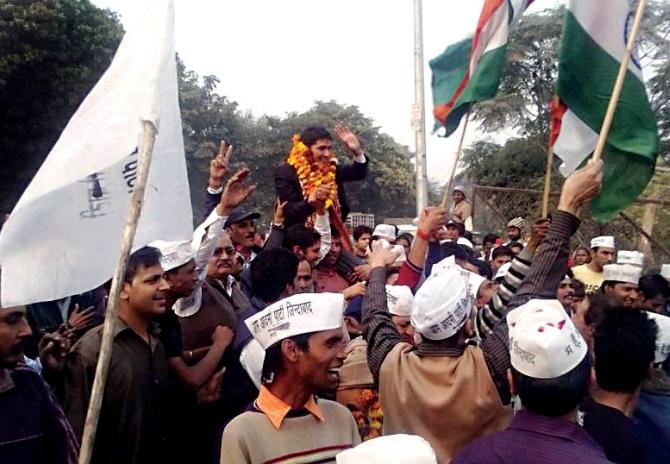 An ordinary man -- Saurabh Bharadwaj -- has become a legislator elected from one of South Delhi's most posh constituencies. He recalls the struggles, his journey from being a volunteer to a leader.
Envy for the Aam Aadmi Party's historic electoral success is the story of 2013. The Congress and the Bharatiya Janata Party feeling jealous and irritated with the barely year-old AAP, which won 28 out of 70 seats in the recently held Delhi state assembly election.
The two giants of Indian politics know what worked for the AAP, and that is what infuriates them all the more. Arvind Kejriwal's party connected to the grassroots. It is as simple as that.
It articulated people's problems. It tuned into the real issues the common man faces -- like high electricity bills, rampant corruption at all levels, shortage of water, and lousy civic facilities -- in the horizontally spread national capital of 13 million people.
There is no rocket science in the maverick Kejriwal's political science.
In the well-established political parties, individual leaders have lost the personal touch with their voters. They, as a rule, adopt set formulas quite brazenly -- playing caste cards or pitching for religion or all sorts of debased identity politics -- to get elected in election after election, and without any questioning or introspection.
The Congress, the BJP and regional parties have been frequently accused of managing booths at voting time and using various corrupt means to get votes.
The AAP challenged the set practices and norms of wooing voters. It simply went back to the basics.
AAP volunteers struggled in the lanes and by-lanes of Delhi. And the results on December 8 stunned the likes of Sonia Gandhi, Rahul Gandhi, Narendra Modi, Arun Jaitley, as well as political pundits all over India.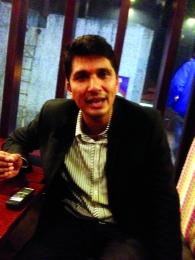 How the AAP forced a return of the real issues in Indian politics is perhaps best told through the story of Saurabh Bharadwaj, left, the freshly elected member of the Delhi legislative assembly from Greater Kailash, New Delhi.
Bharadwaj, 34, was a software engineer till he went to Jantar Mantar in New Delhi in August 2011 to applaud the fast of anti-corruption activist Kisan Baburao 'Anna' Hazare. Kejriwal was on the stage.
For Saurabh, what was meant to be a weekend outing with friends turned into serendipity. He got involved.
The story of how an ordinary man like Bharadwaj became a legislator elected from one of South Delhi's most posh constituencies -- in GK, where real estate prices are more expensive than in Manhattan -- is a metaphor for a country where there is something inherently good despite lots of things going horribly wrong.
Bharadwaj's story is about Indians, of all classes and castes, who crave for a corruption-free country where the honest can live decently.
The people of Delhi voted for hope, not cold logic.
It was an act of mass civil disobedience -- of snubbing their old favourites like the Congress and the BJP, and instead lending a shoulder to Kejriwal as he pushed against the 'system'.
It's not important where the AAP stands in India's political spectrum, or whether it is strong enough to withstand the next crucial stage.
In just one election, it has demolished the egos of the mainstream political parties.
Even if the AAP falters later, Delhi's voters have given India hope for 2014.
Kindly click NEXT to read further...
INSIDE STORY: How this aam aadmi rose to power in Delhi
December 23, 2013 16:37 IST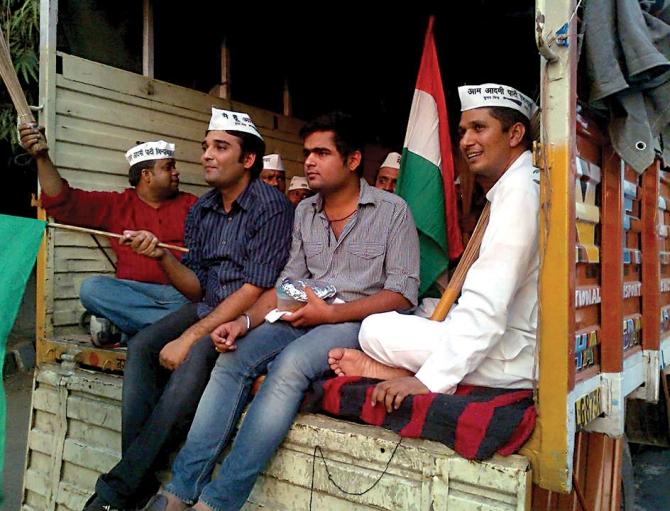 Saurabh Bharadwaj tells us, in his own words, how he, an everyman without money and muscle power, reached out to the rich, the poor and middle-class voters of Greater Kailash.
And that story contains the same message to the rich and fat political parties of India that an AAP supporter, the owner of a rickety autorickshaw, wrote on his vehicle after the AAP's tremendous victory:
Don't envy, struggle!
Over to Saurabh Bharadwaj:
I was born and brought up in Chirag Delhi, the urbanised village right inside the posh area of Greater Kailash constituency. My father Rajinder Pal was a government servant, working for the Delhi Vidyut Board.
We are a typical middle-class family. We had cows in our house for years for milk. We abandoned them only when, 10 years ago, a Municipal Corporation of Delhi law prohibited residents from rearing cows or buffaloes at home.
I studied in New Green Field School in Saket, and I did my BTech in computer science from Indraprastha University, Delhi. I would say I was an above-average student with interest in history and civics.
I never dreamt of entering politics. My first job was with the United Kingdom-based multinational Invensys. I worked in their Hyderabad office for about seven years. I started as a software development engineer, and by the time I left I was a project manager. I came to New Delhi in June 2011 to join an American Fortune 500 company called Johnson Controls.
Since my teenage days, like most kids in middle-class families, I watched news channels a lot. I followed parliamentary elections closely. I would keep track of who is fighting from where, and stuff like that. I followed news regarding leaders like Mulayam Singh Yadav, Lalu Yadav, Rahul Gandhi and others. Fights inside Parliament also piqued my interest.
Corruption and price rise are issues that lots of Indians are passionate about. We all want to do something, but we don't have a way of doing it. It is not easy to start a charitable hospital or do something for the people. Everybody does not have resources.
I think at such a moment, Arvind, Anna and gang provided a platform to many middle-class people -- students, professionals, or bright young people -- to translate that yearning to do something into a concrete way to participate.
It was so frustrating to see 'mainstream' politicians making fools of us. They just keep beating around the bush, there is be no actionable item, no conclusion. Every one of us feels so frustrated with this Indian political system. Kejriwal and Anna's talks gave a ray of hope.
They were speaking of things we wanted spoken about. At least, here were people who could take on politicians boldly from a public stage.
The India Against Corruption platform (from which the AAP was born) did not try to sugarcoat anything. People who were at Anna's event had a kind of raw energy. They would tell politicians: All of you are dishonest. You have looted the country.
This is what connected with the common people. Here were people who were saying in public what all of India says in private.
When I went to Jantar Mantar, I had just gone to see the event. I was not even a volunteer. I went there like everyone else, and with everyone else I chanted 'Bharat Mata Ki Jai.'
After that, I began to follow Anna-Kejriwal regularly. At one event, they asked all the people interested in a corruption-free India to give their mobile numbers. I did. Regular text messages kept me informed about Kejriwal's speeches and events. Sometimes I went; sometimes I skipped.
In September, a text message asked me if I wanted to become an active volunteer. 'Let me see,' I replied. Around 11 am on a Sunday, Durgesh Pathak from the AAP called me. 'Is that Mr Saurabh Bharadwaj speaking? You gave your number to AAP. Do you wish to volunteer?'
I said yes.
Kindly click NEXT to read further...
INSIDE STORY: How this aam aadmi rose to power in Delhi
December 23, 2013 16:37 IST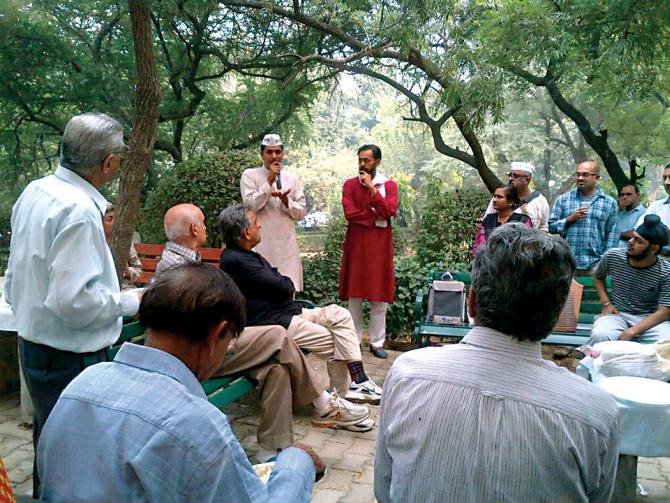 Pathak asked me to come at 5 pm to the park near the Nehru Place metro station for a meeting. We were some 25 people. It was a completely disorganised event.
In October 2012, the AAP was formed. I agreed to be part of the crowd management team at the launch of the party.
Later, the AAP started other movements for cheap electricity and water. There was a major mass exercise to protest against the rise of electricity tariff. We went door to door for a signature campaign, noting down names, addresses and phone numbers.
People signed on a letter that said that they either won't pay their bills till the prices are reduced, or will pay but disagree with the price increase.
I took three to four days leave from office. We visited houses through the day and even at night. We collected a million signatures.
Around the same time, another volunteer-driven survey was conducted. So there was always some work or the other. We were stretched for time. The poor volunteers sometimes had no time to earn money to run their houses.
Then came another mass moment -- the uprising that followed the brutal gang-rape and murder in Delhi, which put the spotlight on the issue of safety of women.
All this while I had a job, so I worked only after 7 pm or during weekends. There were many other young people who worked really hard as volunteers.
They wanted to change the system, change India. But 90 per cent of AAP volunteers were part-time.
We made posters at homes and put them up across New Delhi. The posters asked those who wanted to volunteer to send names and addresses.
Helpline numbers were created for assembly constituencies. For Greater Kailash, the number was 8588833450 -- because GK constituency is numbered 50 on the electoral roll.
Slowly, we started receiving text messages. Then the work of the volunteers was to collect funds. Volunteers were assigned jobs round the year. There were surveys.
We knew when the survey forms would come, who will distribute them, who will conduct the surveys, who will collect them, who will collate them and mail them.
The AAP never paid its volunteers. There was debate in the AAP over whether we should pay polling agents Rs 500 to Rs 700 per day. We decided against it.
I believed the day we start giving money, we will become weak. Even the money for the glue and brushes to make the posters came from the people.
People were sympathetic towards the AAP from the very beginning.
There was only one problem. At many places people did not know who Kejriwal is. Some knew about the anti-corruption movement, but did not know that the AAP is headed by Kejriwal.
Our biggest challenge was to link the AAP party and Kejriwal.
Later, the challenge was to link the election symbol jhadoo (the broom) with the AAP.
Then, during the elections, we had to connect both with the local candidate's name.
In the AAP, all the assembly constituencies were independent units. For GK, there were 25 of us volunteers. Every unit had a coordinator, and Manish Gulia was the chief from my constituency.
Above him was the coordinator of the Lok Sabha constituency, Durgesh Pathak. So, the Kaushambi head office of the AAP would give instructions to only Pathak. All AAP volunteers's names and numbers were computerized. Such things work only with passion. Nothing else.
Between October 2012 and June 2013, I managed my job and work for the AAP. I quit my job when I applied to get a ticket from the AAP to contest the election.
Kindly click NEXT to read further...
INSIDE STORY: How this aam aadmi rose to power in Delhi
December 23, 2013 16:37 IST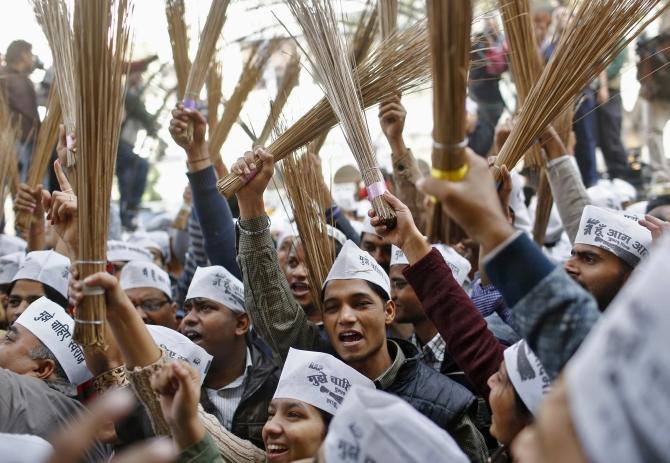 When I became a candidate, I was asked to conduct public meetings. In the beginning I felt really shy to speak in public.
It felt very strange to go to people and say, 'Hello, we're from the Aam Aadmi Party. Would you like to vote for us?'
You never know how a person will react. Some people would abuse us: 'What Aam Aadmi Party! You guys are thieves too!'
Most people -- almost 60 to 70 per cent -- would tell us, 'You guys are right, but this country is corrupt and will remain so. Why are you wasting your time?'
But people had some sympathy towards Kejriwal. They said yes, this man is honest. The major strength of our campaign was that our anti-corruption movement was made of honest people, and the public at large believed that it was run by honest people.
Kejriwal's movement also kept gaining strength from the credentials of the people who attached themselves to the movement. There was nothing in it for the greedy.
Even today, I don't have Kejriwal's cellphone number.
We are very different from the kind of people associated with politics in India.
For instance, Ashok Yadav is a cab driver who lives in a tiny house in the Jamrudpur slum. There were many housewives who joined us, and they are extremely passionate agents of change.
What connected us all is the passion to bring honest people like Kejriwal in public life.
Tirlok Lamberdar, 42, a milk distributor, helped me tremendously. His work starts at 4 am and ends at 10 pm. He is the busiest man I have seen. But his dedication was such that even after his work he would say, 'I'll come with you.'
He knew all the retailers in the urban villages around us. He had access to 50,000 people, as he goes from by-lane to by-lane -- to every shop -- to collect money.
When he was on his collection drive he would also pitch for the AAP. We made his clients members of the AAP. Because of AAP activity, Lamberdar's daily collection reduced to half, but he was still so passionate!
Such people helped the AAP win. They didn't ask for favor or position.
Lamberdar was sure that Kejriwal's party will win. There are so many Indians who are honest. We should know it. We should believe it.
There is a strange contradiction in being an everyman politician in India. People still expect their neta to arrive in a big SUV, wearing starched white clothes, with an entourage. Only then the common man feels that a politician has come.
We want leaders to show off.
And then there are people like us, dressed in ordinary trousers and shirts. Our own supporters would say, 'You should walk with 10 to 15 people. You are roaming around alone, people will say if you don't have even 10 people with you, why should we waste our vote on you?'
The Congress and the BJP would make fun of us.
Meera Sanyal, chairperson of the RBS Bank in Mumbai, asked Kejriwal where she should campaign. He said Greater Kailash is a high profile area, you go help Saurabh. So she came and the media gathered around Sanyal.
Just about 15 houses away from my house, she asked a lady, 'Do you know Saurabh Bharadwaj?' The lady said no. It was so embarrassing! I got a bit worried.
Kindly click NEXT to read further...
INSIDE STORY: How this aam aadmi rose to power in Delhi
December 23, 2013 16:37 IST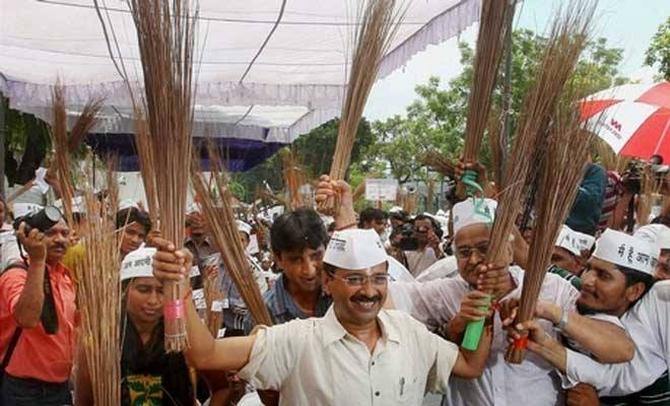 Another big challenge was when Kejriwal started town-hall-style public meetings in Delhi.
Gathering a crowd is a work of art; it is a science. It is a management task. It is not everyone's cup of tea, especially middle-class people like us.
Let me say that the public comes only if you exaggerate something -- as if it is not Kejriwal but god coming on earth.
You have to create grandeur. You need to make it big.
Then even those people who don't know Kejriwal come -- to see who this person is, for whom so much of buzz has been created.
We used to hire autorickshaws and attach loudspeakers to them. Leaders of other parties would have no clue whose auto was being hired and who was putting the loudspeaker.
We did everything ourselves. We had learned everything: How to attach the amplifier to the loudspeaker, where to keep the speaker on the auto, how the auto battery works.
Our lady volunteers sat in those autos. They were all well educated. For the public it was quite unconventional. Rich or poor, people would figure out that if a well-educated girl from a middle-class family is making such announcements then there must be something unconventional going on.
And from the beginning till the end, these unconventional, 'unnatural' things attracted people.
The time for Kejriwal's first meeting was 6 pm. Around 5 pm, hardly 15 people were there. We asked our volunteers to wear their caps and sit down with them. We were so nervous!
As the clock struck 6, people started turning up. This was something we never understood, but people would come. We had 1,200 people for the first meeting.
Each meeting would cost Rs 80,000. We needed two autos for Rs 800 a day. Then, money was needed for the PA system. About Rs 25,000 was spent on pamphlets.
Then the stage set-up, the rented chairs and carpets etc, added up to another Rs 20,000. Plus there were costs for billboards.
We mostly collected funds from the area where the meeting was to be held.
People gave because they believed in Kejriwal. A lawyer came to know that we need money for the meeting. He called and gave us a check of Rs 50,000. We were asked to have 400 local leaders in our areas with 400 posters outside their house announcing the AAP's telephone numbers so that if anyone needed help for a local issue they could call.
It is not as if the volunteers didn't fight. They did. But on the whole, we had good people with us.
Some came from places like Chicago, Denmark; some came from other parts of Delhi. Some said we are from IIT, some said they are from Mumbai.
One girl, Namami, came from Bangalore. She said she was a software engineer. She did a major part of our booth management work. It was the trust of these unknown people in Kejriwal that worked. We had nothing to hide.
This talk of foreign funding for the AAP is humbug. Whatever came from the United States hardly mattered. During Hazare's movement also, the government investigated the funding, but never publicised the report.
Kindly click NEXT to read further...
INSIDE STORY: How this aam aadmi rose to power in Delhi
December 23, 2013 16:37 IST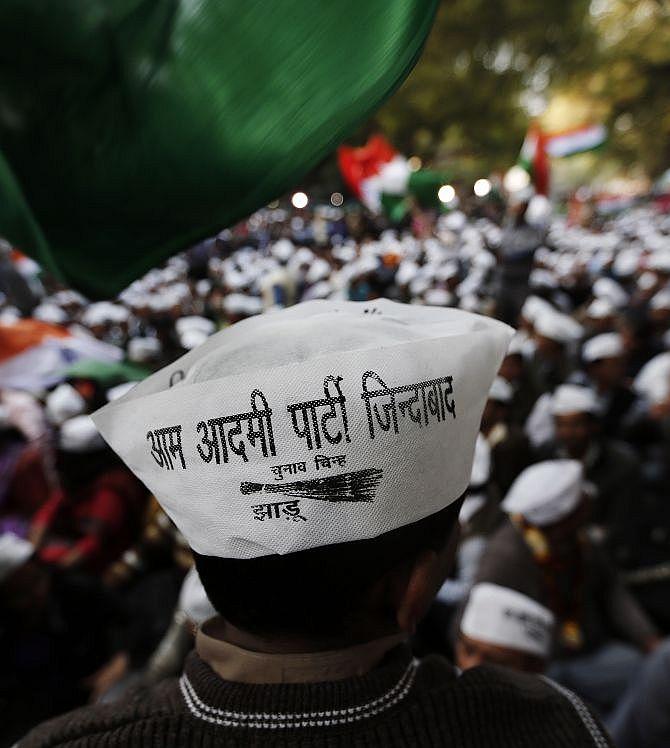 In April, I filled the form for AAP candidature. Some people were party coordinators; some were ward coordinators.
I was not even an office bearer. I was just a volunteer. People like Manish and milk vendor Tirlok inspired me.
There were many questions. The party asked for financial credentials, if you or anyone in your family has a criminal background, your political affiliations, why you wish to contest elections, what do you know about our swaraj theory, what if you don't get a ticket, will you take it from the other party...
The application needed 100 signatures. We had a scrutiny committee and a screening committee. I didn't even tell my father I was applying for a ticket.
Nobody thought I had any chances of winning. I just filled the form and went to the interview as a software engineer would go for a job interview.
Five people interviewed me. It was very formal. They asked me: What do you think is the political equation to win your seat?
Who is the current MLA of your area and why do you think you will win?
If you stand, what will be your strategy to win?
I somewhat knew all answers. BJP stalwart Vijay Kumar Malhotra, Leader of the Opposition, was my MLA. I told Manish Gulia that I am from an urban village and there are four other villages in posh GK. So if someone stands from a village then the villagers will support him.
Second, I am educated, so the rich people will be impressed.
I think that clicked. Then, my salary was around Rs 1.5 million per year. There was a question of morality, so I resigned before I got the ticket.
I said that whether I become the candidate or not, we will make the party win.
Sure, I was a little scared. Would I get a job soon, I wondered. What would I say at my next job interview? No company considers politics as relevant job experience.
Neither my father nor my wife knew I had resigned. My friends called me stupid behind my back. They would say the AAP won't win.
I have been disillusioned with the Congress since 2005. They were openly corrupt and arrogant.
I have never been a supporter of the BJP. See, the corruption of the Congress is like: Yes, we are corrupt and this is how it works in India.
The BJP's corruption is extremely double-faced. They are equally corrupt, but show themselves differently. I think they are more dangerous than the Congress.
I don't think Narendra Modi is a good leader. I don't know why people get so impressed by his speeches. It is all rhetoric, especially on sensitive Hindu-Muslim issues.
He keeps talking about a few non-issues. He never raises the real issues. He never spoke on whether political parties should be brought under the purview of the Right to Information Act.
I have never heard him speak about criminals in politics. He was silent on the Jan Lokpal Bill.
Rahul Gandhi is not a good leader either. He too has been speaking on non-issues mostly. He has also not expressed his stand clearly on most important national issues.
I think in America it is a very good thing that they call the big leaders to debates and ask them what their stand on these issues is. Our leaders are extremely ambiguous.
Kindly click NEXT to read further...
INSIDE STORY: How this aam aadmi rose to power in Delhi
December 23, 2013 16:37 IST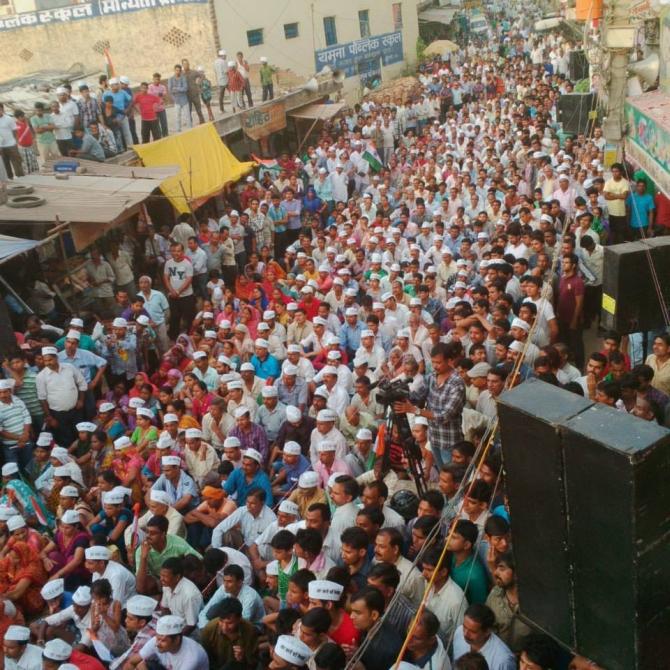 When I got the ticket, the party told us to talk to the media in a very balanced manner. They also asked us to maintain transparency of money. Take money only through cheques, was the instruction.
Some tried to do a 'sting' on me. Fake property dealers asked for my help. They offered to help me, but I said I can't help.
I said that if you have a complaint, which the police was not ready to acknowledge, or if there is some injustice being done by the administration we will definitely stand by you.
Some parties campaign by spending money and distributing alcohol. You can handle that. Some parties spread rumours against you. You don't know how to handle that.
For example, there was a rumour spread that I am a billionaire, a real estate mafia head's son.
I got 43,000 votes. The BJP stood second with some 30,000 votes. This was the strongest bastion of the BJP.
I won because the quality of our volunteers was very good. You can't find volunteers of such quality.
Second, people like an educated person with a humble background. This combination clicked in GK.
I was raw. My speeches, my way of meeting people were totally new and raw for politics. People loved it.
Management is the most important thing in elections. One-and-a-half months before voting day, we had an idea in which areas our votes are higher.
In such areas, we had started working harder. In those places, we secured 60, 65 per cent of the votes. They were pure middle-class colonies.
What I saw in GK was that the very rich and the very poor segments were very unpredictable. The easily convertible votes were the middle class.
We realised that pamphlets were the best way to reach the educated segment. And those pamphlets should be appealing.
The message might be brief, but the visual appeal should be very good. I designed all the pamphlets by myself.
We also ran interactive voice recording clips. It was quite cheap, around 10 to 12 paise per call. We ran it massively in our constituency and the message was, 'Hello, I'm Saurabh Bharadwaj. I used to work in a multinational company, I had a good salary and a very comfortable life. But I didn't leave my job to enter politics and make money. We want to change India. We are not asking you to quit your jobs. We are just asking you to vote for the honest candidate. Jai Hind.'
Our messages were logical in the beginning, and emotional by the end. And they clicked with the public.
In the last three days of campaigning, we held massive rallies. All we underlined was that thousands of people of the country have come together with just one dream: To finish corruption in India. And we'll start with Delhi.
When you see netas distributing booze, we would tell the people, look into their eyes and ask them where the money for the alcohol is coming from. Your politicians have not even ever held a job. This is black money, looted money. And if such people win, they will again loot you.
In my office we have 22,000 names of people who volunteered for us for free. We made friends. From the very beginning our motive was not to win the debate, but to win the vote.
We will finish the politics of the dalals (middlemen), I told voters. We didn't play caste cards, nor did we abuse religion.
If we form the government in Delhi, the support of the Congress will be there. It is a moral dilemma for the whole of AAP, including me.
We will gain if we don't form the government. Some of our voter says a re-poll will be beneficial for us.
But this rhetoric -- that we are incapable and we cannot fulfill promises -- is wrong. We must counter that as well.
I may not remain a politician for long. We are expecting a child and I will have to one day think of my job and family as well.
Let us see what happens eventually.