India's snub to China on Nobel row deserves a bow
Last updated on: December 10, 2010 08:49 IST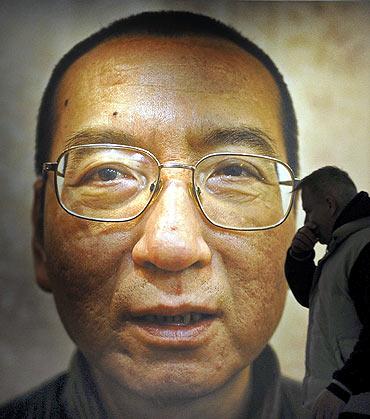 Prime Minister Dr Manmohan Singh needs to be complimented for standing firm to China and refusing to be bullied by it into not attending the Oslo function on December 10, 2010, in honour of Liu Xiaobo, a Chinese political dissident in jail in China, who has been awarded the Nobel Peace prize this year, notes senior analyst B Raman.
Since the Chinese have successfully prevented anybody even remotely connected with Xiaobo from going to Oslo to receive the prize on his behalf, the function is likely to be purely symbolic without the prize being handed over to anybody unless the Norwegian Nobel Committee decides to hand it over to a Chinese human rights activist living abroad.
Please click NEXT to read further...


Chinese bullying campaign has succeeded elsewhere in Asia
Last updated on: December 10, 2010 08:49 IST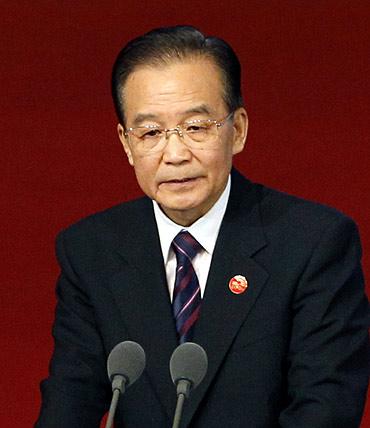 The Chinese bullying campaign to intimidate other countries into boycotting the symbolic function at Oslo by using Beijing's economic clout has considerably succeeded at least in Asia as would be evident from the reports that only India, Japan, South Korea and Thailand have rejected the Chinese pressure not to attend the function.
One is surprised by Vietnam, which one would have expected to stand firm to China, succumbing to the Chinese pressure.


Dr Singh has a history of standing firm against China
Last updated on: December 10, 2010 08:49 IST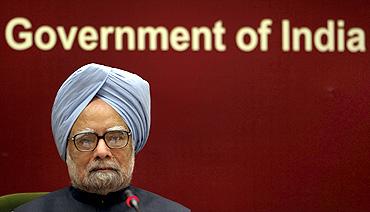 This is not the first time that our prime minister has stood firm to China. He had earlier ignored the Chinese unhappiness over the visit of His Holiness the Dalai Lama to Tawang in Arunachal Pradesh.
He has also allowed the Jamia Millia to award a doctorate to His Holiness though the approval was delayed till his recent meeting with Prime Minister Wen Jiabao in Hanoi was over.
If Wen cancels his India visit, so be it!
Last updated on: December 10, 2010 08:49 IST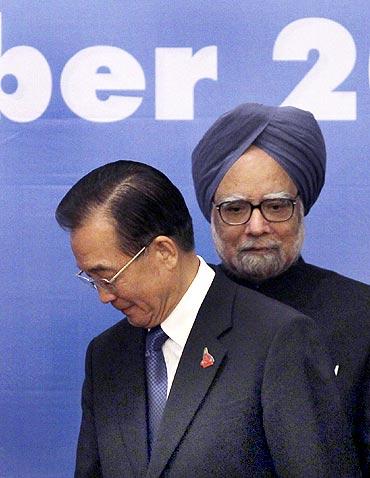 It will be interesting to watch how Beijing reacts to the obvious and well-deserved snub from New Delhi on the issue of the Oslo function.
At the worst, Prime Minister Wen might cancel his forthcoming visit to India for three days from December 15 before proceeding to Pakistan. It is hoped good sense will prevail and Beijing will not take this extreme step, but, if it does, so be it.
We cannot go on pampering and appeasing China, particularly when it is so blatantly insensitive to India's major concerns relating to issues such as the Chinese refusal to issue normal visas to Indian citizens living in the Indian territory of Jammu & Kashmir and when it has been taking actions to undermine our claims of sovereignty over Gilgit-Baltistan and other areas of Pakistan-Occupied Kashmir.
'Strict reciprocity' is the need of hour in Sino-India ties
Last updated on: December 10, 2010 08:49 IST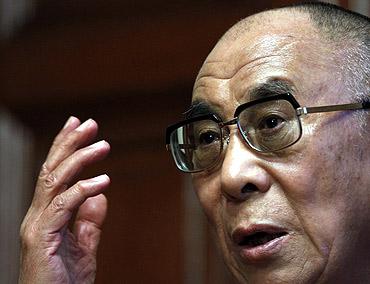 Strict reciprocity should be the rule in our relations with China. If it ignores our sensitivities in matters of vital interest to us, there is no reason why we should be unnecessarily responsive to its concerns in relation to Tibet.
The time has come for us to reconsider the existing restrictions on political interactions with the Dalai Lama. While our foreign secretaries have been periodically calling on the Dalai Lama, there are practically no interactions between him and our political leaders -- from the prime minister downwards.
The time has come to give up this policy and hold periodic interactions with the Dalai Lama not only in his capacity as a religious leader on religious issues, but also in his capacity as a political leader on the political situation in Tibet.
It is also time to associate him in some capacity with the project for the revival of the Nalanda Univerity. We need not be unduly worried about the sensitivities of Singapore and other countries helping in the project. If they withdraw, it does not matter.