India's MOST controversial Army chief takes last salute
Last updated on: May 31, 2012 11:14 IST
General V K Singh, who took over the reins of the Indian Army 26 months ago with the image of an anti-corruption crusader, retired as the army chief on Thursday, bringing to an end a controversial tenure that was marred by rows over his age and fissures among the military brass.
General Singh, who gave his last salute at the Amar Jawan Jyoti at India Gate in New Delhi on Thursday morning after 42 years of service, will be succeeded by Eastern Army Commander General Bikram Singh.

General Bikram Singh will have a tenure of two years and three months.
General Singh, who took over as the army chief on March 31, 2010, will leave behind a legacy of controversies starting from a row regarding his age.
Opinions were divided on his tenure among former top officials of armed forces, with some hailing him and others criticising him.
Click on NEXT for more...


MOST controversial Army chief retires
Last updated on: May 31, 2012 11:14 IST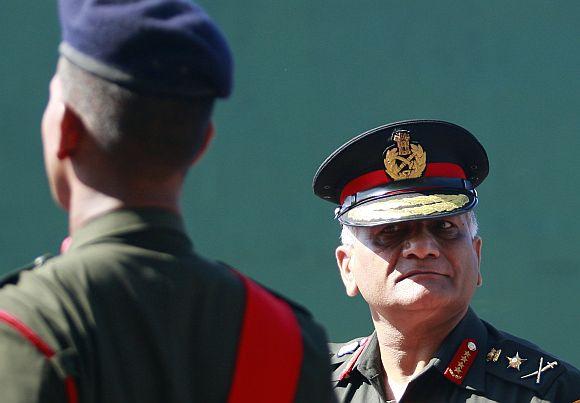 Even as controversies clouded the last few months of his tenure as the head of the 1.3 million-strong force, he had laid the roadmap for transformation of the army into a lean and mean fighting unit.
General V K Singh had also flagged concerns over the shortage of arms and ammunition and impressed on the government the urgent need for immediate steps to shore up purchases.
A native of Bapora village in Rohtak district of Haryana, General V K Singh's tenure saw the unprecedented step of an army chief dragging the government to court to seek a change of date of birth in official records that would have given him an extra ten months in service.
General Singh had two dates of birth entered in the army records -- May 10, 1950 in the Military Secretary Branch and May 10, 1951 in the Adjutant General's Branch.
Click on NEXT for more...
MOST controversial Army chief retires
Last updated on: May 31, 2012 11:14 IST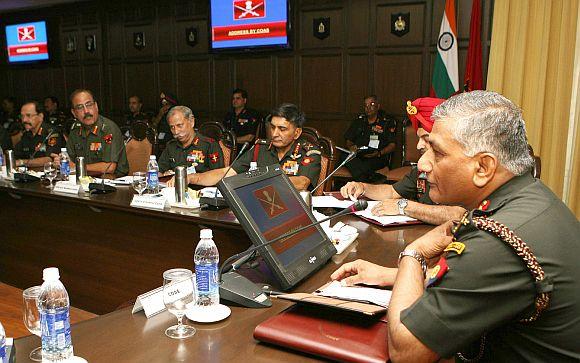 The dispute over what should be treated as his actual date of birth led to a running battle between him and the government which finally ended after the Supreme Court refused to accept his contention that 1951 was his year of birth.
The army chief disappointed his supporters when he chose to continue in the post after the setback in the Supreme Court.
Before the dust over his age row could settle down, he made headlines when he alleged in an interview that he was offered Rs 14 crore bribe in 2010 by a retired Lieutenant General for clearing a deal for procuring "sub-standard" Tatra trucks.
He had said that he had immediately informed Defence Minister A K Antony about the offer but no action was taken. This statement prompted the government to issue repeated clarifications in Parliament.
Click on NEXT for more...

MOST controversial Army chief retires
Last updated on: May 31, 2012 11:14 IST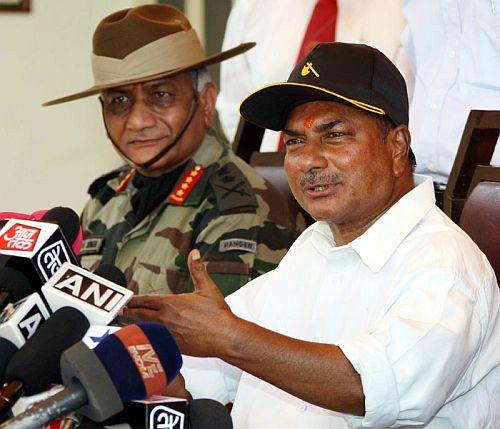 General V K Singh was mired in another controversy when a letter written by him to Prime Minister Manmohan Singh highlighting shortages and deficiencies in the army found its way to the media.
He also faced allegations of trying to change the line of succession when he issued a show cause notice for censure to 3 Corps Commander Lieutenant General Dalbir Singh Suhag, who may head the army after General Bikram Singh, in a case related to a failed intelligence operation in Assam last year.
Commenting on the 26-month tenure of General V K Singh, retired Lieutenant General Shankar Prasad said, "History has not spared Jawahar Lal Nehru, it did not spare Winston Churchill either. History will not spare even General V K Singh."
Click on NEXT for more...
TOP photo features of the week
Last updated on: May 31, 2012 11:14 IST
Click on MORE to see another set of PHOTO features...
© Copyright 2021 PTI. All rights reserved. Republication or redistribution of PTI content, including by framing or similar means, is expressly prohibited without the prior written consent.