Why they call this India's cleanest village
Last updated on: March 12, 2013 12:39 IST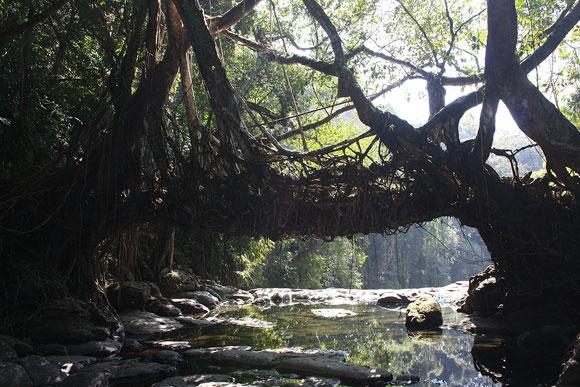 The small, sweet village of Mawlynnong is not only beautifully clean, but has a character that will win your heart.
Words: Archana Masih
Photographs: Rajesh Karkera
On the edges of India's north-east, along the Bangladesh border, is Mawlynnong in Meghalaya, said to be the cleanest village in Asia.
So it comes as no surprise to find a board at the entrance with a long list of Dos and Dont on how to keep the village clean.
'Welcome to Mawlynnong -- God's Own Garden' -- reads another tin board, as church bells peal in the background in this neat croton-lined village where tourists pay an entry fee of Rs 50 for a visit.
"We are very proud of our village and the way we have kept it. If we find any wrapper, bottle thrown by the road, we know it is what the tourists have left behind," says Henry Kharrvmba, 25, a resident and part-time tourist guide, who sits behind a table handing out receipts for entrance tickets.
What draws tourists here is not only interest in the village, but the magnificent root bridge in the neighbouring village of Riwai.
A brisk walk down a series of stone steps takes you to a truly natural marvel, a mighty and magnificent bridge made of thick roots that joins the banks of the river.
Please click Next to read further...
The glory of a Sunday morning
Last updated on: March 12, 2013 12:39 IST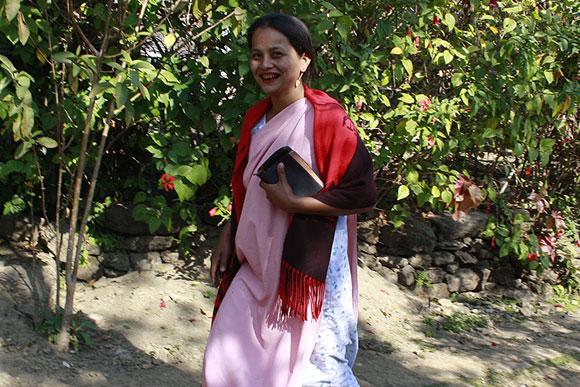 It is a bright Sunday morning as villagers make their way to worship in their Sunday best. Women in traditional jainsems; men in ties and coats, carrying their bibles in hand, on way to the under-repair church.
Inside, the service is being conducted in Khasi. Men and women occupy separate pews; their singing wafting through the air outside.
It is a pleasant walk on the concrete pathways of the Mawlynnong village, past little cottages on bamboo stilts, each with a small garden of its own.
Elbion, the lone village provision store, is closed on Sunday and so are two of the tea and snack stalls. But the small restaurant at the entrance of the village serves a delicious meal of chicken curry, rice, dal and potato vegetable.
Placed prominently along the pathways are bamboo baskets for throwing waste. Henry, the local resident-guide, says organic waste is put into a pit and recycled while in the absence of any facility, plastic is burnt.
Most tourists come here during the month of Puja, but that afternoon visitors from Maharashtra outnumbered the others.
Please click Next to read further...
'There were no roads here till 2004'
Last updated on: March 12, 2013 12:39 IST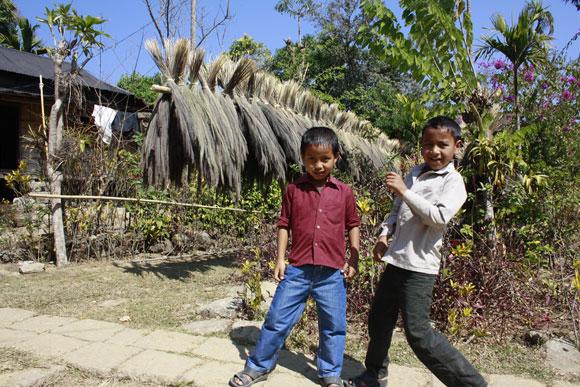 There are less than hundred homes in this small, quiet village which falls in the Pynursla block in the East Khasi Hills, Meghalaya.
"There was no road here till 2004," says Henry without any hint to suggest that he is complaining. Rather he sounds matter-of-fact and laid back about the languid pace of things in his quiet village.
"The village school is till Class VIII, after which children go to the school in the neighbouring village. For college, they go to Shillong."
Midfielder Khongdup, a Class VIII, student whose family goes to Shillong every year before Christmas to buy clothes, says he will walk 20 minutes away to the next village when he goes to the next class.
He speaks English, though not very fluently, and takes us to his home where the family is eating a simple Sunday meal.
Most people in the village are involved in agriculture like betelnut, grass for making brooms and bay leaves.
Henry informs us that villagers also get employment through the National Rural Guarantee Scheme where they were recently involved in building a nallah (water canal).
Please click Next to read further...
Nobody complains against the government
Last updated on: March 12, 2013 12:39 IST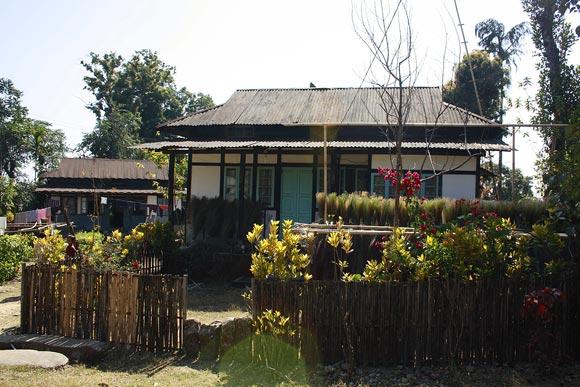 The only local transport available are two private Sumo jeeps that leave Pynursla at 6.30 in the morning and return by 2 pm.
There is a small public health centre in the next village, while the nearest hospital is in Shillong, 90 kilometres away. Villagers use local tribal household remedies for ailments.
Vegetables and fruits are bought at the twice-weekly border market; while meat is bought from the Pynursla village nearby.
What strikes me most about the people as they discuss their access to limited basic amenities is how uncomplaining they all seem to be.
Without haranguing the government about the lack of development -- a common peeve among their fellow citizens in the rest of the country -- these villagers just tell you how things are in their village and move on with their lives.
Please click Next to read further...
And then there is Eleven...
Last updated on: March 12, 2013 12:39 IST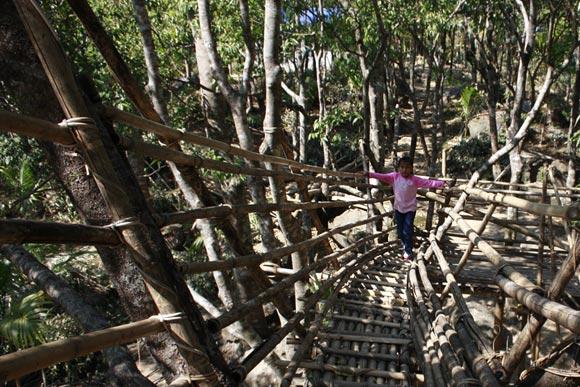 Up a bamboo-staircase-cum-pathway, which allows one way access to few people at a time, that too in single file, is a view of Bangladesh.
Beyond the green hills of India lie the flat plains of Bangladesh. From the vantage point, it is quite exciting to see the boundaries of another country, that was once part of our own... The town of Sylhet lying in the distance.
At the bottom of the pathway, a stall serves tea; the shopkeeper's help is named Eleven.
Meghalaya is home to people with unusual names. Yes, there is Eleven, who laughs and tells us that his brother is thankfully not called Twelve! Just a few minutes earlier we met a chatty lad named Midfielder.
While Frankenstein and Hitler were the names of some of the candidates who stood in the recent assembly election, a Khasi friend informs me that she has heard of people named First Gear, Second Gear and Third Gear...
Please click Next to read further...
Dignified, simple folk who have made their village a model one
Last updated on: March 12, 2013 12:39 IST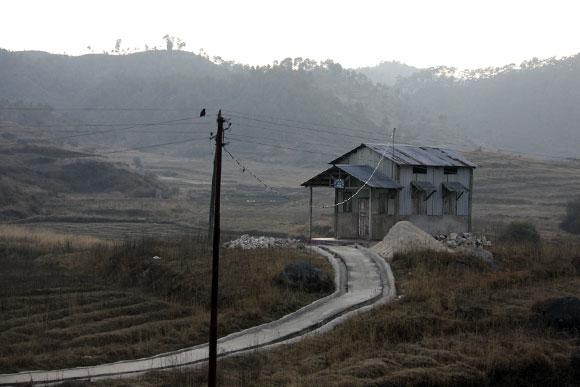 "You must take bay leaves from here. They are the best," says the friendly lady visitor from Shillong.
After serving us tea, Eleven goes behind the shop and brings out a large branch of bay leaves, refusing to take any money for it.
In spite of our insistence, he does not relent and seems amused to be offered cash for something lying in abundance behind the store.
At a time when nothing comes for free and everything has a price, the gesture comes as a pleasant surprise.
We had set out to see the cleanest village in India, but in it we discovered dignified, pleasant, simple folk who have collectively made their village a model one based on the spirit of community.
So sweet Mawlynnong, we'll be back. While the bay leaves and the memories sizzle...