'France is a very critical partner'
Last updated on: December 3, 2010 12:06 IST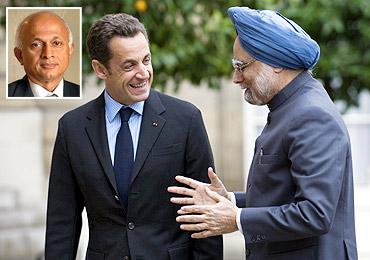 President Nicolas Sarkozy's arrival in India comes between the visits of Presidents Barack Obama and Dmitry Medvedev as well Chinese Premier Wen Jiabao.
In less than two months, Prime Minister Manmohan Singh would have met four heads of nuclear States, all permanent members of the UN Security Council.
As President Sarkozy and his wife Carla Bruni arrive in India, Ranjan Mathai, India's ambassador to France, spoke to Rediff.com senior contributor Claude Arpi in Paris.
I would like to ask you first why President Sarkozy's visit to India was so delayed. Dr Manmohan Singh visited France in September 2008 and then in July 2009. Was President Sarkozy not expected to visit India earlier?
I would not use the world 'delay', but a set of dates were considered for earlier this year, in early 2010. On both sides, we had some difficulties matching what could be the most convenient date.
When we last looked into this issue, we decided to select a date well in advance which could be blocked in both calendars; a date that both sides will be sure of. That is the only reason why it did not take place earlier.
The Times of India published an item on this.
A visit was considered at the time of the Bonjour India Festival. We also thought of February or March 2010. Unfortunately, the dates did not match (with President Sarkozy's schedule). We then decided to set the dates well in advance.
Should we read something into this 'postponement'?
Absolutely not! In fact discussions on all issues have been going on; and this way, we have enough time for a good preparation. That is the advantage of setting the date well in advance; we have time to work (towards the summit).
What are your expectations for this visit? Dr Manmohan Singh's last visit (on the occasion of the French National Day -- July 14, 2009) was rather brief. The last important visit was when France and India signed the first nuclear deal in September 2008.
The visit of Dr Manmohan in July 2009 was important. It helped us review certain very important issues, particularly civil nuclear cooperation, defence issues and the strategic and political dialogues.
This time our expectations are first to build on the continuity of the very high level engagement of our leaders. You must realise that in addition to Dr Manmohan Singh's visit to Paris in July 2009, the two leaders met in Port of Spain in November 2009, in April 2010 in Washington and then on the occasion of the G-20 Summit.
So, the two leaders had had three face to face encounters (in a year).
Our expectations are, as I said, first the continuation of the political dialogue; second, to discuss all important issues in our bilateral relations, particularly the nuclear (cooperation), but also defence, space, counter-terrorism and sharing perspectives on global concerns.
'First bilateral nuclear agreement was signed in France'
Last updated on: December 3, 2010 12:06 IST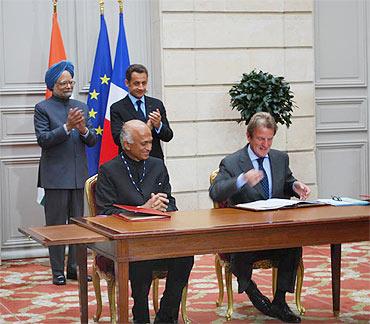 I
n India there is not much interest in France. People and the media are more interested in the United States.
Take the case of the nuclear deal, the French signed it two weeks before the US did, but it is still called the US nuclear deal. Is this situation changing?
For the nuclear deal, it was due to the context: The national debate after getting the NSG (Nuclear Suppliers Group) clearance. But the fact remains that the first bilateral agreement was signed in France. It is important.
People who understand will tell you that France is a very critical partner.
About the nuclear deal, is it on track?
Yes. The talks between Areva and NPCIL (the Nuclear Power Corporation of India Limited) are going on.
Senior executives of Areva and perhaps the chairperson will visit India shortly as there are issues related to the cost or the technical aspects of the project, safety, etc. to be sorted out. Different reviews are going on simultaneously.
If one looks at the entire picture, we have made substantial progress. Hopefully in a few weeks, we will reach some conclusions. Then, a techno-commercial contract has to be finalised, but this will take a little more time.
Does the fact that the Nuclear Liability Bill was passed by Parliament help the process?
Yes, it is an important step forward in clarifying issues. Areva is studying the clauses of the Bill.
Tell us about security and counter-terrorism.
Our security agencies have good cooperation while meetings between the French president's political advisor and our national security advisor take place regularly. We have all kinds of exchanges, training methods, sharing of information, etc.
'Developing countries have an important say in environment issues'
Last updated on: December 3, 2010 12:06 IST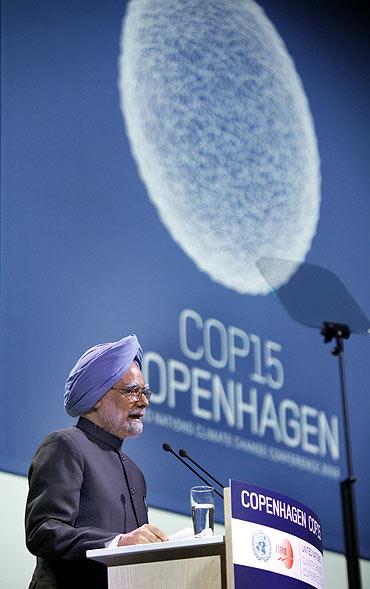 D
oes the French government understand your position in Afghanistan?
Very much so. We discuss it both in our strategic dialogue as well as in exchanges between the ministries of external/foreign affairs and our senior defence officials. The French understand our position. They believe that the Indian reconstruction assistance is of great importance.
We both believe that it is important for the government of Afghanistan to be able to carry out its programme of reconstruction of the country in an atmosphere of security. There is a great deal of convergence of views.
Do they consider the Indian way, trying to build up infrastructure and empower the Afghan people, as a model?
There are two aspects (in Afghanistan): One is security. Without security in the country, you can't do much rebuilding. But security alone is only one leg; there is a need for reconstruction and involvement of Afghan people in the reconstruction.
Both legs have to stand together. The international community is working is this direction with two legs moving together.
Do you feel that after Copenhagen Conference on Climate Change, the Western nations see differently the emerging powers like the BRIC nations?
One thing which came out after Copenhagen is that the developing countries have an important say when it comes to environment issues. Their interests will have to be factored in to reach any conclusion.
The important thing to understand is that we are not seeking a new treaty. We are trying to create new instruments by which the existing treaty can be worked out for the common benefit of all.
In this process, the emerging nations will have to be taken on board, because we have a big stake.
In the Post-Copenhagen era, we have taken steps. Before the deadline of January 31, 2011, we have announced our commitment to reduce the intensity of CO2 emission by 20% to 25%. We participated in all international conferences.
We have also talked with France. For us, it has to be a cooperative negotiated exercise in which all the stake-holders will have to be included.
The fact that the emerging powers came together was seen here in Europe as a new development, though for us it was not completely new. But the fact that we worked so closely together was important and I think it is understood that it could assist the process of future negotiations.
'Indian civil aviation is picking up again'
Last updated on: December 3, 2010 12:06 IST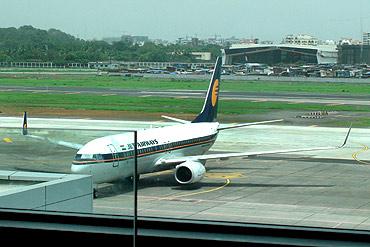 W
hat about the economy?
Of course the economic relations are crucial; trade and investment is the second big pillar (of the relationship). We are going to have a CEOs Forum's meeting around the same date (as the summit).
Something like when Dr Singh visited the MEDEF (French Chamber of Industry) in September 2008 in Paris?
No, we have now created a separate network of CEOs for direct interaction. On the French side, it is chaired by Mr Bertrand Colomb of Lafarge and on our side by Mr N R Narayana Murthy of Infosys.
There will also be separate interactions of our business leaders in Mumbai and Delhi with a MEDEF-led group of French businesspersons.
The CEOs Forum has had two sessions so far, one in 2009 in Delhi and one in June 2010 in Paris. The next meeting will be in Delhi.
These CEOs are coming up with more than just normal discussions. They are coming up with very concrete ideas about what needs to be done to build (better) bilateral economic relations.
Despite the economic crisis?
Yes, despite the economic crisis. Though 2009 saw a slowdown in bilateral trade during the first six months of 2010, we have seen an increase of 21 per cent. So we are confident that our relationship will be back on track.
Will the target fixed by Dr Singh and President Sarkozy of 12 billion Euros in bilateral trade be achieved?
I am still confident. From 6 billion Euros in 2008 to reach 12 billion Euros by the end of 2012 was an ambitious target. It can, be done, looking at the rate of growth in the Indian economy, and the even faster rate of growth in India's global trade.
What about France? Mrs Lagarde, the French finance minister, announced a 0.6 per cent growth for the first six months of 2010.
According to some serious forecasts, the growth could reach between 1 and 2 per cent for 2010. It should continue in 2011.
And please remember at present our trade turnover is about 1.2 per cent of India's trade and less than 1 per cent of French global trade. So there is room for expansion.
This makes you confident?
If you look at 2009, when the growth went down, one or two sectors were affected more than others. On the Indian side, it was mainly the aviation sector.
Today, Indian aviation is picking up again; I am speaking of civil aviation, this does not include the defence sector.
Meanwhile refined petroleum products has become a major item of Indian exports. There are prospects for new collaborations in infrastructure food processing etc, all of which will have the impact of increasing trade volumes also.
'India, one three largest customers of the French defence industry'
Last updated on: December 3, 2010 12:06 IST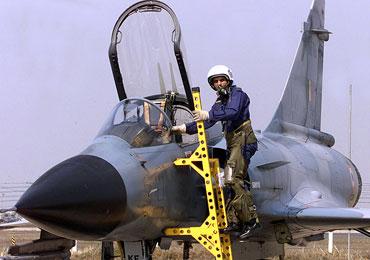 I
n the figure of 12 billion Euros, was the defence sector included? If France bags the contract for 126 Multipurpose Fighter Planes, it would be a great boost.
Finalising the contract will take time; I don't want to comment on it. (However), the point is that it is sometimes difficult to make a sharp difference between civilian and defence contracts.
If the civil aviation sector improves, as well as the consumer goods market and if major investments from French companies take place, we could reach our target.
Renault, Michelin, Saint Gobain are setting up factories in Chennai.
Tamil Nadu has benefitted from the growth of the engineering industry. It has created a huge wave of employment there, a lot of value addition. French industries have done well to invest in the region.
Let us come to defence. The tests for the 126 medium multirole combat aircraft are completed. What are the expectations?<
This process takes time. But we are discussing right now various other projects. Earlier this year we had a decision on the Scorpene submarine (the budget had to be increased) and after reviews a lot of progress has been made for the supplies, indigenisation programme, training programme, etc.
I think that the Scorpene project is on track. India remains one of the three largest customers for the French defence industry according to French parliamentary reports.
What about the refitting of the Mirages? Last year, I was told by the French side, that it was a question of weeks, but nothing has materialised. There are apparently some hurdles.
Negotiations are at an advanced stage. The agreement has to be in accordance with the Defence Procurement Procedure. There are certain rules which have to be followed, and the negotiations are still on.
But I personally feel that it is an issue which should be settled.
There are also a number of other projects which do not figure prominently in the news.
For example, Chantier Naval Couach, a small company near Bordeaux, won an order for supplying boats to the Indian Coast Guard. It is not a very large order, but it is significant for this company, and it is good for the Coast Guard. Similarly, there are other small contracts which are implemented, like engines for helicopters.
'Joint exercises, an important element in defence cooperation'
Last updated on: December 3, 2010 12:06 IST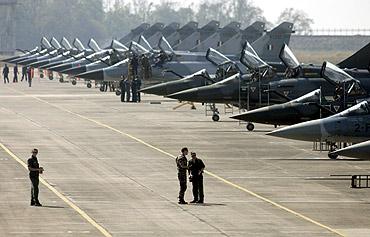 W
hat about the Eurocopters contract which was cancelled two years ago?
The second set of trials is going on right now. The Eurocopter is now in competition with a Russian helicopter. Once the trials are completed, the negotiations will start.
Recently Dassault Aviation issued a communique (after the Indo-French exercises in Istres), saying it is ready to sell directly (without going through the tender procedure) 40 Rafales to the Indian Air Force. Was it wishful thinking from Dassault's side?
You raise an interesting point about joint exercises, an important element in defence cooperation.
In Istres, we had a very successful joint-exercise. Ten Sukhoi 30s came, they flew 7,000 km from India.
Our team had good exercises in Istres; later they participated in a fly-past for the public in Orleans and then two transport aircraft went to Dijon where there was a para-jumping exercise between the air force commandos of the two countries. It was a very rich experience for both.
Is it useful for inter-operability of both air forces?
The joint exercises are valuable for increasing understanding of each other, though they do not always make the headlines.
If you ask the Services, they value these types of exchanges. For example, the fact that the Varuna (joint Indo-French naval exercises were held in the Atlantic in 2009 has a larger significance.
Mrs Precresse, the then French education minister, had announced last year a target of 4,000 Indian students in France. We are far from it. Where is the bottleneck?
I do not know if there is really a bottleneck. Sometimes, I wonder if we really know how many students are arriving in France. We have contacts with universities, but no comprehensive data.
When you came in, I was reading a fax saying that some Indian students had got admission in Lille, but do not have any accommodation. They want us to help them. This is happening constantly.
There are more and more students coming. More scholarships are now being given. Though I don't have a figure, I believe that the figure of 1,500 that we were quoting earlier has much increased.
We may not have reached the target of Madame Precresse, but we are getting closer. We will in the near future build up a database of Indian students in French universities.
'More and more Indian students coming to France'
Last updated on: December 3, 2010 12:06 IST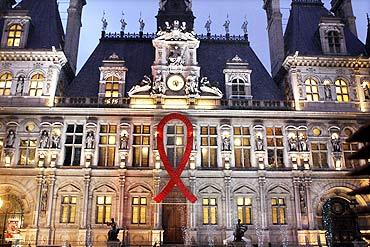 I
understand that the Alliance Francaise in India, though short of funds, have more and more Indian students joining French classes.
You can imagine, if the number of students studying French in India has increased, the number coming to France must also have increased.
Is it true that due to budget constraints, there are less scholarships for Indian students to come to France?
Many companies have scholarship programmes. I attended an event where Orange (the French telecom company) introduced scholarship programmes for Indian engineering students to study in France.
I know of some other companies who have made similar commitments. So, we are getting companies involved.
We won't get immediately 4,000 or 5,000 students, but the number will increase. It is positive because it is a steady increase. And we have to help people to settle, to adjust to life in France.
Don't you think that French companies which are investing in India need young Indians with knowledge of France?
This is already on track. I am glad you mentioned educational collaboration. We now have a project for Indo-French collaboration on the IIT-Rajasthan. It is one of the new IITs.
The collaboration of IIT-Hyderabad is with Japan, in Ropar in Punjab, it is with the UK while in Jodhpur, Rajasthan, it will be with France.
It is not like the old IIT support programmes which involved considerable financial assistance. The collaboration is more for the curriculum, faculty, equipment and student exchanges.
Even though the Jodhpur campus is not ready, some of the faculties have started teaching on temporary premises. The students have already joined, the courses have started and the building will come up soon.
Jodhpur being in an arid or desert zone, will be a good location to specialise on renewable energies, water related issues, and sustainable development. IIT-Rajasthan is an interesting project worth looking at by French companies.
What about the Central University of Pondicherry, the former French colony?
Recently the lieutenant governor of Pondicherry was in La Rochelle. La Rochelle and some other cities have good collaboration with INTACH for the preservation of heritage in Puducherry. It is doing well.
What is happening in the field of culture?
We are in the midst of the Namaste France Festival. You have to remember, that we did not plan this as a 'big' festival like the Festival of India in the 1980s with large banners in a few locations.
What we are now looking for is interesting cultural items which are usually not seen in France. We are organising these programmes in places where people are fond of new culture, where people want to learn about India.
We have had the Festival of Autumn in which many of our artistes play in small, almost interactive, venues, and even old church buildings.
In June, we had in the Cit de la Musique in Paris qawwali and Punjabi religious music. Frederic Mitterrand, the French culture minister, came, stayed till the end and went backstage to thanks the qawwals and the Sikh singers. It was a great success.
The commercial agencies usually don't bring such programmes, though they regularly have classical music and dance.
I recently went to Lyon to open a week-long festival. The first day was an economic conference, then we had a day for gastronomy, then Bollywood, the day after a parade of Ganesh on the famous Place Bellecour, and, of course, we also had classical dance with an Odissi performance by Ranjana Gauhar.
In Biarritz, we had Mr (Hemant) Oberoi, the chef of the Taj Mahal Hotel, Mumbai, who did a week of Indian gastronomy in l'Hotel du Palais (the famous hotel on the Basque coast). This again may not make the headlines, but local people will tell you that it was a good show of collaboration.
We are working with a group called Tapovan involved in ayurveda and yoga in Normandy. We are bringing experts who will give demonstrations, lectures, etc.
In Marseilles, we had Indians in a kite festival. We had a film festival in Guadeloupe (French West Indies), bhangra dance in St Etienne, an exhibition of cartoons in La Rochelle; music and an exhibition of historical photographs in Morlaix (Brittany); we have activities all over France.