'Muslim countries are soft targets for US'
Last updated on: March 28, 2011 11:12 IST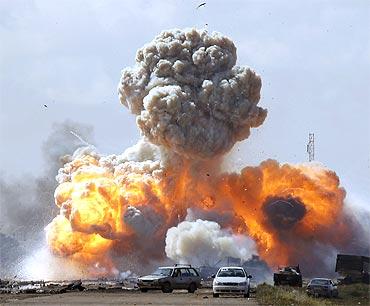 On March 20, fighter jets of the coalition forces -- led by the United States, the United Kingdom and France -- launched air strikes on Libya, purportedly to prevent dictator Muammar Gaddafi 'from bombing his own people'.
Gaddafi's armed forces have been ruthlessly trying to crush a rebellion against the strongman's 42-year-old rule.
But foreign policy experts are wary about the motives of the US administration that pushed the United Nations to declare a no-fly zone over Libya. They fear that the attack on Libya might end as disastrously as America's military offensives in Iraq and Afghanistan. Many also feel that the attack is part of the West's orchestrated assault on the Muslim world -- Afghanistan, Iraq, sabre-rattling against Iran, and now Libya.
Incidentally, India refused to agree to the UN resolution imposing a no-fly zone over Libya, stating that it infringed on the nation's sovereignty, choosing to abstain from the vote.
Will the people of Libya end up paying for NATO's deadly air-strike or will they be thankful to the coalition forces for 'liberating' them?
Rediff.com talked to some members of the Muslim community in India to gauge their reaction to the air-strikes on Libya.
Click on NEXT to read on...
Reportage: Sahim Salim and M I Khan
'Why this double standard?'
Last updated on: March 28, 2011 11:12 IST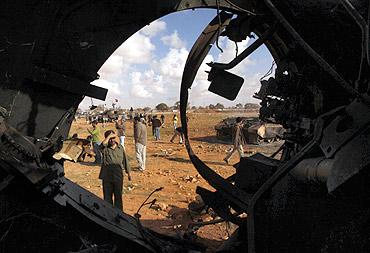 Zeeshan Naqvi, a journalist with Press Trust of India, says, "This attack is a clear illustration of the United States's dual policy. They were completely silent during the Lebanon war in 2006 when the Israelis were massacring Muslims. The Lebanese authorities had repeatedly requested for a ceasefire or a no-fly zone, but the US was oblivious to their pleas. And now they have attacked Libya on the pretext of upholding democracy and siding with pro-democracy protestors."
Naqvi claimed, "Their aerial attacks have resulted in a death toll which matches that of the Gaddafi regime. And if they are truly interested in upholding democracy, why are they silent about the atrocities happening in Bahrain? If the cause is the same -- protests against a regime -- then why this double standard?"
Jehangir Ali, a journalist working with The Asian Age, agrees with Naqvi.
"This is double standards. A United Nations resolution takes 24 hours to implement in the case of Libya while the six-decade long Kashmir issue remains unaddressed. That apart, I think Libya is one of Europe's biggest oil suppliers. The attack by Western allied forces, particularly the US, is to ensure that the fuel driving their economy is protected and well in control. Democracy is a mysterious phenomenon. Leaders become tyrants overnight, and how," says Ali.
Click on NEXT to read on...
'The West is protecting its oil interests'
Last updated on: March 28, 2011 11:12 IST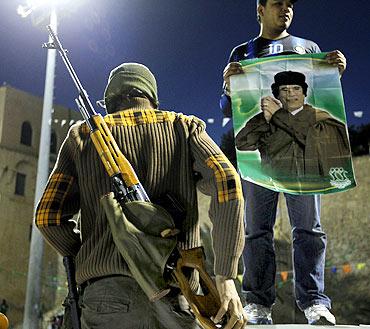 Syed Hasan Kazim, a student of the Nelson Mandela Centre for Conflict Analysis and Peace Building at Jamia Millia Islamia, also feels that the attack is just the West's way to ensure that their oil supply is not disrupted.
"Personally, I am not in favour of the attack. I mean, I don't think there was any particular need for such a large-scale attack. It is not really that difficult to tackle Gaddafi, especially for the Western forces. The Western allied forces are just protecting their oil interests in the region," he says.
"And there are certain glaring double standards too. If Libya can be attacked to save the lives of 'civilians', then why was the so-called 'freedom loving' West silent during the 2008 Operation Cast Lead in Gaza in which the Israeli army slaughtered nearly 2,000 unarmed Palestinian civilians?" Kazim wants to know.
Click on NEXT to read on...
'Gaddafi had to go'
Last updated on: March 28, 2011 11:12 IST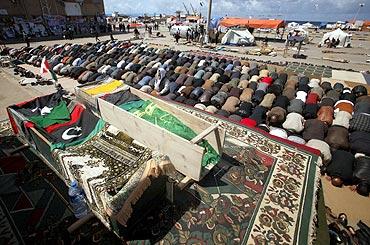 Danish Shafi, a former journalist with the Indian Express, says, "The whole situation is not as simple as it looks. The Western allied forces have attacked Libya under the guise of liberating the masses, but the truth is that they have done it to protect their own interests. The Western forces, especially the US, undertake these kinds of missions only in the name of being saviours of freedom, but they completely turn a blind eye to subsequent developments."
But Safi is quick to add, "Gaddafi had to go, because the masses didn't want him. So, it really is a complex problem. After the latest attacks, it really is difficult to take a particular side."
Meanwhile, the Muslim community in Bihar has expressed anger and unhappiness over the air strikes on Libya.
Click on NEXT to read on...
'America can target a Muslim country without any provocation'
Last updated on: March 28, 2011 11:12 IST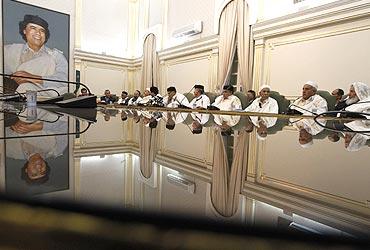 Ehtesam Khan, a student from Patna, has termed the air strikes as part of the US's policy to "humiliate a Muslim country and to control oil".
"Once again, America has proved that it can target a Muslim country without any direct provocation. What is happening in Libya is its internal matter; they (the people of Libya) have to solve it themselves. How can America rush to bombard them," asks Khan.
Social activist Abid Ali believes that the air strikes prove that America's policy about Muslim nations under the administration led by President Barack Obama has not changed much from that of his predecessor George W Bush.
"It appears that Muslim countries are soft targets for America. If the people of Libya rose against Gaddafi, it is for them to dislodge him. By attacking Libya, America has committed the same mistake it did in the case of Iraq and Afghanistan," Ali said.
Click on NEXT to read on...
'How can America attack another country?'
Last updated on: March 28, 2011 11:12 IST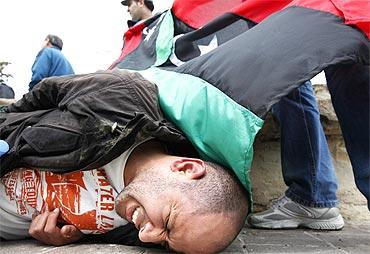 Dr Roomi, a homoeopath practitioner in Gaya, Bihar, said, "America's air strikes on Libya were rightly condemned by India, Russia and China. The condemnation by three major powers vindicated the fact that this is nothing but a part of America's policy to grab oil in Libya like they did in Iraq."
Roomi said he strongly supports Libya's fight for democracy and freedom. "But America's attack on Libya cannot be justified," he said.
Mohammad Salam, a school teacher in Muzaffarpur, Bihar, said America has invited fresh trouble by attacking Libya.
"People in Libya are opposing this attack. How can America attack another country? It is for the people of Libya to overthrow Gaddafi. No sensible person can support America's attack on Libya," he said.