'The world has come to know India better'
Last updated on: August 8, 2011 14:26 IST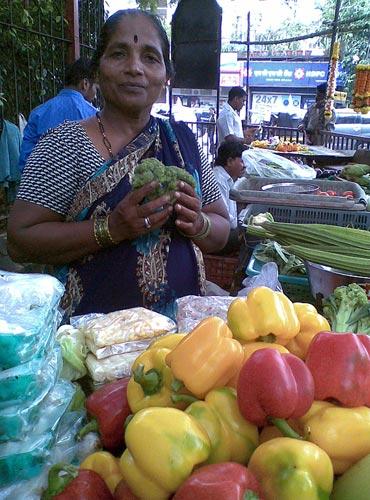 Hemant Oberoi
Our Independence Day Special series on the India You Didn't Know features renowned chef Hemant Oberoi, who reveals the astonishing transformation of the Indian palate.
I think because of travel the world is coming much closer. And the world has come to know India better.
I have seen the transformation of how people are eating differently. And it is not just the upper middle class. Today all these alien vegetables (baby corn, spring onions, broccoli, mushrooms) are no more for the upper middle class.
Eating out has become a way of life. You see now for every pocket there is a restaurant, hence restauranteurs have to come out with different things and ultimately there has to be most experimentation.
For me the acceptance of Wasabi, a Japanese restaurant (located at the iconic Taj Mahal Palace and Tower hotel in south Mumbai) in India surprises me. And the fact that vegetarians accepted it.
It took me eight or 10 months before we opened Wasabi to make sure that the vegetarians would be looked after and it surprised me that vegetarians thronged to this place.
Vegetarians had always thought that Japanese food was all about raw meat, raw fish and there was nothing beyond that. Probably they knew about a tempura. It surprised me that they started coming over. And now they come in once a week or once in ten days. The same families keep on coming and they keep on bringing their guests.
This restaurant has gone on to become one of the top 100 restaurants of the world for the last five years. My own chef Morimoto's (the well-known Japanese chef Masaharu Morimoto) restaurant (in Japan) is not in the 100s list.
Forty per cent of the diners at Wasabi are vegetarian. I think this is because probably the upper middle and the rich -- quite a few of them -- are vegetarians. You see seven out of the top ten industrialists in this country are vegetarian -- the Birlas, the Bajajs, the Kasliwals, the Tapadias, the Kanorias, the Ambanis. They want something new.
I did an asparagus promotion, just now, in Japanese (food). We created an asparagus carpacio in the Japanese way, an asparagus tofu in the Japanese way and asparagus souffle with a wasabi.
Yes if they (these same vegetarians) went to Japan they would not get the food we serve here. They may get one item on the menu or maybe not! An that (the vegetarian dish) will be served in the authentic (Japanese) way and they (vegetarians) would not be able to eat it!
Hemant Oberoi has completed 25 years as a chef with Taj Hotels and works out of the landmark Taj Mahal Palace and Tower hotel in Mumbai, where he has served leaders, royalty, movie and rock stars and legendary beauties. He spoke to Vaihayasi Pande Daniel.
Earlier in the series: 'See the Ganga aarti at least once'
'They looked African, but spoke Gujarati'
'Indians have a sense of humour'
'A Hindu couple at an Islamic shrine illustrates how India works'