'Gujarat throws many interesting surprises at you'
Shiv Visvanathan
What is it about India that tugs at the chords of our hearts?
What makes this often beautiful, often frustrating, country the best country in the world for us?
What makes it tick?
Why does it deserve to be celebrated and constantly nurtured?
Why the journey for its Freedom is a continuing one and how we must build this country every day.
Continuing our Independence Day special series: Well-known Indians tell Rediff.com what they love most about India.
Shiv Visvanathan
Scholar and columnist
I love lots of things of India. Currently, I like Indian politics. The Indian political process is exciting. I like the Aam aadmi process.
India is full of miracles. People are trying to do different things, all the time, in spite of the negativity around.
I love the way the Jharkhand football team won an international tournament. I like India's show in archery, football too.
I simply love Bollywood, in spite of Chennai Express!
Above all, what I love most about India is its absolute diversity and the celebration of it. Every day I am given a surprise at every nukkad. Be it its khana-peena, its people or its places. If you are staying in New Delhi there are no surprises!
But among all places in India I like Gujarat the most. I was a stranger when I moved there to teach and stayed on for a decade. Never once was I cheated there.
Where will you find scooterwallahs who don't cheat you?
Gujarat throws many interesting surprises at you. Like Gujarat, even Karnataka society is also very interesting."
The Rediff Special: Why I love India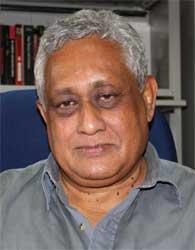 Shiv Visvanathan is a professor at the Jindal School of Government and Public Policy. Professor Visvanathan -- a social scientist, scholar and columnist -- spoke to Sheela Bhatt.
Image:
Muslim brides at a mass marriage ceremony in Ahmedabad.
Photographs:
Amit Dave/Reuters