'The stink at Gandhiji's birthplace angered me'
Last updated on: August 10, 2011 19:43 IST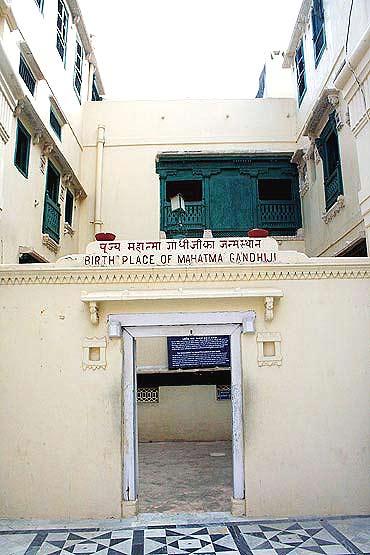 In our Independence Day Special on the India You Didn't Know, Kiran Bedi remembers her trip to Kirti Mandir, Gandhiji's birthplace in Porbandar over a decade ago and her court petition to clean the stench engulfing it.
I was invited to Kirti Mandir in Porbandar many years ago by the Ramakrishna Mission. Porbandar, which is Mahatma Gandhi's birthplace, also has a place where Swami Vivekananda stayed and meditated. So this was a double treat for me as I am a staunch follower of both Swami Vivekananda and Mahatma Gandhi.
I went to Kirti Mandir, feeling blessed. As I went around, I noticed that the place was stinking. I asked why the birthplace of the Father of our Nation was stinking. I felt angry. As I went from room to room of Gandhiji's home, I could not get over the fact that the birthplace of such a great man was reeking with a foul smell.
I remember writing in the visitor's book that this was the purest place I could ever dream of visiting and I resolved to ensure that it was cleaned up.
As I came out, they (the members of the Ramakrishna Mission) took me around the city and finally I realised what was causing the stink. All along the shore, there were clothes lines with dead fish. The fishermen had slit the fish from the middle and hung them up to dry and later sell them.
They assured me that I would get used to the smell in a while, but I told them I did not want to get used to it. I didn't want the birthplace of Mahatama Gandhi stinking like this.
There are thousands of Gandhi followers in India and all around the world, who undertake the pilgrimage to visit his birthplace. I did not want them to endure the stench.
I suggested to them that the fish could be dried in a large drier. I came back and wrote a one page letter about my anguish to be treated as a Public Interest Litigation. I went to meet Justice J S Verma, who had about 10 days to go before retiring as the Chief Justice of India. I went to his house and explained the whole thing and asked if he could hear me in court.
He asked me to appear before him the following day, which I did. Justice Verma took notice of our PIL and notices were issued to the government of Gujarat (steps were taken to protect the birthplace of Mahatama Gandhi and the fishing area was shifted to a distance of 4.5 kilometres away.)
Since then, the place has been cleaned up.
Kiran Bedi, India's first woman Indian Police Service officer, is a recipient of the Ramon Magsaysay Award. She spoke to Sahim Salim.
Earlier in the series:
'There is an India we don't wish to know'
'The world has come to know India better'
'The credit is in India's roots and its stories'
'See the Ganga aarti at least once'
'They looked African but spoke Gujarati'
'Indians have a sense of humour'
'Hindu couple at an Islamic shrine shows what makes India work'