'Even after repeated assaults, Kashmiri culture stands tall'
Last updated on: September 24, 2013 11:40 IST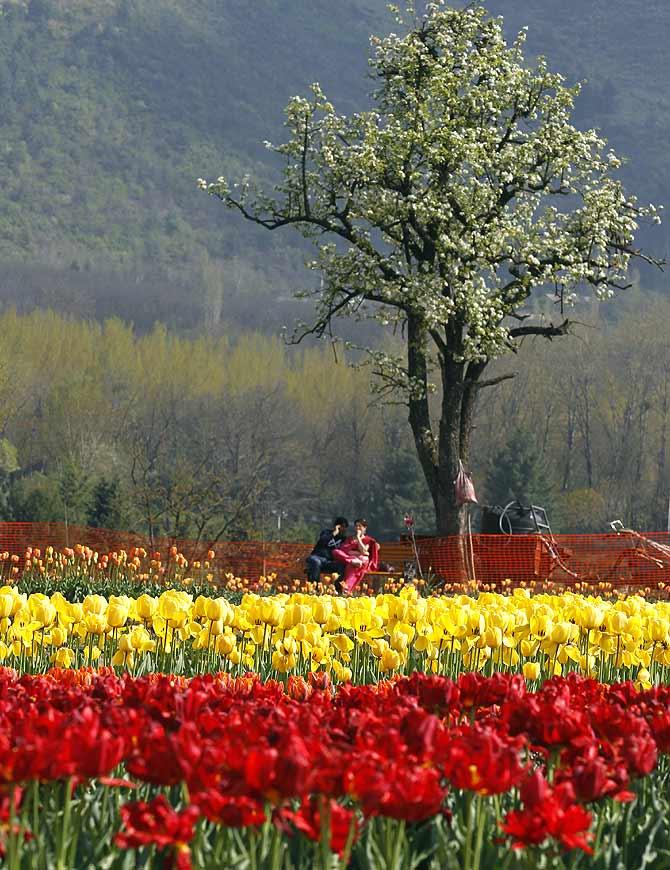 'To be an Indian born in Kashmir has been a fantastic thing which god gave me. Kashmir gave me the sensitivity to look at things,' says santoor artist Abhay Rustum Sopori, the ninth generation of a well-known family of artistes who follow the Shaivite Sufi tradition. He recently presented a fusion piece jointly with Zubin Mehta in Srinagar.
India is one of the richest cultures in the entire world. I always speak from the music and culture point of view. Nowhere in the world will you see so much variety and such richness in folk culture.
If you cross some kilometres -- 30 km to 40 km or 100 km -- we start finding another culture. Suppose we are in Ladakh and start moving from the north -- we have Ladakh, Kargil... Each area has its own culture.
Just the region of Jammu and Kashmir has more than six languages. Every area has its own attire, its own cuisine.
Jammu food -- Dogri food -- is totally different from what is available in Kashmir, and also very different from what the people in Ladakh eat.
In Kashmir they speak (mainly) Kashmiri while the language is different in Jammu. Ladakhi is different. The people of Kargil speak a different language.
Normally a culture makes a country. The common things in a culture (brings) them together and makes a country.
We have hundreds of such countries together and that is what is special about India.
It is a unique body of various cultures.
We move down to the South. Look at the languages. It is not that they just change a word. A person speaking Hindi can never understand what a South Indian speaks. And a South Indian language can never be compared (to anything spoken in the North), yet they have a common base which is Sanskrit.
Punjab is so different from Haryana, which is a contrast from what we see in the National Capital Region. Gujarat is so different from Rajasthan. Then there is Bihar, Orissa, Bengal... See the states in the Northeast.
How beautiful is the land.
Look at the people. Each state has so much of variety, so much of richness. Look at the musical concepts we have here. That is what is very special about India.
One of the best things that could at least have happened to me was that I was born in India.
Leaving aside the disturbance (part) of it, as an Indian born in Kashmir I think has been a fantastic thing which god gave me. My birth in the Sopori family, in Kashmir.
My father says it is culture which makes a society. We see the richness in the culture of Kashmir. Even after repeated assaults and disturbances in the society, it still stands tall and with modest grace.
Kashmir gave me the sensitivity to look at things. I have always been saying that. What I saw in Kashmir: The beautiful gardens, or the limitless length of the mountains, the lakes, the entire ambience.
What I saw in Kashmir -- leaving aside the disturbance part -- what beautiful harmony Kashmir had!
My best friend is a Muslim and the relationship is such that he does not call my father Uncle. He calls him Papa. And that is the relationship we still share.
If I am in Srinagar -- he is married -- he will shift to my hotel. And even if I am in Srinagar for 15 days he won't go back to his family, he has a small daughter, yet he stays with me. That is the kind of bond which I have seen.
(That kind of harmony) still exists only for those people who saw that harmony in their childhood. A child who was born in 2000 can't understand the depth of such kind of relations unless he has those friends with him...
Kashmir still has that. I feel the Kashmiri people still want that, whether it is the Hindus or the Muslims. But we need to turn the entire scenario that way. I am not sure what will happen in the future. It is very difficult for me to say.
Having that kind of background, when I came to Delhi in the midst of the disturbances, it was a huge setback for me. From a six-floor palace and mansion -- and the grandeur that house had -- I came down to a small ten feet by ten feet room, which we rented.
The entire life changed. But I think that initial development of my personality in Kashmir made me what I should have been, instilled that sensitivity in me.
When I came to this part of the country, that sensitivity turned into something which was very strong. My personality took a different shape. So I feel had I not been born in Kashmir perhaps I wouldn't have been what I am today.
(Playing with Zubin Mehta at Shalimar Bagh, September 7) was a great honour for me. Having the legendary Zubin Mehta conduct my composition... It was a great moment for me.
For me, with the entire controversy surrounding the concert, the only good thing that happened was that the entire world saw this concert. Kashmir was highlighted in a very different way that day. The entire world saw the music of Kashmir and appreciated the musicians of Kashmir.
It is perhaps after 25 years or so, if you go onto the Internet, and search Kashmir in any of the search engines, you will see something about culture, apart from the disturbance in the valley.

Abhay Rustum Sopori, who hails from Sopore, in Baramulla district, eastern Kashmir, is the ninth generation of a well-known family of santoor artistes who follow the Shaivite Sufi tradition.
He composed the fusion piece Rind-e-Poshmal in just a few days and presented it jointly September 7 with his Kashmiri folk ensemble, the Bavarian State Orchestra and conductor Zubin Mehta.
While he and his troupe practiced the composition in Srinagar, the Bavarians were practising the same piece in Munich in the run-up to the concert. The rehearsals of the piece were shared by e-mail. You may see the final performance on Doordarshan.
Abhay Rustum Sopori spoke to Vaihayasi Pande Daniel.